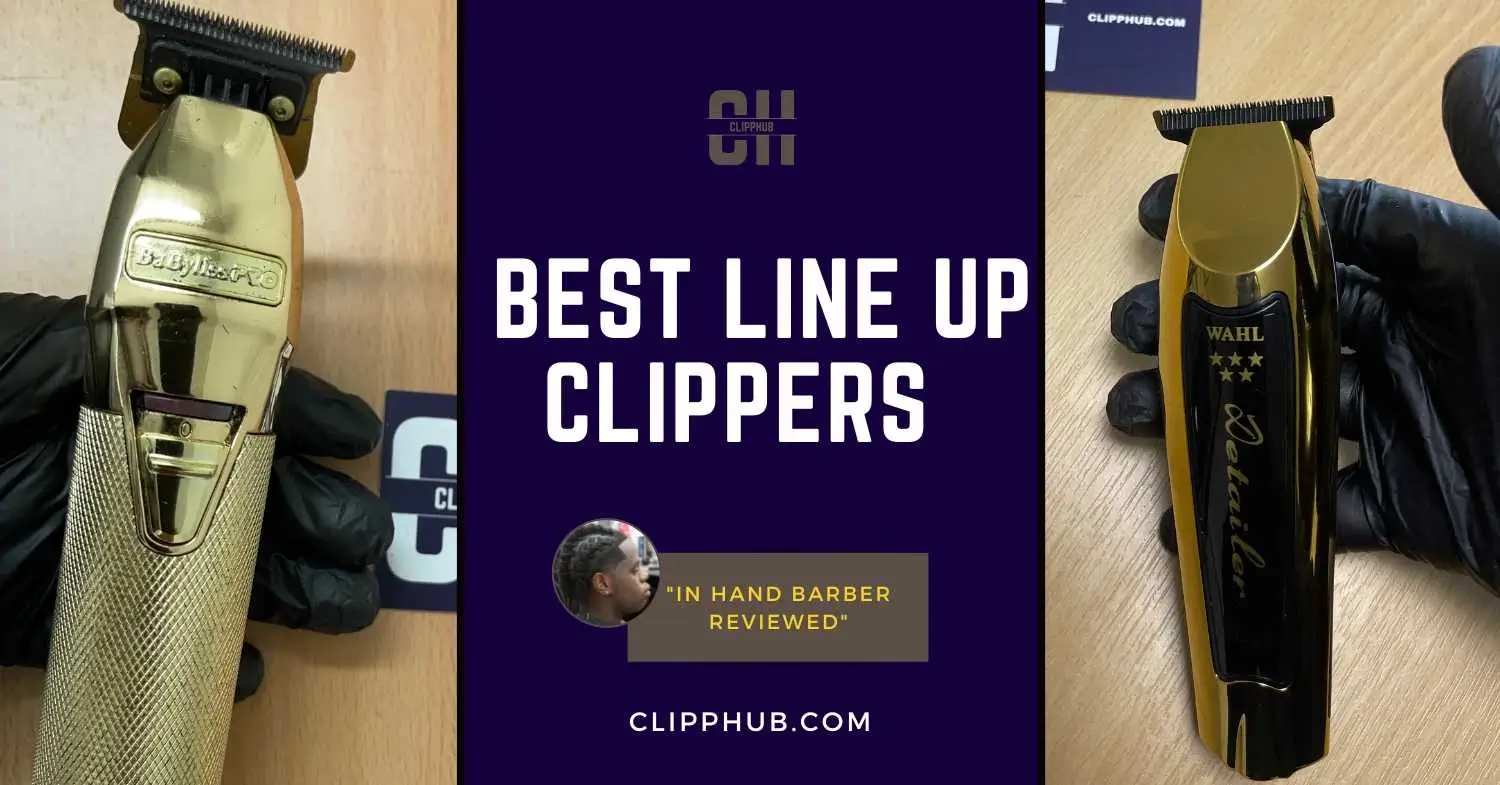 Why is it essential to have the Best Line Up Clippers?
Well, there's a reason Elite barbers can create sharp lines from the very first hit of their trimmers.
It's not just luck, experience, or skill.
To do this, they have to be equipped with professional-grade trimmers. 
Trimmers that cut safely close to the skin right out of the box! 
No need to adjust them. They come sharp and ready to perform. 
So, If you want a clear advantage in creating precise lines, you might want to look into a trimmer that can give you edges like this:
Below are the best trimmers that I've tested myself from the biggest brands.
Take a look.
Best line up Clippers
Key Takeaways:
Babyliss Gold fx: A barber's favourite known for its sharp lines and long battery life.
Andis 74100 GTX-EXO: A robust and durable trimmer from a trusted family of trimmers.
Wahl Detailer Li: Combines advanced blades with a full-sized clipper motor for meticulous cutting.
GAMMA+ X-Evo: A powerhouse trimmer running at 10,000 RPM, designed for professionals.
Andis Slimline Pro & Wahl Detailer: Affordable options delivering sharp and precise cuts.
Best Line Up Clippers
I looked up at the mirror and just stared. 
Lining up a hairline can go one of two ways,
And on this day I don't think it could've gone any worse….
I hadn't found a cordless trimmer I could trust for all my clients.
The one I was using at the time had a battery that was at death's door, blades that were rough and chipped and the motor sounded like a jet engine… On a good day. 
Best Line-Up Clipper Review
It clearly needed replacing, but after hours of scrolling through Amazon reviews and asking friends for their opinions, I still wasn't sold on the right lineup clipper for me. 
But on that day, I was thrust into deciding because what I produced… was absolutely terrible.
The client I was working with had never received my services. 
It was his first time, but he was in a rush and needed me to work some magic. 
And it wasn't just any occasion, he had an important interview THE NEXT DAY, and he needed to look razor-sharp from top to bottom.
I knew I had to use my liner and simply told myself "Using them one more time wouldn't hurt, right?"
Funny enough, that was the thought every time I used them.  
So, a bit on edge, but quite confident, I got to work. The main haircut went great, as always, but the lineup was something else… 
Battery
The battery kept dying on me, No matter how many times I jammed the charger to charge this thing, it simply couldn't soak in any more juice. 
So to get the cut I needed, I had to reluctantly dig my dull blades into his hair and onto his skin hoping the T blade would grasp some hair and lay them out for the cutting blade to slice through it but that was me being optimistic.
Instead, BOTH blades pulled against my hair drawing some painful wincing on every stroke I ran across his hairline.
What should have been a 10-minute job dragged on for what felt like an hour. 
And the result of dedication and relentless commitment to my craft? A weak lineup that just about looks right if you tilt your head far enough… 
I don't think I've ever seen someone leave an appointment so fast.
It was so bad that he had to get his line-up fixed by a DIFFERENT barber that same day. (He left it in the review).
And, in case you were wondering… He never returned to my shop again.
That was that, No way was I putting with THAT type of liner once more. 
Looking for the Best Line Up Clippers
So, I reached out to every professional I knew, and I quickly realized I was looking for the wrong things when deciding on my trimmers. 
I made sure to continue until I found exactly what a trimmer needs to consistently hit out crisp lines. 
Some I tried out were great, some okay, and others outright horrid. 
I tested many trimmers. The ones below are my unique picks, not just any market options.
If you're looking to jump from novice to pro with just a simple tool, read the detailed descriptions of my favourite liners below.
Edge up Clippers

Best Clippers for Lineups
Babylisspro. 
A well-known brand differentiated by its uniquely designed and very premium products. 
The Babyliss Gold fx is on that list of products and for me, it's simply the best liner Babyliss has produced.
It's a trimmer, which was damn near groundbreaking when released and it's been performing and producing crips lines for years.
It's been tried and tested and is a fan favourite amongst barbers you certainly may have heard or seen these .. they're that popular.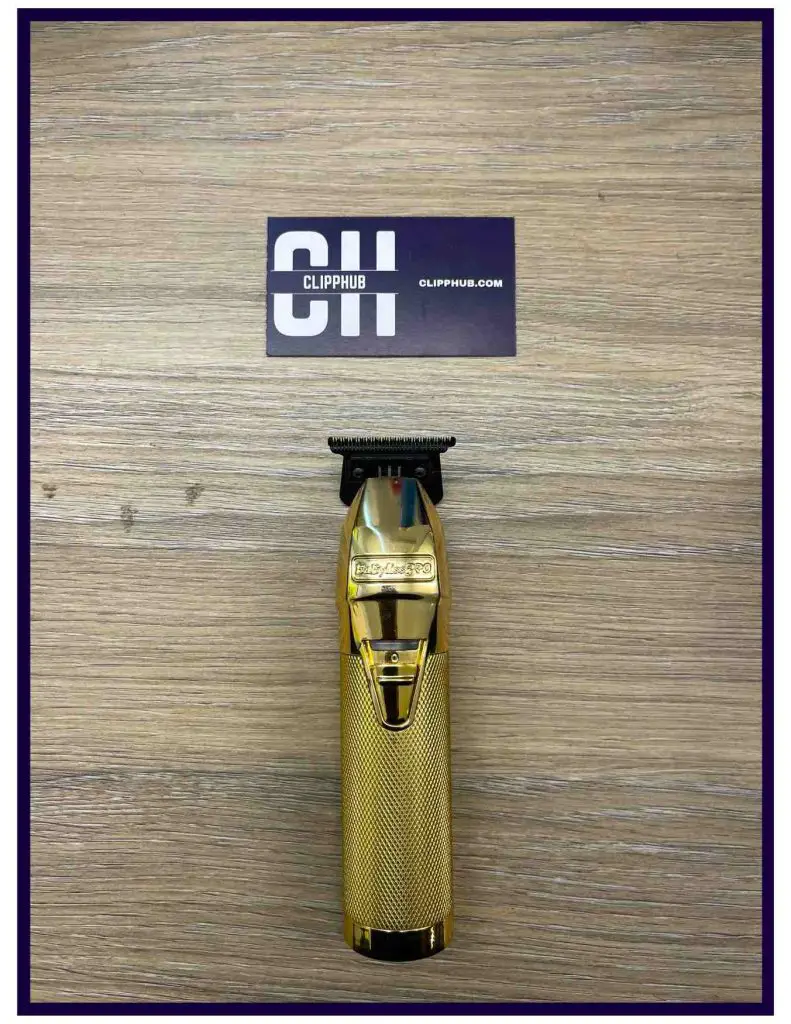 So.. what does it provide?
If you are looking for a trimmer that produces sharp lines while offering control, long battery life and power, for me, there's no better trimmer than the Babyliss Fx. 
This trimmer has a metal lithium outlining trimmer that comes equipped with a DLC deep-tooth blade. – I swapped mine for the Gold Fx blade.
It's a blade that works on all hair textures but due to the finer teeth, it works best on touch-and-go work such as the hairline.
The Gold FX trimmer has a high-torque Italian-designed brushless motor that runs at 7200 RPM which provides plenty of power, speed, and effective cutting on all hair types.
It comes in at around 70db in terms of noise level, which is the standard noise level for trimmers, so sound won't be an issue.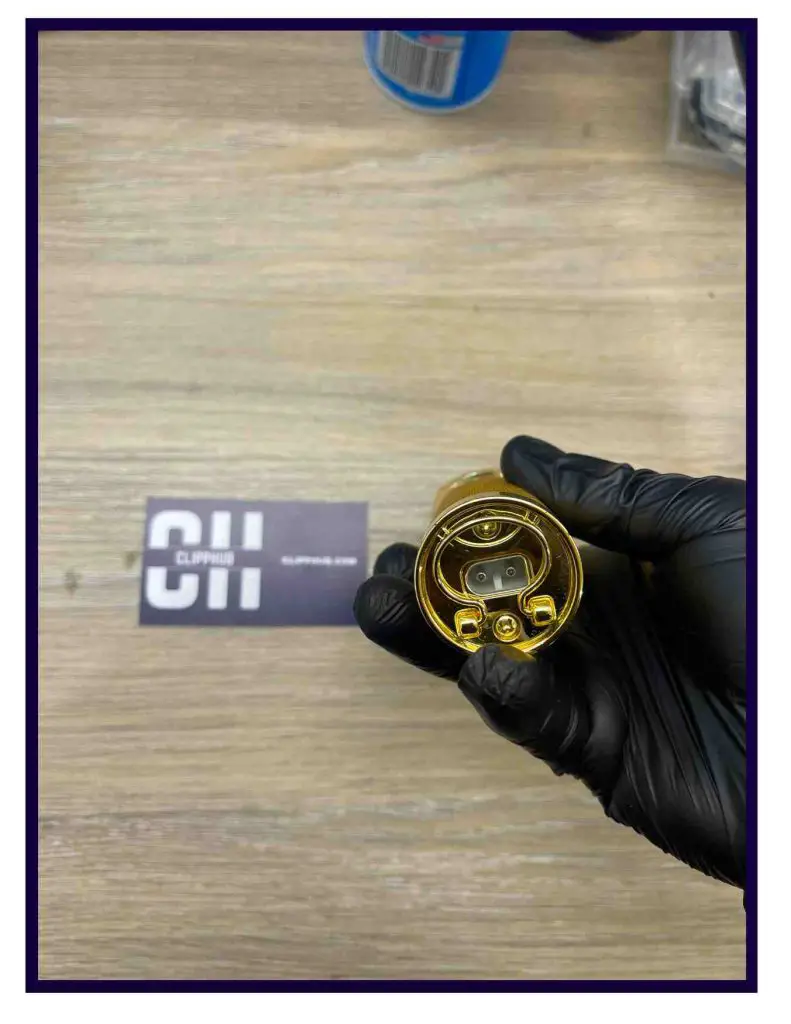 The trimmer has a lithium-ion battery that offers up to 2  hours of cordless run-time and can be recharged with a universal micro-USB cord that comes with that package.
But what makes this trimmer really good is the control you'll have whilst in the hand. 
Yes, it naturally is light but also, thanks to the knuckle barbell handle, the trimer is comfortable and provides a secure grip for better control and manoeuvrability.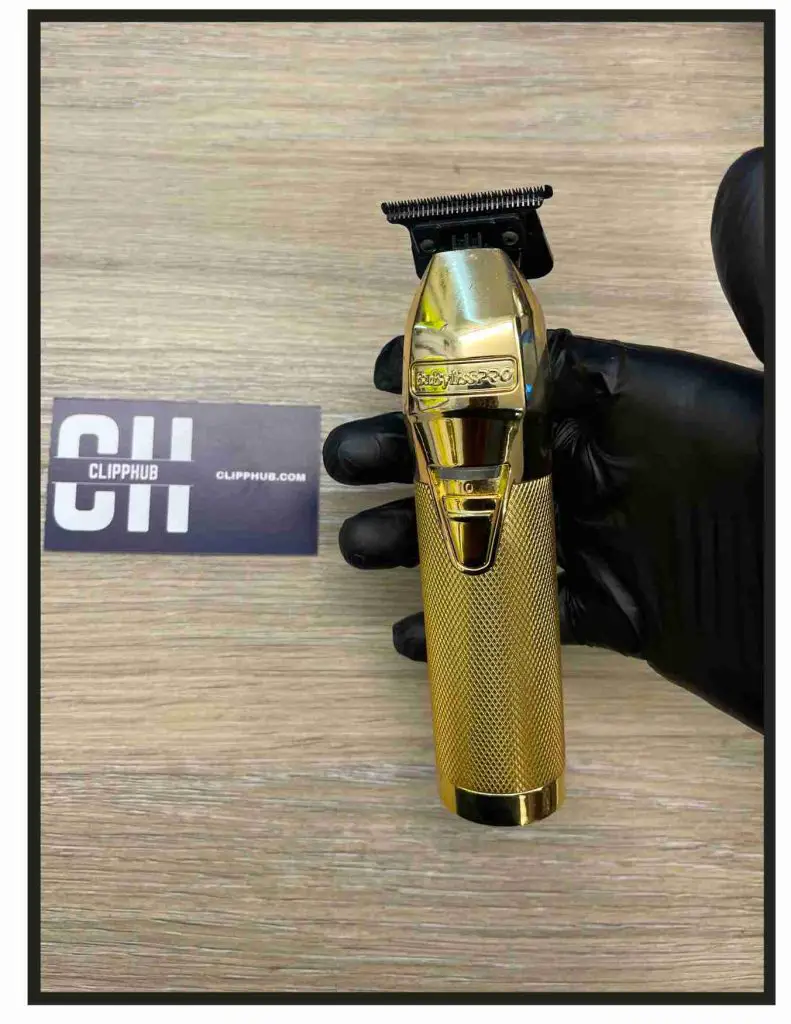 Durability
It has a shiny all-metal housing that gives it a durable and sleek look, if you want to stand and look professional, these trimmers will match you 1-1 for that. 
And for my barbers, it has a decent hanging hook for easy storage and access. 
These trimmers can work wonders but if you are new to Babyliss the torchlight design may be something you have to get used to.
When I started off with these trimmers It did take me a few goes to get used to the shape, but after I got the hang of it, I came to quite like this unique Babyliss shape.
The X Blade is highly resistant and has stayed quite sharp for the years I've had this trimmer, but what's even better is the fact that with so many Babyliss Blades you can rotate in and out.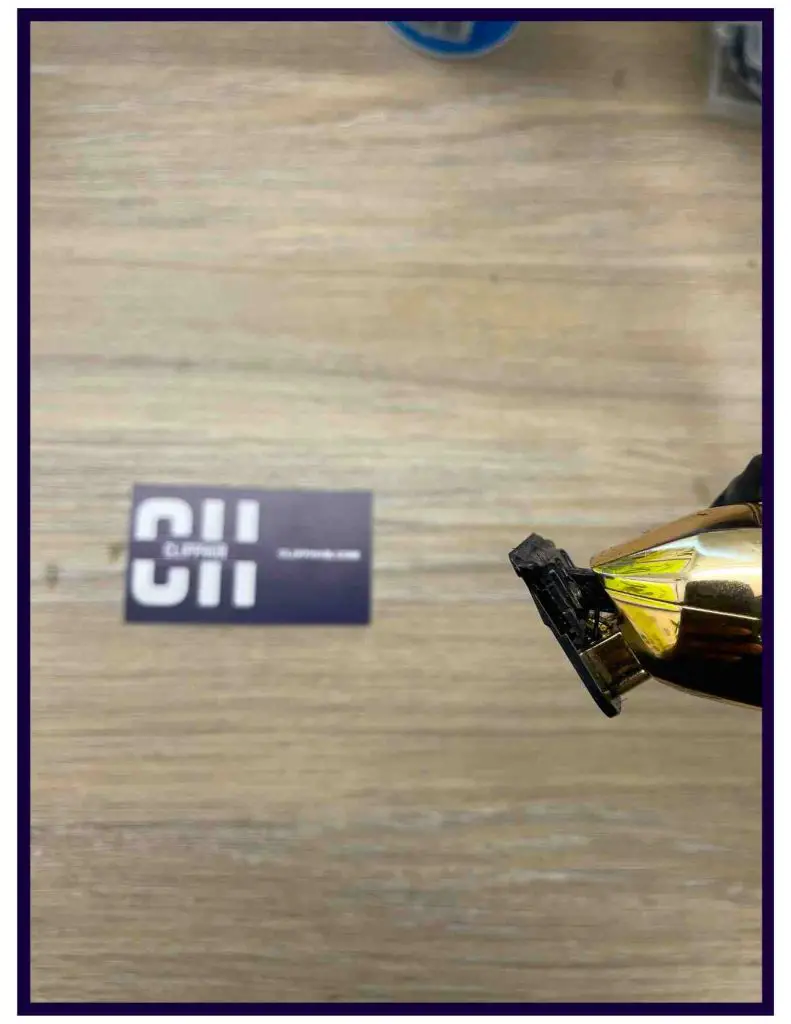 This way it suits your specific needs.
It's another nice touch by Babyliss and shows how much they value their products.
You'll be very satisfied with this trimmer and…if you're looking for a similar model with a slightly better grip and a longer run time, check out the Babyliss Boost fx!
I just prefer the gold FX, It cuts just as well as the boost and comes slightly cheaper too, but this is how they stack up against each other.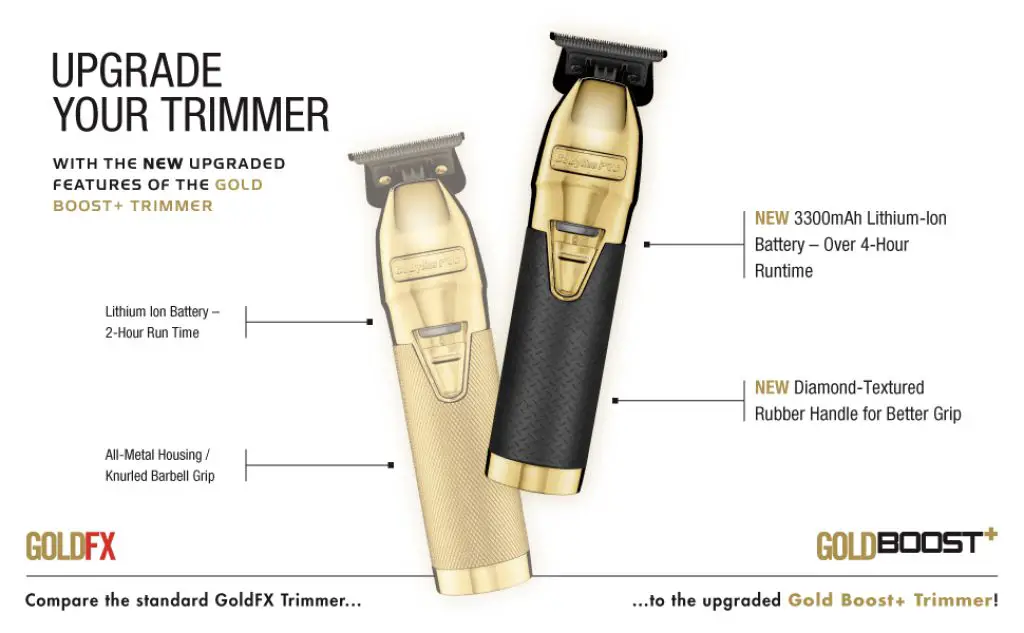 Yes, the Babyliss boost technically is the latest version of the Gold FX, but in my opinion, there's not much difference.
Yes, it does have a slightly better grip and a longer run time, but the Gold FX still cuts as well and is slightly cheaper.

If you're sticking with the Fx, you don't only have to get the gold.. it also comes in a wide range of colour types to suit your style.
---
---
"Great product, looks beautiful and feels solid. Best pair of clippers I've ever owned hands down."

Review
Best Outliner Trimmer
This is the most robust and durable trimmer on this list. 
The Andis Gtx-Exo.
The Andis-Gtx is the new and improved liner from the Andis Outliner family. A line of trimmers known for their quality and consistency over many years.
The 2-pound, (0.9kg) cordless liner is 10.83 x 5.24 x 4.49 inches; 2 Pounds of consistent power when in use.
You can feel the mellow hum of these liners, the second you turn them.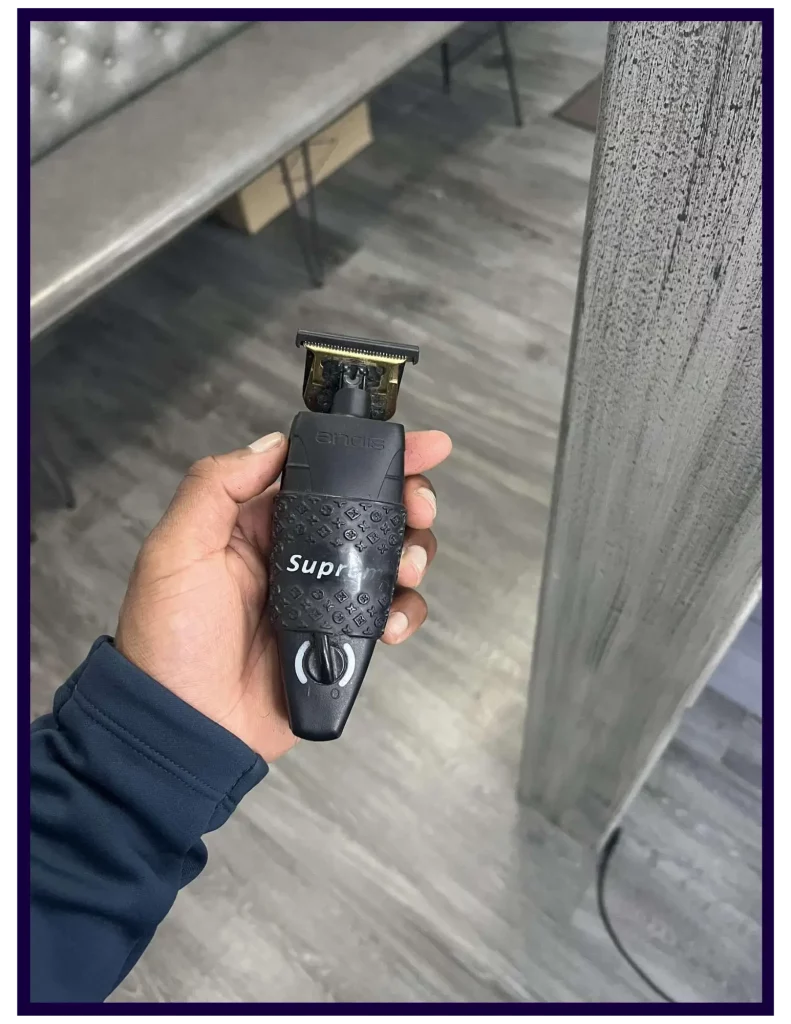 All that comes from the new and improved rotary engine built into these liners. 
It's built with a  powerful, high-speed rotary motor with blade speeds over 7,200 rPM (Every time the blade moves side to side per minute). 
Motor
Rotary motors are the most reliable motor but very few brands can push a 7200 pm without wearing out the blades or burning out the motor itself! 
Plus, with the Andis, constant speed coming from the motor, these trimmers can very easily cut through all hair types without dragging stalling, or pulling.
The blade is the new all-all and improved Gold Andis GTX-Z blade that is pre-set with a tighter gap for finer detailing and a corrosion-resistant coating.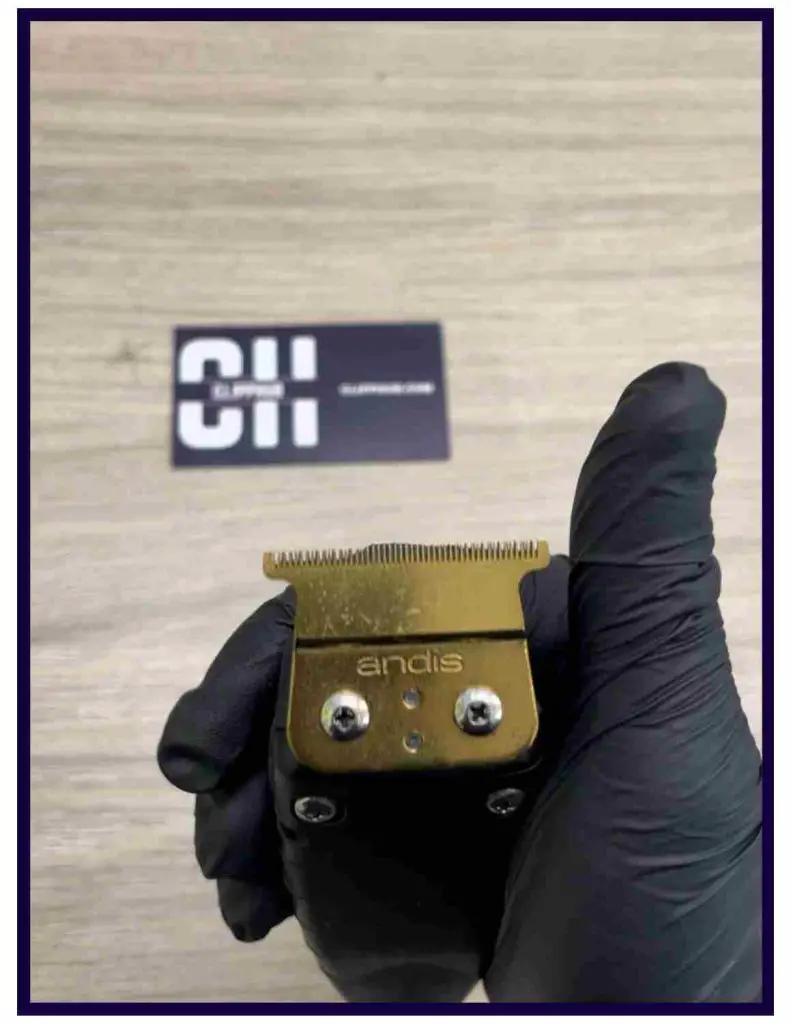 These blades come company zero gapped (the safest gap a company can zero gap their blades for release).
But if you truly want these liners slicing through hair, you can further zero-gap them (But I don't think that would be necessary)
Another minor,  but important detail is that the blades on the trimmers and exposed, similar to the Fx. (Don't worry, that's a good thing!).
T-Blade
The exposed T blade allows for precision lining from all angles, no need to worry about the housing or cord getting in the way when you line up from those difficult angles.  
And because the blade is so thick, it has great coverage, it allows me to tackle more hair in less time.
But what I will say is you must come with a steady to hold this trimmer and have a pretty wide grip.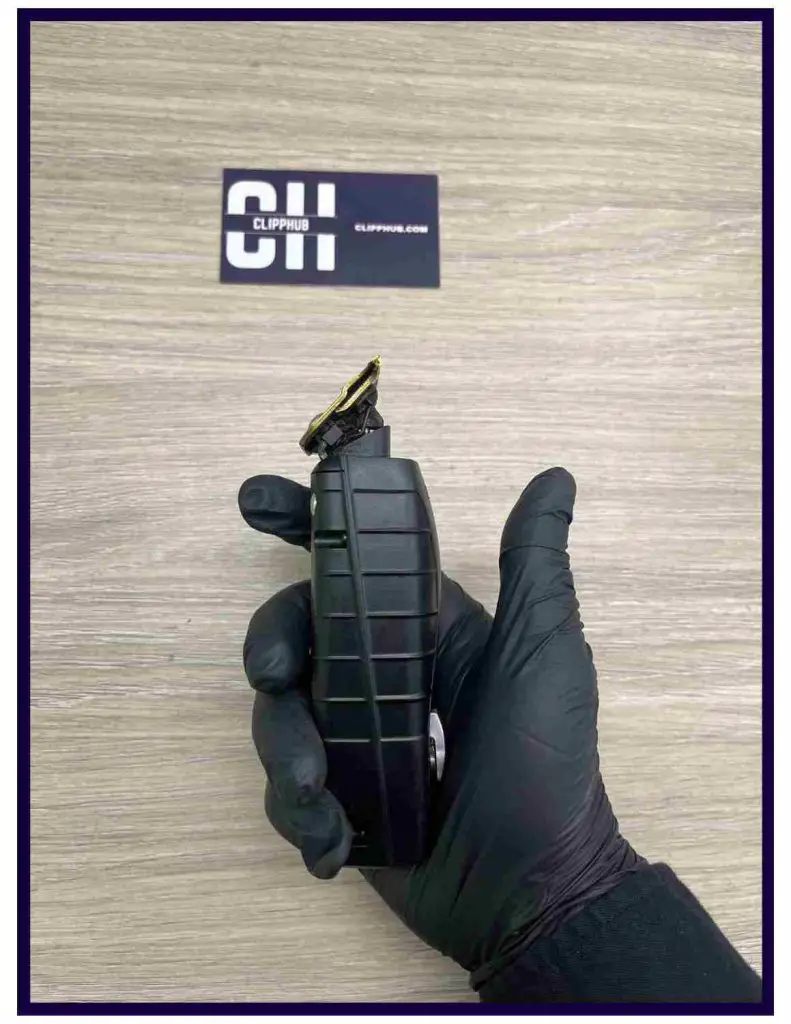 This thing is chunky damn… and due to its rounder build, and with it having some weight to it, you may also have to adapt a little (but it only takes a couple of uses to get used to it).
But what is nice is this size and weight gives the trimmer some base to it so you really feel it in hand, which does help with control.
And when you have control, you'll own a professional grade liner able to produce crisp line-ups on demand. 
Not only is it great for edge-ups on the face and neck hair details but with a steady hand, it can also double as a beard trimmer. 
However… Its starting battery could be a little better.
Runtime
It gives 100 minutes of cordless which is plenty of run life if you purely looking to use this clipper for lineups.
However, if you're after more then it may not be enough but you'd have to test it out to find out.
But at the same time, if you use it and stick it back in the charging stand (a great accessory that comes with this trimmer), you barely notice the battery "dying".
So it's not really a negative but something you should be aware of.
"Best damn trimmer I've ever bought. HIGHLY RECOMMENDED. Cuts closer than all competitors, I've purchased in the past."

review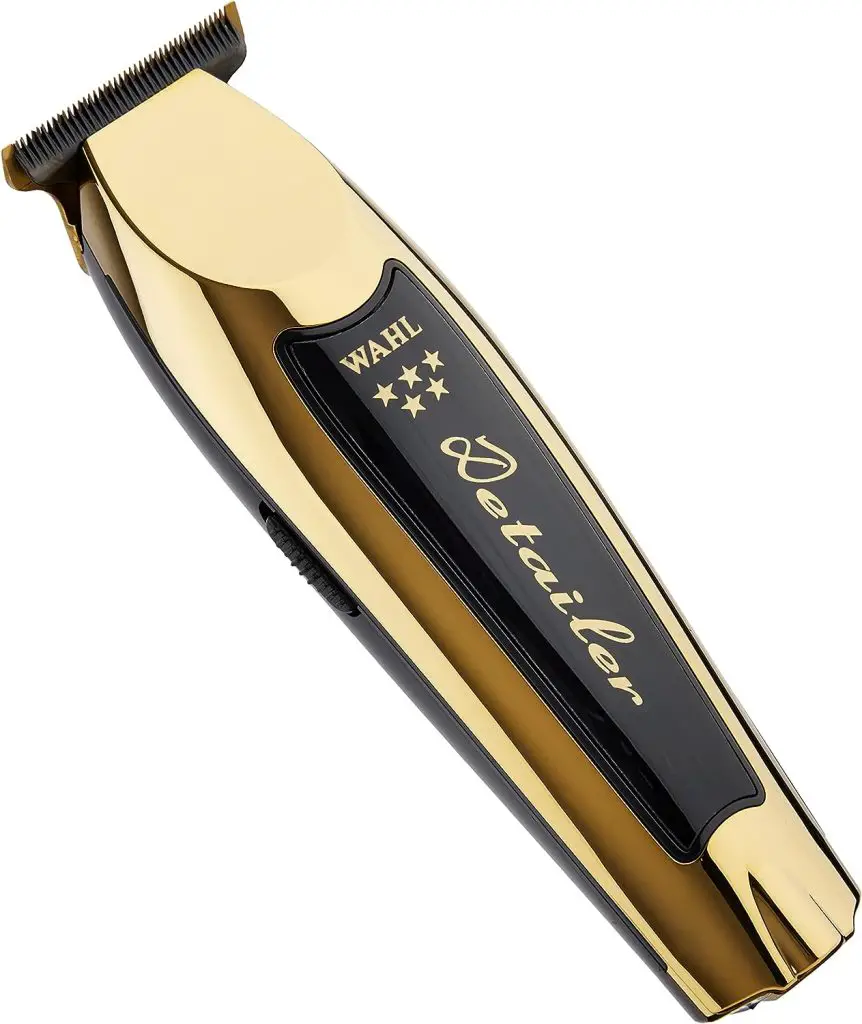 This one is for those who love Wahl, a high-performing trimmer with a little bit of flash.
So…If you are looking for a natural upgrade on the famous classic detailer, one that can deliver more power, more precision, and look the part, then you should consider the Wahl Cordless Detailer Li.
Clipper Motor
This is a trimmer that combines advanced blades with a full-sized clipper motor to give you a more meticulous cutting performance.
Whether you are a barber, a stylist, or a grooming enthusiast, you will appreciate the features and benefits of this trimmer.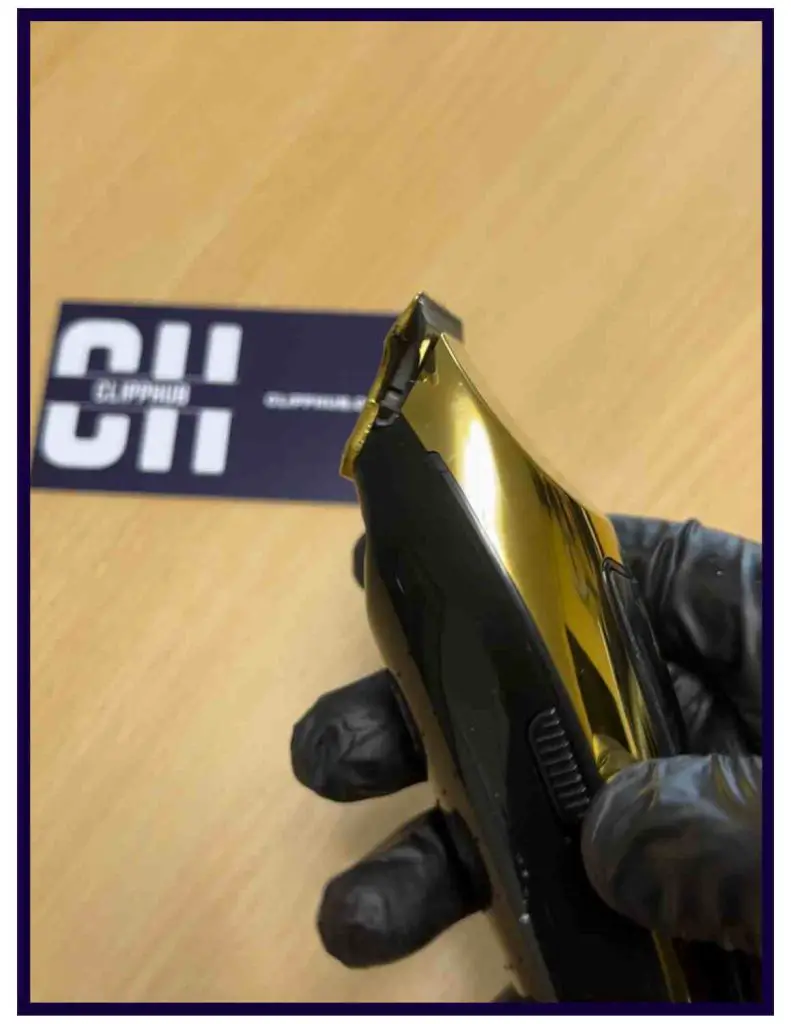 The Wahl Cordless Detailer Li has gold-worthy blades that are made of high-carbon steel with titanium and DLC coatings.
These blades are not only stronger and sharper but also run cooler and more resistant to corrosion.
They can cut through any hair type with ease and smoothness. The blades are also extra-wide and T-shaped, which allows you to trim, detail, and outline with more accuracy and versatility.
And unlike the stainless steel blades on the classic detailer, they don't catch skin like before.
Runtime
The Wahl Cordless Detailer Li has a premium lithium-ion battery that provides up to 100 minutes of cordless run time on a full charge.
The trimmer also has a smart LED indicator that shows you the battery level and charging status and it comes with a matching gold and black charge stand that is stylish and which saves space.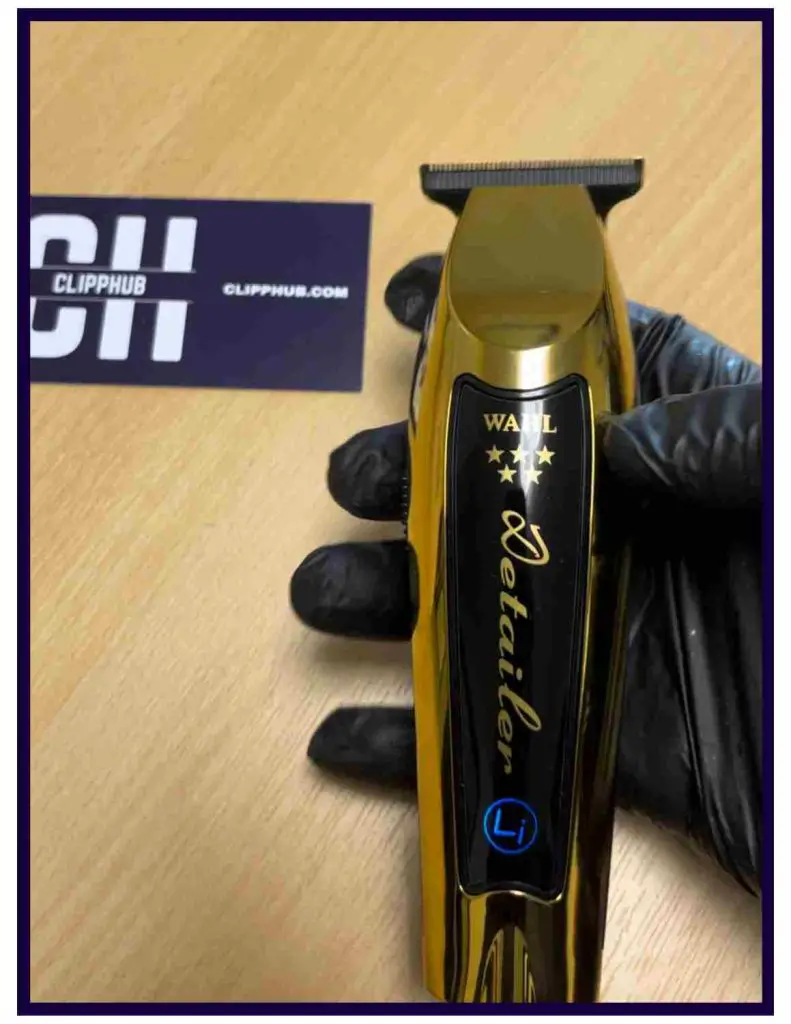 Honestly, this trimmer is an all-around upgrade on the regular detailer and I can't lie, it's a show-stopper that will impress your clients and colleagues with its performance and design.
It also comes with three trimming guides, a pro-set tool, oil, a cleaning brush, and other accessories.
What I would say is that the gold is quite reflective and if you are all about output, it may become annoying on sunny days when light reflects off the case.
But apart from that rare occasion, there's not much I can fault about these trimmers.
And.. even if you don't like the gold shine, you can simply pick up the black version from below.
---
---
"This blade was worth the extra! I could have gone with the lower cost, regular blade, bit am so glad I upgraded! The cut is amazing and the blade teeth seem more durable and less likely to bend."

review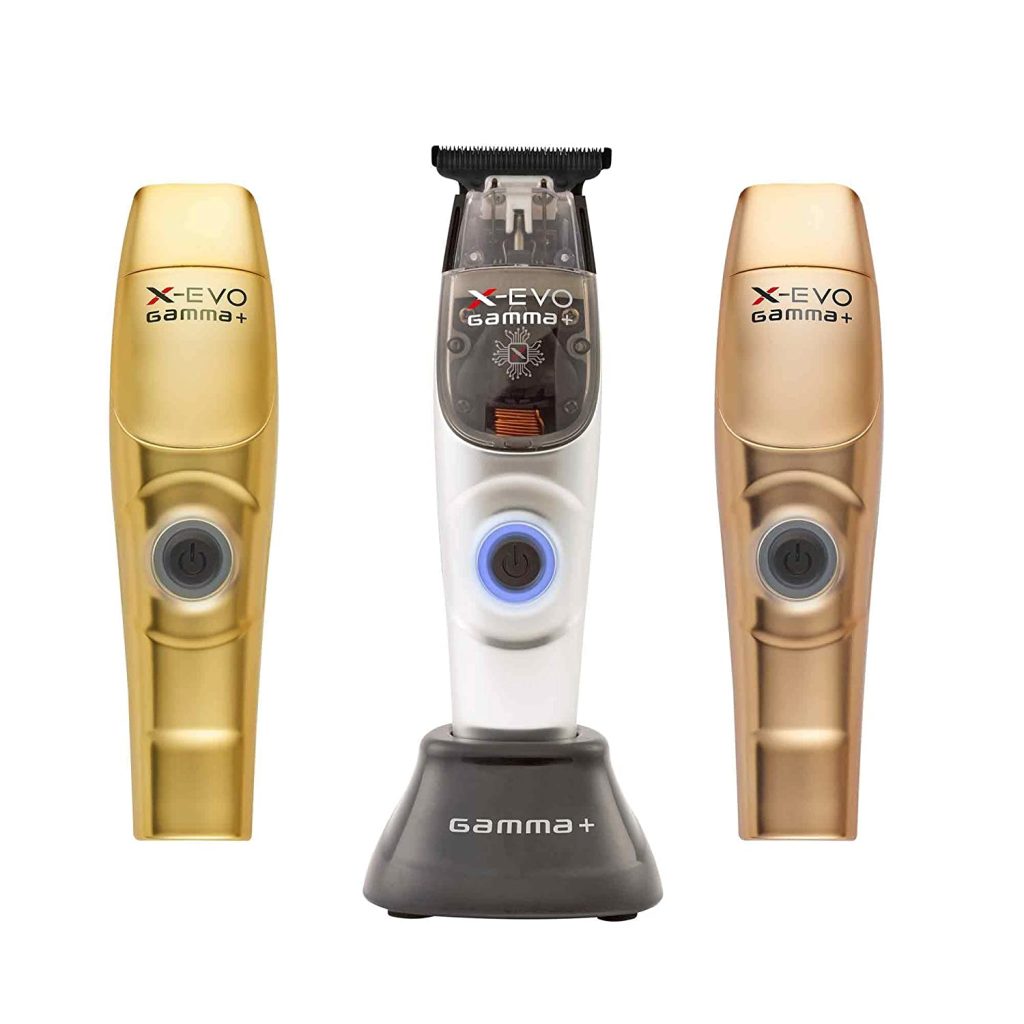 Gamma didn't hold back with this trimmer and that's literal.
If you're after pure cutting power, look into these. 
The GAMMA+ X-Evo Trimmer is their latest high-performance liner with a low-noise and very powerful low-vibration magnetic motor that runs at 10,000 RPM  out of the box.
Yup.. 10,000, you read it right.
Regarding speed/power, it's truly in a class of its own.  
Motor Life
And just because the blades move fast, doesn't mean they run themselves into the ground, as Gamma guarantees over 5,000 hours of motor life from the very first use of these trimmers. 
I can vouch for that, I've constantly used these trimmers and they're still going strong!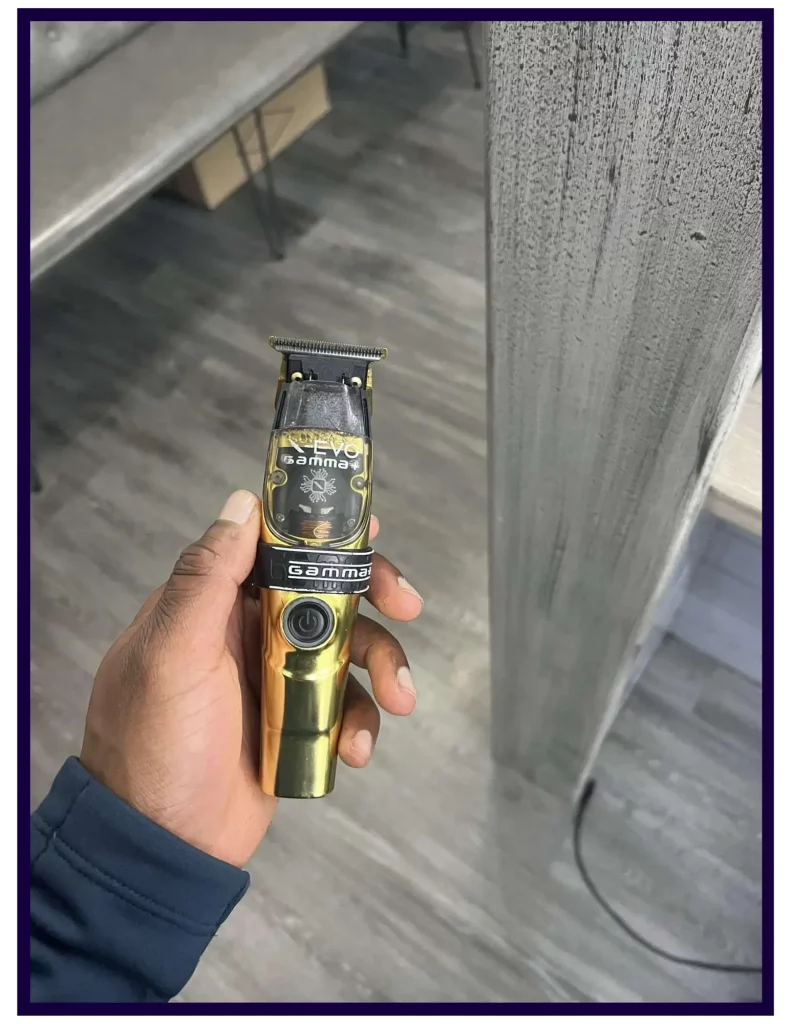 With that powerful motor comes blades which do their part too! 
This liner comes with a double black diamond carbon ultimate 2.0 blade and a deep tooth This type of blade has narrower teeth meaning it cuts hair right on contact, making it ideal for high precision and fine detail work. 
The blades are close and sharp as they are, but if you want to take the close cutting performance up a level you can even zero them further.
(Again I don't think it's needed but the choice is still yours)
Customisable
The trimmer comes in 3 skin options so you can style it how you please and with up to 2 hours of cordless runtime, you can rest assured knowing you'll be getting long-lasting performance from your trimmers. 
Oh, and do you hate removing your blades in and around your motor?
Well, you won't have to worry about going through that whole tedious process as this trimmer has an easy flick-on, flick-motor lid.
This instantly gives access to the internals, so you can maintain your trimmers without the hassle of removing any blades. 
Quality
All around, it's a high quality and great professional grade liner but I emphasize "professional" due to the sheer power of these liners.
If you don't have an intricate touch or the grip to control your liners, these may not be for you as they can get quite buzzy in hand.
So if you are purely a beginner, it may be difficult to control at first but you can certainly adapt, but if you're a professional looking to take your line game to new heights with plenty of power to boot.. grab these and see if you can tame them 🙂
"These things are some real hitters for sure. Hitting hard straight out the box!!! Great for those crispy line ups. "

review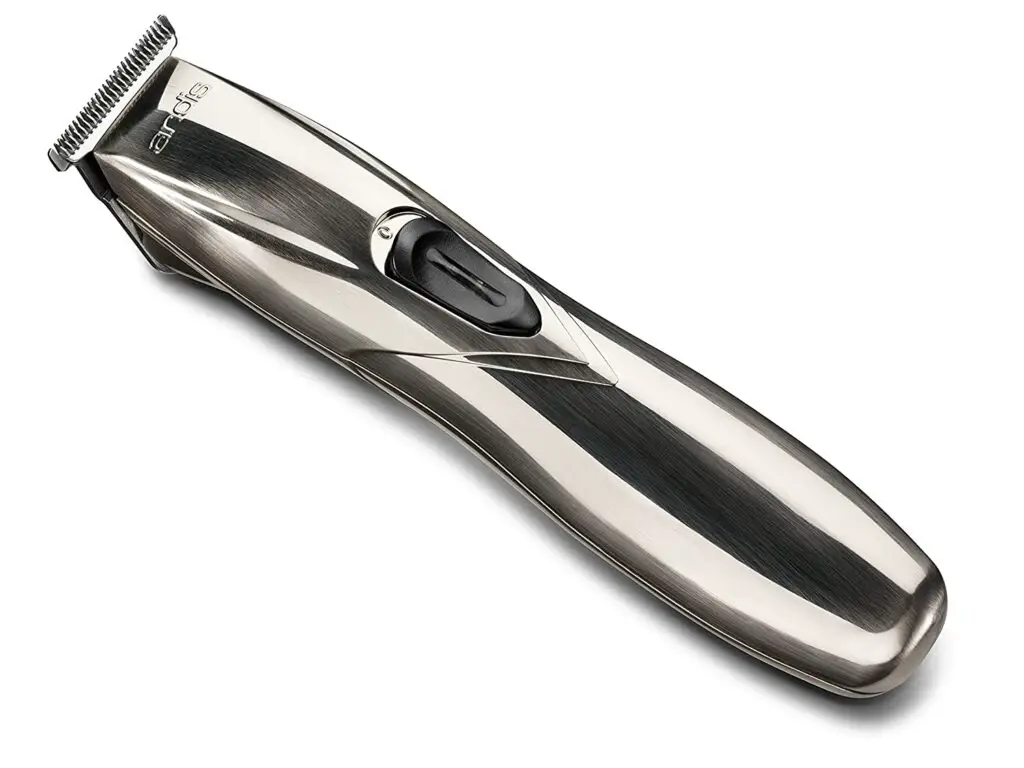 The Andis Slimline is an excellent choice for anyone looking for a cheaper trimmer that provides a sharp, precise cut.
This compact, lightweight trimmer is perfect for outlining and detailing, allowing you to achieve a clean, polished look with ease.
The Slimline's motor comes in at around 6000 rpm which is the weakest on this list but still performs to a high standard. The stainless steel blades, while highly durable, are thin and can also struggle with certain hair types.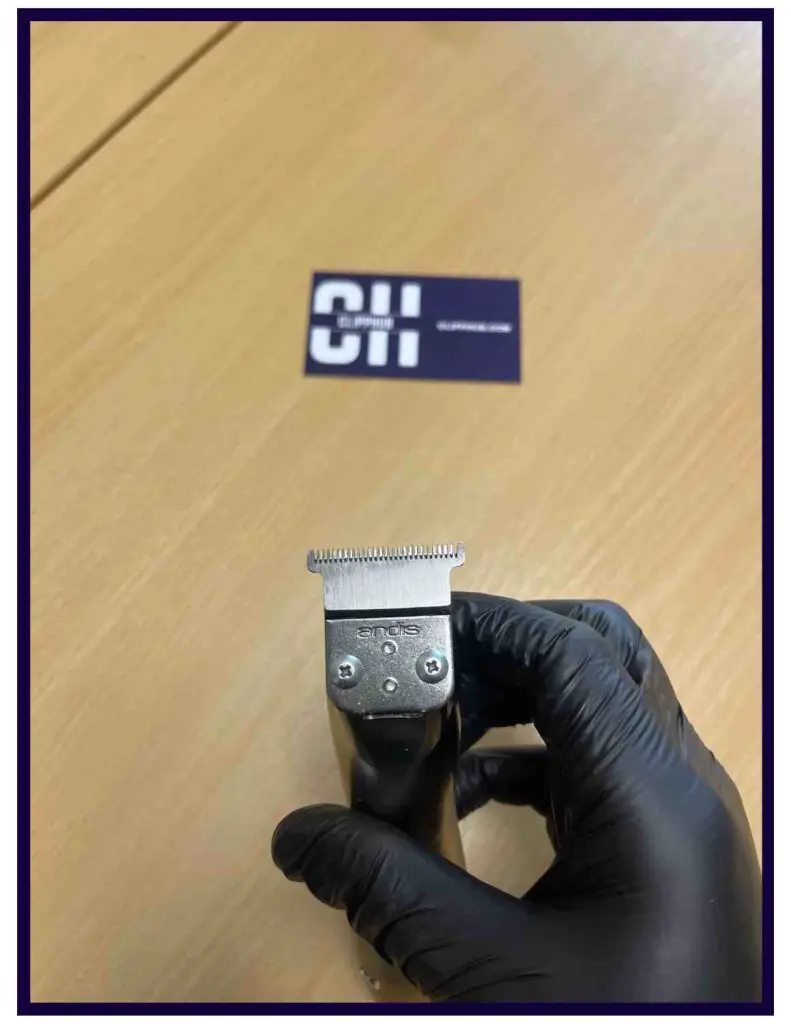 But itself has a design that fits comfortably in your hand, making it easy to manoeuvre around the face and head.
And that's where this trimmer excels. Simply put… it's a great personal liner that you can use for your grooming or for barbers, an excellent backup trimmer.
Runtime
The trimmer has a lithium-ion battery that provides 2 hours of run time with a 2.5-hour charge time.
The best on this +  included in the package is a cleaning brush; The charging pod as oil drips into the pod so battery life is all around great.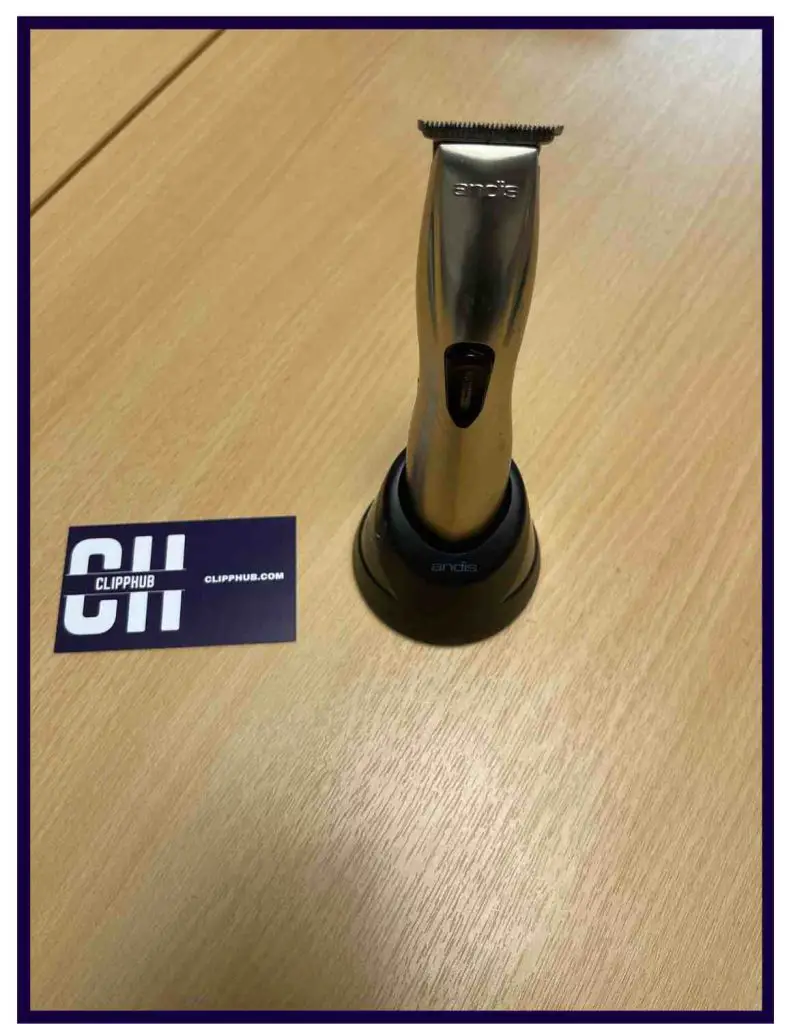 The battery also has a low-battery indicator that lets you know when it is time to recharge.
If you're someone who values a sharp, well-groomed appearance and thin liner, then the Andis Slimline is a must-have tool for your grooming arsenal.

So, if you are new to the lining and looking to impress those around you with your attention to detail, I would highly recommend investing in the Andis Slimline Pro.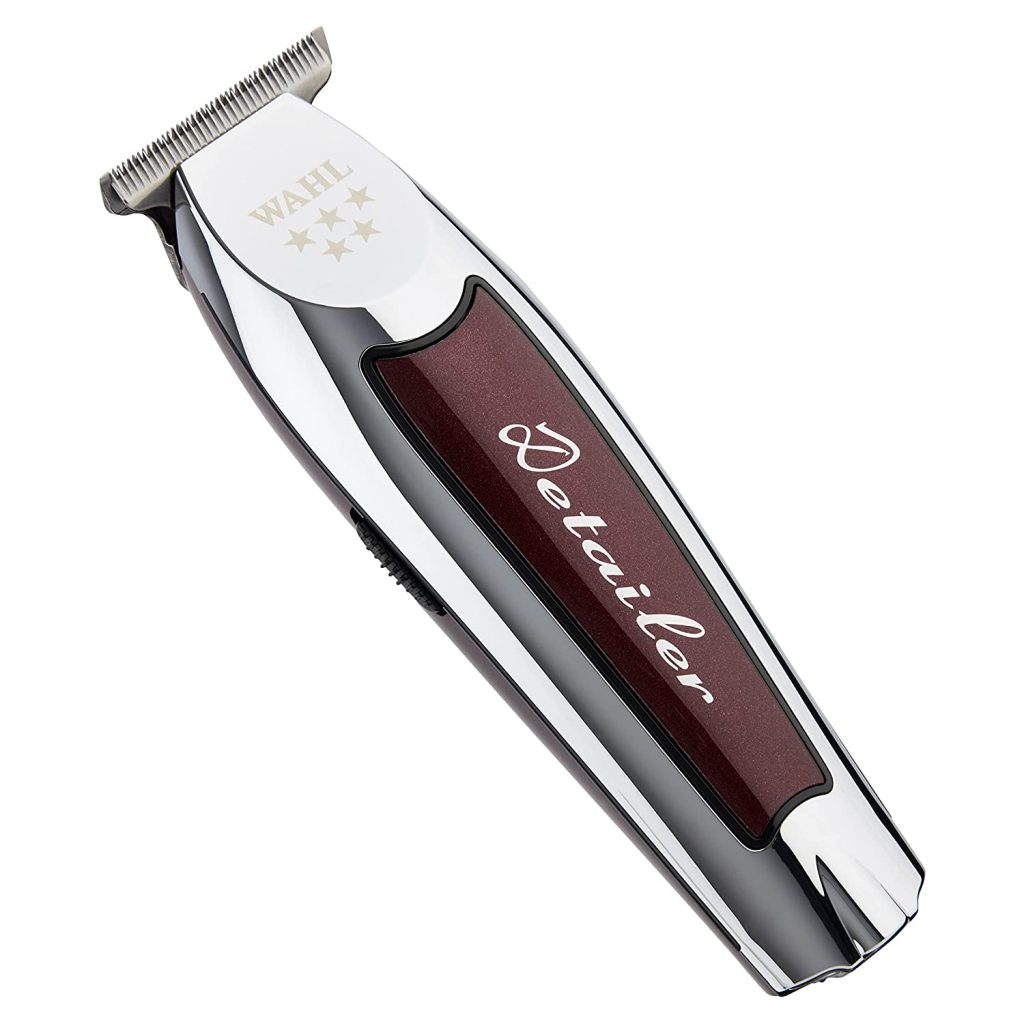 It's Wahl again but this one is more of a regular classic.
The Wahl detailer does exactly as said on the box.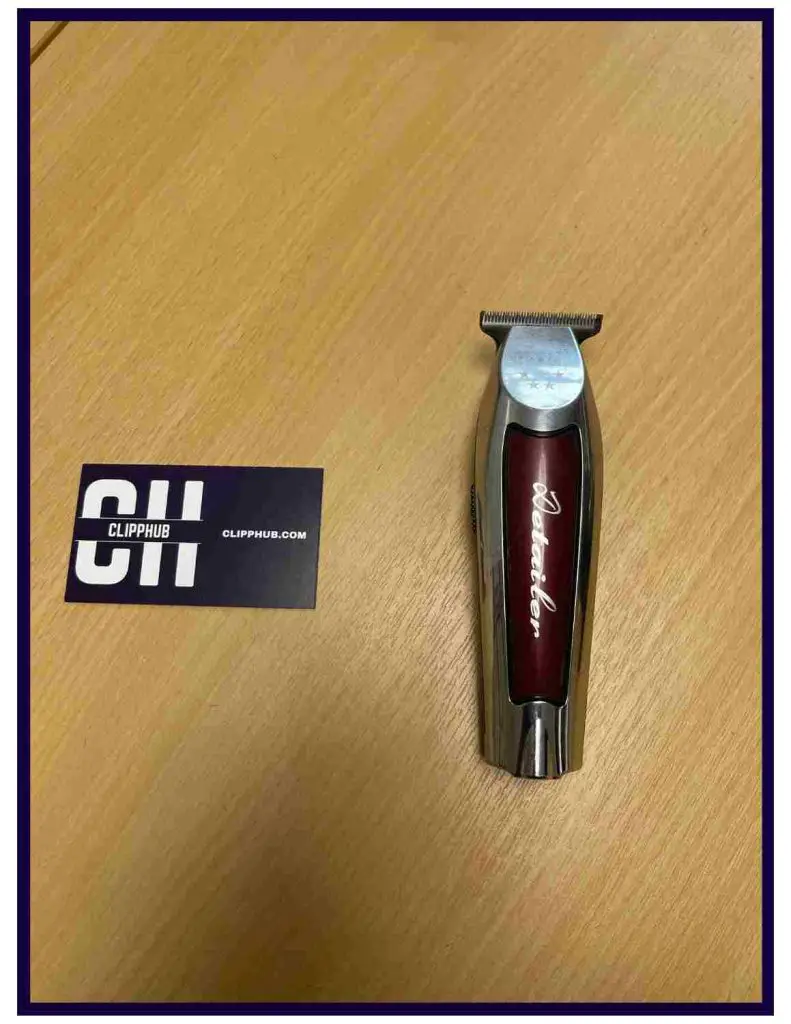 This 6.9-ounce (0.2kg) trimmer is potent when finishing up a cut. 
As you hold it, the 1.57 x 1.77 x 5.91-inch trimmer, you like the pointed-out trimmer and it has a nice kick to it as you turn it on.  
Although it builds with a 6600 rpm (when each blade moves from side to side) rotary motor, it pushes your cutting blade to the max, but you'll never lose control, all you'll hear is a low buzz. 
The modern Wahl detailer is made to easily wrap around your hands so you can detail from any angle with no drop in performance. 
And performance never lacks. The manufacture of zero-gapped stainless #2215 steel blades is one of the best in the business. 
As with the gold detailer Li, this trimmer has a unique feature that sets it apart from other trimmers
T-Blade
An extra-wide T-shaped blade that can cut closer, straighter and faster than standard blades.
The blade can also be adjusted to zero-overlap for super close trimming, outlines and accurate detail work.
Whether you want to create patterned designs, shape-ups or beard lines, the Wahl Cordless Detailer Li can help you achieve your desired look with ease and confidence.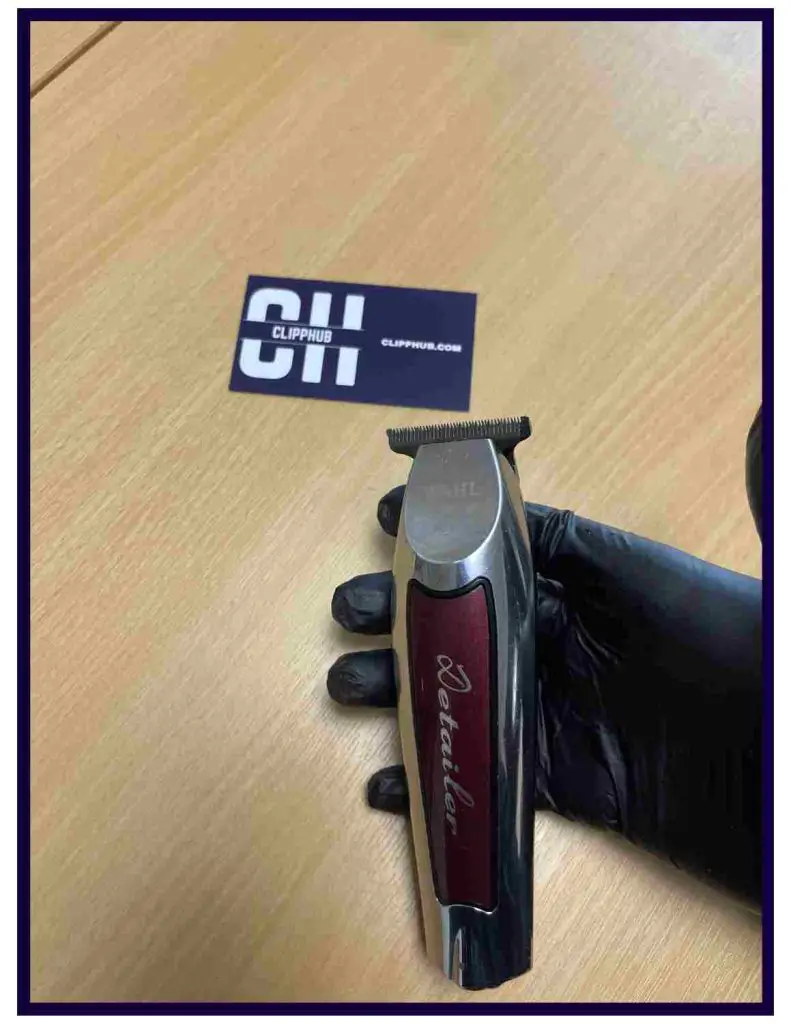 The only downside is due to the long T blade and with it not having the coating of the gold detailer, sometimes find that this trimmer gets caught on the skin- though I will say it is rare.
so as long as you are careful and take your time, you can get a sharp cut with minimum cuts … (No pun intended).
Charging
The Wahl Cordless Detailer Li comes with a space-saving charging stand that securely holds the trimmer while charging.
It also comes with a blade guard, three attachment combs (grades 0.5 – 1.5), a cleaning brush and a blade oil to ensure maximum performance and durability.
The Wahl Cordless Detailer Li is a versatile and reliable trimmer that can handle any hair type and style.
It is ideal for barbers and hairdressers who want to offer their clients the best service possible.
This Trimmer is lightweight, cordless, and has an ergonomic design that provides balance and control when outlining.
"Very easy to use with the perfect weight."

review
A Buyer's Guide to Lineup Trimmers
What exactly should you look for when trying to purchase a hair clipper, more specifically, a lineup clipper? 
We'll go through this next. 
Types of the trimmer for lineups: 
There are two main types of lineup clippers: corded and cordless. 
Corded clippers have a constant power supply but require a power outlet.
The cord outlet can be a hindrance at times but as long as it's long, you can still get consistent power while being flowable. 
On the other hand, cordless clippers are more portable but have limited battery life. Some cordless clippers allow you to charge them while in use 
Blade Quality: 
The cutting blade quality is crucial when determining the precision of the cut. Stainless steel blades are the most popular and consistently sharp hair-clipper blades in the market. 
Titanium steel blades are more durable however they are more expensive and you are unable to sharpen them well.
Then there are ceramic blades.
These are nowhere near as durable or sharp as either titanium or stainless steel blades and they cannot be sharpened either, but they do generate less friction and don't overheat. 
The length of the blade is also important to consider. Look for clippers with adjustable blades to achieve various cutting lengths for different hair types.
Motor Power: 
The power of the motor determines how quickly the cutting blades move which determines the.
For professionals, it's essential to have a powerful rotary motor to reduce cutting time. However, a less powerful motor will suffice if you're only trimming your hair.
Accessories:
Trimmer/line-up clippers don't need accessories like regular clippers, especially if you only want to use them so strictly to finish up haircuts. 
However, if you would like to use your trimmers for more than that, having accessories like guards can be beneficial as it means you can use them in other places and cut hair close to the skin with control. 
Brand Reputation: 
Look for reputable brands that are known for producing high-quality clippers.
This will ensure you get a durable product that will last a long time.
More reputable and well-known brands have more money to invest in their product to produce better quality items for the market. 
Less well-known brands are good, however, they tend to copy the larger brand model and use cheaper components which isn't as quality as the original designs. 
FAQ
Below is a guide you can use to help you learn how to line up haircuts.
How to Line up a Hair Cut With a Line-up Trimmer
Now you've got your liners, put them to use to give the crispest lineup to yourself or your clients. 
The video below outlines the simple process: 
SUMMARY – Shape up Clippers
I'm this article, we covered the best lineup clippers in the game. 
You learned how to pick a good lineup clipper and how to put them to use. 
So.. now you know the best lineup clippers… why not grab one from below?