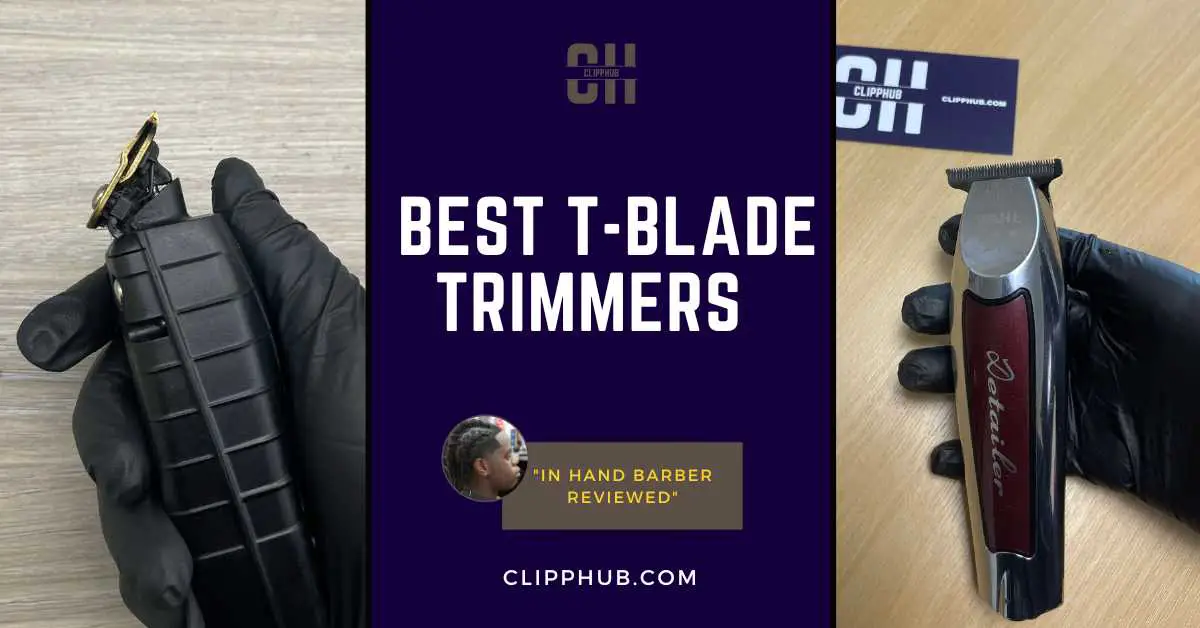 There's a reason certain T-blade trimmers are able to produce sharp hairlines from the very first touch.
It's not by coincdence or because "they're supposed to"
No. They are built specifically to creat the the most ruler sharp lines out of all trimmers.
A line that cuts hair right down to the follicle leaving you looking clean and very much brand new.
No need to adjust them. They come sharp and ready to perform. 
So… If you want a trimmer that give syoi unfair advantage in creating laser lines like this:
Then.. you'll need one of the best hand-tested T blade trimmers from the biggest brands.
They're below, take a look.
Best T Blade Trimmers
Best T Blade Trimmers
Not sure which T blade trimmer is best for your specific needs?
That's understandable.
Not many do.. and not many care.
Most trimmer owners simply put up with whatever machine they currently own and pray it gives the cut they want.
But shock.. they rarely ever do.
Infact, here's what they experience:
Their batteries constantly dying on them when they need it most, their blades become rough and chipped and the motor begins to sound like a jet engine… On a good day. 
Sucks to be them. But…
There trimmer owners that know exactly what they're getting their trimers and they're always satisfied.
You see…
There's a reason some people are able to experience excellent cutting performance from their T blade trimmers.
It's not steady hands, it's not about skill and it's not luck. 
They use a specific set of factors that guarantee they make the correct clipper choice – one that cuts like a dream, leaving them fresh and well-groomed.
What are these factors? 
Well, it depends on what you're looking for…
Some of us want a T-blade trimmer with a super long battery life.
Others want a T-blade trimmer that will last us years and some just want a budget pair that will do the bare basics exceptionally well.
Regardless of what you're looking for, the most IMPORTANT thing is the trimmer you select for the job. 
Here at ClippHub, we've handpicked only the of the best T -blade trimmers – along with detailed (but simple) descriptions of each.
Need some more insight it each?
Read on.
Best T Blade Trimer
Babyliss. 
A well known brand differentiated with their uniquely designed and very premium products. 
Are you looking for a T- blade trimmer that can give you sharp and precise lines, long-lasting performance, and a stylish design? If so, you might want to grab this guy: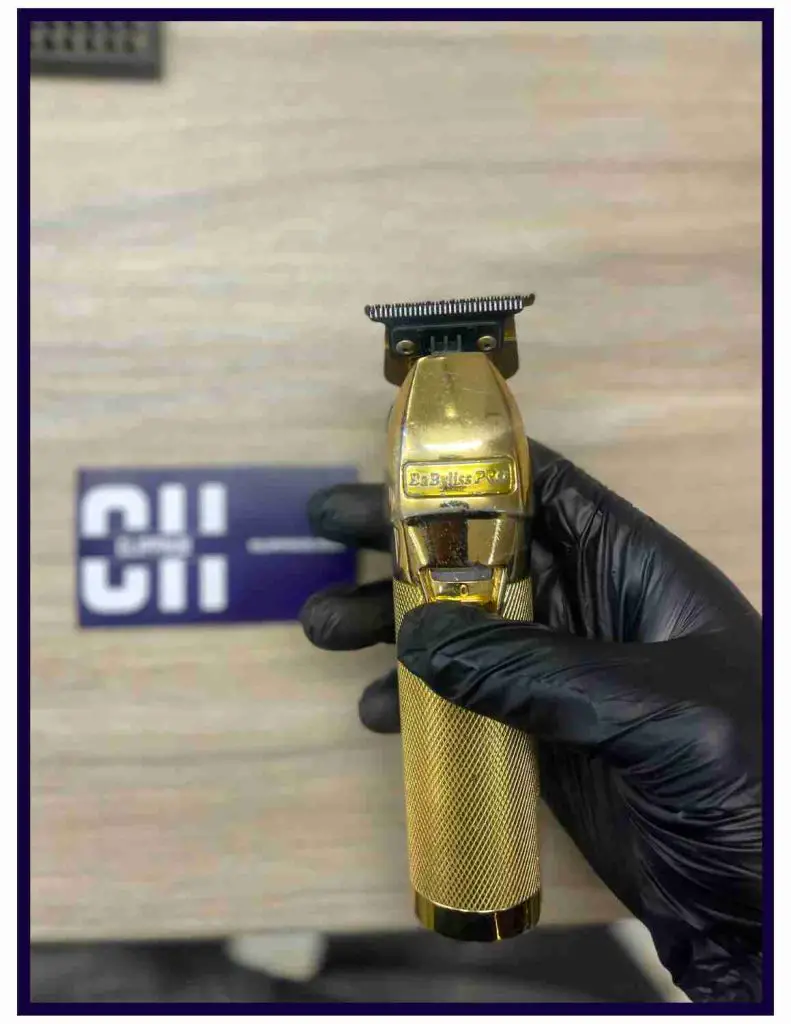 The Babyliss Gold FX trimmer is a metal lithium outlining trimmer that comes with a DLC deep-tooth blade that works on all hair textures, especially on the hairline.
It has a powerful Italian-designed brushless motor that runs at 7200 RPM, delivering fast and effective cutting on all hair types.
It also has a lithium-ion battery that gives you up to 2 hours of cordless run-time and can be recharged with a universal micro-USB cord.
That's all great but it's now what I want you to pay attention about what this brand and trimmer can offer to you.
One of the great features of the Babyliss Gold FX trimmer is that you can customize it with different T blades to suit your needs and preferences.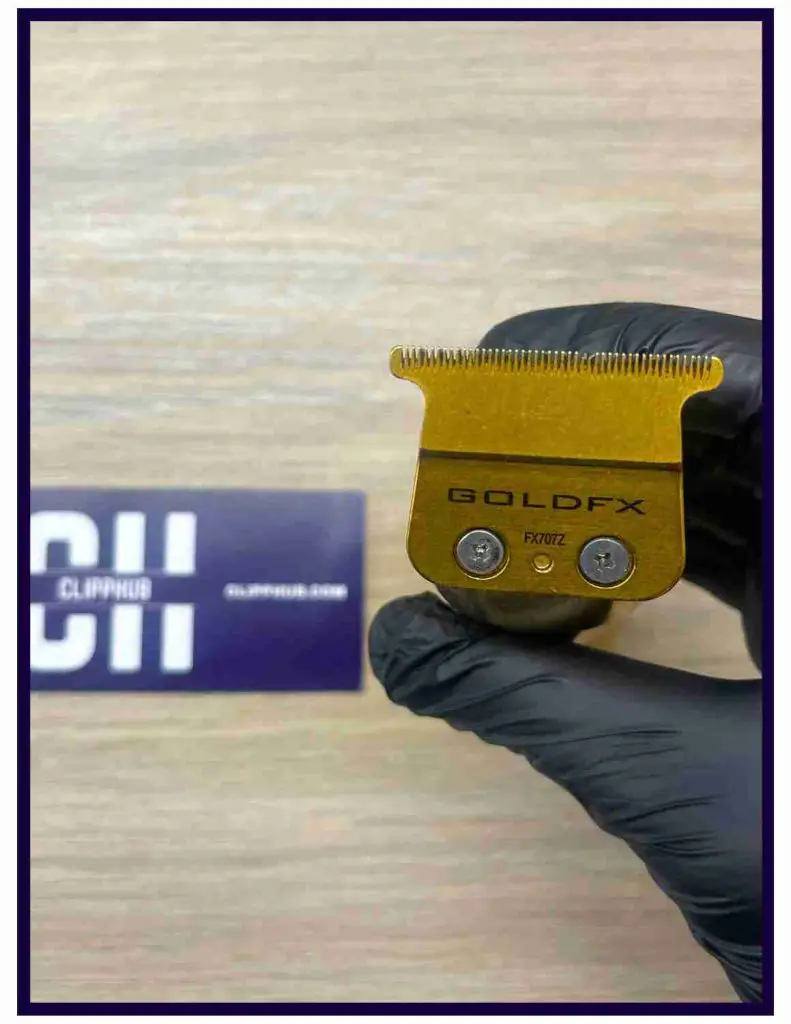 Babyliss has a wide range of T blades that are compatible with the Gold FX trimmer, such as the DLC deep-tooth blade, the graphite fine tooth blade, the silver skeleton blade, and the gold skeleton blade.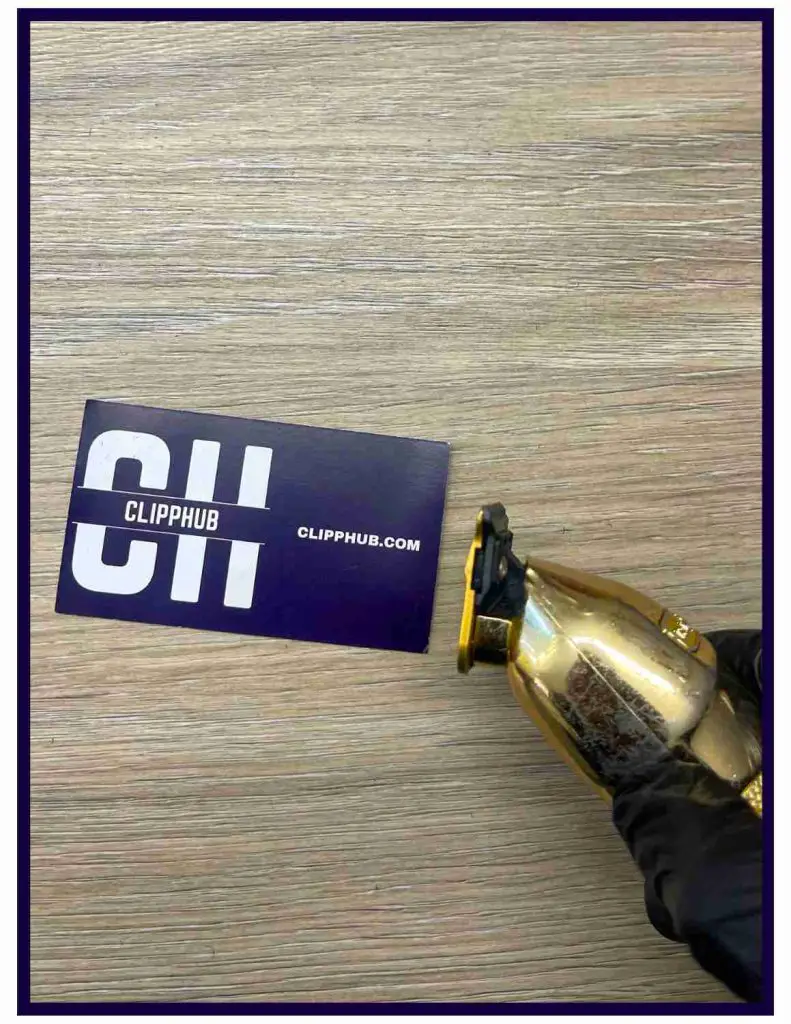 I opted for the Gold fx blade which is the best overall blade in my opinion and the graphite 2.0 blade: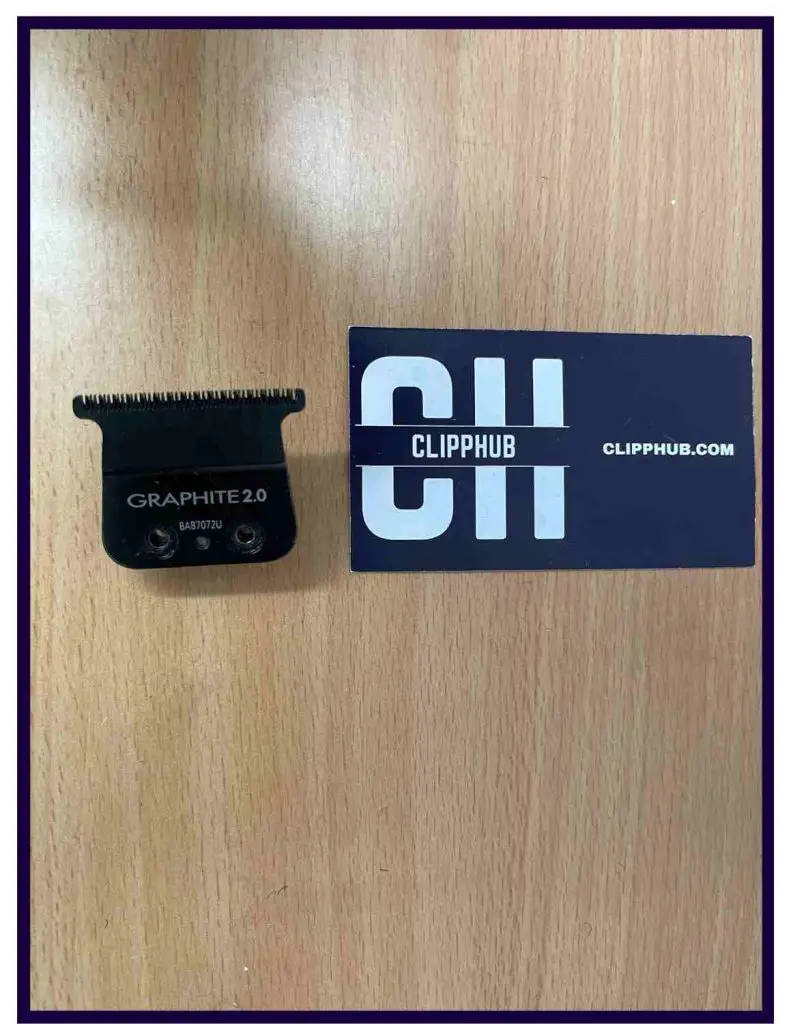 You can find all the T-blades Babyliss has on offer in this guide:
This trimmer too is alo naturally is light but also, thanks to the knuckle barbell handle, the trimmer is comfortable and provides a secure grip for better control and maneuverability.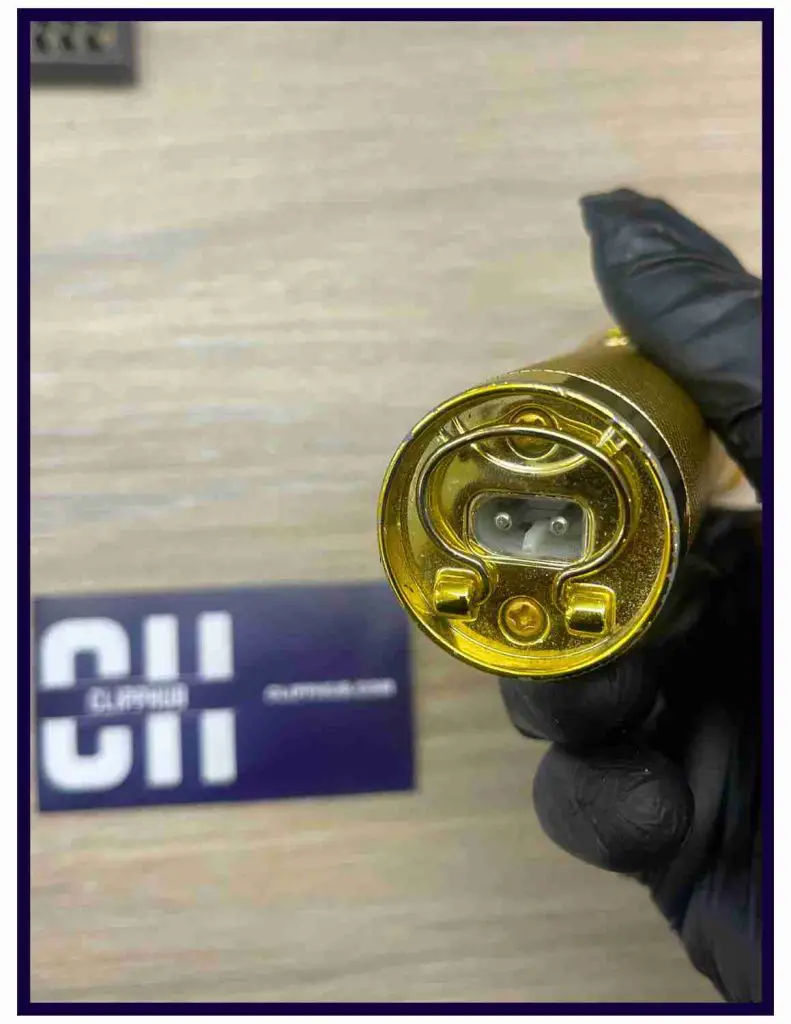 It also has a shiny all-metal housing that makes it durable and sleek, as well as a detent hanging hook for convenient storage and access. The Babyliss Gold FX trimmer comes in different colors to suit your style:
---
---
The Babyliss Gold FX trimmer is a trimmer that was groundbreaking when it was released and has been a fan favorite among barbers ever since.
It may take some time to get used to the torchlight shape, but once you do, you will love how this trimmer works wonders on your hair. 
"Great product, looks beautiful and feels solid. Best pair of clippers I've ever owned hands down."

Review
If you are looking for the most robust and durable trimmer on the market, look no further than the Andis Gtx-Exo.
This is the new and improved version of the Andis Outliner, a line of trimmers that has been known for its quality and consistency for many years.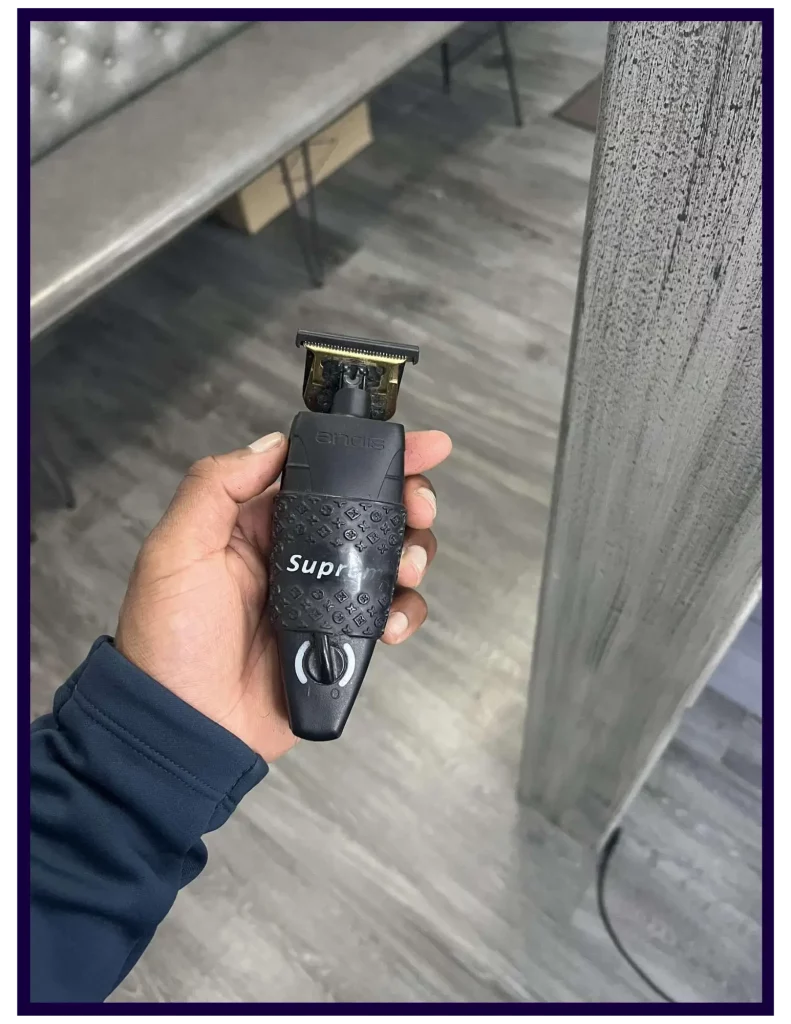 The Andis Gtx-Exo is a cordless trimmer that weighs 2 pounds (0.9 kg) and measures 10.83 x 5.24 x 4.49 inches.
It has a powerful, high-speed rotary motor that delivers blade speeds over 7,200 RPM, making it capable of cutting through all hair types without dragging, stalling, or pulling. The trimmer features the new and improved Gold Andis GTX-Z blade, which is pre-set with a tighter gap for finer detailing and has a corrosion-resistant coating.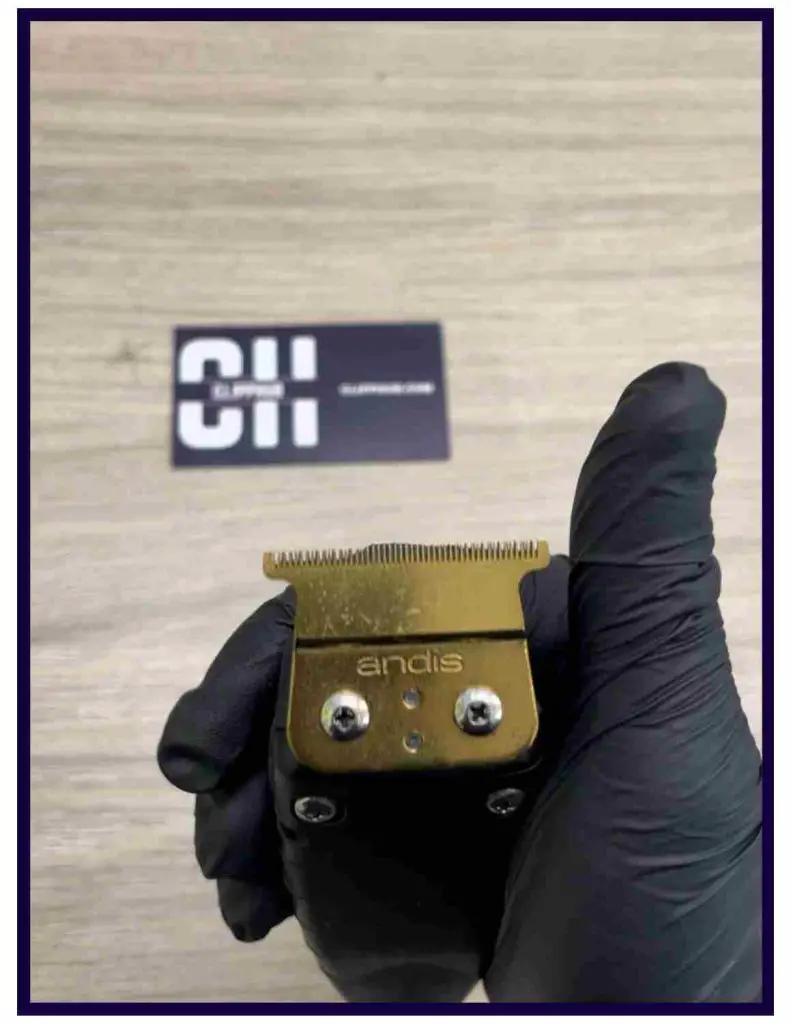 The blade is more exposed , similar to the Fx, which allows for precision lining from all angles. To add to this, due to the blades thickness, it also has great coverage, allowing you to tackle more hair in less time. The trimmer also comes with a charging stand, which keeps it ready for use whenever you need it.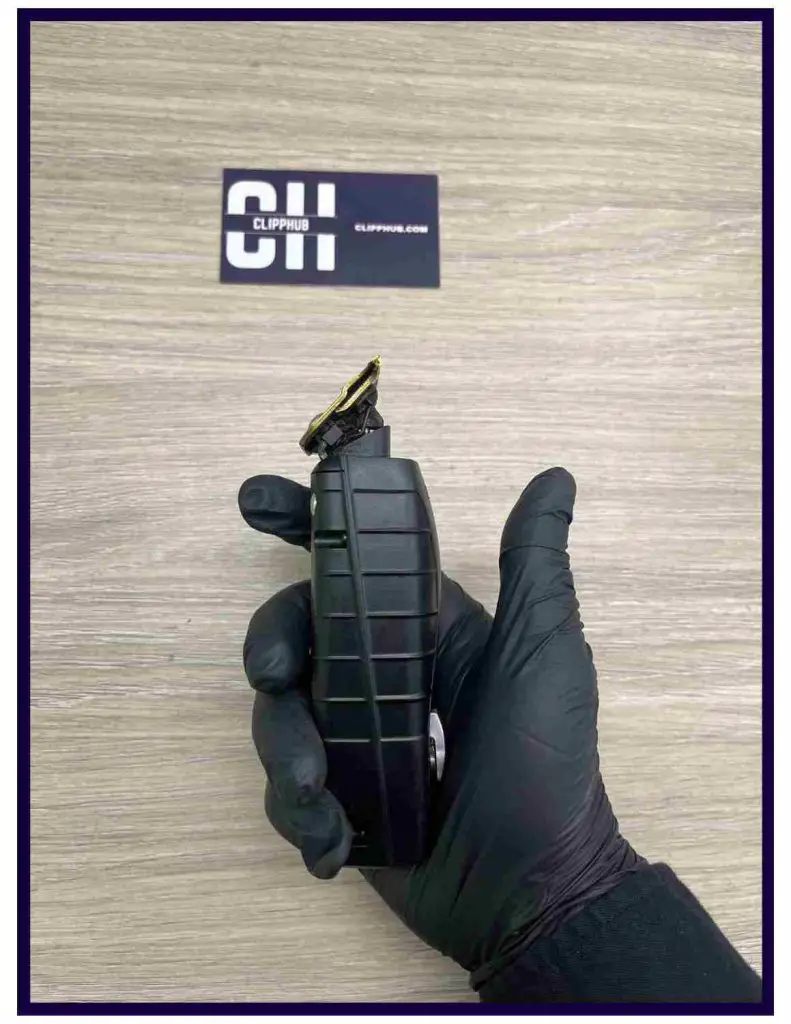 You should also be prepared to adapt to the size and weight of the trimmer, as it is chunky and rounder than most trimmers. But once you get used to it, you will appreciate the control and stability that it gives you.
You will also enjoy the mellow hum of the trimmer, which indicates its reliability and performance.
"Best damn trimmer I've ever bought. HIGHLY RECOMMENDED. Cuts closer than all competitors, I've purchased in the past."

review
If you are a fan of Wahl, a high-performance trimmer, and a touch of luxury, then you will love the Wahl Cordless Detailer Li.
This is a limited edition gold trimmer that offers more power, more precision, and more style than the classic detailer. It is the perfect choice for barbers, stylists, and grooming enthusiasts who want to achieve meticulous cutting results.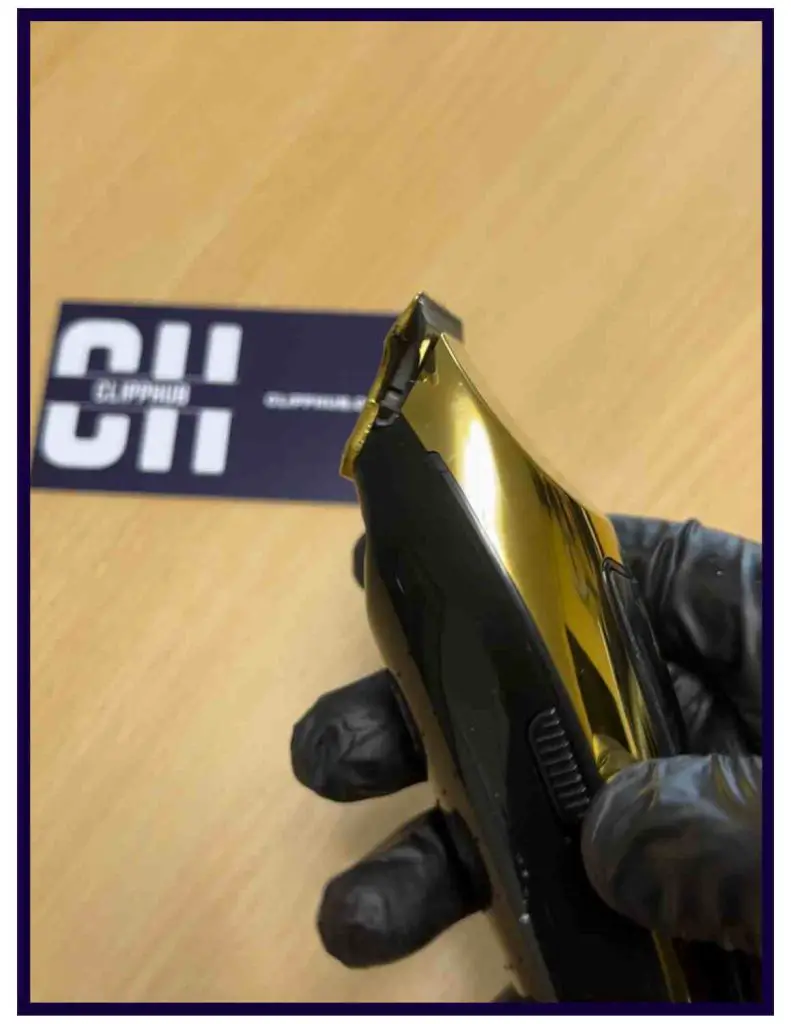 The Wahl Cordless Detailer Li features gold-worthy blades that are made of high-carbon steel with titanium and DLC coatings.
These blades are not only stronger and sharper, but also cooler and more durable. They can cut through any hair type with ease and smoothness.
The blades are also extra-wide and T-shaped, which allows you to trim, detail, and outline with more accuracy and versatility. And unlike the stainless steel blades on the classic detailer, they don't catch skin like before.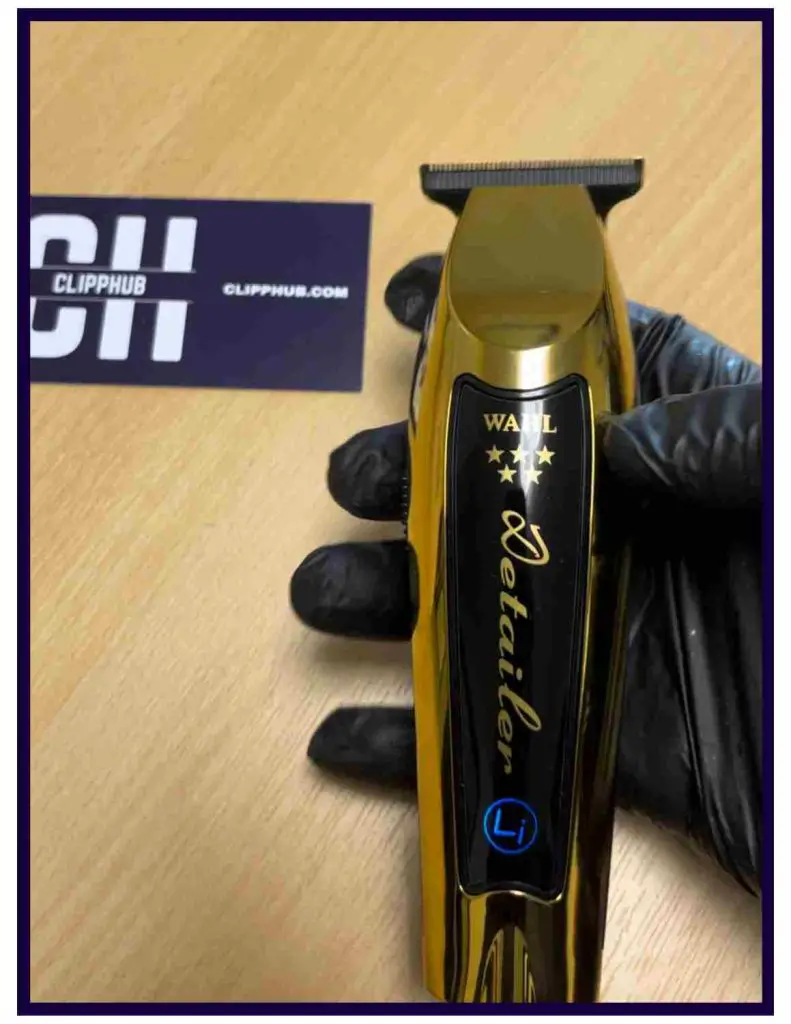 The Wahl Cordless Detailer Li also has a premium lithium-ion battery that provides up to 100 minutes of cordless run time on a full charge.
The trimmer also has a smart LED indicator that shows you the battery level and charging status. And it comes with a matching gold and black charge stand that is stylish and space-saving.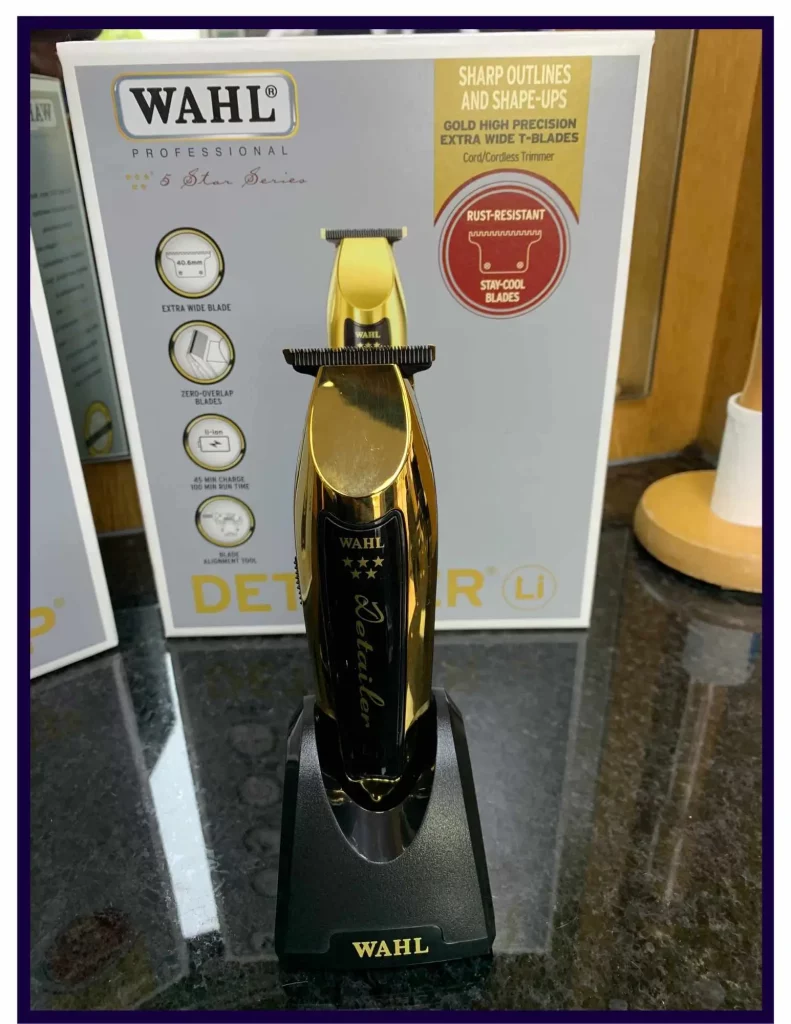 This trimmer is an all-round upgrade on the regular detailer and a show-stopper that will impress your clients and colleagues with its performance and design. It also comes with three trimming guides, a pro-set tool, oil, cleaning brush, and other accessories.
The only downside of this trimmer is that the gold is quite reflective and it may become annoying on sunny days when light reflects off the case. But apart from that rare occasion, there's not much to fault about this trimmer. And even if you don't like the gold shine, you can simply pick up the black version from below.
---
---
"This blade was worth the extra! I could have gone with the lower cost, regular blade, bit am so glad I upgraded! The cut is amazing and the blade teeth seem more durable and less likely to bend."

review
Yes, It's Wahl again, but this one is for those who like the wide T design unique the limited Gold magic detailer.. just not at the same price.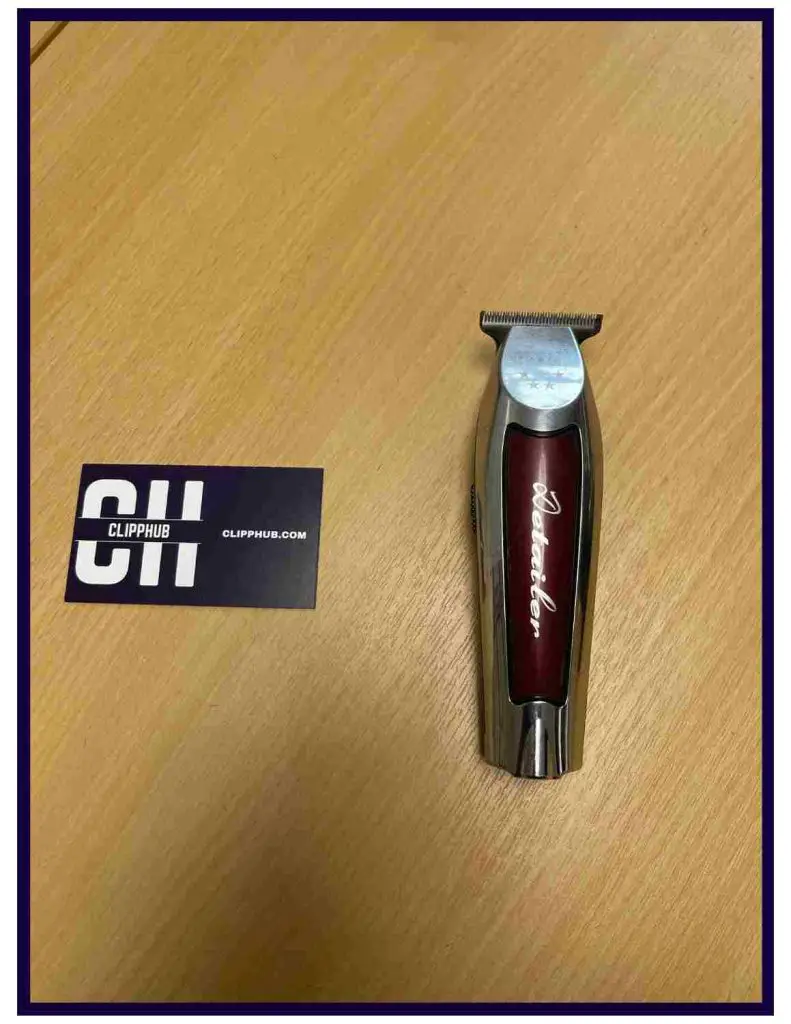 The classic detailer comes at a modest trimmer motor that runs at 6000 spm (when each blade moves from side to side). It's slower running compared to it's gold counter part but what that means is you get more control and the trimmer is mor eforgiving.
What this essentially means is compared to the other powerhouse T blade trimmers on this list, you get more leeway in making a mistake as the trimmer won't instatly slice through the hair – But still with enough force these things to can cut hair right down to teh root level.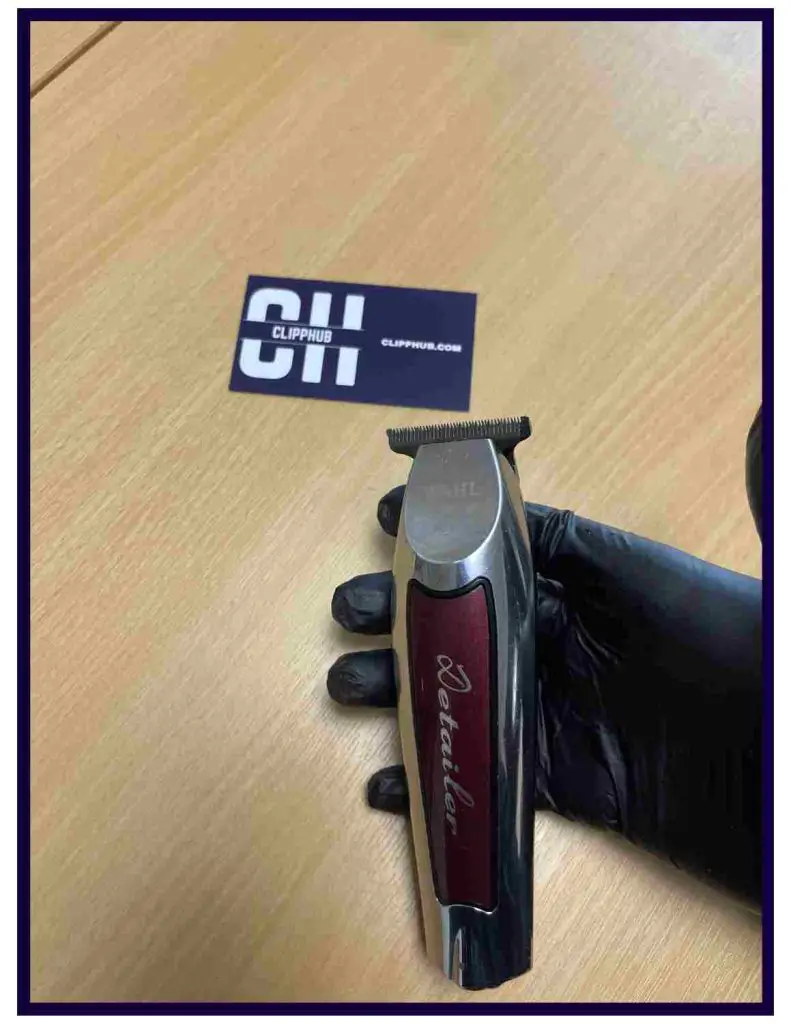 It comes with thoe WIDE zero-gapped stainless T blades which is the best blade type for detailing.
This Trimmer is lightweight, cordless, and has an ergonomic design that provides balance and control when outlining.
It also comes with a blade guard, three attachment combs (grades 0.5 – 1.5), a cleaning brush and a blade oil to ensure maximum performance and durability.
The Wahl Cordless Detailer Li is a versatile and reliable trimmer that can handle any hair type and style. It is ideal for barbers and hairdressers who want to offer their clients the best service possible and is also a great budget personal t bladde trimmer.
"Very easy to use with the perfect weight."

review
A Buyer's Guide to T- Blade Trimmers
What exactly should you look for when trying to purchase a T – Blade trimmer? 
We'll go through this next. 
T Blade Trimmer Guide
A T-blade trimmer is a device that can help you achieve precise and close trimming of your hair, beard, and other facial features.
It has a wide blade with two curved edges that allow you to access hard-to-reach areas and create sharp lines and designs. If you are looking for a T-blade trimmer, here are some factors to consider:
Corded or cordles
A corded trimmer offers consistent power and performance, but it may limit your mobility and require an outlet nearby.
A cordless trimmer gives you more freedom and flexibility, but it depends on the battery life and charging time. You may want to look for a trimmer that has a long run time, a quick charge feature, and an indicator of the battery level.
Blade quality
The blade of the trimmer is the most important part, as it determines how well it cuts and how long it lasts. You may want to look for a trimmer that has a precision ground blade, which ensures the best cutting performance and durability.
You may also want to look for a trimmer that has a zero gapped blade, which means that the blade is adjusted to the closest possible setting, allowing you to achieve a very close shave without irritation or bumps.
Attachments and accessories
Depending on your needs and preferences, you may want to look for a trimmer that comes with different attachments and accessories that can help you achieve various styles and lengths.
For example, some trimmers come with guide combs that let you choose from different cutting lengths, while others come with detailer heads that let you trim your nose, ears, and eyebrows. Some trimmers also come with extras like a pre-shave brush, a cleaning brush, a storage stand, or a travel case.
Price and warranty
The price of the trimmer may vary depending on the brand, quality, features, and accessories. You may want to compare different options and see which one offers the best value for your money.
You may also want to check the warranty of the trimmer, as it indicates the confidence of the manufacturer in their product and the service they provide in case of any issues.
FAQ
Below is a guide you can use to help you learn how to line up haircuts.
How to Use a T Blade Trimmer
Now you've got your liner, put them to use to give the crispest lineup to yourself or your clients. 
The video below outlines the simple process: 
SUMMARY – Best T Blade Trimmers
I'm this article, we covered the T blade trimmer around. 
You learned how to pick a good lineup clipper and how to put them to use. 
So.. now you know the T blade trimmers .. why not grab one from below?