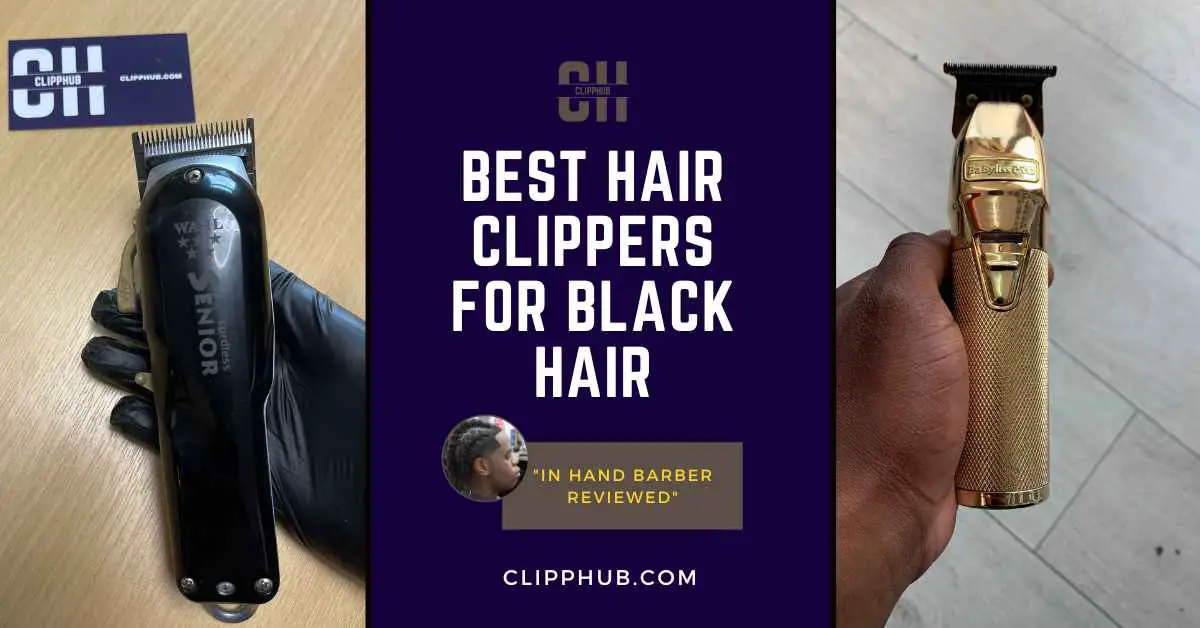 Looking for the Best Clippers for Black Men's Hair?
Well…. you're in the right place
A clipper that is highly adaptable and easily cuts through curly hair is essential when choosing a clipper for black hair.
Choose the wrong one, the whole cutting process becomes a difficult and time-consuming operation.
You'll pull hair with every flick or your clippers will simply burn out from not being able to that particular Afro texture. 
Choose the right one, and you'll have the freedom to attempt any type of cut you want as you'll have the right tool in your arsenal. 
And with the right tool, you can produce cuts such as this:
But only specific tools allow for this. 
Want the best hand-tested clippers for black hair?… take a look below. 
Best Clippers for Black Men's Hair
Best Hair Clippers For Black Men
So you're looking to get the best clippers for black hair …but it seems you're not sure which clipper is best for your specific needs.
That's understandable.
Not a lot of people do or care. 
Did you know most clipper owners put up with whatever tool they currently own? 
Simply praying that the random clippers they pick up from the local store will be enough to do the job. And shock.. it never is. 
Then those same clippers come to eventually die on them in a matter of months and never give them the clean-cutting performance they were truly after…
But.. the clipper owners who know exactly what to look for in a clipper will always achieve the exact cut they imagined.
No hassle, no difficulty, just a smooth experience from start to finish. 
Importance of a Great Clipperr
They demand a specific set of factors that guarantee they make the correct clipper choice – one that cuts like a dream, leaving them feeling sharper than ever. 
What are these factors? 
Well, it depends on what you're looking for…
Some of us want a powerhouse clipper that can tackle a knotty afro with no issues. 
Others want a highly precise cutting clipper to make texturized blends and create those flowing fades. 
And a few just want a trimmer that, instantly hits through hair, creating a straight lineup from the very first tap. 
Regardless of what you're looking for, the most IMPORTANT thing is the hair clipper you select for the job. 
Here at ClippHub, we've handpicked a range of clippers – along with detailed (but simple) descriptions of each.
Need more details? Take a look below
Best Clippers for Black Men's Hair
Let's take a deeper look at the #1 clipper you should opt for fading. 
Let's start with the blade.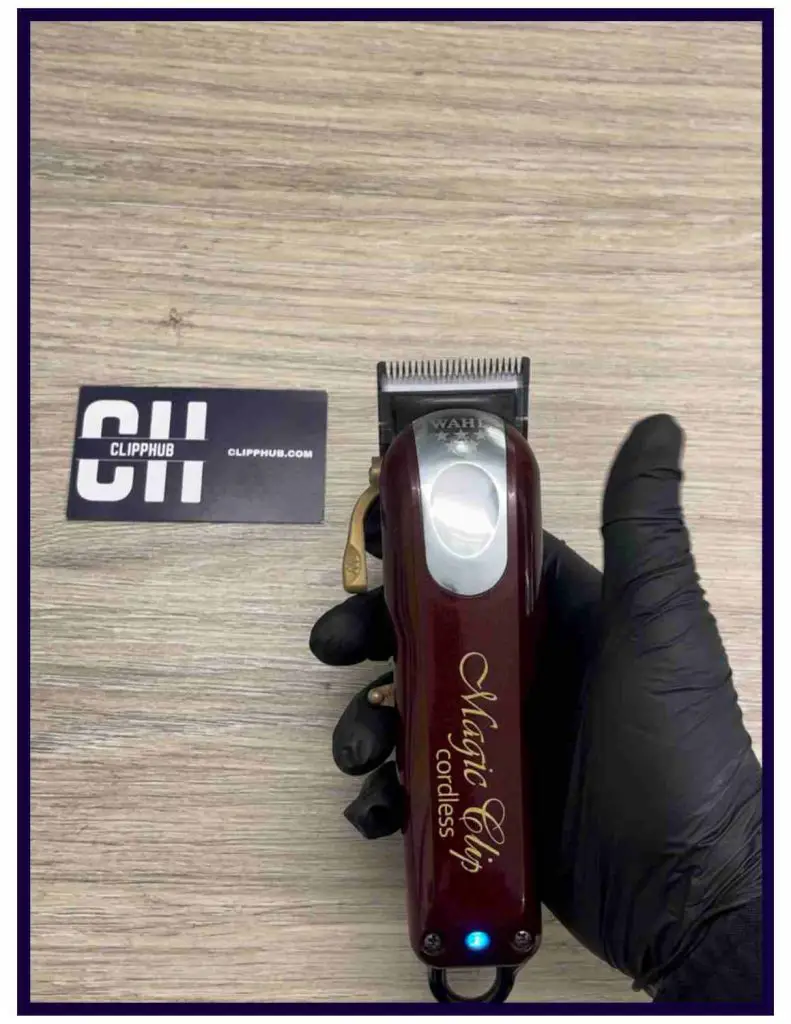 The Magic Clip boasts a guard fade blade, which is the opposite of a taper blade. It's thinner, allowing for much closer haircuts.
A fade blade presses and holds curlier hair better and can get closer to the skin meaning it allows for more precision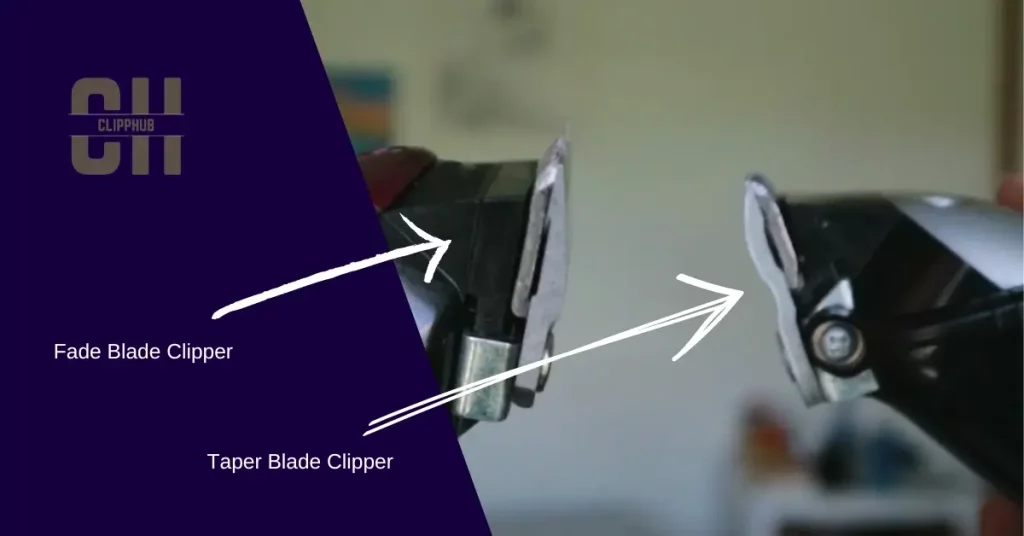 But on top of this, the cutting blade (the blade in front of the fade blade, holds Wahl's patented stagger tooth blade.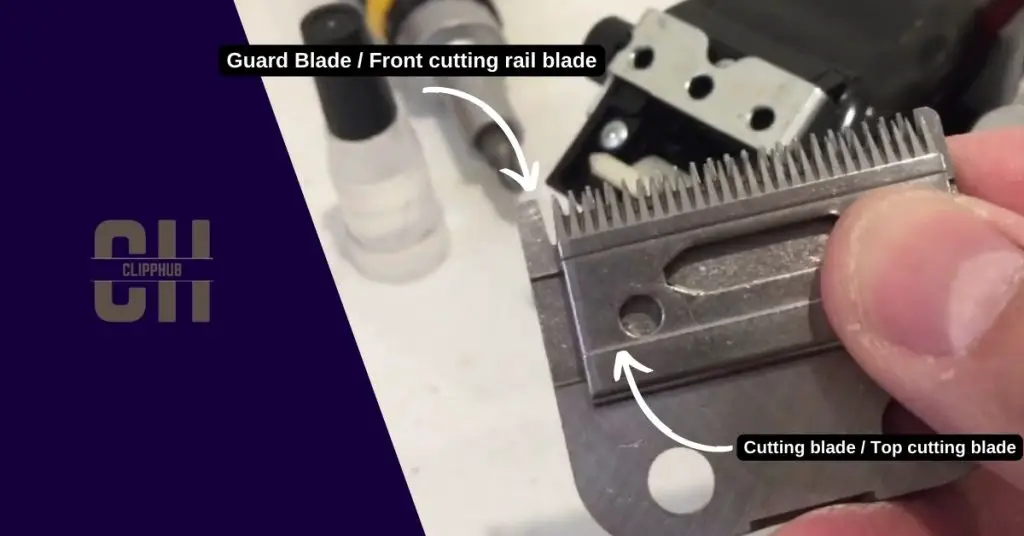 This blade is what truly distinguishes this clipper from not just other clippers in general but the clipper inside Wahl too as no other Wahl clipper comes with this blade.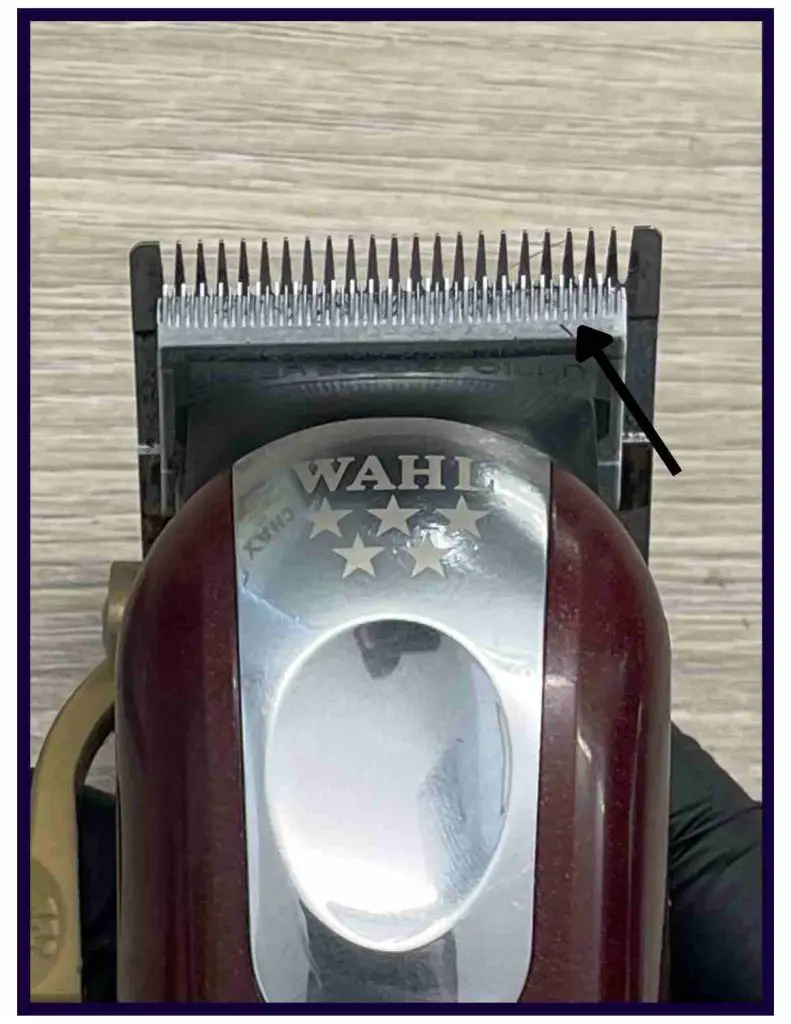 This blade has varying lengths, ensuring that as hair passes through, it receives both short and long cuts. When used with the right fading technique, it results in a smoother and more textured fade.
For black hair, this means the staggered tooth blade effectively captures all the different hair lengths, arranging them for a seamless, smooth, and textured cut.
Blades
Also, this blade incorporates crunch blade technology, providing an audible cue as you cut, helping you stay on track with guidelines.
When you combine both blade types, it's clear why this clipper stands out as the best choice for fading and precision cuts for black hair. No other clipper offers such a setup.
To add to this, this clipper also features a powerful motor for precise cutting, although it's not as robust as the Seniors with their 6900 rpm motor.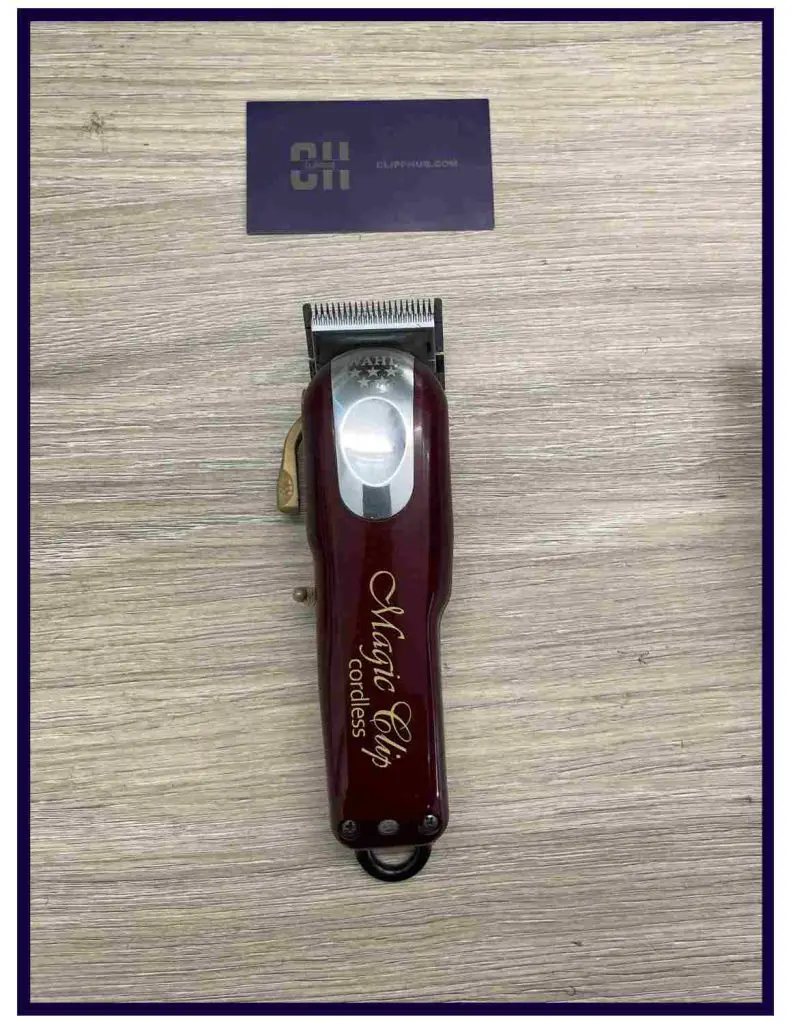 This one runs at 6100 rpm, which means it's far more forgiving but the trade-off is it's not the best for bulk hair clearing. So you may struggle to clear that Afro but it can still certainly do if. 
In terms of the package, this hair clipper is highly versatile, coming with 8 guards, a cleaning brush, and oil. This makes it suitable for all hair types and lengths.
Runtime
With a lithium-ion battery providing up to 90 minutes of cordless use, it's more than sufficient for at-home cuts. 
Its ergonomic design, reminiscent of classic clippers, offers a comfortable grip, and its lightweight build makes manoeuvring around the head a breeze.
In summary, it's a well-rounded premium clipper that delivers clean cuts and helps you develop elite skills without being too demanding.
All well-balanced and it comes at an affordable price.
"Great clippers, don't get too hot and battery last a long time between charges"

review
Best Clippers for Afro Hair
When it comes to a powerful and precise clipper that's built for black hair, the Seniors take centre stage.
The 5-Star Cordless Senior Clipper is expertly crafted for professional grade Clipper that delivers consistent cutting performance whenever you need it.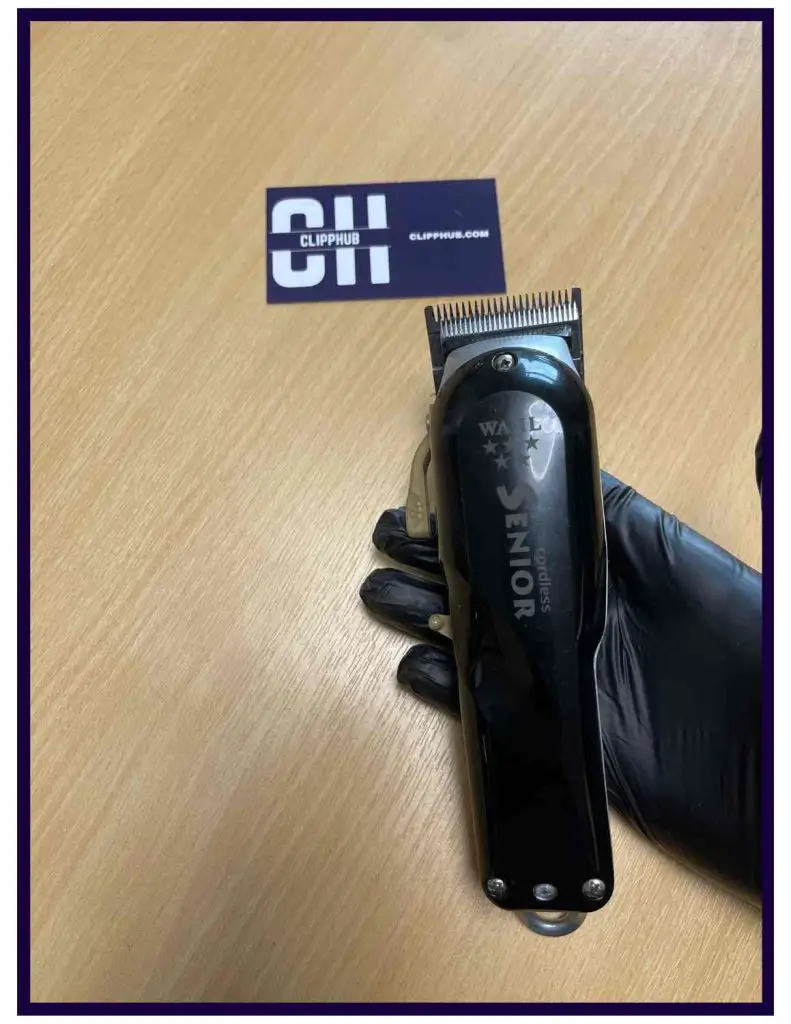 This clipper can help you achieve seamless blends for both sharp and soft lines that are effortless. 
This is thanks to the floating taper lever that adjusts to a wide range of cutting lengths with a simple flick.
And in terms of bulk removal from a clipper with a classic clipper build, the seniors are alone in this category. 
Motor
This clipper should be your go-to clipper for removing bulk hair, especially during those thorough cleanouts. All credit goes to its robust 6900 rpm motor, Wahl's most potent rotary motor to date. It makes a great clipper for men looking to cut their hair low without struggling.
This powerhouse is invaded in a durable, high-impact metal housing and let's not mention that highly ergonomic Clipper build that wraps around your hand.
It is the same build that set the stage for a wide range of copycat clippers in the market today.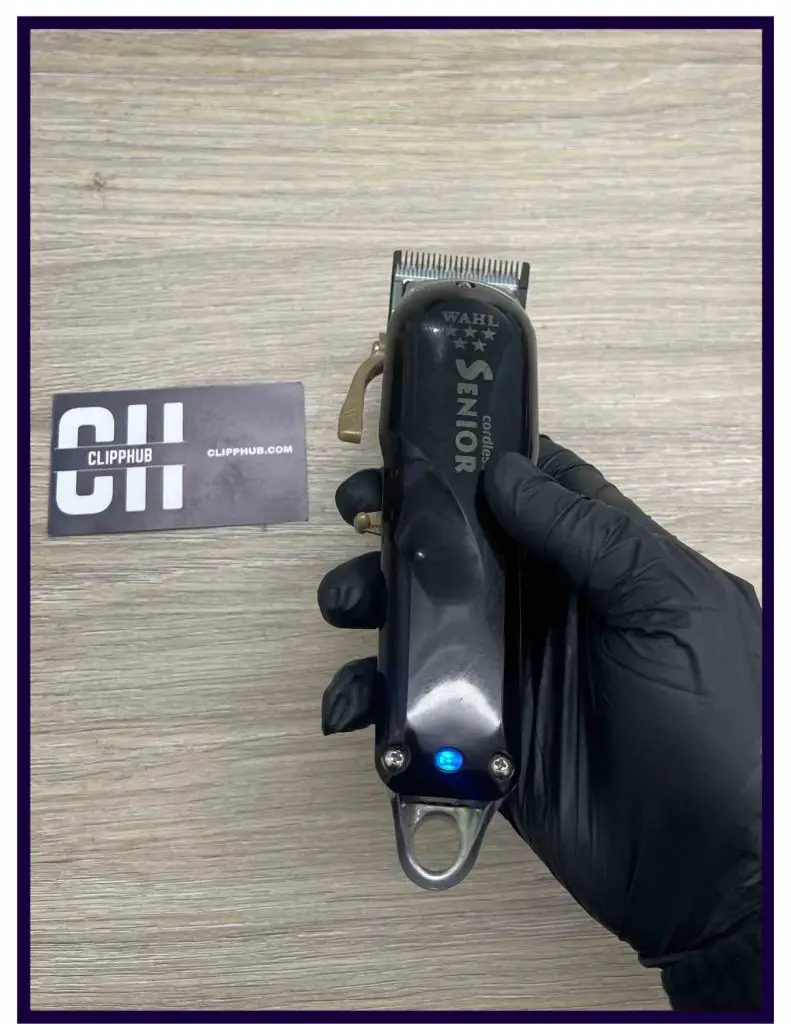 Don't sleep on the package as a whole either, this Clipper clipper comes with an extensive range of accessories.
You'll find 6 cutting guides, a recharging transformer, a styling comb, oil, a cleaning brush, operating instructions, and a red blade guard, ensuring professional-quality results.
Runtime
It features a lithium-ion battery providing a 70-minute runtime. While not extraordinary, adding a Tomb 45 battery extends the cordless use by another 40 minutes, allowing for extended use.
The clipper includes a stainless steel fade blade, ideal for precision fading, although it may not offer the same textured cutting performance as the Magic Clip models… in power it has the original magic clip beat. 
It just depends on what you're after.  
"This is the best clipper on the market. I found it a bit heavy and unwieldy for my use on myself. Fro a professional barber or stylist, this perfect."

Review

Best Clippers For Fading Black Hair
Yes, yes I know, WAHL .. AGAIN?!
Yes, their clippers are just tailor-made for black hair.
With these clippers, imagine you were to combine the seniors, and the Magic Clip and improve the all round-cutting experience. Yeah.. now you're starting to see what these Clippers can bring to the table.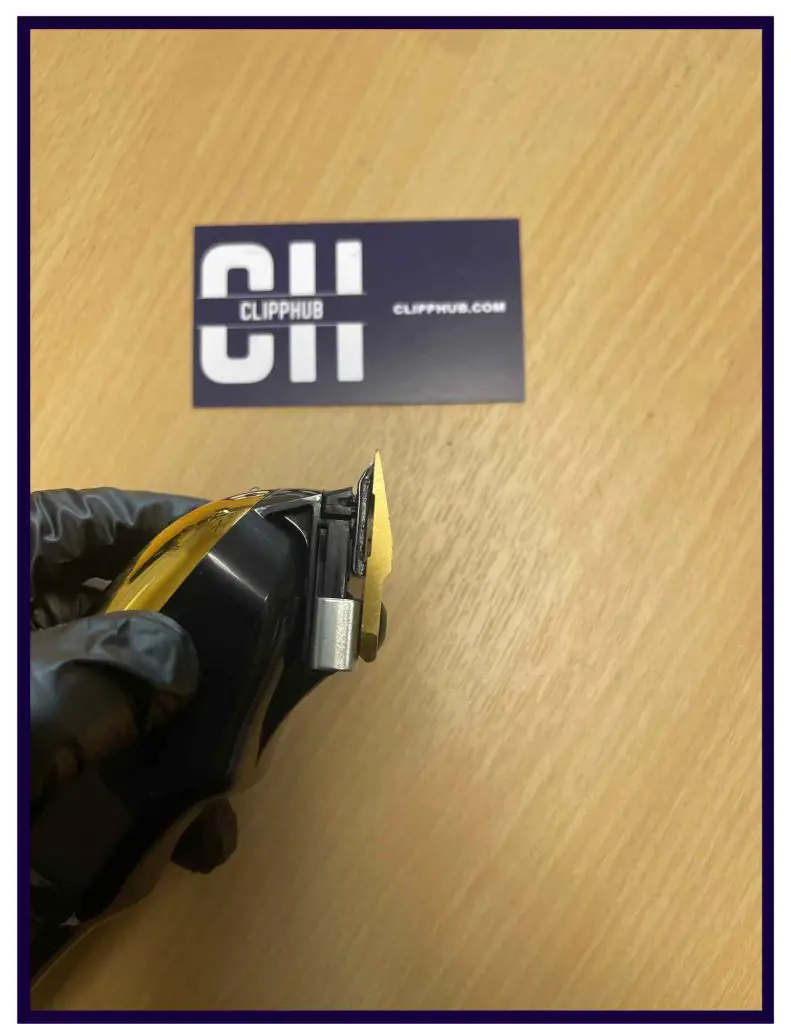 The gold magic clip features American-made high-carbon steel blades with titanium and DLC coatings that are ultra-strong, rust-resistant, and keep their cool.
It's an upgrade on the blades of the classic Magic Clip but they still have that special (patented) Stagger-Tooth blade.
This way, it easily erases lines and helps to achieve a flawless fade on every use.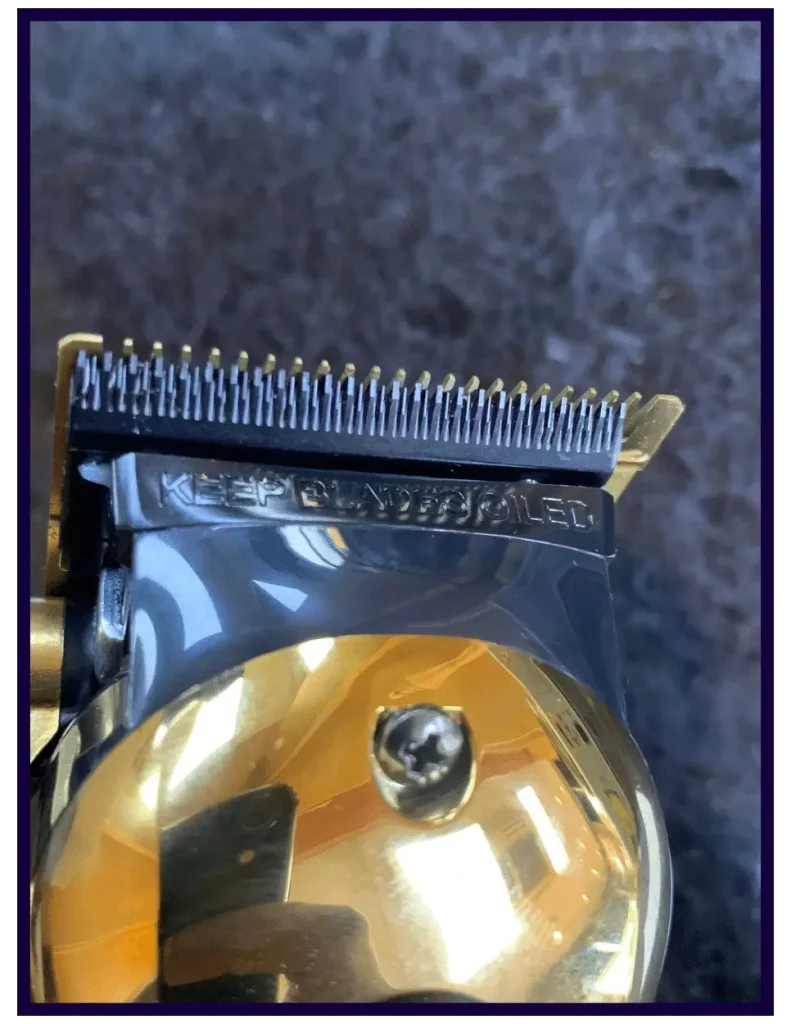 Again you'll get that special Stagger-tooth blade, known for erasing lines and achieving flawless fades.
But this too has an upgrade as out of the box, it's sharper and much more durable.
The clipper now offers an enhanced runtime of over 100 minutes and includes a Smart LED charge system.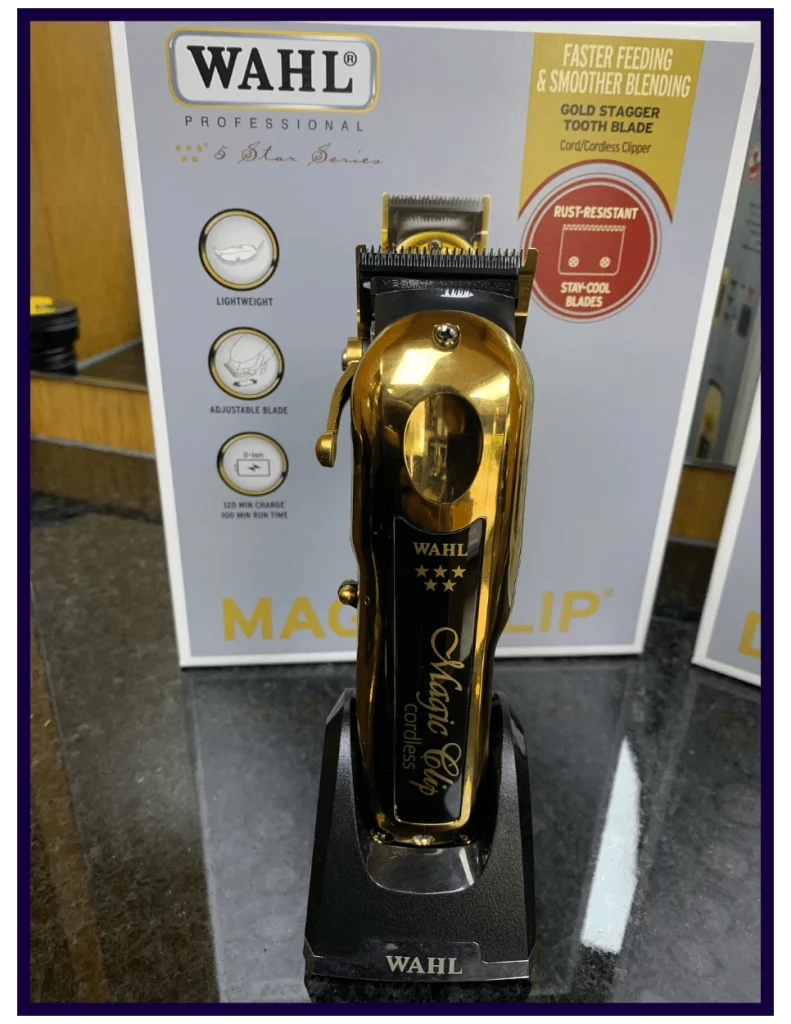 Packaging
The package comes with 8 patented premium cutting guards, a stylish gold and black charge stand.
It also has a styling comb, a cleaning brush, clipper blade oil, and clear operating instructions. Plenty to begin cutting as you please.
This clipper ensures faster, smoother cutting and features a more powerful motor along with Crunch Blade technology for cleaner, more precise cuts. 
The Wahl Professional 5-Star Limited Edition Black & Gold Cordless Magic Clip should be the go-to choice for anyone looking to create detailed work on black hair.
And if you're not a fan of the gold, you can also get your hand on the latest black version of this clipper below:
---
---
"Best clippers I have ever owned I have had other wahl clippers and oster clippers and these blow them out of the water"

Review
Best Trimmer For Black Hair
Babyliss – a renowned brand, known for its uniquely designed and premium products. 
Among their impressive lineup, the Babyliss Gold FX stands out as the ultimate choice for precision lining for black hair – in my opinion, it stands in a league of its own.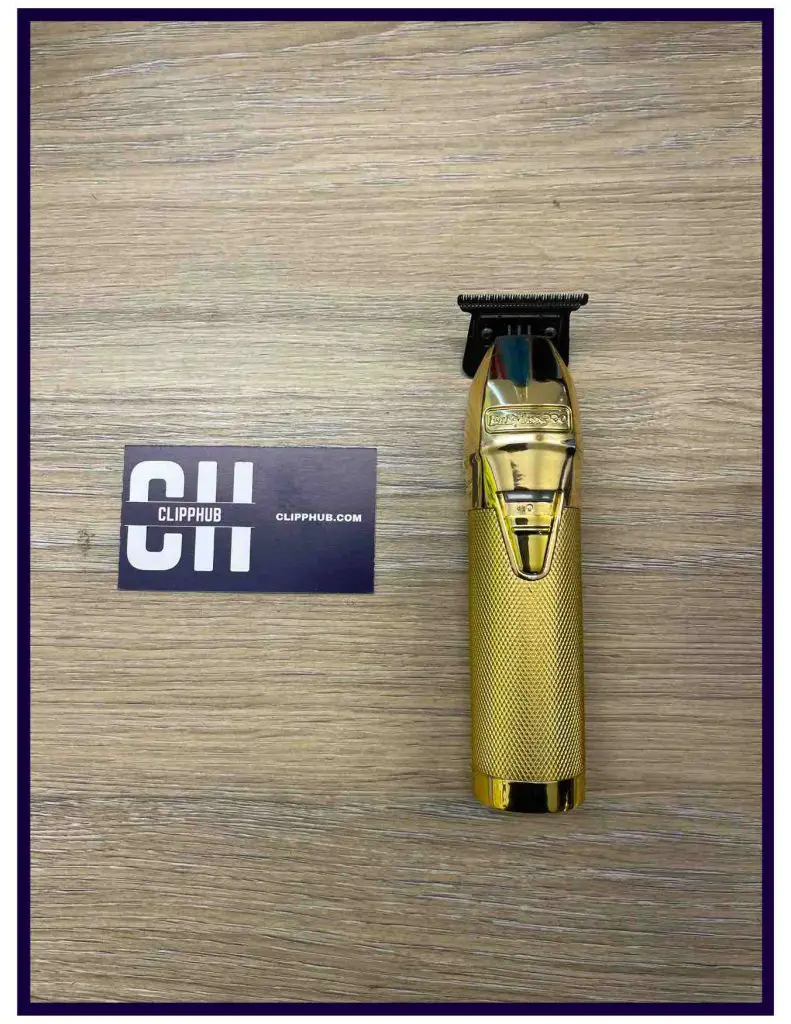 This T-blade trimmer was groundbreaking when it first hit the market, and it has consistently delivered crisp lines over the years.
It's a tried-and-tested favourite among barbers and is likely a name you've come across due to its immense popularity.
So, what does it bring to the table? 
We'll… If you're seeking a trimmer that delivers sharp lines, offers control, and packs ample power, the Babyliss FX is unrivalled.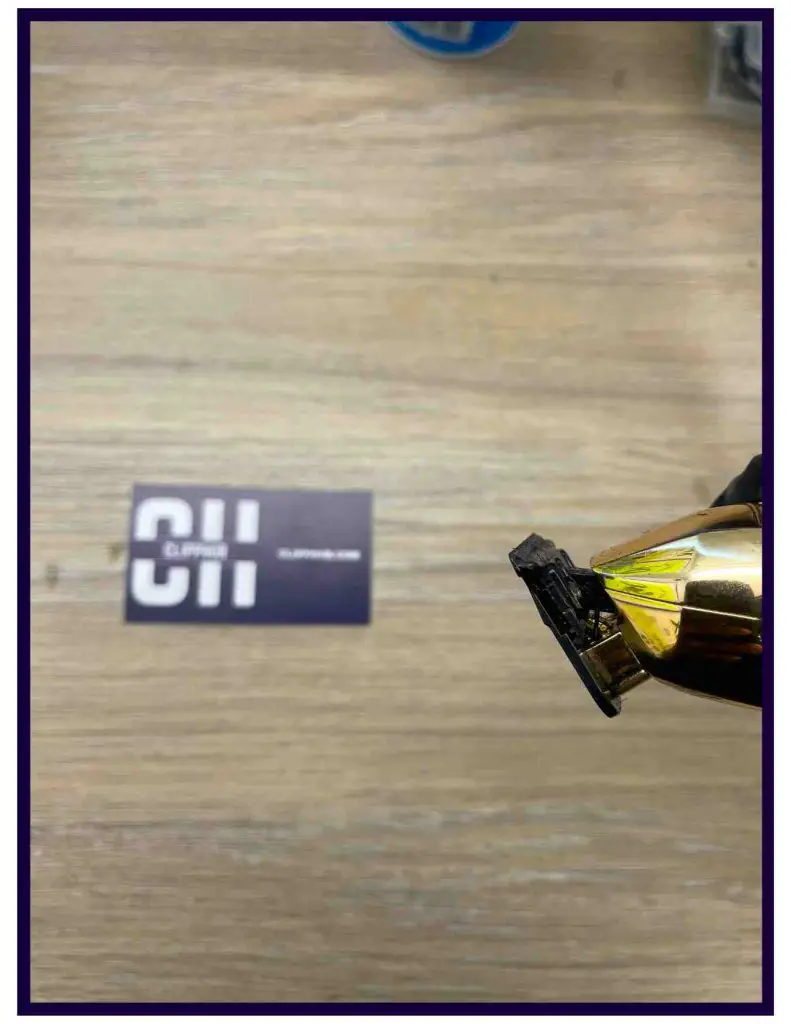 It features a metal lithium outlining trimmer with a DLC deep-tooth blade, ideal for various hair textures, excelling at touch-and-go work like perfecting the hairline.
The Gold FX trimmer boasts an Italian-designed high-torque brushless motor running at 7200 RPM, ensuring it can handle all hair types effectively and swiftly. 
Noise-wise, it registers at around 70db, the standard for trimmers, so no need to worry about excessive noise.
Battery Life
Its lithium-ion battery provides up to 2 hours of cordless runtime and can be easily recharged using the universal micro-USB cord included in the package.
 But what truly sets this trimmer apart is the control it offers.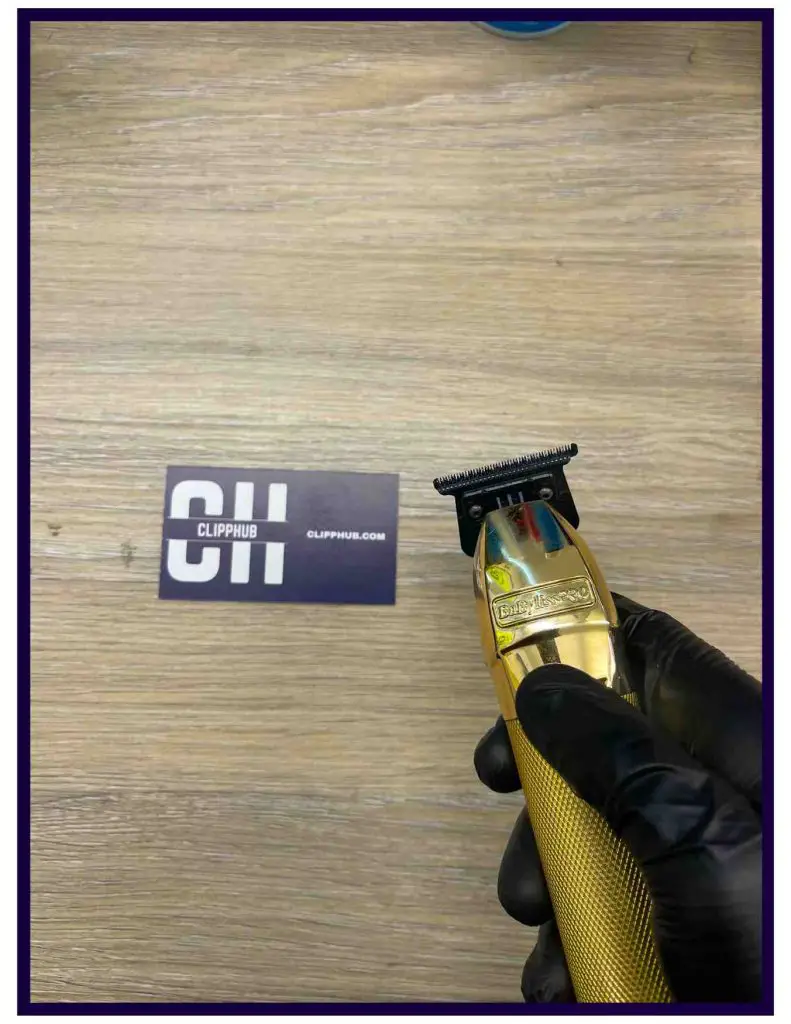 Not only is it lightweight, but the knuckle barbell handle design ensures a comfortable and secure grip, enhancing your control and manoeuvrability.
The all-metal housing gives it a sleek and durable look, making you appear truly professional. For barbers, there's even a detent hanging hook for convenient storage and access.
Now, if you're new to Babyliss, the torchlight design might take some getting used to. 
DLC Blade
And while the DLC blade is highly efficient, it's worth noting that it's not the classic FX blade, which performs better on bulkier hair and various hair types. – I swapped it out with a Gold Fx blade.
What makes Babyliss so great is that they hey give you the option to try out other blades. We go through the best Babyliss trimmer blades here.
Regardless of the blade used, it's still a premium tool that effortlessly cuts and trims hair. Plus, it comes in a range of stylish colours.
---
---
"Great product, looks beautiful and feels solid. Best pair of clippers I've ever owned hands down."

Review
Best Balding Clippers For Black Hair
It's Wahl, and I'd give it a solid 5-stars 🙂
When it comes to clippers designed for consistently close cuts, there's hardly anything quite like it in the market.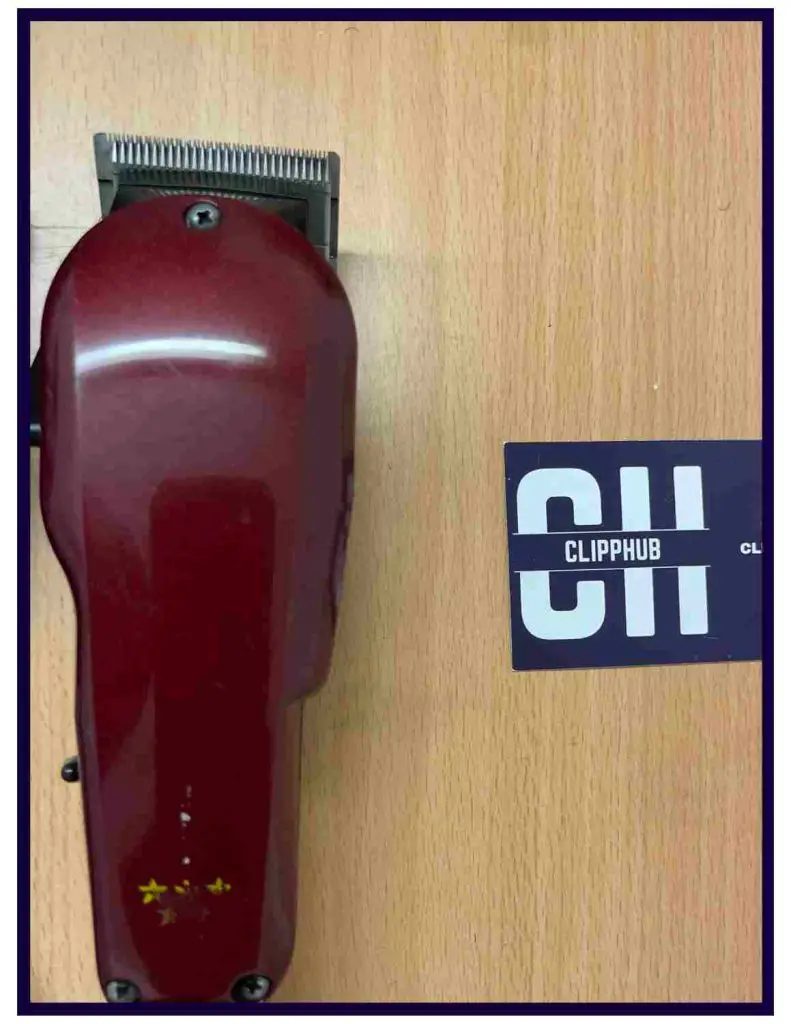 The Wahl balding clipper measures 1.97 x 2.17 x 7.09 inches and weighs a mere 1.5 pounds. 
It comes with two attachment comb cutting guides (1/16″ and 3/16″), allowing for a bit of length customization in your haircut. 
While the guards are handy, the real magic lies in the blades.
Stainless Steel Blades
The stainless steel blades are precision zero-gapped, ensuring they deliver the sharpest cut straight out of the box. 
They are flat and thin, allowing for incredibly close cutting without any risk of skin irritation. 
Powering these blades is a robust v5000, 120 V – 60Hz electromagnetic motor, cutting at double the speed of your typical cordless clipper.
It easily buzzes through the hair with no problems. 
When you combine a powerful motor with these sharp blades, you get a clipper that effortlessly tackles all hair types. 
Power
What is also great is, that you won't have to worry about inconsistent power, thanks to the 8-foot professional-grade cord. 
It ensures a steady supply of power to your clippers at all times while giving you ample room to manoeuvre and adapt as needed.
In essence, the Wahl Balding Clippers offer close cutting, ease of use, and remarkable power. If you're aiming for that clean, bald look, these clippers have got you covered. 
Here's how they look around.
However, if you want even more punch and durability, check out the newer Balding Clippers (link below). 
They are the ultimate choice for achieving that buzzed, bald look and are considered the best hair clippers for the job
Check out how well they cut:
"These clippers are very easy to use and they are truly balding clippers" 

review
Buyers Guide
When looking to buy a high-quality cordless clipper, what exactly should you be looking out for… 
Well, below, we'll go through some important criteria you should check as you decide on a cordless clipper. 
Clipper Type: 
Battery Life and Charging Time: Check the battery life and charging time of the clippers. 
Longer battery life is essential, especially if you plan to use the clippers for extended periods.
A clipper having a  quick charging feature can be beneficial especially if you plan on using your clippers multiple times a day. 
Motor Power: 
Look for clippers with a powerful motor. 
The more powerful a motor is the more efficient it is, however you and how well the clippers handle different hair types. High-quality motors provide a smoother and more precise cutting experience.
Cutting Length and Adjustability: 
Consider the range of cutting lengths the clippers offer. Different hairstyles and grooming need varying lengths. 
Ensure the clippers have adjustable settings to achieve the desired hair length.
Blade Quality and Maintenance:
The blade material and sharpness are critical for clean and precise cuts. 
Stainless steel / ceramic blades/ titanium blades are the best type of clipper blades anything else puts you at a disadvantage and reduces the cutting ability of your clippers.
Ergonomics and Weight: 
Comfort is crucial, especially if you'll be using the clippers frequently and moving around a lot.
Look for a clipper model with an ergonomic design and a comfortable grip. Consider the weight, as heavy clippers can cause hand fatigue over extended use.
Attachments and Accessories: 
Check if the clippers come with a variety of attachments, such as guards, oils, brushes, etc.
These are important accessories that make using and maintaining your clippers a lot easier. 
Noise Level:
Some clippers can be quite noisy, which might be a concern if you have sensitive ears or want to avoid disturbing others. 
Opt for models that offer a quieter operation without compromising performance.
Brand Reputation: 
Research the brands and models you're interested in. 
Look to purchase clippers from reputable brands that have reliable customer service.
So in the worst-case scenario that your clippers may malfunction, you'll have a brand ready to help with a refund or replacement.
By considering these factors, you'll be better equipped to find the Best Clippers for Black Men's Hair that suit your grooming needs, budget, and lifestyle.
FAQ
How To Self-Cut With The Magic Clip 
Best Clippers for Black Men's Hair
In this article, we went over the Best Clippers for Black Men's Hair 
Here is a summary of my top picks. 
If you found this article on the Best Clippers for Black Men's Hair helpful, check out these other articles below.