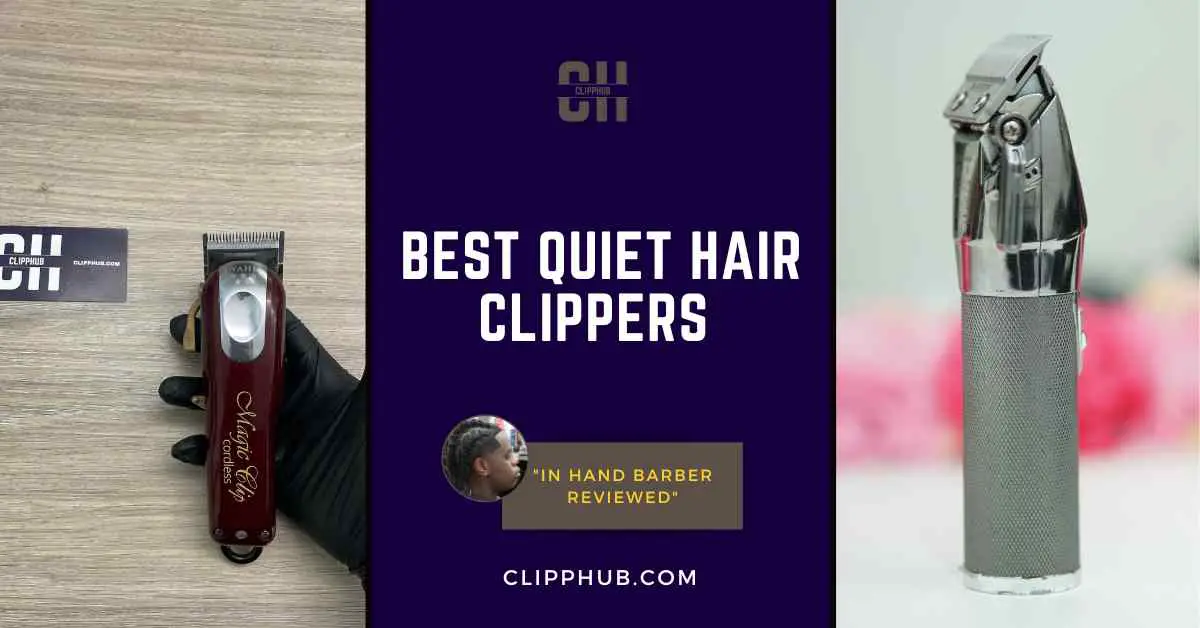 A clipper that doesn't make your brain rattle is essential when choosing a quiet clipper.
Choose the wrong one, and you'll leave your client with a headache every time you use them.
You'll be left annoyed and the quality of your work may not be at the level you expect.
Choose the right one, and your clipper will run with a mellow hum all whilst cutting to precision… So precise the best on this list helped me create this:
But only specific clippers get the correct balance of being professional-grade quality and running quietly.
Want one of the best quiet hair clippers?
They're below. Take a look.
Best Quiet Hair Clippers
Bottom Line
Pros
Spec
Decibel
Best quiet hair clippers
There's a reason some barbers are able to create beautiful cuts with minimal noise
It's not steady hands, it's not about skill and it's not luck. 
They use a specific set of factors that guarantee they make the correct clipper choice – one that cuts whisper quiet, produces a low hum, and is easy to use. 
What are these factors? 
Well, it depends on what you're looking for…
Some of us want a silent clipper that fades well….
Others want a quiet clipper with lots of power. And some want professional-grade clippers to be used on clients. 
Regardless of what you're looking for, the most IMPORTANT thing is the hair clipper you select for the job. 
Here at ClippHub, we've handpicked a range of clippers – along with detailed (but simple) descriptions of each.
These clippers are the quietest professional-grade clippers available and deliver more in certain aspects.
Need more facts? Take a look at number 1, It's the clipper this guy put at the top of his list for quiet clippers and I certainly agree.
The Babyliss Metalfx!
Get Best Price
Professional grade Clippers
High precision, flexibility, and durability

When it comes to professionalism,  Babyliss as a brand stands strong and proud. 
And the classic metalFX is a clipper that doesn't disappoint.
The BaByliss fx are professional and cordless clippers that offer a high-performance cutting experience. 
This clipper features a brushless motor that runs at a strong 7200.. but you'll barely hear it. In fact, this guy too has it at the top of his list for quite hair clippers.
It's a powerful motor that has less internal resistance and last longer delivering more power and speed than regular hair clippers. 
It has a lithium-ion battery that provides up to 2 hours of cordless use, which I find is plenty of juice to get me through the day, It comes with a charger, but you also have the option of wireless which is what I like about Babyliss.
You can have it as your main clipper to use on clients but if you thinking of using it for self-cutting you will struggle due to the shape. You'd be better off with the magic clips (I talk about those later).
What's nice is, if you are in a rush and you have the charging stand, you can get an extra 30 minutes of use with just 10 minutes of charging time due to the fast charge feature on the Babyliss clippers. 
The clippers come with 8 comb attachments ranging from 1.5mm (½ guard)  to 19mm (8guard), allowing you to create various styles and lengths with precision and ease. 
The clippers also have a click lever that lets you adjust the blade length from 0.5mm (closed) to 2 mm (open) plenty of range to create textured blends and has the space to be zero gapped if needed.
This clipper doesn't look bad either. 
It has a sleek and ergonomic design with a matte black or gold finish and resistant knuckle barbell grip padding. 
It also comes in a wideee range of colors.
---
---
I just prefer the silver and black.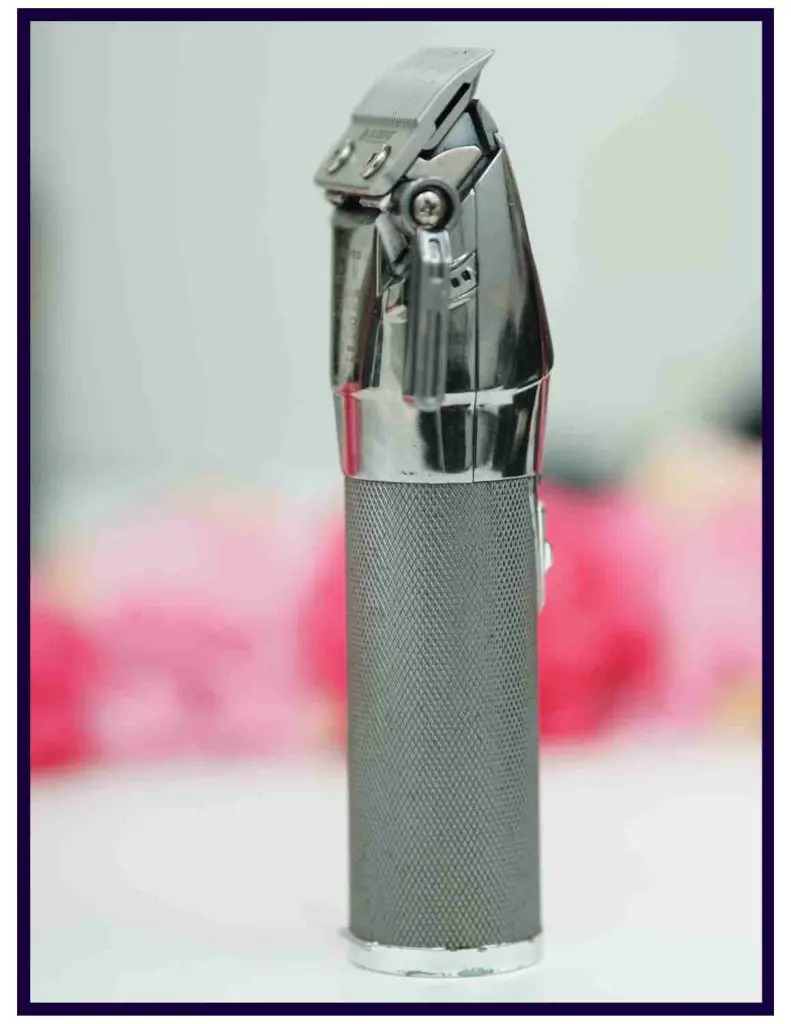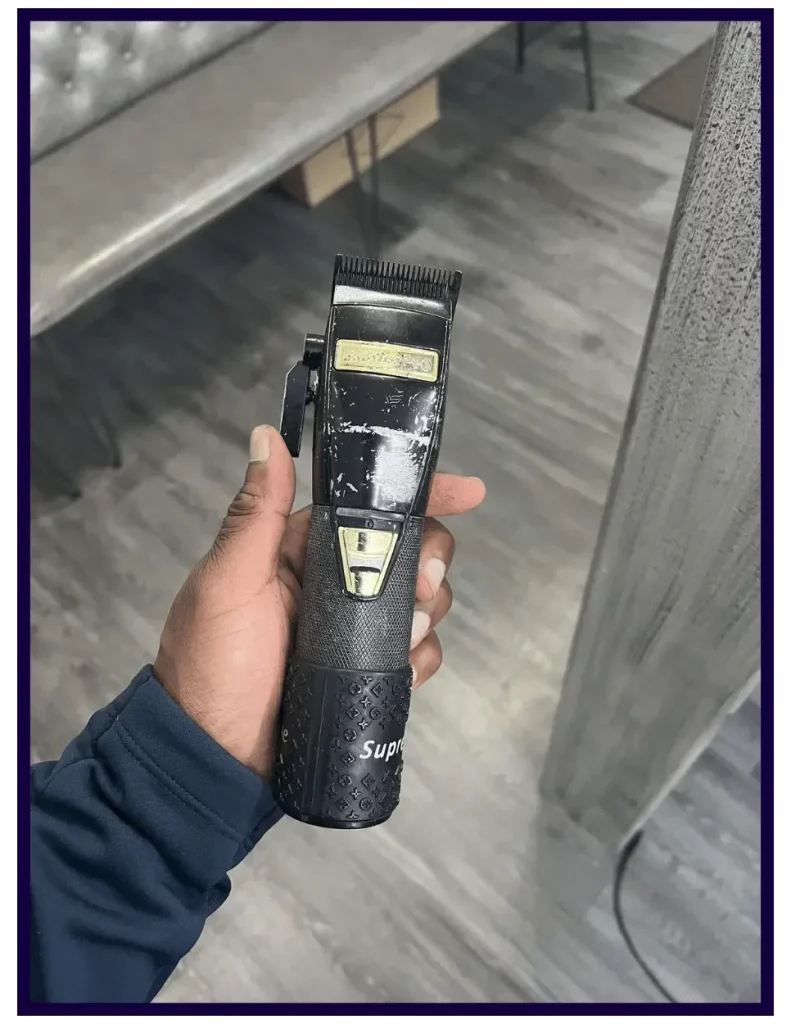 These clippers are lightweight and durable, with a metal housing that (better) protects them from drops and impacts but still be careful not to drop them.
It's pricey but you'll struggle to find such a quality clipper that is this quiet while in operation. So, if you want a gentle hum as you cut, these are for you.
Positive
Black graphite fade blade
5 Detent Taper Lever 
2-hour lithium runtime battery 
Remarkably silent operation
6 premium guards
Negatives
Shape of Babyliss clippers may take getting used to a first
In summary, the BaBylissPRO BLACKFX is an excellent clipper that offers power, speed, precision, and versatility. 
It is perfect for professional use and can cut through all hair types with ease. It will the way you want when asked and has has the build to last you years. So while it's at it's best current pice., grab the Babyliss fx for proffesional, quiet operation.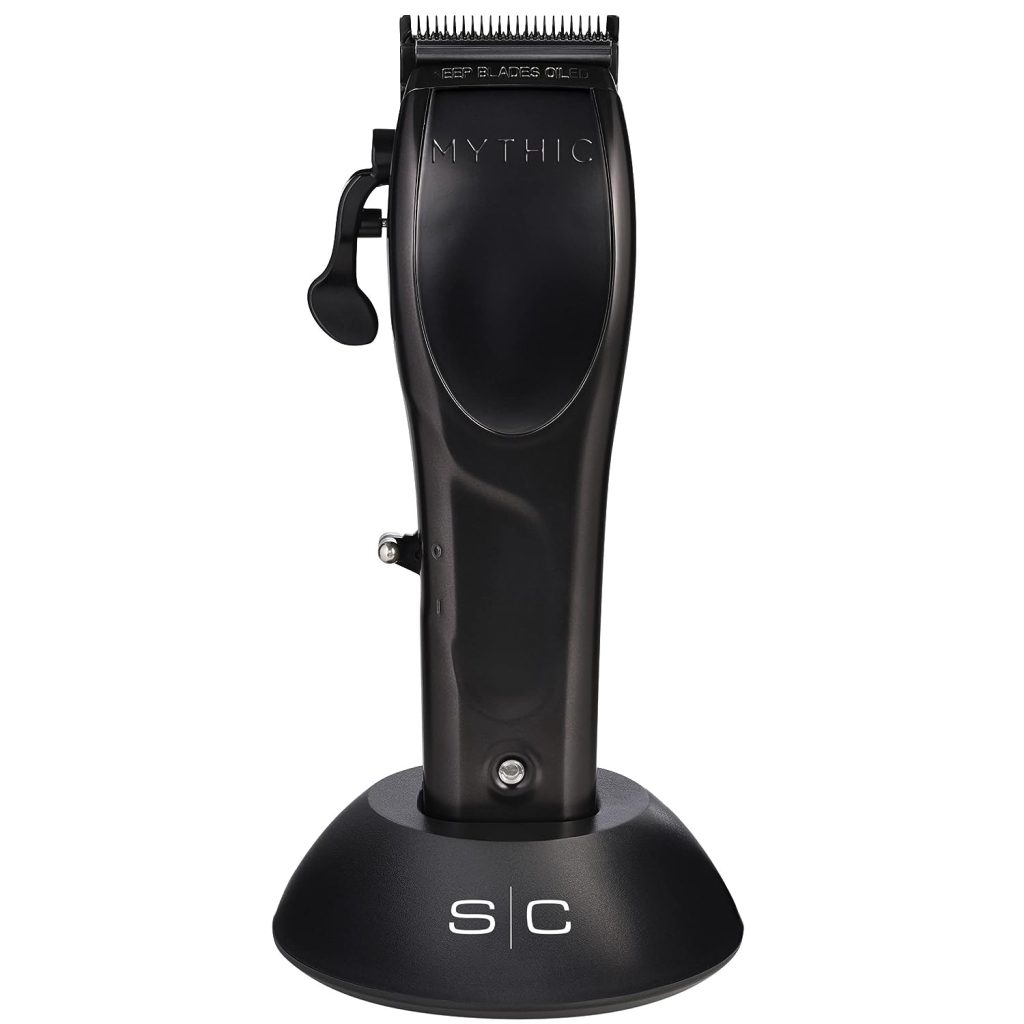 If you are looking for a high-quality hair clipper that can handle any type of hair, you might want to check out the Stylecraft Mythic Clipper.
This clipper is equipped with a powerful magnetic microchipped motor that runs at 10,000 strokes per minute, delivering an impressive cutting performance. The motor has an upgraded PCB board that is fine-tuned for increased power and efficiency. Simply put, the more resistance this motor recieved the more power it outputs hence why it can reach 10,000 when needed.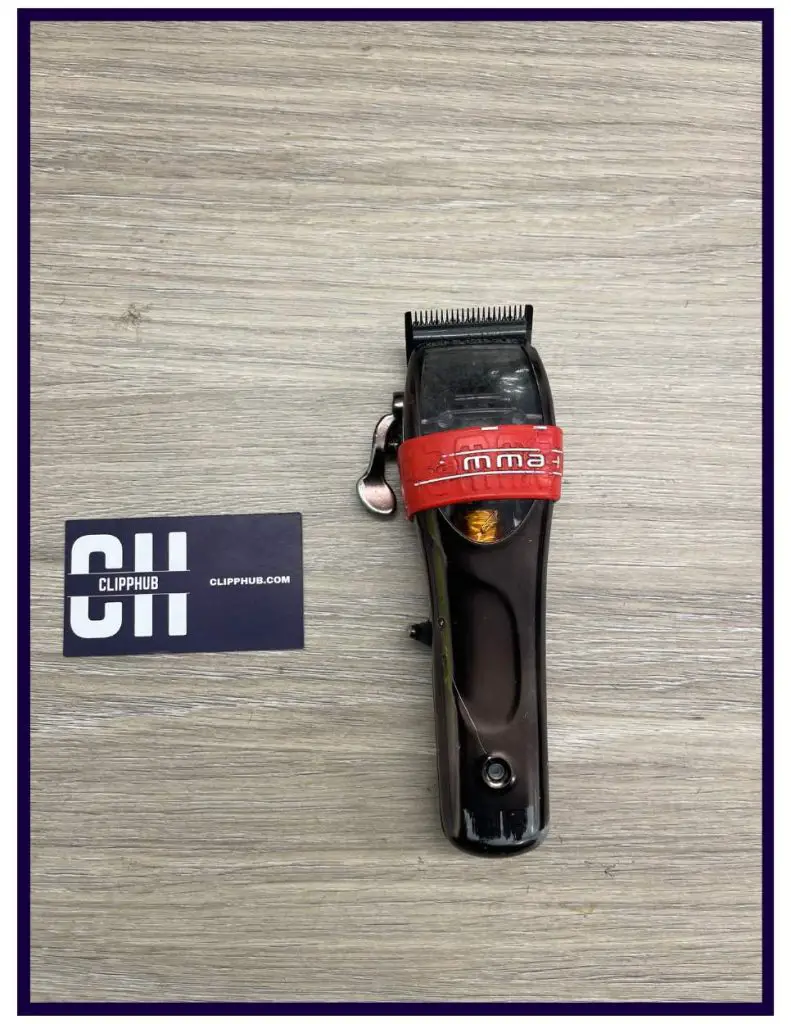 What's nice is, this clipper delivered all of thie power while being rather quiet. Now I will say that as I used it over a few years, some parts did wear out and it got a little louder, but that's expected asat one point in my carrer, I used these the most.
But out of the box, in term soof power and cutting effeciency. They're quality!
Here's how they sound:
This means that you can cut through even the thickest and coarsest hair with ease and speed. You don't have to worry about multiple passes or pulling and tugging.
The Stylecraft Mythic Clipper also features premium double Black Diamond Carbon DLC blades that are designed to give you a smooth and precise cut. These blades are non-corrosive, so they won't rust or degrade over time.
They also stay cooler and sharper longer, so you can enjoy a comfortable and consistent cutting experience.
It comes with a variety of accessories, such as different guards, a charging stand, a cleaning brush, and oil. It also has a long-lasting lithium-ion battery that can run for up to 4 hours on a single charge. 
The package includes: 
 Clipper, Black Diamond DLC blade, taper bracket, click or floating lever, 8 double magnetic guards (1/16", 1/8", 3/16″, 1/4", 3/8", 1/2", 5/8″, 3/4″") charging stand/cord, cleaning/maintenance kit and screwdriver.
Great in box value from an all round very premium brand.
The Stylecraft Mythic Clipper is ideal for both professional and personal use. Whether you are a barber or a hairstylist who needs a reliable and versatile tool for your clients, or a DIY enthusiast who likes to trim your own hair at home, this clipper will meet your needs and expectations.
Positive
7,5000 spm digital brushless motor
Double black diamond DLC carbon blades.
 6 Hours of cordless run-time on a 2-hour rapid charge.
Heavy duty full metal body
Adjustable Zero gap blades 
Negatives
bulky, and a little heavy due to the durable heavy metal body  
"Nothing bad to say about this product , great clipper"

Review
Overall, the Stylecraft Professional Metal Hair Clippers are a reliable and high-performing choice for anyone seeking powerful and relatively quiet hair clipper.
It provides plenty of flexibility and falls in that proffesionka realm so they'll definetly last you a while (as you can see by mine)
Get it at its best current price.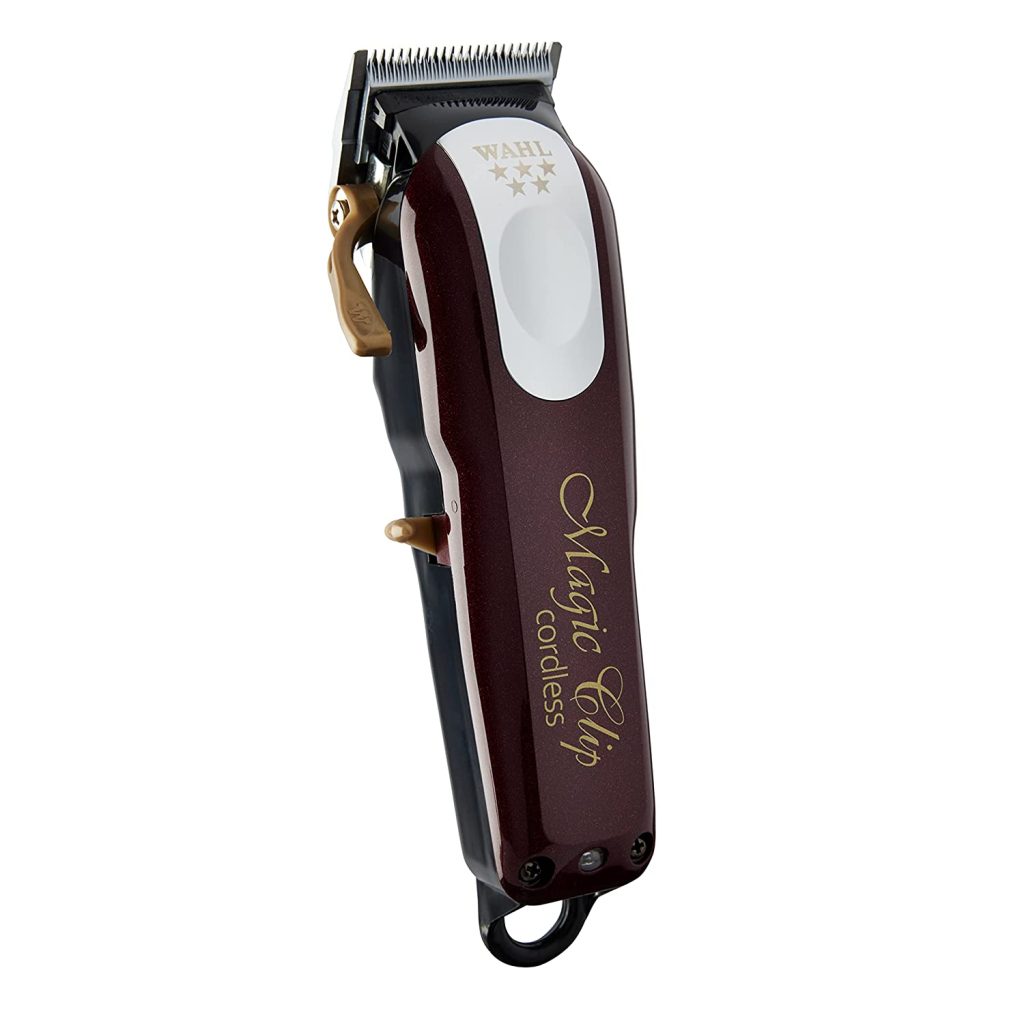 We all knew wahl had to make an appearance, and it's for good reason. This clipper deserves some praise.
The wahl magic clip is a cordless clipper that offers flexibility and convenience for creating highly detailed and textured work.
It has a (wahl patented) stagger-tooth blade that creates smother and more textured blends due to the cutting blades having varying lengths.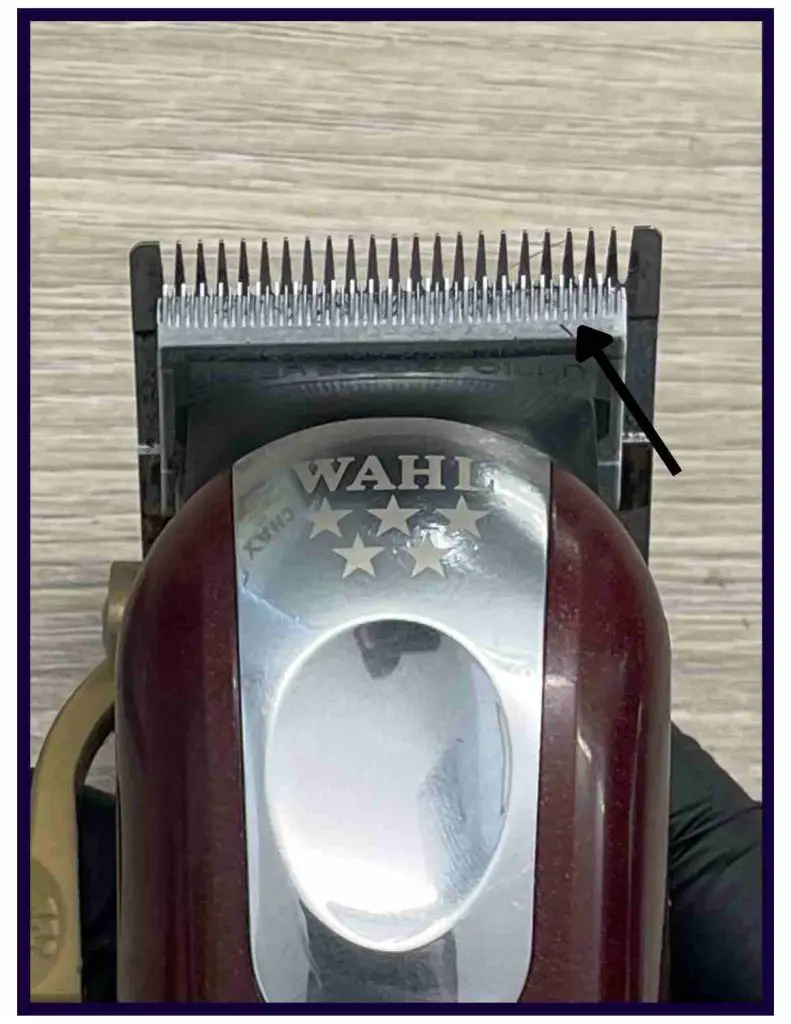 Those same blades alos come with another wahl exclusive 'Crunch Blade' technology that gives you a blunter cut and alloed you to better hear hair as it cuts giving you more control precison as you blend fade lines.
Whether you want to achieve shorter skin-tight fades or longer styles, you can easily adjust the cutting length with the convenient taper lever without changing blades.
The Wahl Magic Clip also features a a faily powerful 6100 rpm motor and a battery that runs for 90 minutes .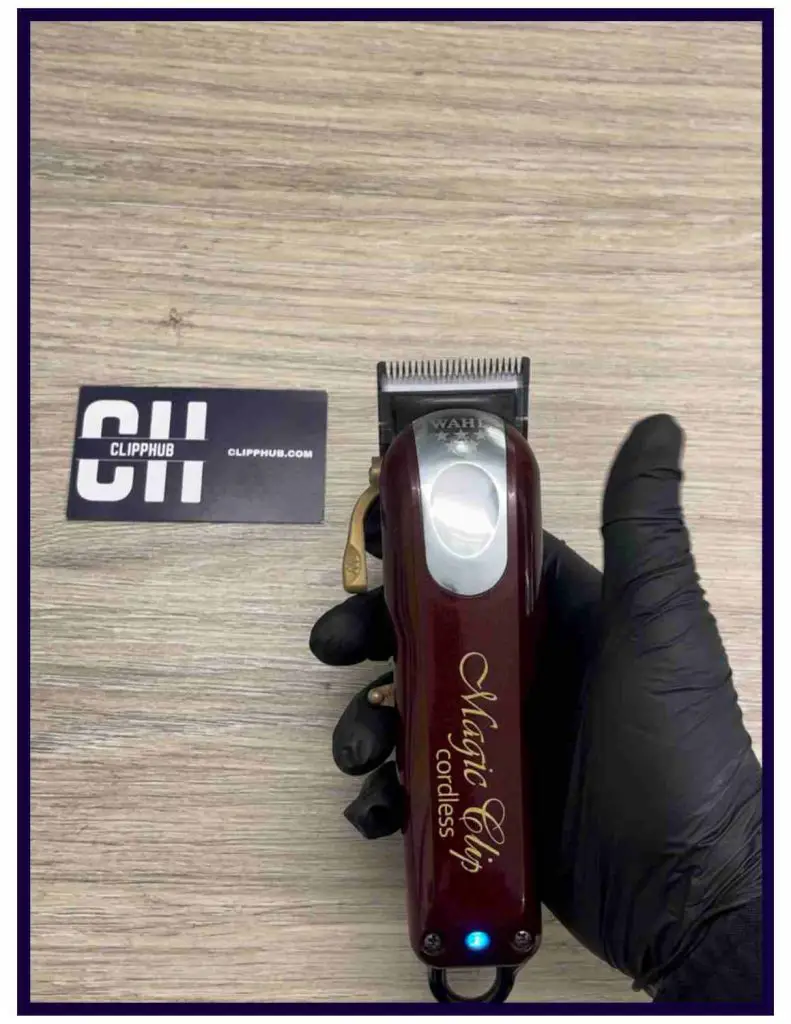 It is a relatively lightweight clipper however the motor isn't too powerful compared to the other proffesional grade clippers on this list.
However, what this does meanis a forgiving clippers and ticks along slowly giving you more control. if your a beginner or really looking to get more detail into your fades, then these will work great for you. However, overall it's quite bad at removing bulk and doesn't pack as much punch- A trade of for the amazing cutting performance.
But that same low-torque motor is what allows these clippers to run without causing a racket. Here's how they look out of teh box and sound:
It is a great quiet and highly precise clipper for beginners and professionals too.
And due to it already being in the market for a while, it comes at a low price.
Positive
Impressive Stagger-Tooth Blade with Titanium and DLC coatings
Crunch Blade Technology for perfect blends
100+ minute runtime
Negatives
Not great at clearing bulk
"The product works great It has god control when you use it"

Review
Overall, the Wahl Professional 5 Star Cordless Magic Clip is a top choice for a quiet hair clipper.
 Its advanced blade technology is ideal for professional use or home use, the choice is yours. 
Grab it while in stock at its best current price.

Now comes the best corded yet quiet hair clipper. The Oster Fast Feed. 
More power more noise right? 
That's how it should be but not with the Fast feeds.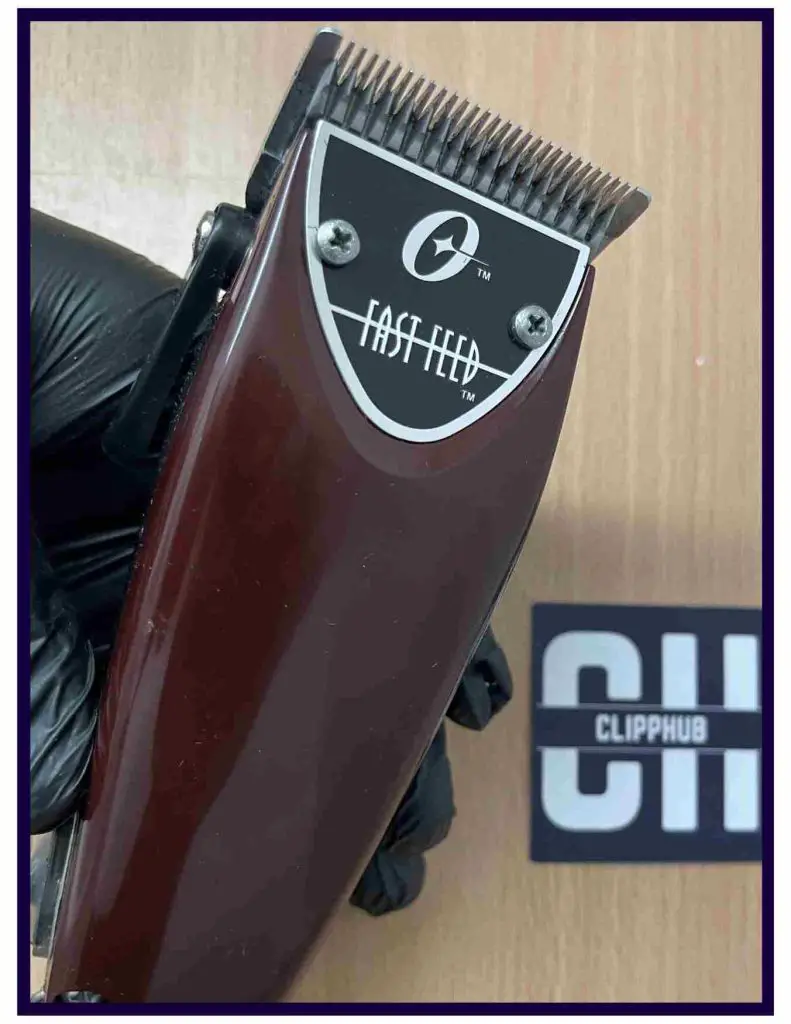 These powerful and whisper-quiet pivot motors cut through all types of hair. 
Pivot motors are a rare type of motor, they run with more torque so the motor moves the blades slower but the clipper is still all round very powerful. 
That's what allows these clippers to run at a sound level averaging 74 decibels. For a corded clipper that's readily juiced up with tons of power, that is fairly quiet. Here's how they sound:
However, they can get louder if you attach one of the guide combs as well… they arent taht greats and they are so flimsy they hit against the baldes.
You better of getting Andis magnetic clipper guards. 
---
---
This clipper comes with a highly durable cryogen x blade that can give you a cutting range between sizes 000 and 1 for different cutting lengths and styles.
The fast feed also has an unusual but very ergonomic design the textured housing also provides a comfortable grip and easy control and the weight is evenly spread out. 
It comes with 4 guide combs (blending, 1/4″, 3/8″, and 1/2″) but as I said, they aren't that great and you'd do better using different guards.
And, with an 8-foot power cord, you get consistent power with the freedom of mobility and it's not very limiting either.
Allround, a very reliable and quiet corded hair clipper and that's why it'smade this list.
Positive
Whisper quiet yet powerful pivot motor
Cryogen-x blade adjustable form 000-1
Includes 3 guide combs, blade guard
8 ft power cord
Negatives
Poor set of clipper guards 

"Easy to use, noise level ok."

Review
If you looking to purchase a corded, quiet, and long-lasting hair clipper, the fast feed is the right clipper for you. 
Order a pair, test it out, and see how they are fair. Not quiet ;D what your after? Return them fro a full refund at no cost to you! 
Grab them at their best current price today. 
Buyers Guide
As you search for the best quiet hair clipper, it is crucial to know which features to consider. In this buying guide, we will walk you through the essential aspects to help you make an informed decision when purchasing a quiet hair clipper.
Firstly, consider the motor type. Hair clippers with a rotary motor offer a good balance between power and speed while limiting noise levels. They are more efficient in cutting through thick hair, and they are generally quieter compared to magnetic and pivot motors.
Another critical feature is the blade material. High-quality blades made from stainless steel, ceramic, or titanium ensure durability and sharpness. Also, look for self-sharpening blades that maintain their edge over time. Sharp blades provide better cutting performance while reducing the chances of hair pulling or skin irritation.
Your chosen clipper should also have adjustable length settings. This feature allows you to customize the cutting length, enabling you to trim different hair lengths effortlessly. Most models come with attachment combs offering multiple-length settings. Adjustable blade tapers can also provide additional length options and facilitate blending and tapering.
In terms of ease of use, look for ergonomic designs that fit comfortably in your hand, minimizing hand fatigue during extended use. Additionally, consider cordless models which offer freedom of movement without being restricted by a power source. They are powered by rechargeable batteries, so check the battery life as longer battery life offers more convenience.
Finally, focus on the noise level. The primary purpose of a quiet hair clipper is to reduce noise, ensuring a more comfortable experience for both the user and the person getting their hair cut. Choose a clipper with noise levels below 75 decibels (dB) for the quietest operation. You can check the product specifications or refer to customer reviews to get an idea of the noise level.
Remember not to mention specific brands or products and avoid making exaggerated or false claims, keeping in mind that the goal is to provide clear, knowledgeable, and neutral information for the reader.
FAQ
How do I maintain my hair clipper to minimize noise?
To minimize noise, it's important to regularly clean and oil your clipper. After each use, remove any hair buildup with a brush and sanitize the blades with rubbing alcohol or clipper spray. Lubricate the blades with clipper oil at least once a month, and consider replacing worn-out blades to maintain optimal performance.
What features should I look for in a quiet hair clipper?
When searching for a quiet hair clipper, consider factors such as motor type, blade material, and design. Clippers with pivot or rotary motors typically generate less noise compared to electromagnetic motors. Look for stainless steel or ceramic blades and a design that features noise-reducing technologies.
Are there any silent hair clippers designed specifically for babies?
While no hair clipper can be completely silent, there are clippers designed with babies in mind, such as the Enssu Quiet Baby Hair Trimmer or the
Favrison clipper
. These clippers produce minimal noise and vibrations, ensuring a comfortable experience for the baby.
Conclusion
In this article, we went over the best quiet hair clippers. These clippers are top of their line, they offer great cutting performance and are whisper-quiet.

The Babyliss
is a slow whisper quite a clipper that can provide smooth cuts, and it's part of the Babyliss proline so it has to last, for consistent cutting.

The Stylecraft Mythic has a whisper-quiet digital motor that runs at 7,500 rpm offering efficient, quiet haircutting.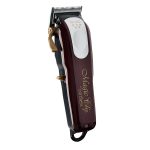 The Wahl Magic Clip is ergonomically designed with a powerful V5000 motor that's super quiet and cool running. Perfect for cutting hair with ease.

If you found this article on the Best Quiet Hair Clippers helpful, check out these other articles below.