A clipper that provides plenty of flexibility will provide a range of features when cutting hair.
In this review, we'll go through the best Hair Clippers For Beginners.
Choose the wrong one, and cutting hair becomes difficult, time-consuming, and all-round frustrating.
You'll be left confused as to why your clippers don't give you the smooth cut you want and burn out faster than average.
Choose the right one, and you'll have the exact cut you want whenever you please:
These clippers have the ideal build for beginners and each is unique in its own way.
Want the best for the job?
They're below, take a look.
Best Hair Clippers for Beginners
Best Hair Clippers for Beginners
Looking to get the Best Hair Clippers for Beginners… but still not sure which clipper is best for your specific needs?
That's understandable.
Not many do.. and sadly not many care.
Most clipper owners put up with whatever machine they currently own and can only pray it gives them the cut they want when they need it most.
And Shock.. it never does.
Their clippers "work" for a little bit then die off a few months later, leaving them confused and a little messy as the cuts weren't too good anyway. Sad.
But… on the other side, there are others who know exactly what to expect from clippers, and what they'll provide.. and they're always satisfied.
You see…
There's a reason some clippers owners are able to experience excellent cutting performance from their clippers.
It's not steady hands, it's not about skill and it's not luck.
They use a specific set of factors that guarantee they make the correct clipper choice – one that cuts like a dream, leaving them fresh and well-groomed all from the comfort of their home.
What are these factors? 
Well, it depends on what you're looking for…
Some of us want a clipper with enough power to tackle bulk hair.
Others want a simple clipper to help them get the hang of fading and some want a clipper to take their fage game to new levels.
Regardless of what you're looking for, the most IMPORTANT thing is the hair clipper you select for the job.
Here at ClippHub, we've handpicked a range of clippers – along with detailed (but simple) descriptions as to why each would make a great at-home clipper. 
Need some more insight it each?
Read on.
Best Hair Clippers For Beginners Men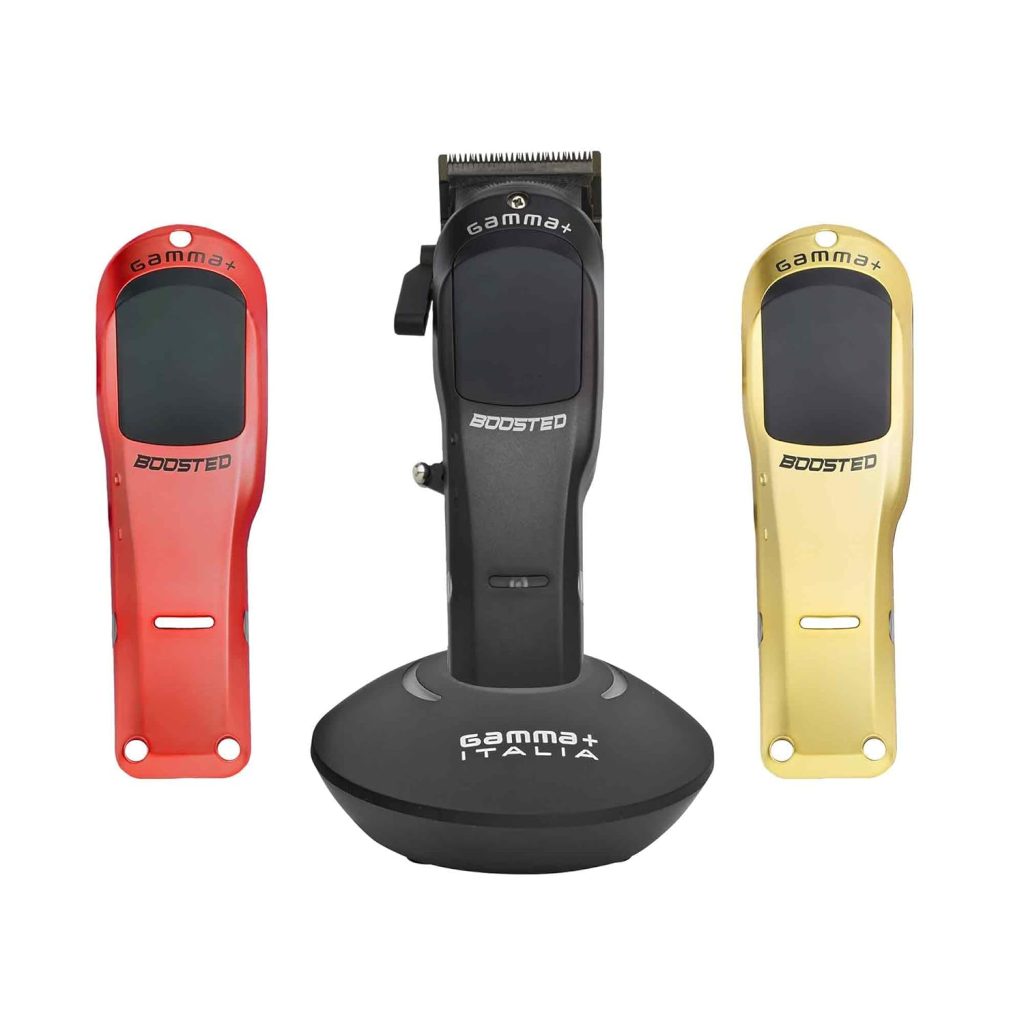 Best Overall Beginner Hair Clipper
For my beginner Barbers… this clipper is JUST for you as you start your barber-bring journey.
The Gamma+ Boosted Professional Hair Clipper is a powerful and versatile clipper that is perfect for both beginners and professionals.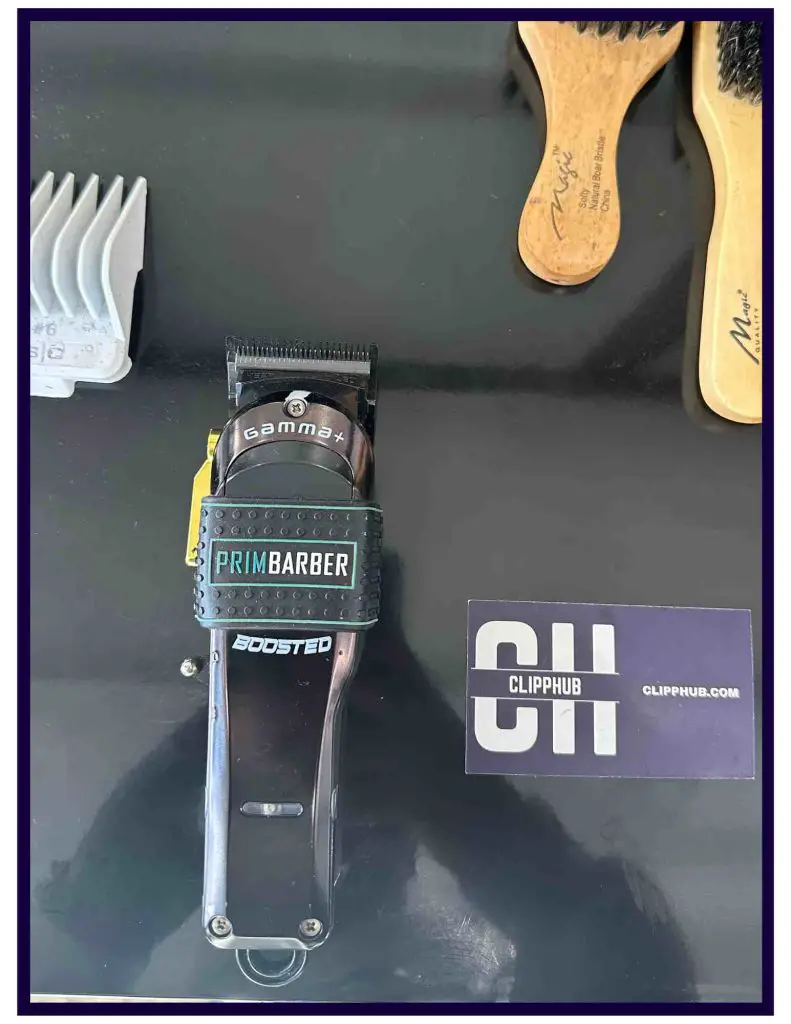 It has a super-torque rotary motor with 7,200 rpms, which makes it more powerful than ever before.
It has no difficulty in clearing bulk hair and easily creates detailed blends, thanks to the premium blades (we'll get to these later).
Despite its power, it still has low noise and low vibration, making it comfortable to use.
The clipper comes with three (3) body modification kits with Black, Red, and Gold colored lids, which are interchangeable for a fully customizable look.
The lids sport the Boosted logo and an illuminating light when in use, adding to the clipper's sleek and modern look.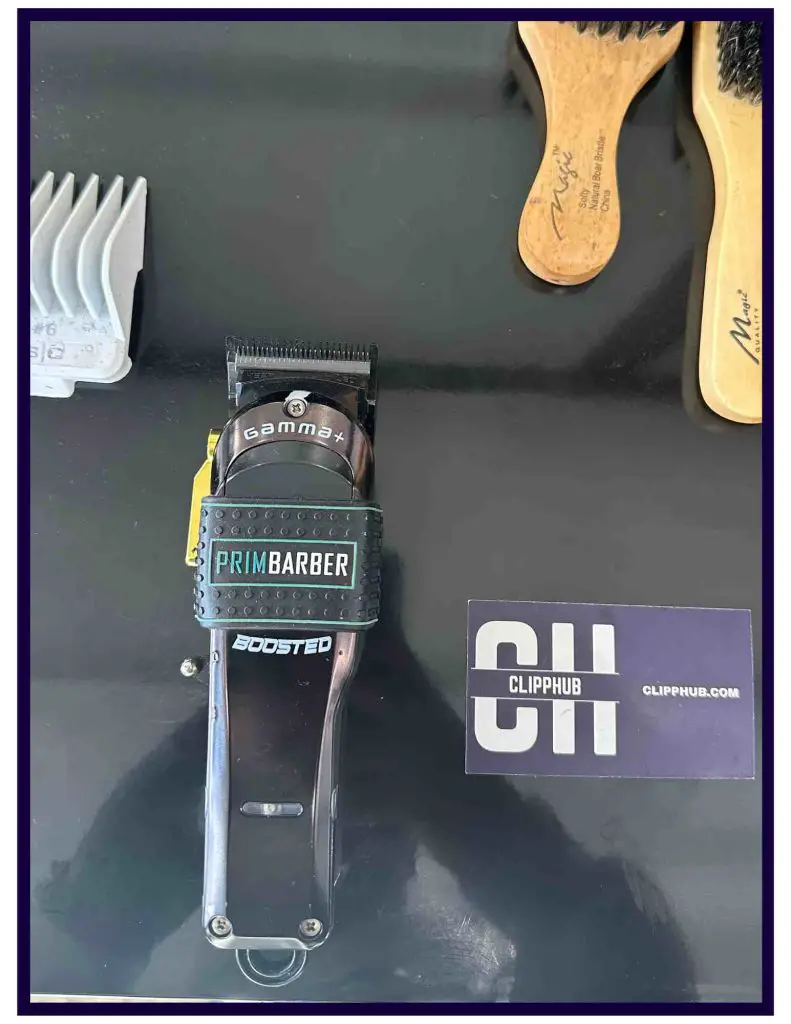 The clipper is assembled with the Double Black Diamond blade combination of a fade fixed blade and deep slim cutting blade for superior blending, fading, and bulk removal.
Both blades are fully adjustable and can be easily zero-gapped for the closest cut and finish.
The clipper also features customizable click or freestyle levers for maximum precision, flexibility, and options.
The fade blade is great don't get me wrong but for a beginner who may not quite yet have the cutting motion down yet, it can be a highly unforgiving blade.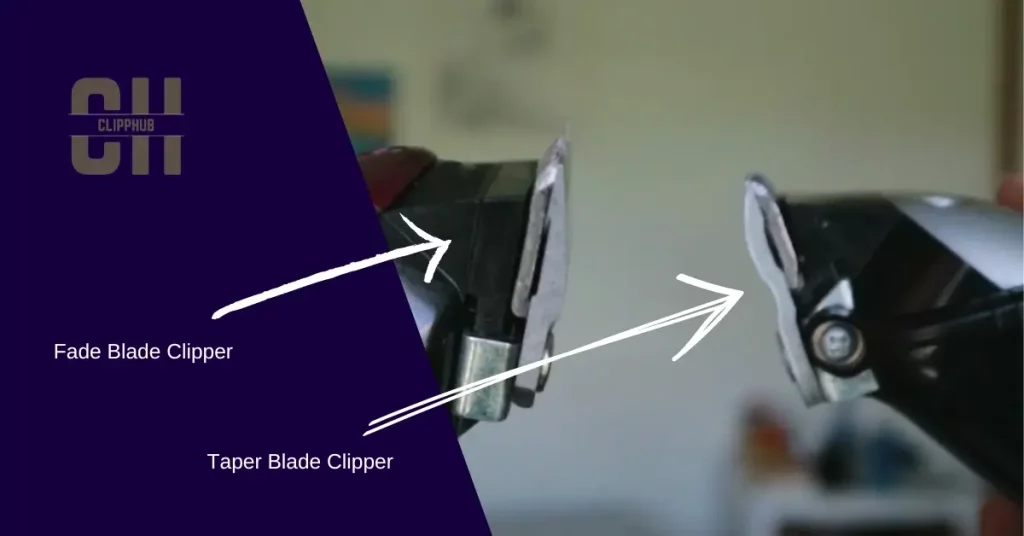 It will cut whatever hair is touching and if you don't quite yet have that elegant touch, it may punish you.
So to begin with having a taper/ Faper blade may be beneficial as you get all the other benefits of this clipper with a slightly more forgiving blade.
You may want to opt for a tapered blade for not only the boos but also the other clippers on this list:
---
---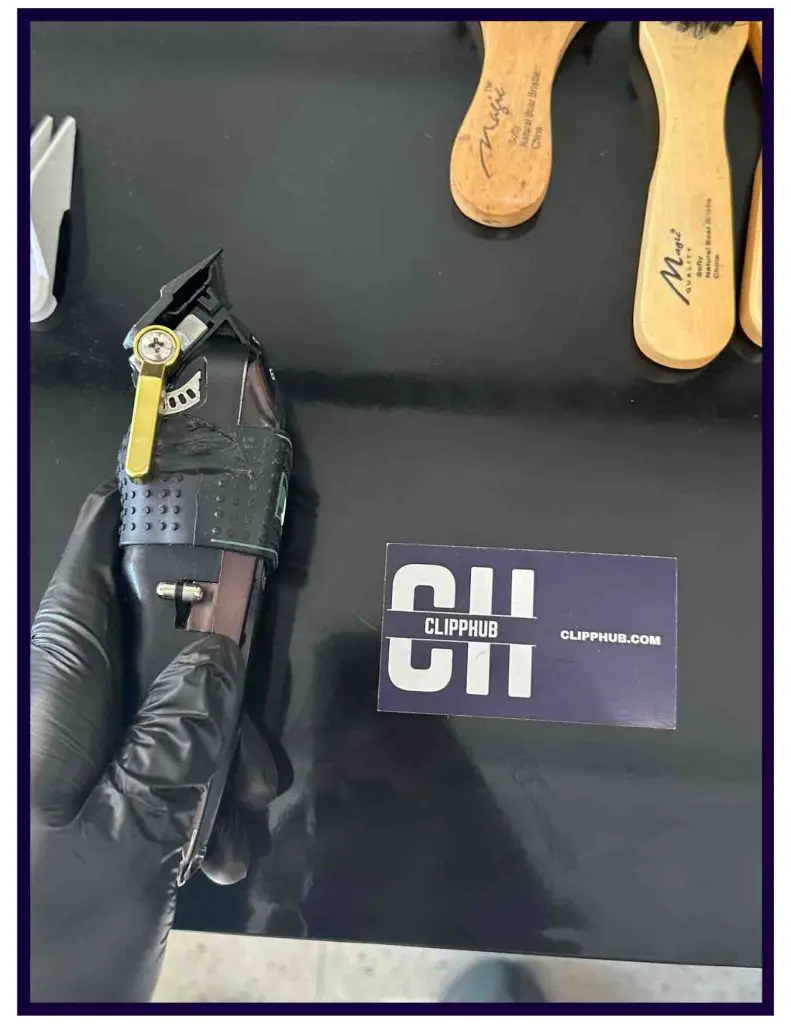 It includes new color-coded Dub Double Magnetic guards with harder, longer-lasting, and stiffer plastic teeth, which make it easier to achieve the desired length of hair.
The clipper comes with a charging stand, stretch bracket, pass-thru charging cord, and Micro-USB charging cord for universal charging functionality.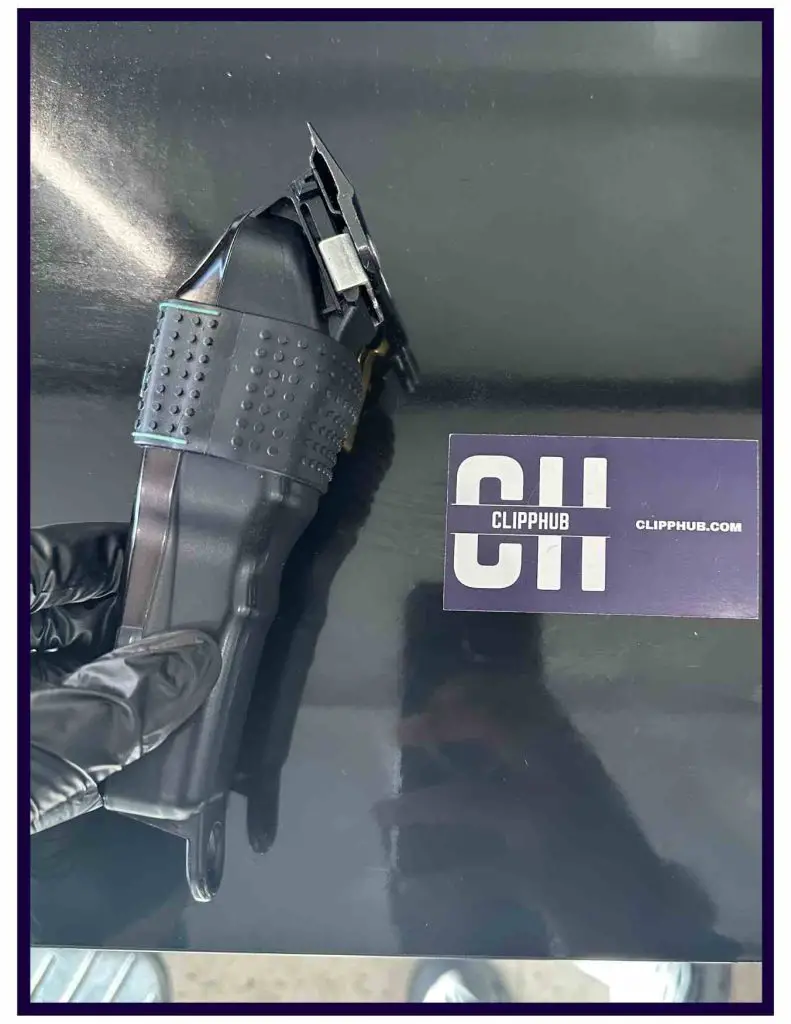 It is lightweight and easy to handle, which makes it perfect for both home and professional use.
The clipper is designed to cut through all types of hair, including curly hair, making it a versatile tool for all your hair-cutting needs.
"These are the babyliss killers! They come with a charger stand, they cost less than babyliss and cut like BUTTER. Only thing babyliss has on gamma is comfort while holding them. But other than that these clippers are a 5/5"

Review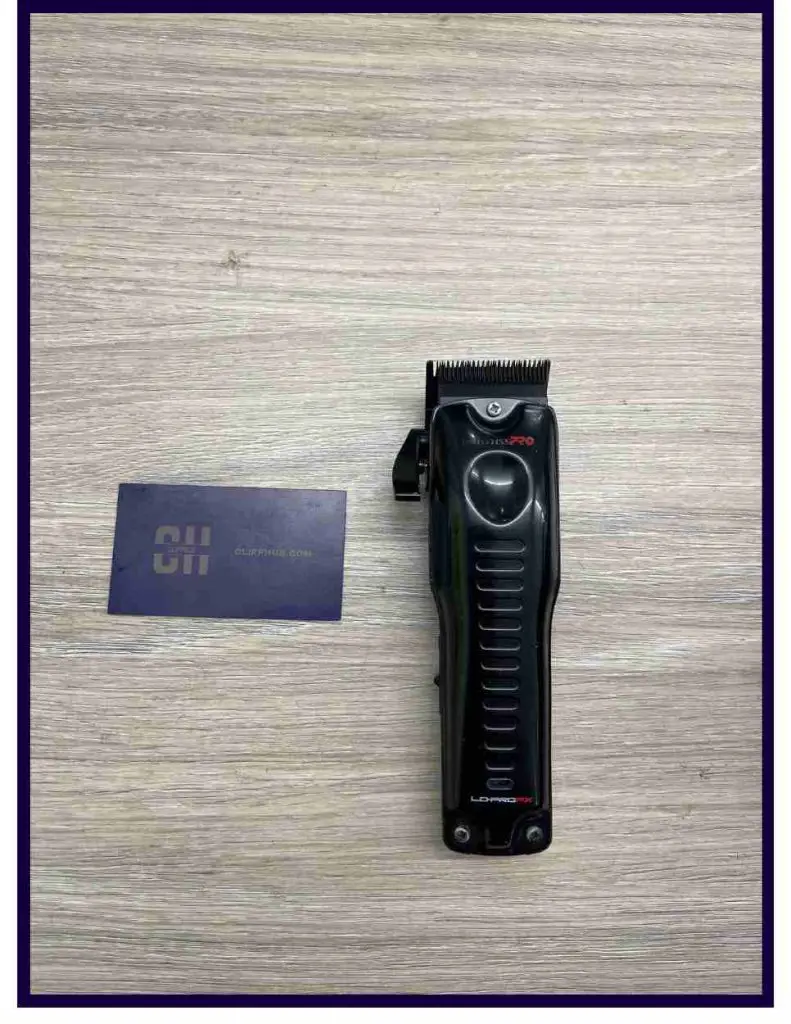 After a clipper with power, great grip, and a body that gives it some base and durability?
Well, that's exactly what the Lo Pros can provide so you don't have to look elsewhere.
These clippers are kind of like the classic magic clips (another great clipper for fading for beginners) but just better in all aspects. 
This clipper has a high-performance, high-torque digital motor that runs at 6,800 rpm with constant speed technology, ensuring outstanding cutting performance and smooth fades.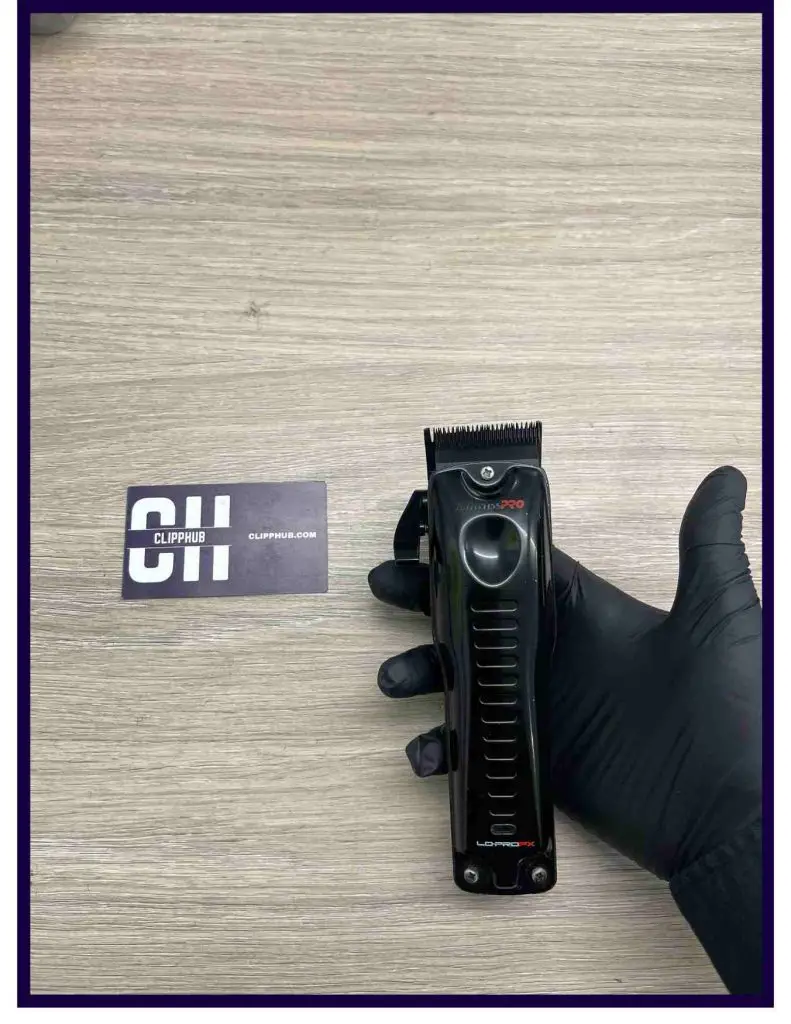 Not only that, these clippers pack more than enough power to roll through any bulk hair with no difficulty (a task that not many clippers can handle easily). 
They have a 3300 mAh lithium-ion battery that provides over 2 hours of runtime after a 2-hour charge.
This isn't amazing and is quite annoying if your battery does flat but if you opt for a Babyliss charging stand with this clipper, it does reduce the likelihood of this happening.
However, that is sold separately.
The clipper has a graphite wedge blade meaning the blades stay cooler for longer and naturally feed more hair.
They are still a good blade for fading but if you looking to take your fade game to new levels, you can opt for the Babyliss fade blade.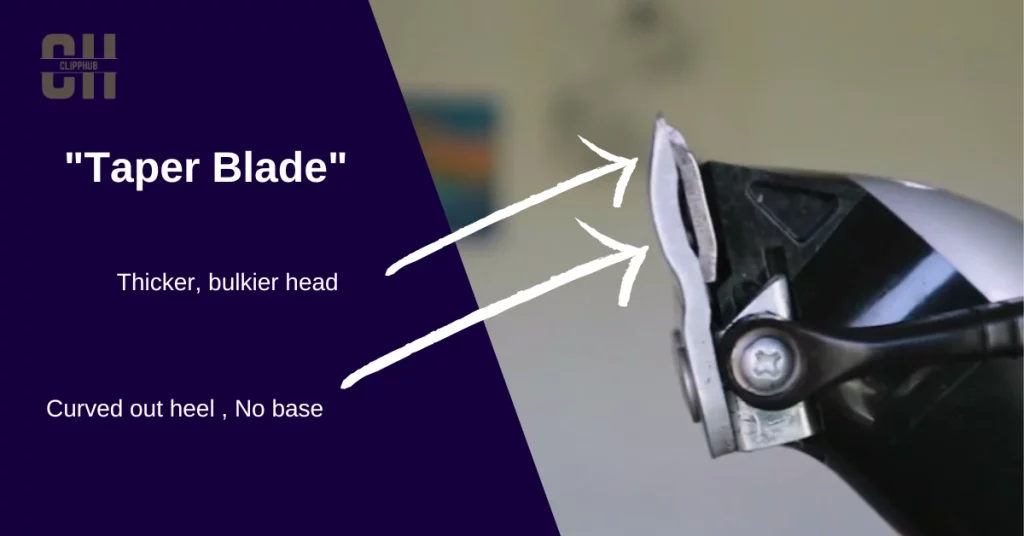 However, for a beginner, I would definitely say a tapered blade would be best as has that natural c shape which works amazingly well at creating highly texturized blends.
The clipper has a low-profile metal shield cover and an ergonomic thumb indent that makes it feel perfect in hand and offers great control and comfort while in use.
They have a click lever, which allows for more precise lengths, and a widener range of cutting lengths from 0.2mm to 2.5mm without guards which ultimately gives you the freedom of more precise clipping and fading.
Unfortunately, these clippers don't come with guards but you pick up the Premium Babyliss Guards Here. 
They not only work on these clippers but all babyliss and some clippers from other brands. 
Another downside to these clippers would be the charging options are not as good as other Babyliss products.
In the box for the LO Pro alone, you only get a cable charge.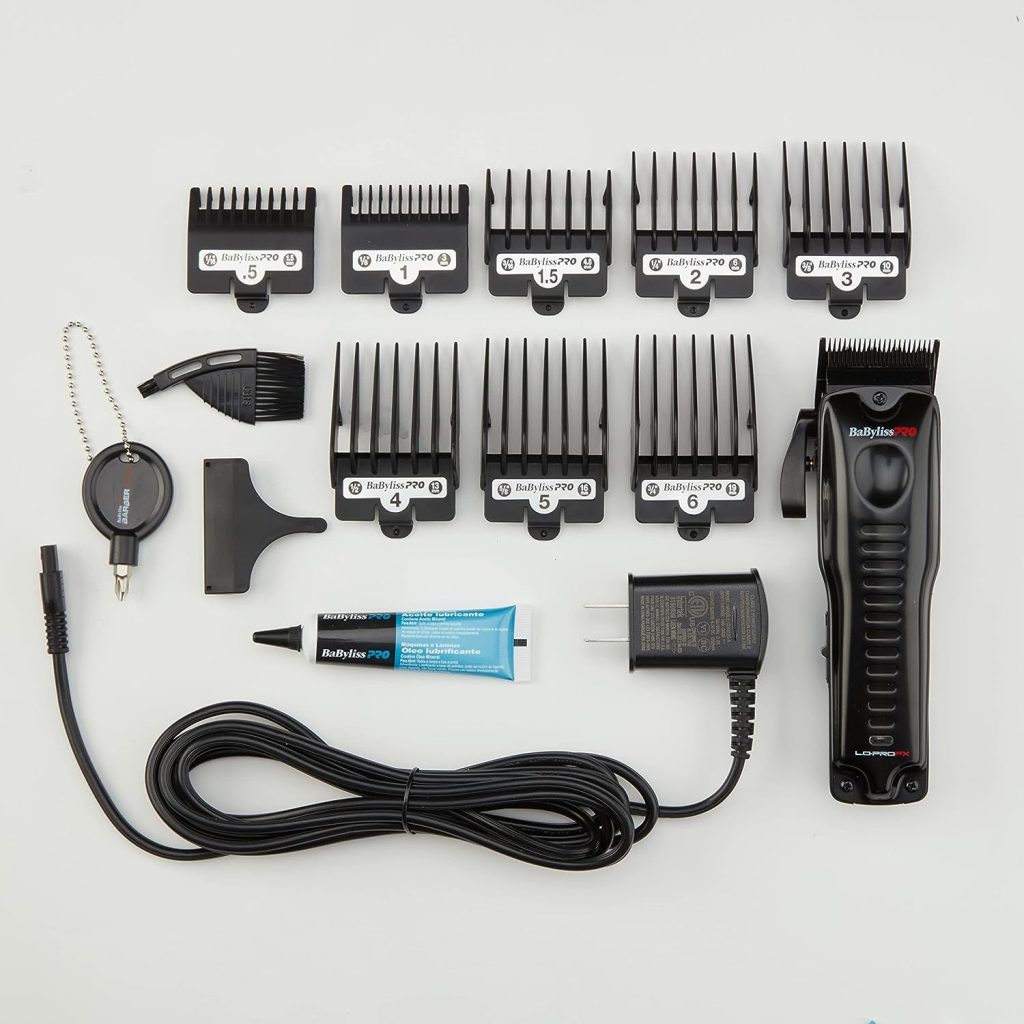 Oh and if you're not a fan of black, don't worry you can get this clipper in a wide range of colours. 
Grab one that suits your personality.
---
"Tired of the crappy consumer level beard clippers. I googled what the pros use and this one is very popular. been using it a week and I am in love with it. night and day compared to the consumer clippers.

Tried doing a beard fade for the very first time and it turned out great."

review
The Best Fading Hair Clippers for Beginners
This one is for those who want to take their smooth fades, one level higher. The Wahl Magic Clip is the best clipper line for this task.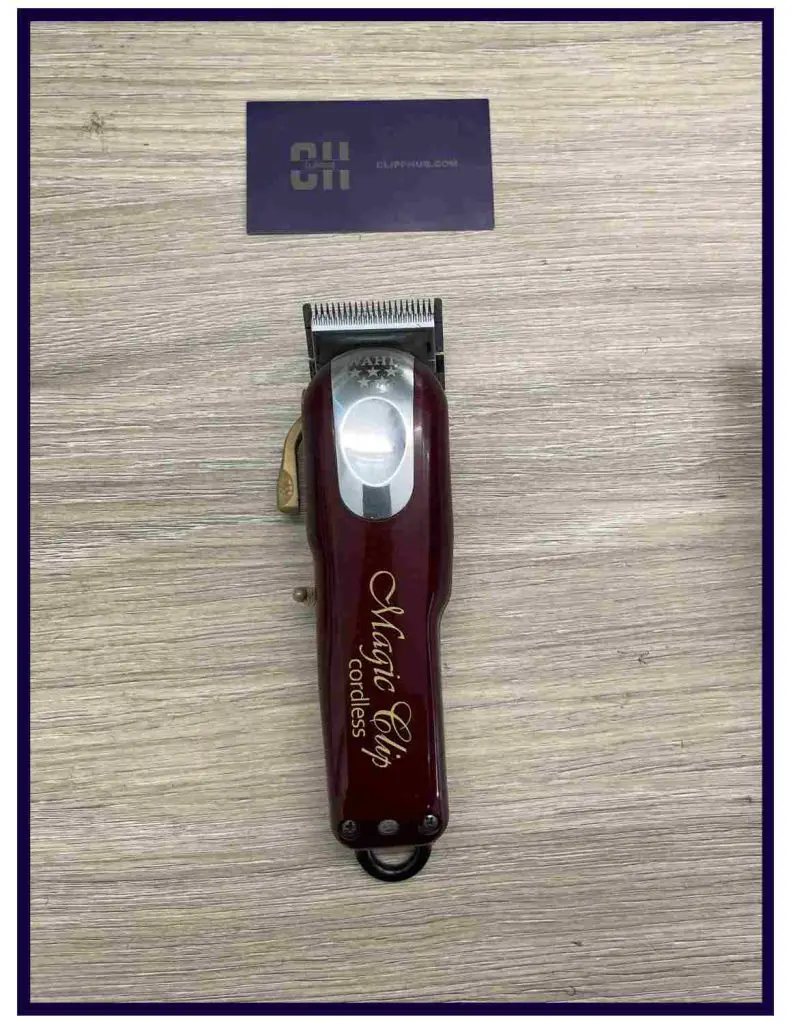 The clipper features a fairly powerful 6100 rpm motor.
Compared to the other clippers motors on this list it's a slower running but that also means it's more forgiving compared to the more powerful seniors and Babyliss Fx and gold magic clip.
By more forgiving, I mean it doesn't punish as much as those clippers if you incorrectly flick up as you blend hair.
So you kind of have more room for error, something the more powerful clippers won't give you.
However, that does mean that these clippers aren't great for buzzing or clearing bulk hair… but they do provide a smooth cutting experience.
So whether you get these depends on what you're looking to do at home.
It is equipped with high-quality stainless steel blades, designed to cut close and precisely.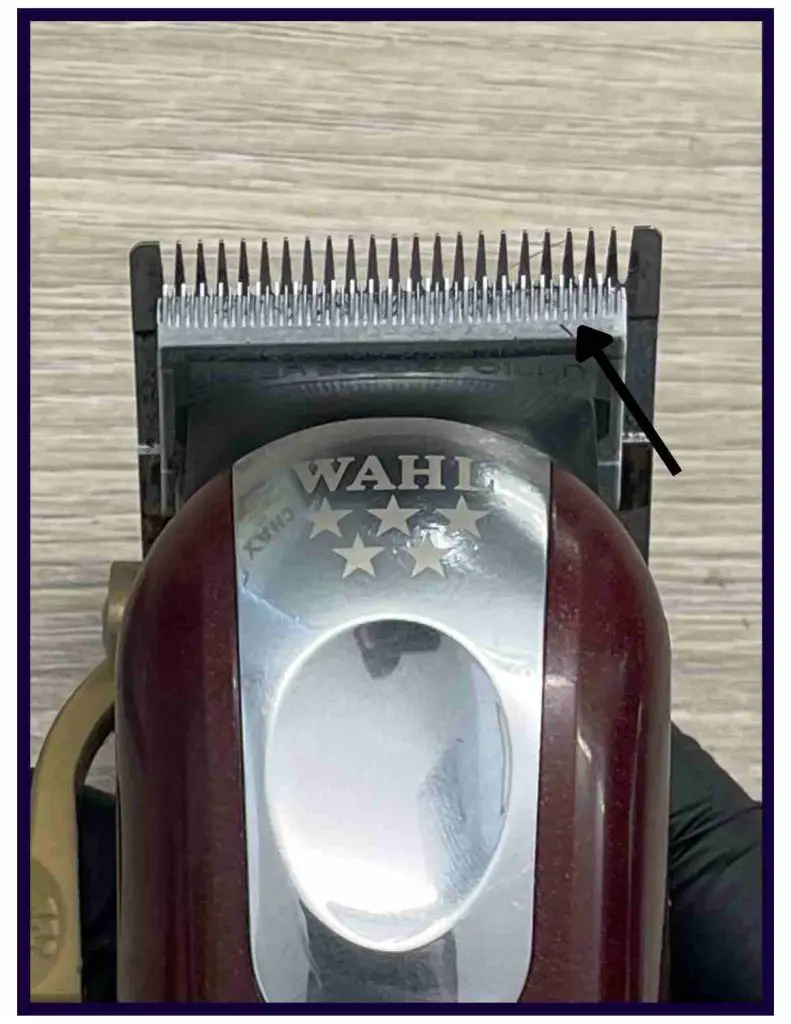 To be more specific, this clipper has a stagger-tooth cutting blade (unique only to the magic clip), that aids it in creating cleaner and more texturized cuts. 
Here is a possible way to reword the paragraph while keeping the same tone and length:
The blade also has a crunch blade technology that lets you hear the sound of the clippers cutting through the hair.
This way, you can tell exactly when you have reached or gone beyond a guideline. This is very helpful for those who are new to using clippers.
The Wahl Magic Clip is light and powerful, weighing only 290 grams.
This makes it easy to hold and use. The ergonomic design also prevents fatigue and strain on your wrist and hand.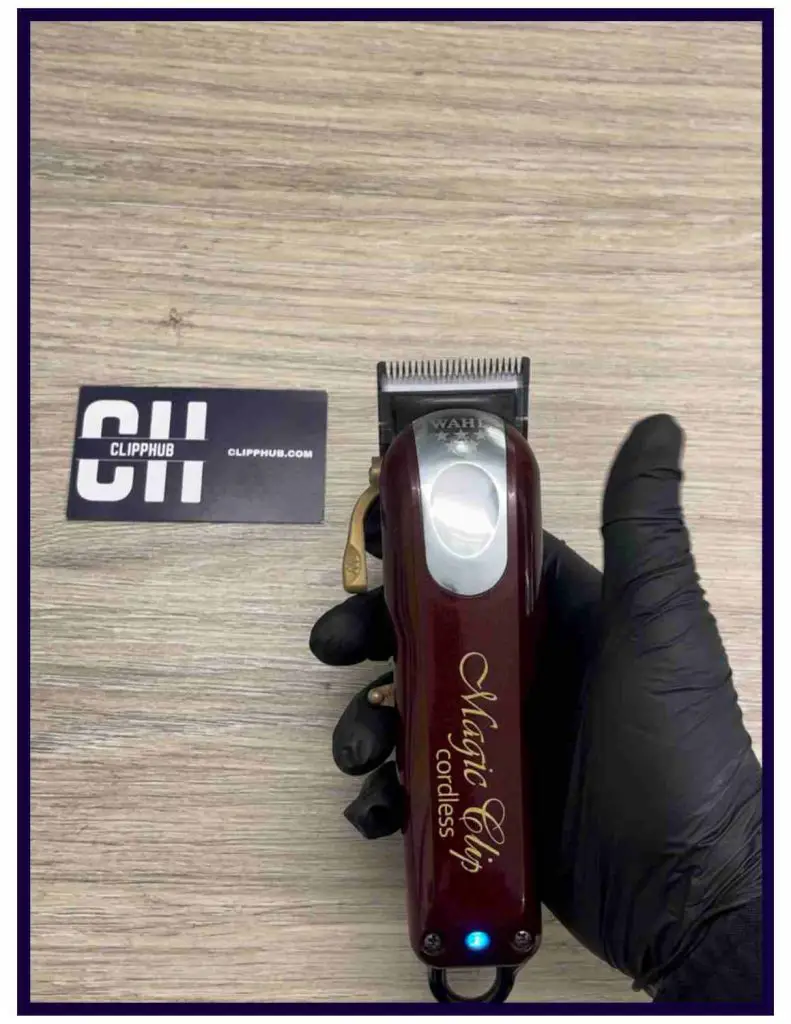 The clipper also has a "classic clipper build" that makes it comfortable and sturdy to use.
The clipper is also very light, which makes it easy to move around the head.
This is what makes this a great and effective clipper for making quality fades at home.
It comes with accessories such as 8 guards, a cleaning brush, and oil. This makes it suitable for all hair types and lengths.
The clipper has a lithium-ion battery that gives up to 90 minutes of cordless runtime – which is not very impressive but for one of at-home cuts, it's enough.
If you are a barber, however, you may want to take a look at getting the Wahl Charging Stand or a Tomb 45 cordless Batter that adds another 50% battery life to your clippers
Or.. you could upgrade to the latest Limited Edition Magic which is just the Magic Clip on steroids. 
To begin with, the motor on the Gold Magic Clip just received a huge bump output taking up to around 6800 rpm – that's touching senior levels of power.
The Gold Magic Clip now has better bulk-clearing ability while keeping all the high-quality cutting perks.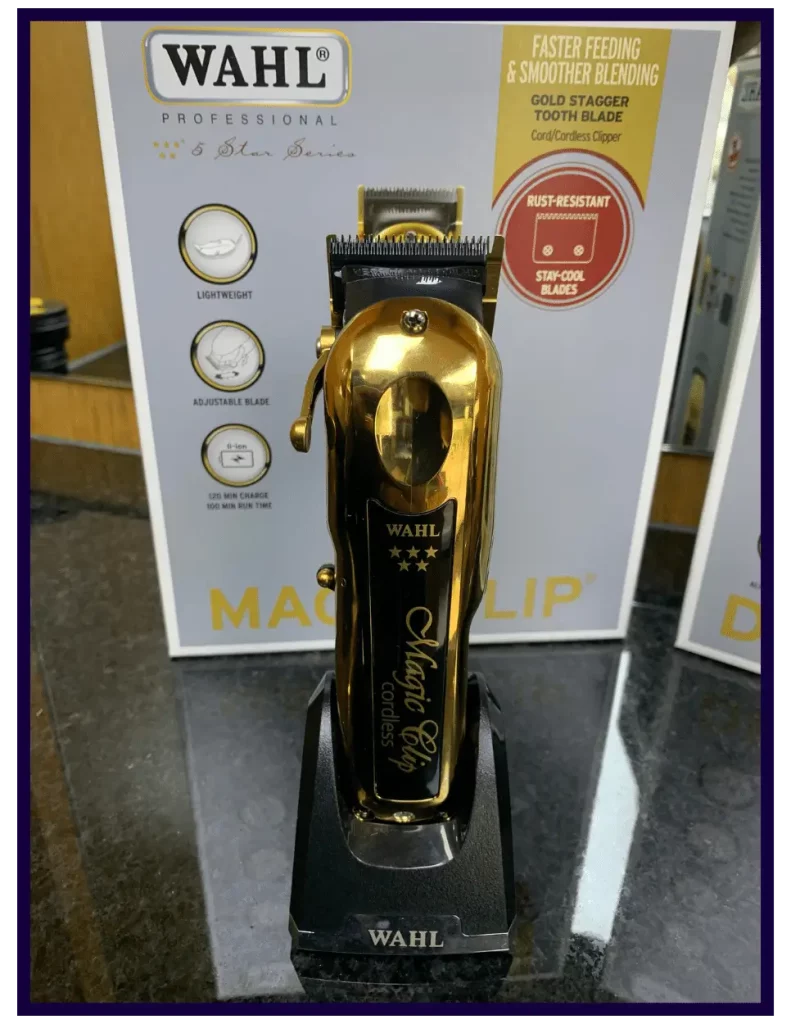 It still has the stagger tooth blade… which has a DLC coating, making the blade stronger and more wear-resistant and stays cooler.
The staggered tooth is more prominent and it comes with a charging stand which is just more convenient.
The runtime doesn't massively go up, only getting an extra 10-minute bump and the cutting range is still the same.
So it doesn't topple the legends in terms of cutting range but it is even better at cutting and fading than the original magic clip.
For this reason, it is better at clearing through bulk and both blades are far more durable.
If you want a good reliable fading clipper, stick with the Original Magic Clip.
However, if you want to go a level up to a more rounded magic clip, the newer versions may be better suited for you.
This clipper falls into the more professional realm, of clippers.. but if you want to test yourself, you can give them a go.
And, if you are interested in professional grade clippers as a whole, check this article below:
"Since Covid and lockdowns for the last 2 years I have been learning to cut my own hair and, not that I have these I can see my previous set of clippers were simply not as good. I can get a good fade with these."

review

Best On Noise Clippers
The Andis US Pro Li Hair Clipper is a cordless clipper that is perfect for beginners.
It is lightweight, weighing less than 10 ounces, and is designed to be easy to use.
The clipper is also very quiet, making it ideal for use in a salon or at home. This makes cutting hair more pleasing for the barber, as well as the client.
The side adjustment lever is perfect for cutting tapers and fades, and the blade is adjustable from 000 to 1.
The clipper comes with 9 attachment combs, a blade guard, and oil, as well as a charging adaptor.
The rotary motor is fully charged after as little as a 90-minute charge and runs for over 2 hours on a single charge.
The lithium-ion powered battery provides robust and long-lasting power, and the rotary motor cuts at 5500 strokes per minute.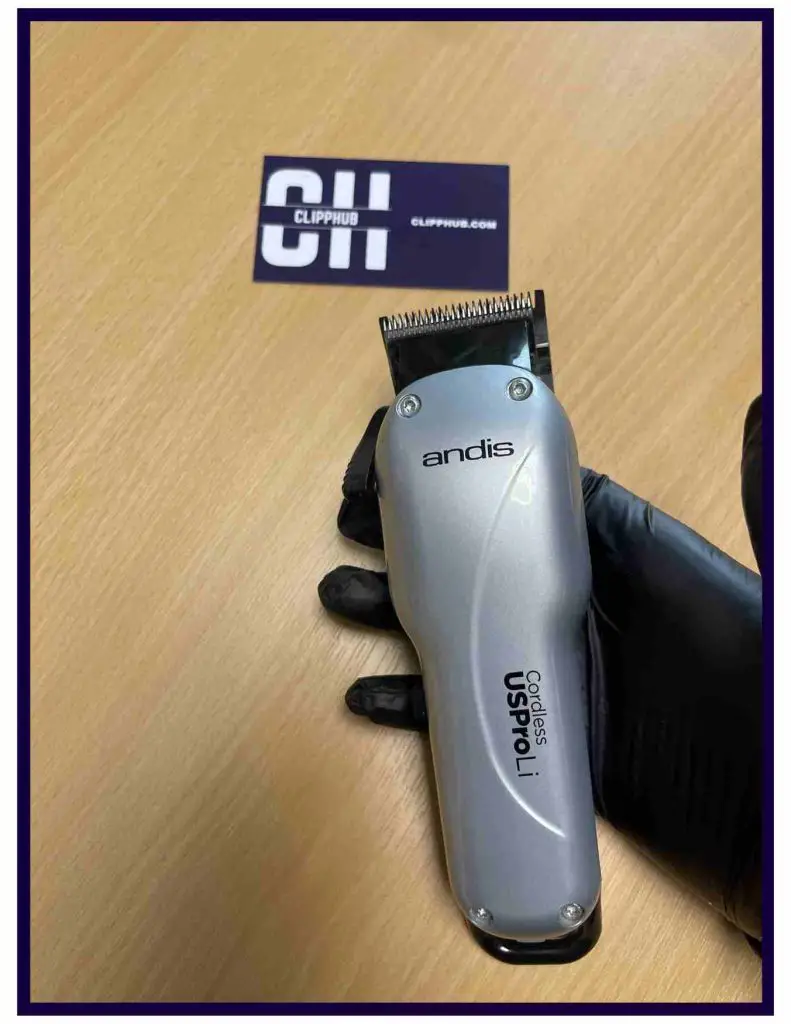 The clipper is ergonomically designed, weighing less than 10 oz., making it perfect for all-day use that won't weigh you down.
The cord/cordless function provides optimal flexibility in a professional environment.
The Andis US Pro Li Hair Clipper is the perfect choice for anyone looking for a lightweight, quiet, and easy-to-use clipper.
If you're looking for a reliable and efficient clipper that is perfect for beginners, the Andis US Pro Li Hair Clipper is the perfect choice for you
"I have been looking for decent clippers. These clippers are entry level clippers used by professional barbers and very good. When buying clippers I think it is better to go for known brand, such as Andis or Wahl rather than the no brand products churned out by china factories."

Review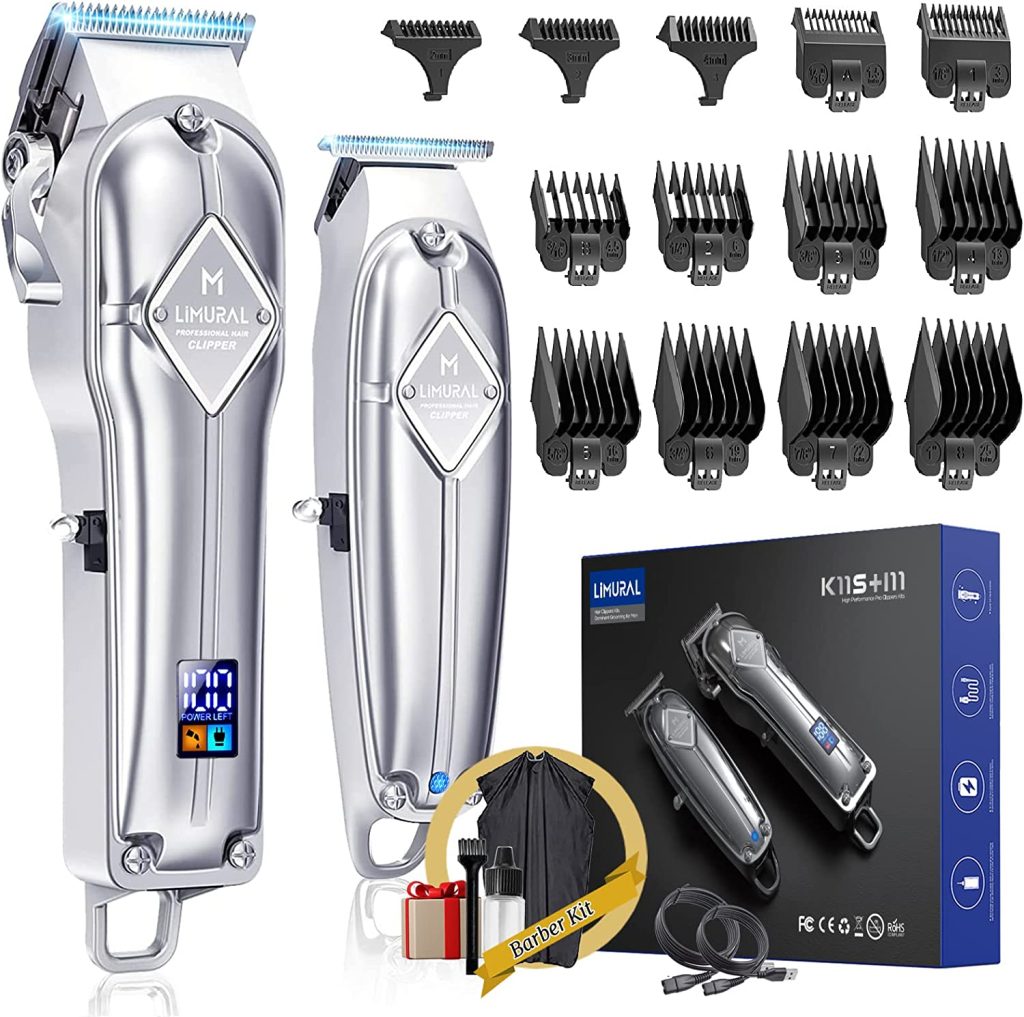 Best Budget Hair Clippers for Beginners
The Limural l Hair Clippers and Trimmer Kit is one of the best budget cordless hair clippers available in the market.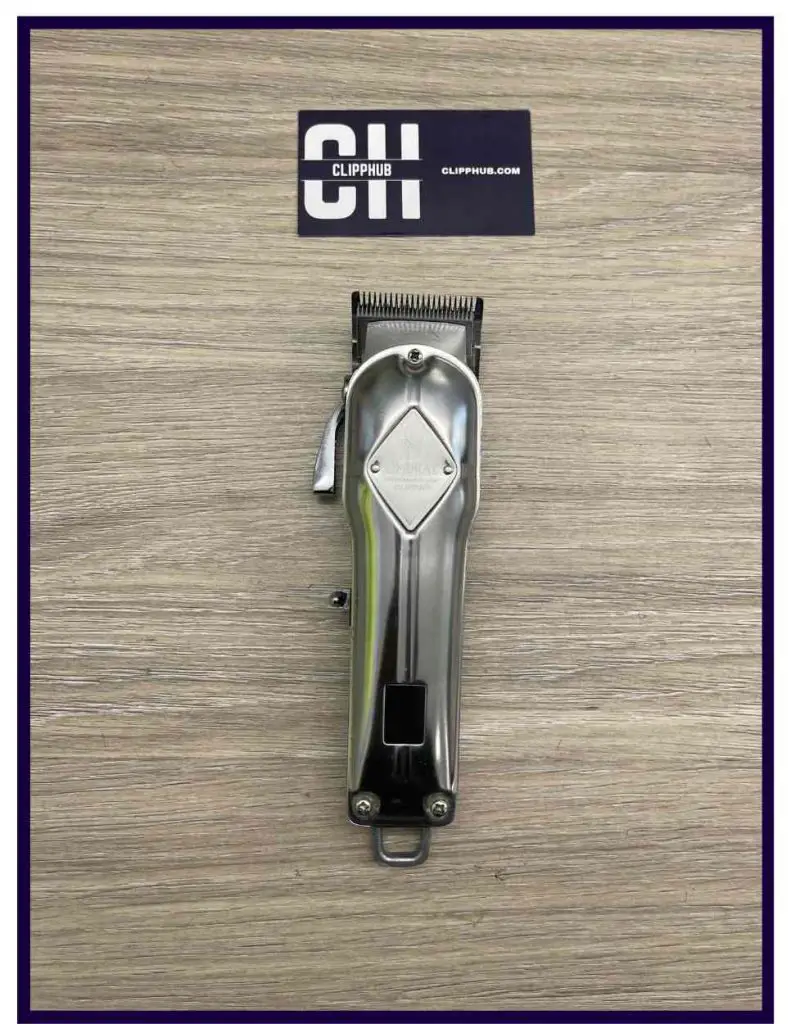 It is a clipper that is designed to deliver outstanding performance. 
It comes with both a stainless steel fade blade as well cutting blade. 
Both blades are rust-resistant and both (safely) get close to the skin and help you cut with maximum precision with little hair pulling.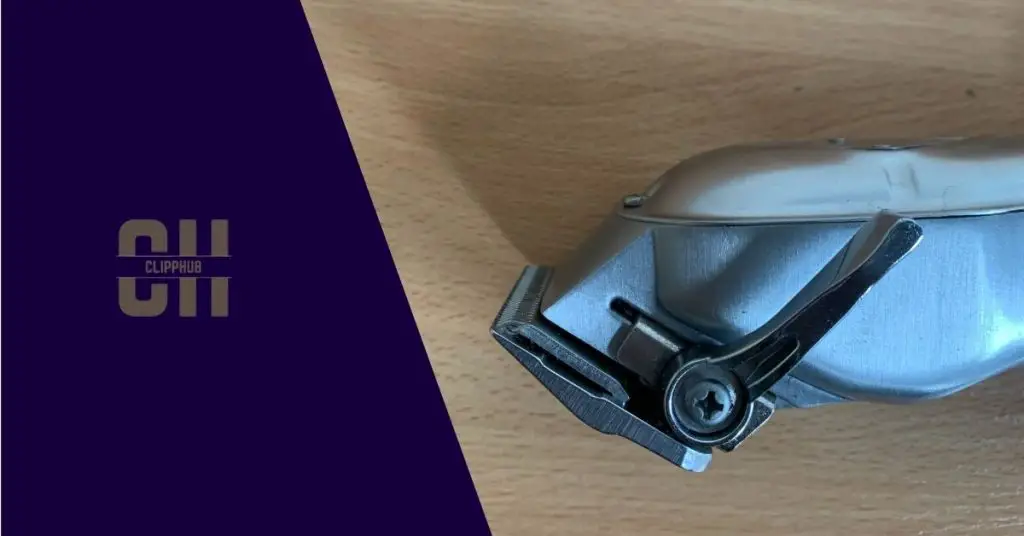 The clipper features a quite powerful 6000 rpm motor that provides the blades with swift and very quiet operation. 
It comes with a range of accessories including 9 attachment combs, a cleaning brush, and oil. This makes it ideal for use on all hair types and lengths.
One of the standout features of the Limural Hair Clipper and Trimmer Kit is its long-lasting battery life.
The clipper has a lithium-ion battery that provides up to 300 minutes of cordless runtime. It also has a quick charge feature that provides 2 hours of runtime with just a 1-hour charge.
This clipper is also very easy to use.
 It has an ergonomic design that is comfortable to hold and use for extended periods of time. The clipper is also very lightweight, which makes it easy to maneuver around the head.
And to top it off, it also comes with a zero-gapped trimmer. 
It may not last as long overall as the other clippers as I've seen this burn out when CONSTANTLY used.
However, when used sparingly you can certainly get a good few years out of these clippers as long as you maintain them well. 
What more could you want from a clipper at this price?
"I had been wanting to buy a set of clippers for years and this pair are great. Very nice quality and good price. This item as saved me money going to the barber for a bald cut. Definitely a item I would recommend, very comfortable to use, nice weight to them too."

Review
Buyers Guide:
If you're a beginner looking for hair clippers to start your barbering journey, here's a simple and easy guide to help you choose the right hair clipper:
Weight and size: 
Look for clippers that are lightweight and easy to handle. This will help you avoid hand fatigue and make it easier to maneuver the clipper around the head.
Power source: 
Decide whether you want corded or cordless clippers. Cordless clippers offer more freedom of movement, but they need to be charged regularly.
Corded clippers, on the other hand, provide consistent power but limit your mobility.
Blade quality:
The quality of the blade is crucial for a smooth and precise cut. Look for clippers with high-quality blades that are made of durable materials.
Accessories: 
Some hair clippers come with accessories such as combs, scissors, and cleaning brushes. These accessories can be helpful for beginners who are just starting out.
Price: 
Hair clippers can range in price from less than $20 to over $250. As a beginner, you don't need to spend a lot of money on a high-end clipper.
Instead, look for a clipper that fits your budget and has the features you need.
How to Use Hair Clippers for the First Time 
If you wish to know how to use your hair clippers grasp the process of fading, and understand guards too, check out our article on how to fade below:
Or you could check out my video below:
FAQ 
This has been an in-depth review of the Best Hair Clippers for Beginners. If you've found this review be sure to check out more articles below!