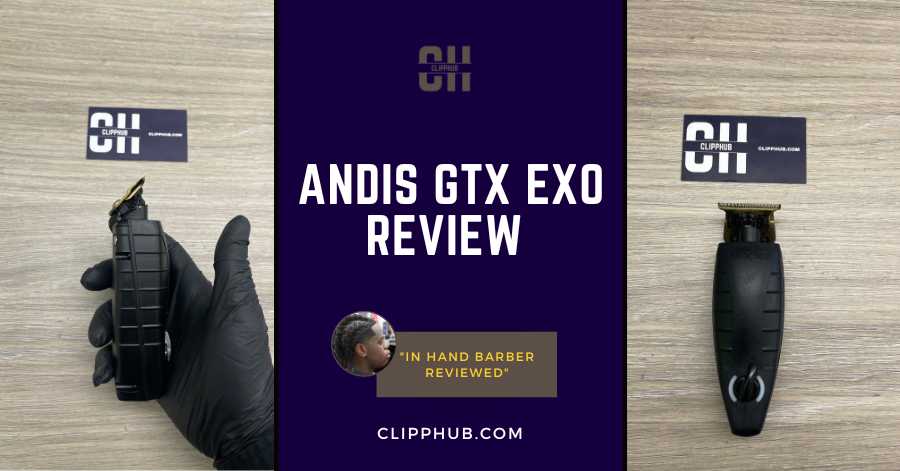 So you're looking for an original Andis Ftx Exo Review? 
Well, you're in the right place for answers. 
Today I'm going to review the Andis Gtx exo trimmer: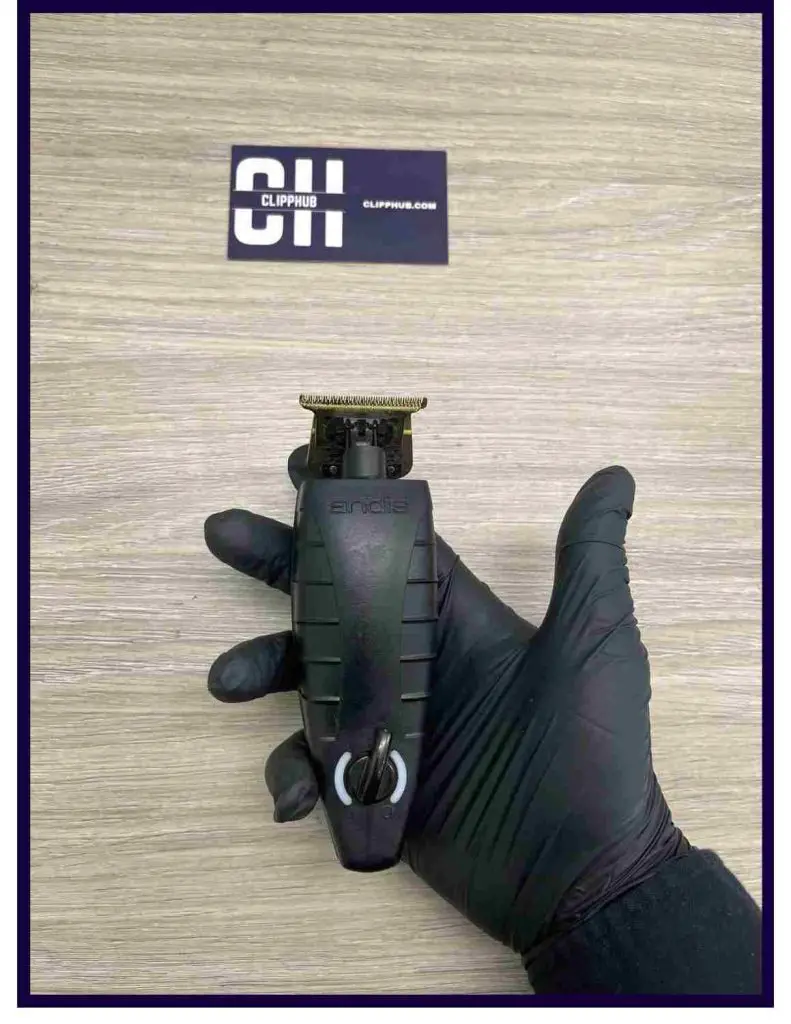 They are dubbed to the newest and greatest In the T ouliner Family. In this review we'll see wether this claim holds up.
We'll look at what makes it great, what could be better, and I'll providde my overall conclusion of these trimmers.
So, with that said, let's get into it. 
Andis GTX Exo Review: Overview
I have had the Andix GtX for a few years now and I've come to appreciate the trimmer for what it provides.
We'll break down exactly what this trimmer has to provide. In a rush?
Here's my quick overview.
---
---
Specs
Motor Type: Rotary
Strokes per Minute MAX: 7200 SPM
Volts: 120-240 V
Hertz: 50/60 Hz
Blade Position: Enhances visibility for precision detailing
Blade: Custom gold blade with corrosion-resistant coating
GTX-Z Blade: Pre-set with a tighter
more aggressive gap eliminating the need for zero gapping
Packaging Dimensions: 11.73 x 8.07 x 4.88 inches
Weight: 0.48 lbs
Length: 5.50 inches
Andis Gtx Exo Trimmer Review : Pros & Cons
Essentially, the Andis GTX Exo aims to improve the styling and precision of haircutting, offering a new and improved look and performance while paying homage to the traditional T-Outliner. 
This 2-pound, (0.9kg) cordless liner is 10.83 x 5.24 x 4.49 inches and provides consistent power when in use.
You can feel the mellow hum of these liners, the second you turn them.
This is probably due to the fact that it's built with a  powerful, high-speed rotary motor with blade speeds over 7,200 rPM (Every time the blade moves side to side per minute). In terms of power, it's up there with trimmers such as the Babyliss gold fx and wahl detailer (More on this later).
All this allows the premium gold blade to slice through hair with little difficulty.
The new and improved Gold Andis GTX-Z blade is manufactured and pre-set with a tighter gap for finer detailing and has a corrosion-resistant coating. – But you can even zero-gap them further if you like an cleaner cut.
The wide but large exposed blade gives you 360 manouvrebility, allowing you to cut hair at all angles without being restricted whatsoever. It it also clears more hair in one go thanks to the shear size of the blade..
One of the aspects I appreciate about this trimmer is the charging stand, which just makes it way easier to keep it charged at all times.
The trimmer itself has a unique shape to it which helps when it comes to outlining and styling.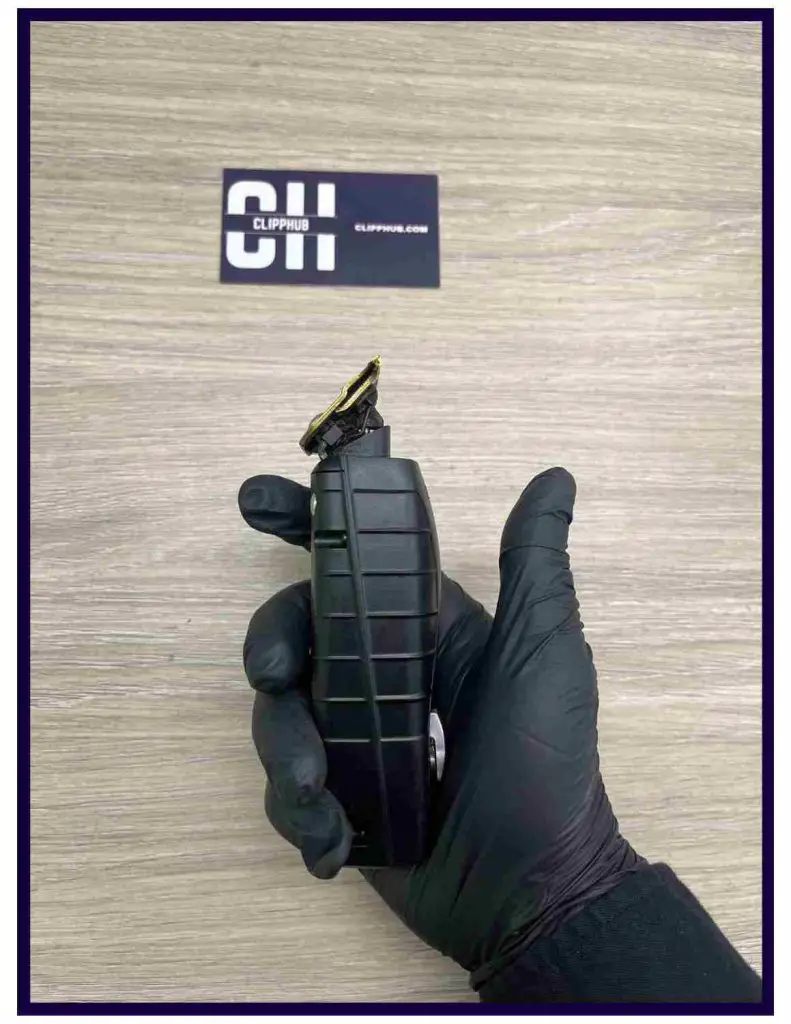 If your're new to the Outliner family, then the shape might catch you off guard. If not the bulky design should not be a suprise. Whilst the bulky look may not be a favourite for those who enjoy a a thinner trimmer, it does those who like a large trimmer: Better grip, better duribilty and weighted comfort and they cut hair.
This trimmer provides 100 minutes of cordless runtime which is plenty of run life if you purely looking to use this trimmer for lineups but if you're after more, then it may not be enough but you'd have to test it out to find out.
But this trimmer does come with a charging stand (a great accesory that comes with this trimmer), So if you stick it on the dock whilst not in use, the you may barely notice the battery "dying".
In summary, the Andis GTX Exo is a high-quality, cordless machine. It's a solid choice for professionals and home users.
Its design, precision, and performance make it a compelling option for anyone looking to clear more hair all at once and create lazer lines on demand.
Let's go into more detail on the key aspects of this trimmer.
We'll look at:
Design and Build
Cutting performance 
Easy of use 
Battery life 
Design and Build Quality
My first impression of the Andis 74100 GTX EXO's design was that its bulky…
Before I had this trimmers, I was used to having trimmers slim trimmers such as the Andis slimline. At first the bulkyness does catch you off-guard but as you use it more, you gradually begin to like the feel (from my experience)
You would think that a bulky design wouldn't make it ergonomic but I was wrong. Whilst it is rather wide, it still feels fairly lightweight, and overall is easy to maneuver cordlessly. 
It give you more surface area so you have better grip. It never slips out of my hand and with the nice amount weight, I never feel the trimmer "dissapears" unlike some other lightweight liners.
Those with smaller hands may think otherwise though, because if you do have smaller hands, you might struggle to maintain complete control with these.
In my opinion though, the performance of these trimmers outweighs this issue, although it may take some practice to get complete control over these for those with smaller hands.
For me, overall the build quality of the Andis GTX EXO is solid. You can drop these things and they rarely create a dent which is the stand-out feature for these trimmers. (But obviosly don't drop your trimmers!)
It's made of pretty durable plastic so I'm confident that this trimmer will hold up for a long time (hence why for me, this has to be one of the most durable trimmers out there).
The packaging packaging it comes in made the unboxing experience so much better. Andis really stepped up the design and packaging this time around in my opinion…
Now let's discuss blades, arguably the most important factor of trimmers. The Andis GTX Exo uses the new GTX-Z blade with a gold coating for superb corrosion resistance. 
This ensures they stay sharp and precise. It has a zero-gap feature as well so it's easy to get close, skin-tight trims all the time but if you want to adjust the degree of the blades, you can do so by following this guide below:
Another critical element of its design is the powerful rotary motor. It runs at a high speed of 7,200 strokes per minute. I've had no issues cutting through very dense hair and most importantly, I haven't experienced any dragging or stalling.
This is probably because of its new and improved motor which features Constant Speed Technology. This ensures a high motor speed is maintained no matter how thick the hair you're cutting is.
To summarise its features: It has an ergonomic design, a powerful motor, and sharp blades that make it a good option for both professionals and personal users.
Its large body might not be liked by everyone, but apart from that in terms of build, there's not much I can complain about when it comes to this trimmer.
Cutting Performance
As mentioned before, I have no complaints when it comes to the Andis GTX Exo trimmer's ability to cut hair well.
Its motor of 7,200 strokes per minute puts it far above other trimmers' cutting ability for one. It has produced some of the cleanest lines I've seen – all without pulling hair.
In terms of user-friendliness, I couldn't have asked for more. It comes ready to use out of the box.
All things considered, the cutting performance of the Andis GTX Exo was impressive, making it a reliable trimmer for regular usage.
Ease of Use
As I use the Andis GTX Exo trimmers more and more, I find it more comfortable and easy to handle.
It's lightweight (around 0.9kg ), and though this does fall on the "heavier" side of trimmers overall, it still feels pretty light.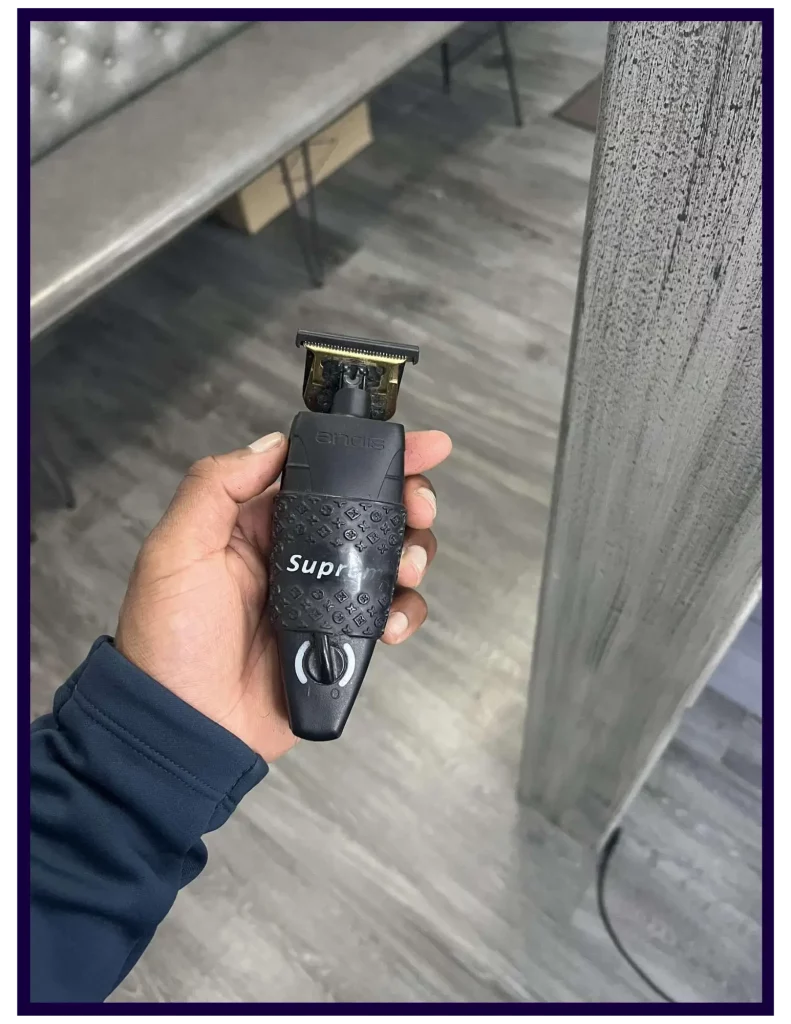 For me, I have a secure grip during use which allows me to produce fine details with little effort. 
Comparisons: Andis Gtx Exo vs Andis T Outliner
---
---
Andis GTX Exo vs. Andis T-Outliner
In my experience, the Andis GTX Exo offers a few advantages over the Andis T-Outliner.
First, the GTX Exo's blade has deeper teeth, which allows it to cut through longer and thicker hair types more efficiently. This, in turn, provides a smoother experience for both me, the barber, and my clients.
The second advantage of the GTX Exo is cordless when compared to th T-outliner. This gives you more manouvrebility but the T outliner comes with that consistent power output so it ultimately depends on what you're after.
Andis GTX Exo vs. Wahl Detailer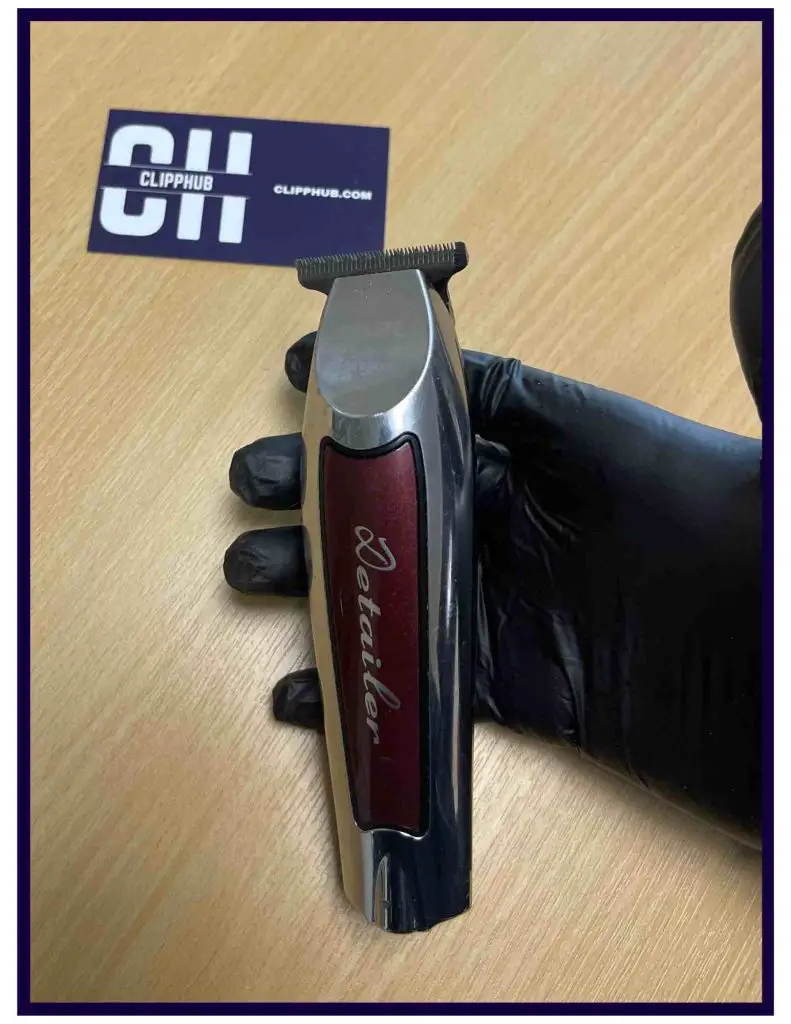 ---
---
Both of these trimmers are the crown jewel for their respective but they are also very similar.
They both have wide 360 exposed blades. However while the gold blade on the Gtx is hypoallergenic( doesn't cause allergies) while the blade on the detailer is simply made of stainless steel.
The bulkier T blade on the GTX also does a better job of clearing bulk hair compared to the thinner blade on the detailer but un-ironically this does mean that this trimmer is better at detailing when compared to the Gtx.
The both have similar batter lives coming in at around 100 minutes but the Detailer does not come withn acharging stand unlike the GtX.
The Gtx is the more"powerful" liner but the
Ultimately, the choice between the Andis GTX Exo and Wahl Detailer comes down to personal preference and work style.
Battery Life and Charging
Although I've only touched on it briefly during this review, the battery life of the Andis 74100 GTX-EXO Professional trimmers has impressed me.
On the box, it says it has a battery life of around 100 minutes but how does that translate into real-life usage? Well, based on my experience it can last for multiple haircuts and grooming sessions on a single charge. 
This allows me to focus on my work without worrying about the battery dying mid-cut, so in terms of battery, you won't have to worry. 
And although it won't give you 4 hours like the snap fx (for example), it's still more than enough to provide plenty of clean cuts from a single charge. 
I've already talked about this before but the charging dock this trimmer comes with makes it so convenient to use. It doubles as a good storage place when I'm not using it too.
Its battery provides me with consistent power output when I use it so it's rare for me to get weak or uneven cuts. My clients have always been satisfied with the results whenever I use these trimmers so I'm not mad about the battery at all.
To sum it up, the Andis GTX-EXO trimmers are even more reliable thanks to it's good battery life and helpful charging features.
It's not the longest on the market but, it's still solid, and more than enough to last you throughout the day.
Maintenance
Maintaining the Andis GTX EXO is a crucial part of keeping it in good condition, especially as a barber. Since I have been using this trimmer for quite some time now, I can confidently vouch for its durability.
To keep the trimmer running smoothly, I make sure to clean the blades after every use. 
I'll get a small brush and gently remove any hair or debris that may have built up around the blade and motor.
I also use a light touch of Andis Cool Care Plus or a similar clipper coolant spray to disinfect and lubricate the blades. This not only makes the blades last so much longer but also allows them to provide a cleaner cut.
Occasionally, I'll replace the trimmer's blade if I notice any dullness or feel that it's cutting less efficiently.
The official Andis GTX-EXO replacement blade is probably the best replacement blade to get and can easily be installed by even beginners. This is why my GTX EXO trimmer performs consistently at all times.
By following these maintenance steps, I can confidently say that my Andis GTX EXO trimmer functions well, even after months of regular usage. It seems it's become a non-negotiable tool for me when it comes to grooming and cutting hair…
Price and Availability
At the time of writing this, the Andis GTX-EXO Cordless Li Trimmer is priced at $150.77. Keep in mind the price might fluctuate over time, for example during sales and promotions.
You can get them at the best price below (because why not save some extra money?):
---
November 29, 2023 6:13 am
---
Conclusion
In my experience, the Andis 74100 GTX EXO is an excellent professional hair trimmer that suits most people's grooming needs. 
Having a cordless lithium-ion electric trimmer gives me way more freedom when working on different hair types and styles. It means I don't have to
It's charging stand helps so much when it comes to keeping it at a high battery percentage. Just place the trimmers on there for a bit (around 60 minutes for a full charge) and you're good to go.
If you don't want to take it just from me though, look at the thousands of positive reviews on these trimmers on Amazon alone and you'll see how great these trimmers are.
"After zero gapping this machine I started getting some razor sharp lines and the fact that it's cordless makes usage very convenient"

Amazon Review by Dale Grant
 eople have found it a better option compared to similar products from other brands like Babyliss, as mentioned in this customer review on Amazon that I found.
Videos on YouTube, like this one from DeadStock Barbershop, give more insight into the capabilities of the GTX EXO and showcase it as a notable tool in the industry.
I appreciate its ability to offer clean, flawless lines and its close trimming performance, which is essential if you're a barber, professional stylist, or just someone looking to get great haircuts from the comfort of your own home.
To sum it all up, I believe the Andis 74100 GTX EXO is a reliable and top-performing hair trimmer. It has too many positive reviews and practical features to NOT be deemed a valuable asset for barbers and stylists seeking to elevate their skills and provide the best grooming services they can.
If you found this review helpful, check out my other product reviews below. 
FAQ
What type of motor does the Andis 74100 GTX EXO have
A rotary motor is a type of electric motor that converts electrical energy into rotational motion by using a rotating armature. The armature is energized by an electric current and interacts with a magnetic field to generate torque. Rotary motors are widely used in various applications, ranging from small toys to large industrial machines, due to their simplicity and reliability.
The Andis 74100 GTX EXO is a premium rotary motor trimmer that is suitable for professional use. It features a robust casing and a powerful motor that can handle any trimming task.
Can the Andis GTX blade fit on the T outliner?
The Andis GTX blade is a high-quality stainless steel blade that fits Andis T outliners. It is also related to the Andis T outliner, so you can use it to explain the topic.
The Andis T Outliner and the Andis GTX are two of the most popular electric hair trimmers on the market. They are both durable and reliable, but they have some key differences.
The cord is one difference. The T Outliner has a medium 2-pronged cord, while the GTX has a thick 3-pronged cord. The GTX cord is more resistant to wear and tear and is suitable for heavy-duty use.
The blade is another difference. The T Outliner has a fine-tooth blade for detailed work, while the GTX has a coarser blade for general trimming. The GTX blade is also less prone to snagging on hair, making it ideal for thicker, coarser hair.
The last difference is the adjustability. The GTX has an adjustable blade that lets you change the blade height to your preference. The T Outliner does not have this feature, so you have to use the same blade height.
So, which trimmer is best for you? If you want a heavy-duty trimmer that can handle thick hair, then the GTX is a good option. If you need a fine-tooth blade for detailed work, then the T Outliner is a better choice.
Is the Andis GTX Exo suitable for beginners?
Yes, it's user-friendly with ergonomic design and easy controls, making it a great choice for both beginners and experienced groomers.
Can the Andis GTX Exo handle all hair types and lengths?
Absolutely, the GTX Exo is versatile, and capable of handling various hair types and lengths, from fine to coarse, with exceptional results.