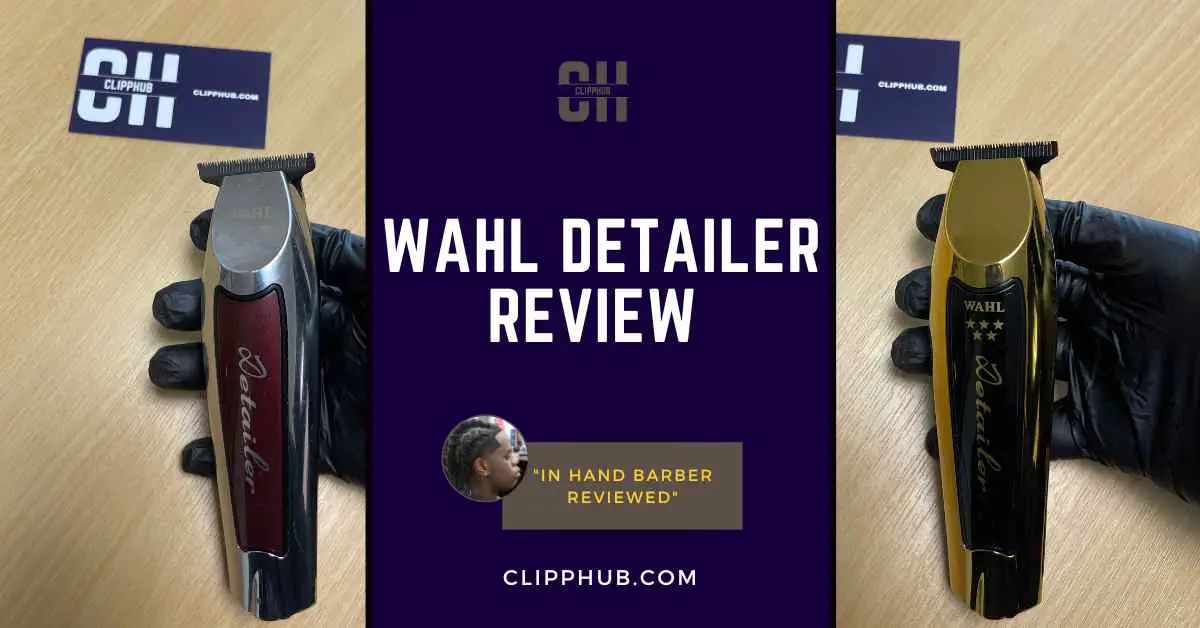 Areyou after an original Wahl detailer review? 
Well, you are in the right place for answers. 
In this article, review the original Wahl detailer: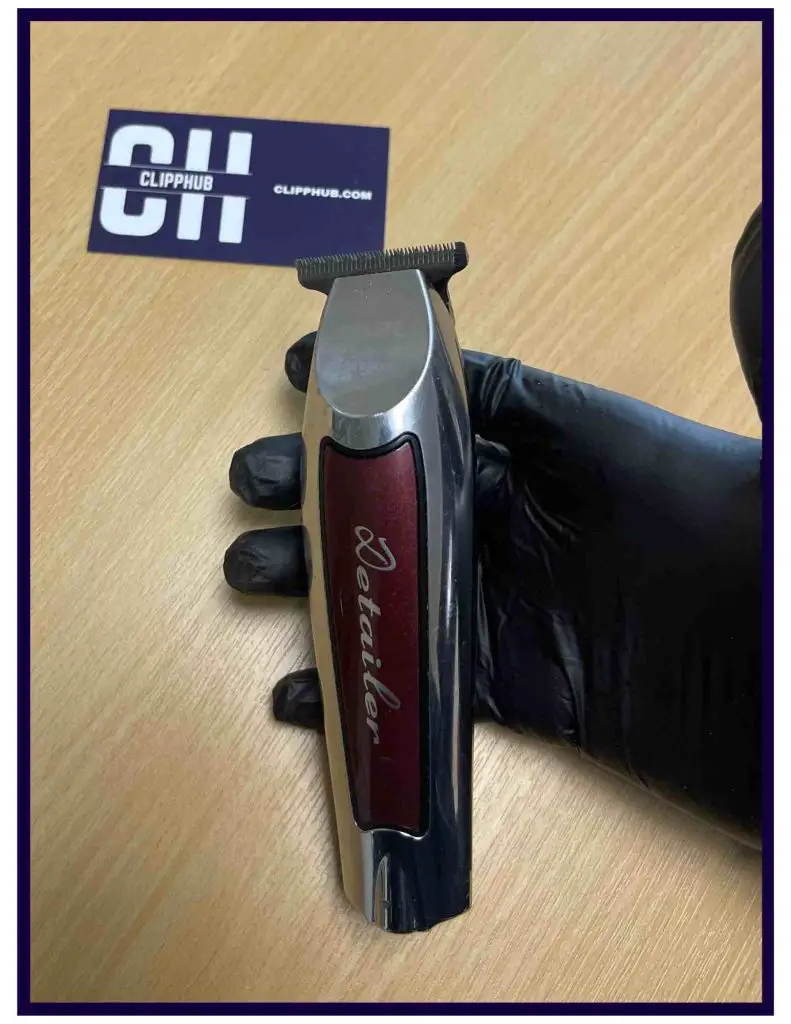 As well as run through the the corded version of the trimmer and the new and upgraded gold limited edition detailer: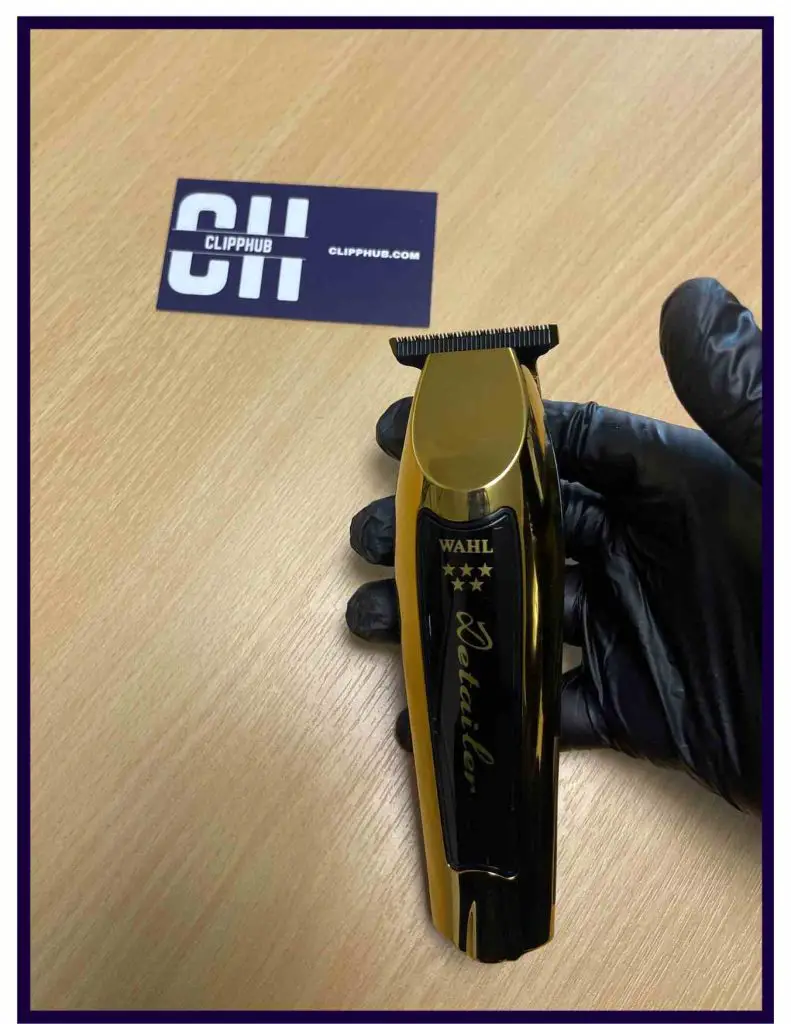 We'll go over what makes each trimmer so good so good, what they could be better and we'll over touch over what they could improve on.
So, with that said, let's get into it. 
What is Wahl Detailer?
In a rush?
Let's look at an overall summary:
---
---
Pros / Cons
Overall the Wahl detailer has been designed to make your life easier while enhancing your craft. For barbers who demand precision and convenience, this trimmer can certainly deliver on this promise.
This 6.9-ounce (0.2kg) trimmer is potent when finishing up a cut. 
As you hold it, the 1.57 x 1.77 x 5.91-inch trimmer, you like the pointed-out trimmer and it has a nice kick to it as you turn it on.  
It's builds with a 6000 spm (when each blade moves from side to side) rotary motor,which is just the right amount of power to line all types of hair without buzzing out of control;
The classic wahl detailer is made to easily wrap around your hands so you can detail from any angle with no drop in performance. 
This trimmer comes with zero-gapped stainless #2215 steel blades is one of the best in the market. It comes with an extra-wide T-Shaped blade that can cut closer, straighter and faster than standard blades.
The blade can also be adjusted to zero-overlap for super close trimming, outlines and accurate detail work.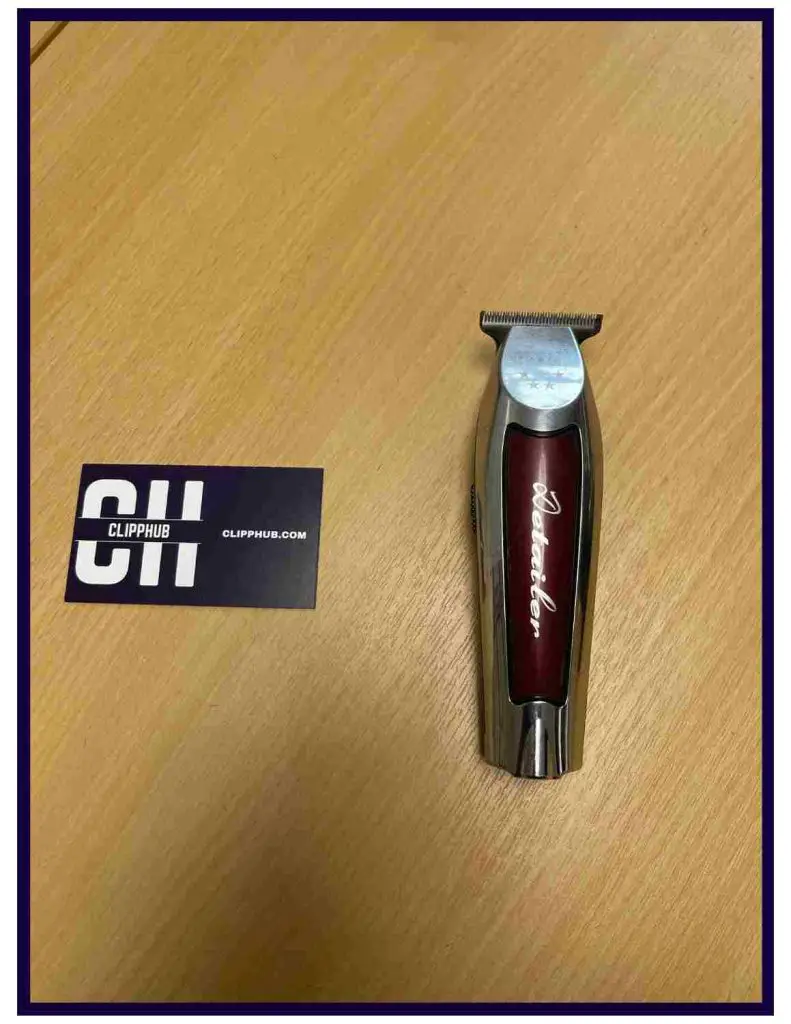 Whether you want to create patterned designs, shape ups or beard lines, the Wahl Cordless Detailer Li can help you achieve your desired look with ease. However to begin with, you do have to get used the trimmer as while the long/thin blade can cover more area, you have to know your propertions as yopu could end up taking more hair than you would have liked.
But.. once you get the hang of it, it begins to feel like a laser that clears hair with very few taps.
The blades are made from high-carbon steel, which are durable and unles you leave them in water for a few week, they are very resistant to rust.
While the blades are VERY sharp. I have seen that over a few months they did struggle to cut hair as cleanly as they used to. In the trimmers, defence, I did constantly use them as they were THAT good and that could have dulled them a little.
So if you do get this trimmer, be abit sparing in it's usage and they'll always be sharp and if you do use them al day every day, a quick sharpen every now and then can easly bring tham back to life.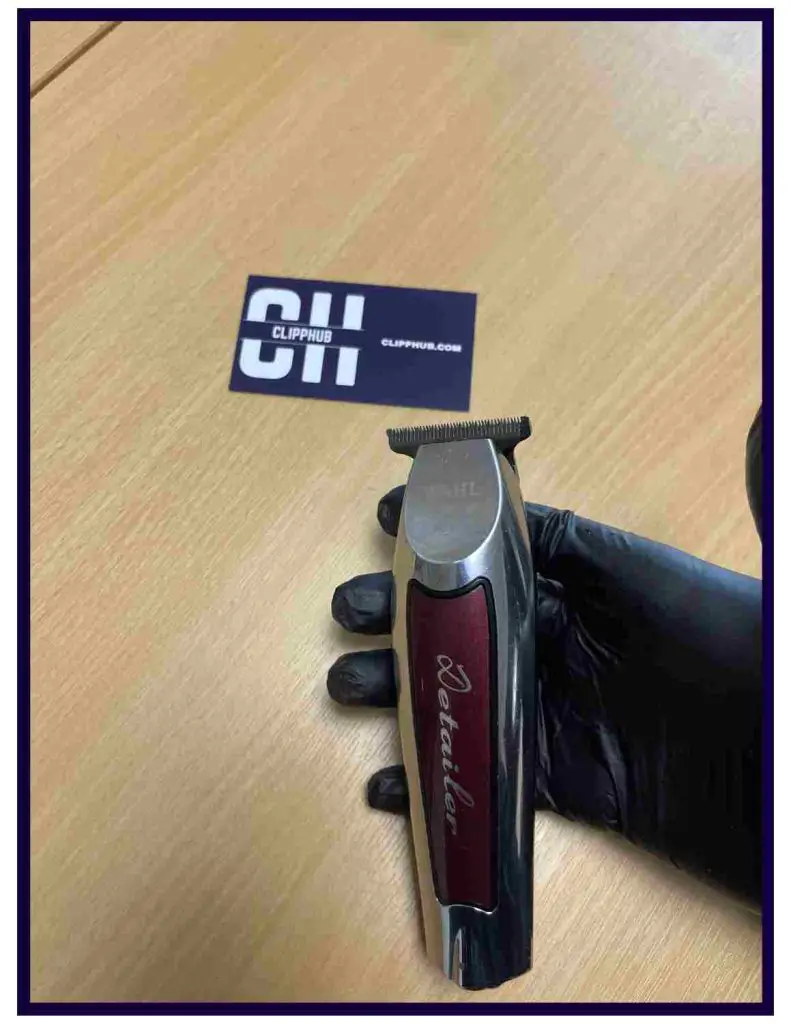 The Wahl Cordless Detailer Li comes with a space saving charging stand that securely holds the trimmer while charging which gives it that modern touch.
It comes a 100 minute battery life which is plenty of juice for lining up and when you have the option to quickly place it on a cordless stand, it almost feels as though you have an endless baterry.
It also comes with a blade guard, a cleaning brush and a blade oil to ensure maximum performance and durability.
This Trimmer is lightweight, cordless, and has an ergonomic design that provides balance and control when outlining.
I would say that the build quality is a bit "cheap". With the cover being made of plastic deos make it light biut at times the body does feel hollow and is great if you want an extremely lightweight trimmer but for those who like to feel their tool in hand, it may be off putting.
The Wahl Cordless Detailer Li is a versatile and reliable trimmer that can handle any hair type and style. It is ideal for new barbers who want a reliable flexible trimmer to tackle all hair types.
Corded Detailer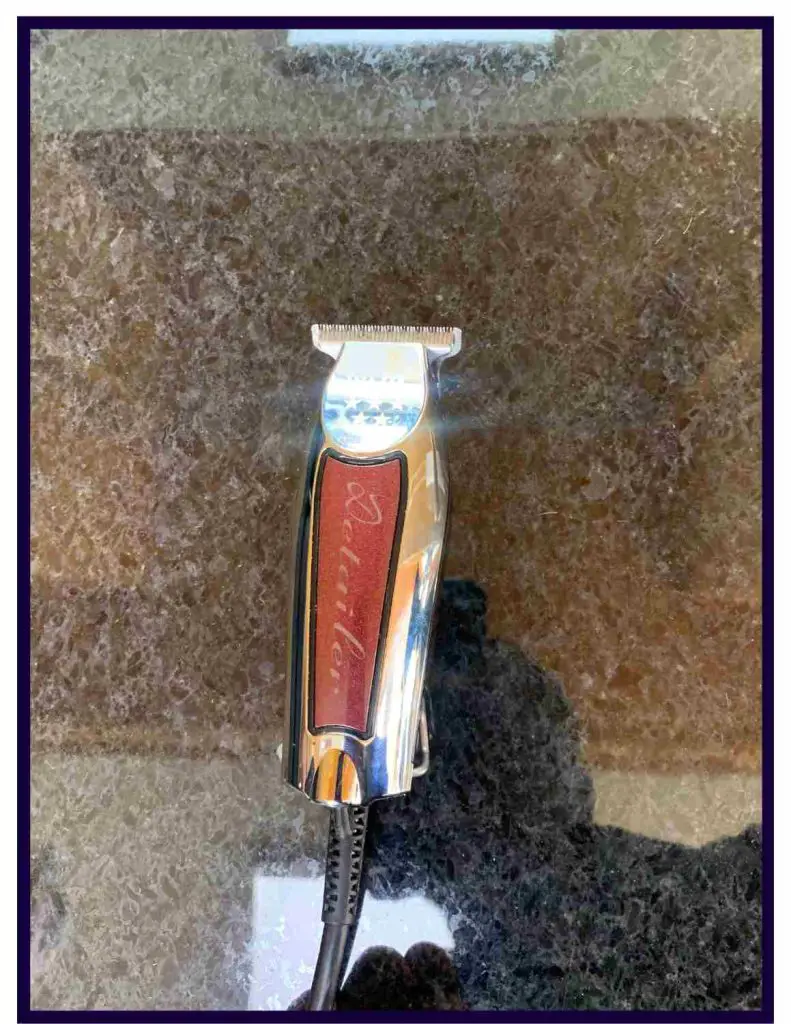 With the corded detailer you get all the perks of the classic in basically infinate battery life.
The Detailer is engineered, similar to it's cordless counterpart is designed to deliver the sharp performance that experts shave on demand. 
This trimmer contains an extra long exposed with a t-blade that allows for more hair coverage as you cut. 
But because it's also thin and made of stainless steel, and keeps those rust-resistant properties.
It is also zero gapped to cut even closer.This trimmer is highly ergonomic, it fits and feels great in the hand but does have more weight to it thanks to the chord.
While the chord can be abit restrictive at times, it does give you consistent power and it does last longer the classic detailer as the battery can last alot longer.
For extra convenience, the detailer comes with all the accessories required for use. 
The package includes the trimmer, (3) attachment comb cutting guides (1/16", 1/8", and 1/4"), oil, cleaning brush, red blade guard, and operating instructions. 
Oh, and it comes relatively cheap too.
---
---
If you prefer that consistent corded power, grab these, but if you want that cordless convenience and the latest wahl trimmer on the market..
Then check these out…
Limited edition Wahl Detailer
Here's a quic summary of the Wahl detailer:
---
---

WAHL PROFESSIONAL 5 STAR GOLD CORDLESS MAGIC CLIP & DETAILER BUNDLE WITH 4-IN-1 TURBOJET AIR DUSTER
---
Powerful Motor
If you are looking for natural upgrade on the famous classic detailer, one that can deliver more power, more precision, and look the part, then you should consider the Limited Ediotion Wahl Cordless Detailer Li.
This is a trimmer that combines advanced blades with a full-sized clipper motor to give you the meticulous cutting performance.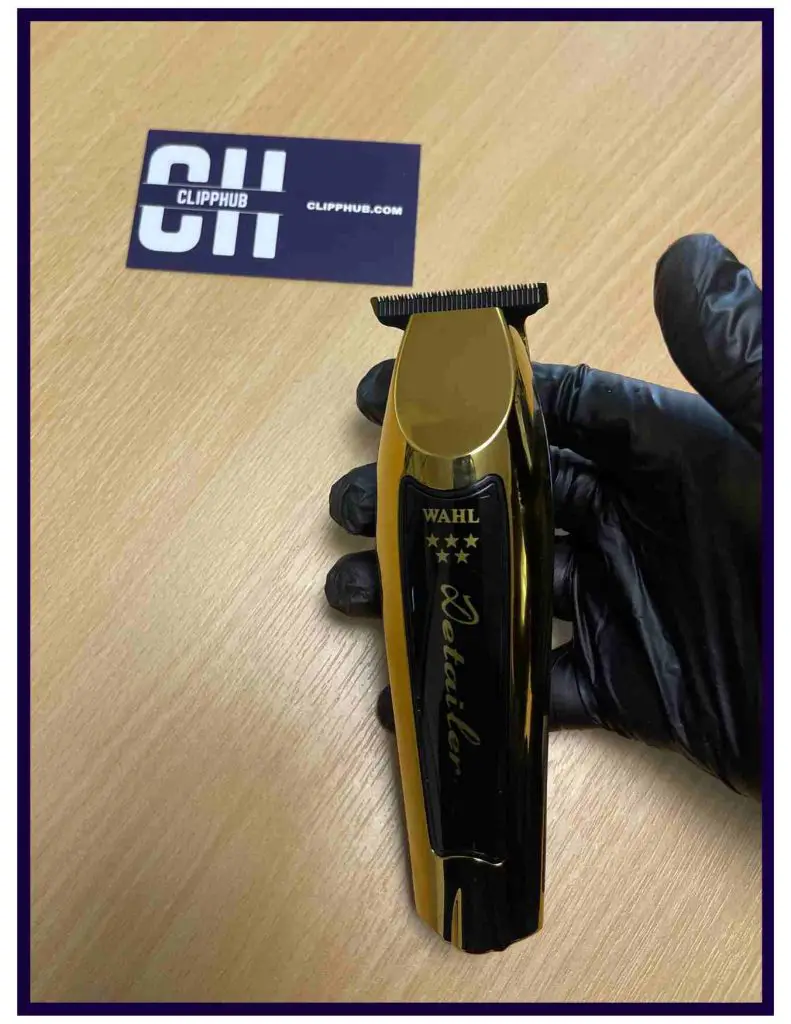 The Wahl Detailer trimmer boasts a powerful motor that delivers  6600 cutting strokes per minute (The amount of times the blade moves side to sie)
Copared to the classic you 600 more cutting motions allowing your trimmer to clear through more hair quicker and you can certainly feel it.
 It has a high-speed rotary motor that delivers a smooth and consistent cut, making it perfect for professional barbers and hair stylists.
I say this as in the hands of a beginner or someone who doesn't has a vice grip of their tools, it can buzz out of control and possibly leave your hairline more slanted than stright. But if you do have some experience under you belt, then this trimmer will take your up another level.
Compact Design
Honestly this trimmer is an all round upgrade on the regular detailer and show-stopper that will impress your clients and colleagues with its performance and design. It also comes with three trimming guides, a pro-set tool, oil, cleaning brush, and other accessories.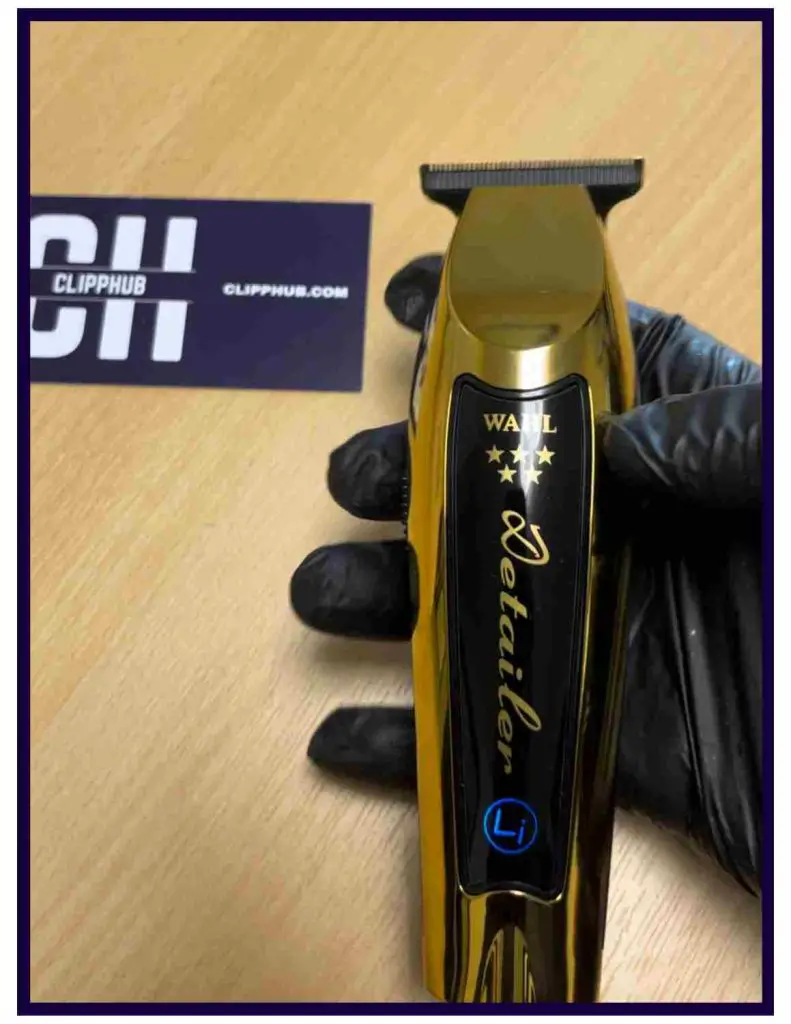 What I would say it that the gold is quite reflective and if you all about output, it may become annoying on sunny days why light reflects of the case. But apart from that rare occasion, there's not much i can fault about these trimmer.
One of the standout features of the Wahl Detailer is its compact design and very secure build qualit. It is lightweight (coming in at only 0.5 pounds  (0.4kg)) and easy to handle as it still keeps that classic detailer build.
Blades
The Wahl Detailer trimmer is equipped with precision blades that are designed to deliver a crisp, clean cut.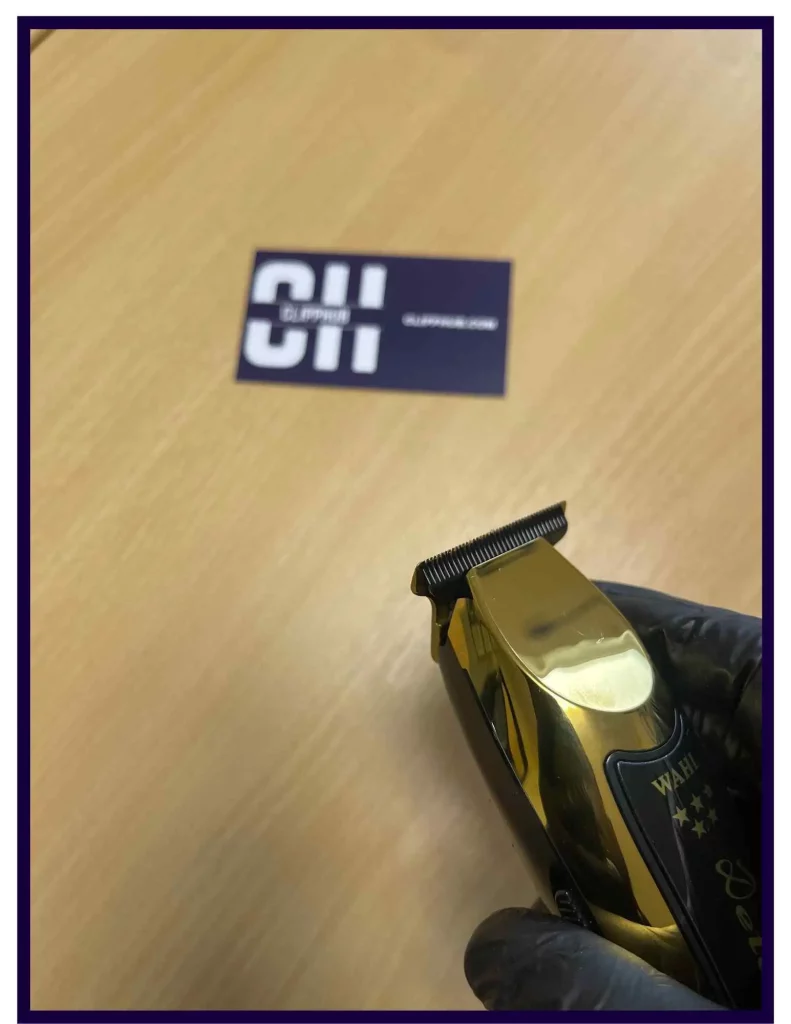 The Wahl Cordless Detailer Li has gold-worthy blades that are made of high-carbon steel with titanium and DLC coatings. These blades are not only stronger and sharper, but also run cooler and more resistant to corrosion.
They can cut through any hair type with ease and smoothness. The blades are also keep that extra-wide and T-shaped, which allows you to trim, detail, and outline with more accuracy and versatility.And unlike the stainless steel blades on the classic detaiiler they won't rust.
In summary, the Wahl Detailer trimmer is a powerful, compact, and precise hair-trimming tool that is perfect for professional barbers and hair stylists. 
Battery
The Wahl Cordless Detailer Li has a premium lithium-ion battery that provides up to 100 minutes of cordless run time on a full charge.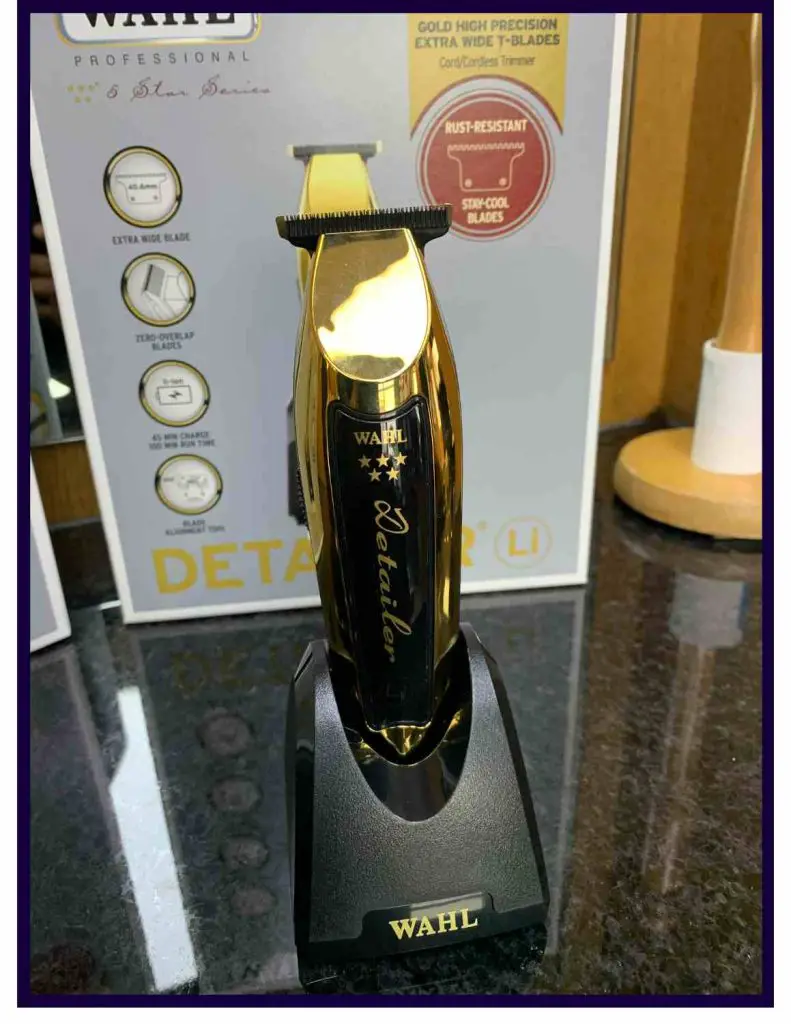 The trimmer also has a smart LED indicator that shows you the battery level and charging status and it comes with a matching gold and black charge stand that is stylish and space-saving.
Ultimately, the Wahl Detailers have been the catalyst for my success. They have transformed my work from novice to professional.
And if you are proffesional who like the best tools in hand as you work, then these will play the part quite nicely.
Overall it's it's the latest and greatest trimmer wahl has to provide as of date.
Oh.. and if you're not a fan of the gold, you can grab the all new black version below, with the clipper included:
---
---
Similar Product
When you look at the premium trimmer market there's not many that can compete with the limited edition detail.. apart from this trimmer: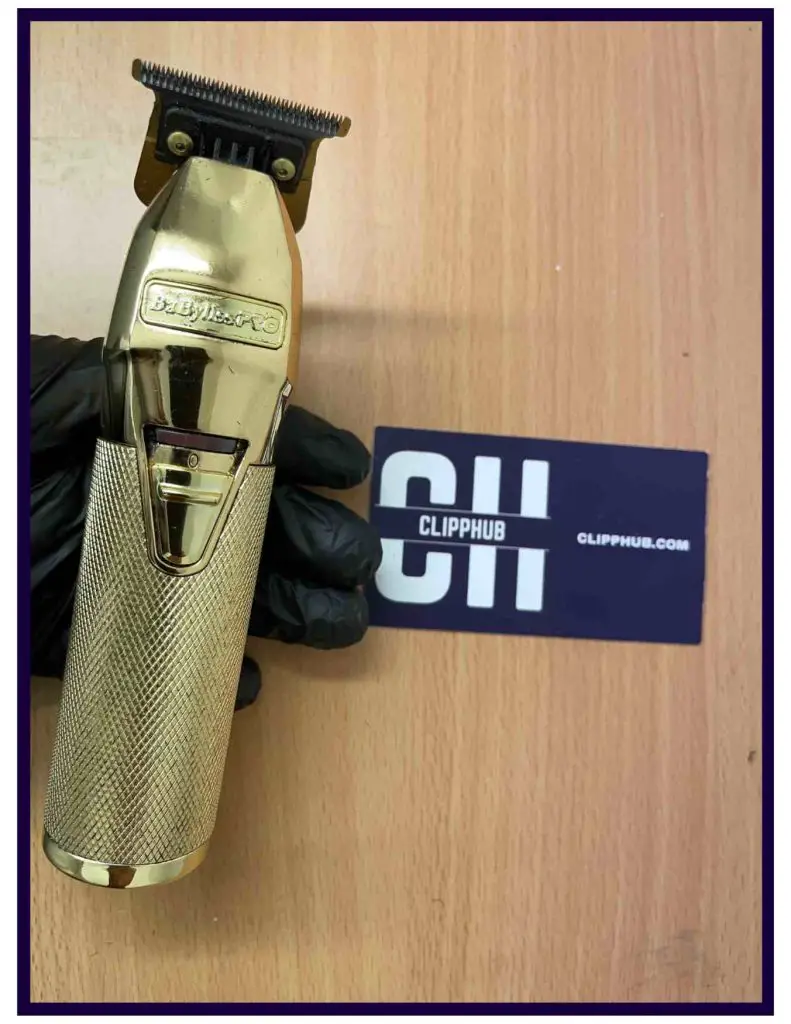 The Babyliss fx trimmer ranks high among clippers. It delivers precise cuts efficiently.
It features a high-speed, high-torque, Italian-designed motor that runs at 7,200 rpm. You'll love the knuckle barbell grip handle for comfort. Babyliss offers a wide range of customizable blades for this liner, allowing for variation..
Naturally, this trimmer comes with a graphite deep-tooth blade (a great bulk hair-clearing blade that produces crisp lines). It has 2 runtime hours on a single charge and comes with a hanging hook. All-round it's an excellent liner. If you are new to Babyliss, you might need time to adjust to its shape.
Once you get used to it, you'll love it.. It excels in all aspects and is an investment that will last.
if your looking to pick it up in a wide range of colours below:
---
POSITIVES
Secure knuckle barbel Grip

Highly precise DLC Deep tooth blade

Easy to clean + Zero gappable teeth

Powerful 7,200 rpm motor

Long 2 hoour Battery life.
NEGATIVES
Gold shine, can begin to chip away after lot's of uses.

The Babyliss torchlight design shape may be arkward for beginners.
---
Andis GtX outliner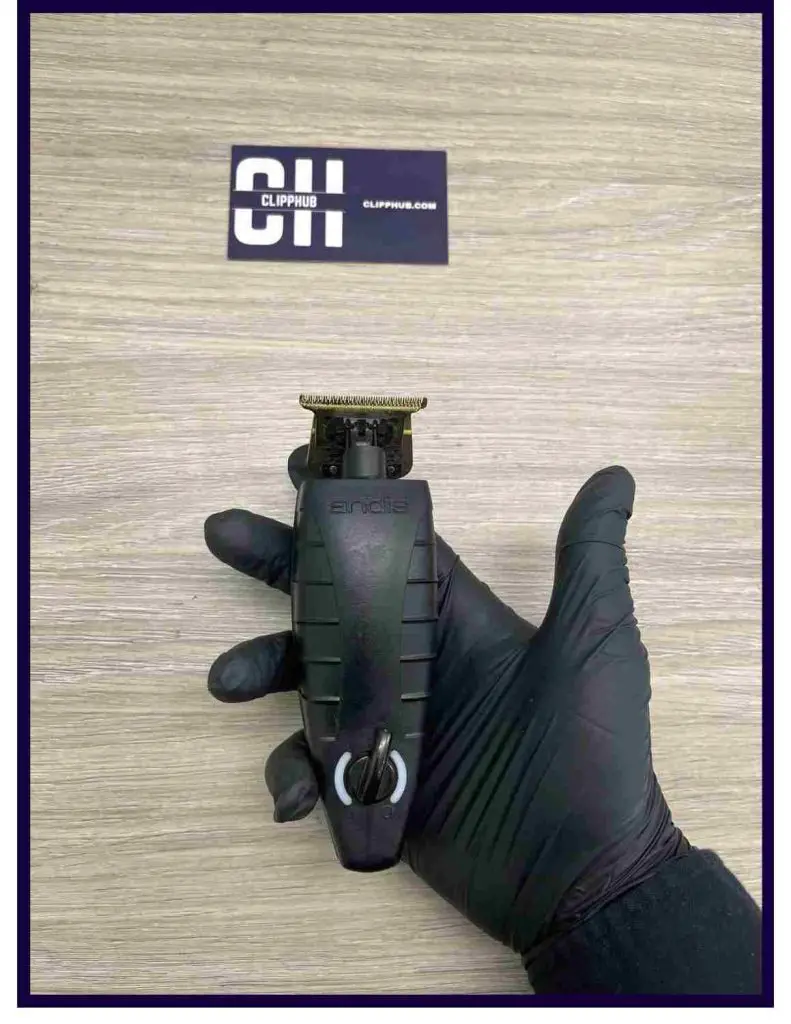 The Andis T-Gtx is a popular choice among barbers and hair stylists (even me). It is similar to the Wahl Detailer in terms of design and functionality. 
However, there are some key differences between the two. The Andis T-Gtx has a more powerful motor (than the classic detailer), but sits on par with the Gold detailer.
While the Wahl Detailer is more lightweight and compact, making it easier to handle and maneuver, The Andis Gtx fits better in hand.
Both have a large exposed T blade that cover larger areas and fall in the same price range.
It may be worth the pick up if your after a trimmer with some weight to to it that keeps all power whilst moulding well to the hand.
---
---
Final Verdict – Wahl Detailer Review
In this article, we did a Wahl Detailer Review.
After using the Wahl Detailer trimmer, I can confidently say that it is one of the best trimmers available in the market.
The classic are great and the limited edition is even better!
This power makes it easy to cut through thick hair and achieve a smooth, even trim.
The Wahl detailers are a very solid pick for any professional looking for a professional-grade clipper. 
Their precision, consistency, durability, and affordability make them an unbeatable choice for professionals at any stage of their journey. I certainly would say they'd be a great addition to your toolkit.
FAQ
What is the run time on the Wahl Detailer?
The Wahl Detailer has a run time of up to 100 minutes on a single charge. This makes it a great option for professional barbers who need to use it for extended periods of time.
Is the Wahl Detailer blade any good?
Yes, the Wahl Detailer blade is considered to be one of the best in the market. It is designed to provide a clean and close cut, making it ideal for detailing and outlining. The blade is also adjustable, allowing you to customize the cutting length to your desired preference.
What is the Wahl Detailer used for?
The Wahl Detailer is primarily used for detailing and outlining. It is commonly used by barbers and hair stylists to create sharp lines and clean edges on haircuts. It can also be used for trimming facial hair and other body hair.
Detailer vs trimmer: what's the difference?
While the terms "detailer" and "trimmer" are often used interchangeably, there are some key differences between the two. Detailers are typically smaller and more precise, making them ideal for creating clean lines and sharp edges. Trimmers, on the other hand, are larger and more versatile, making them suitable for a wider range of cutting tasks.
If you found this Wahl Detailer Review helpful, please check out the other articles below.