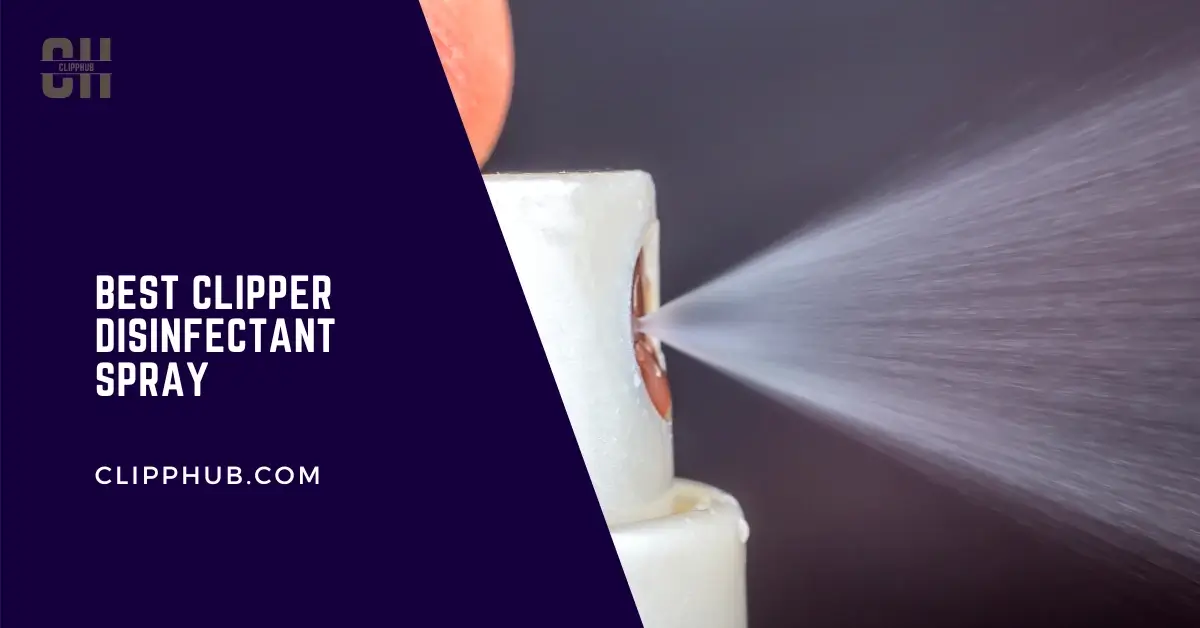 Knowing our clippers are clean enables us to cut hair with confidence.
The first step is Sterilizing your hair clippers.
But which is the best clipper disinfectant spray for this task? 
Below I provide my top picks and how I came to choose the best. Read on
Best Clipper Disinfectant Spray
These are the best hair clipper sprays but at times they aren't always available due to high demand.
Below I go into more detail on each spray but first, we can go over how I came to these choices.
He didn't realize the danger. A mistake that could have put many at risk.
Disinfecting hair clipper blades is important. But I didn't realize this until one shocking day. 
I had an appointment with a close friend who was getting into barbering. He was in need of people to try his skill on and honestly offered. 
On arrival, I sat down, went on my phone, and waited patiently to begin. He came in with his kit and began to prepare. Nothing crazy, just a typical haircut. 
However… 
In the corner of my eye, I noticed the hair clippers he was about to use. It was the cordless Wahl Seniors . A robust hair clipper that cuts clean with precision, a decent pair for a starting barber.
But it wasn't the Clipper that caught my attention but the state it was in…
The blade's edge at the point where the cutting blade and the front cutting blade met, was a mess, to say the least.
And that's putting it lightly. Micro hairs clogged up the teeth to the point where you could barely make them out.
A mix of hair types poked out from the body and what looked like dandruff made my stomach turn. 
IN HARMS WAY
I stood up and asked him whether he had at the very least sterilized his blades before use
He really said 'no'. 
The possibility of viral, fungal, and Bacterial infections are easily transmittable through bodily fluids such as sweat and the worst blood. 
It only takes one small cut to draw blood and with him being a new barber it was very much possible. How many times has he put his client's health at risk? I myself was almost in the crosshair… 
These thoughts could have made me run out of there but I paused and saw it as a place of education. 
THE REMEDY
I told him to visit me the next day
Putting him onto proper blade care was a priority.
This is where I introduced him to the correct clipper maintenance, beginning with the fundamentals: disinfectant spray. 
I used my favorite clipper spray on his clippers. He was in awe as he watched the great volume of dandruff, hair, and dirt drop from his clippers. 
After the full process, I don't think he could recognize his clippers. Neither could I after my first impression of them. 
But I could understand. Hair clippers are great at what they do but their design can leave them vulnerable to harboring all sorts of organisms and dirt.
I explained to him it was his duty to make sure his blades were accurately sterilized so they were safe for use on his clients, friends, and even himself. 
All was good afterward but I couldn't imagine how many others may be in the same situation, knowing they need a disinfectant but unsure of which disinfectant to use on their blades. 
I have put together this article to help to combat this. Of the clipper sprays I have used or seen in action, these are the ones I found most impressive and convenient. 
So with that said, let's begin.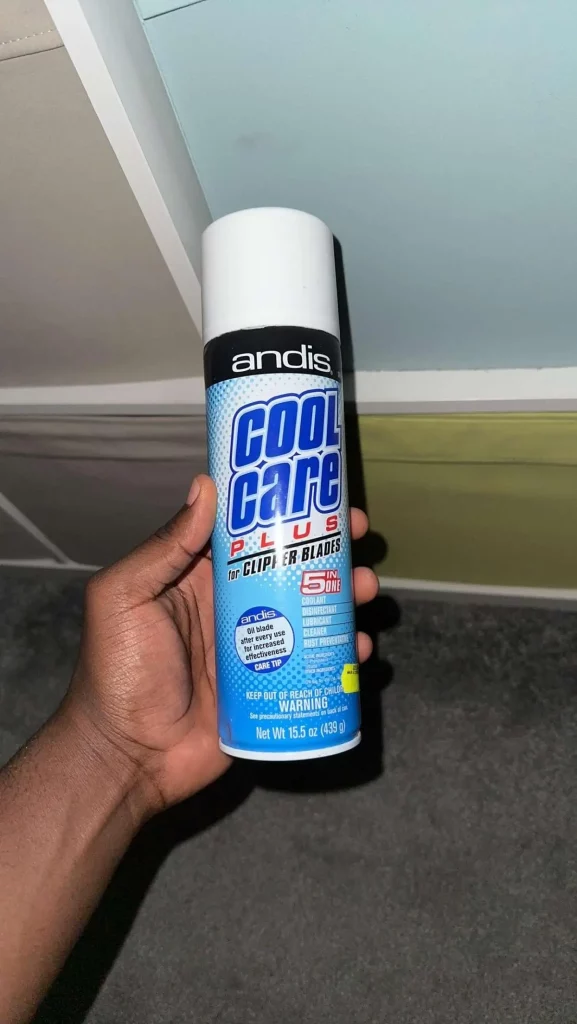 Get Best Price
Most effective all-in-one spray
Cleans disinfects, and cools
Usable on all Clipper brands
Easy to apply on clippers
Long-lasting
My top pick. For me, it's the best clipper disinfectant spray.
Looking for a spray that does it all? Andis cool care is your spray. The 5in1 spray is a juggernaut in clipper Maintenance. A must-have for daily Clipper use. 
Andis cool care is a spray that does a multitude of tasks. The 1.2 pound/0.5kg product acts as a coolant, disinfectant, cleaner, rust preventative, and lubricant. 
You can easily hold the can in one hand. An easy squeeze nozzle allows spraying up to 15.5. Ounces (0.43kg) of the clear blue Andis formula onto your blades. 
On contact, the formula first displaces water from your blades to provide a clean platform, where it begins to work. Then it begins to sterilize your blades. 
The majority ethyl alcohol cool care formula works on fighting against bacteria within your blades.
The highly effective alcohol breaks drown the membrane around the bacteria, denaturing the pathogen and the cool care wash sweeps the pathogen away from your clippers.
After a deeper clean? Remove your blades, apply the spray, and scrub them down with a light brush. 
And after this, you're disinfected, cooler blades that have a fresh scent.
But what separates the Andis cool care from the rest would be its lubrication. After you've applied the spray, a thin layer of the formula is left on your blades providing your blades a layer of oil that not only lubricates but provides a protective layer against rust. 
It's the ultimate disinfectant. It's no surprise why it's the go-to disinfectant for the top barbers, the reviews back it up too.
Partner Andis cool care with Andis blade care for optimum cleaning and increased blade longevity.  
While the spray head is weak and certainly can snap when dropped on its head, as long as you are careful with the product and always put the lid back on when done, you shouldn't have to worry too much it too much, its quite rare but something you should be aware of.
Positive
Water displacement
Deep cleaning
Premium Formula
Lubricant
Rust preventing
Negatives
Weak spray tip head likely to snap when dropped directly on its head
"For me its simply the best, used it for years, its does all the jobs at once. Lubricates, disinfects, and the spray is strong enough to knock out hair in places brushes can't access, no need to purchase compressed air cans."

Review
Check out the Andis cool care if you're after the most versatile disinfectant spray on the market.
Andis cool care can begin working on your clippers as soon as tomorrow.
Hold the light can spray it, and watch it work against your stainless steel blades leaving a cooling fresh scent.
And as long as you press the nozzle without unnecessary pressure, you'll be able to use the spray until the entire can is empty.
If you are unsatisfied with what you see, simply return the item within 30 days and receive a quick refund at no cost to you. But I doubt you will. 
While In stock, get the sought-after Andis cool care and start to provide your cleanest cuts yet (no pun intended).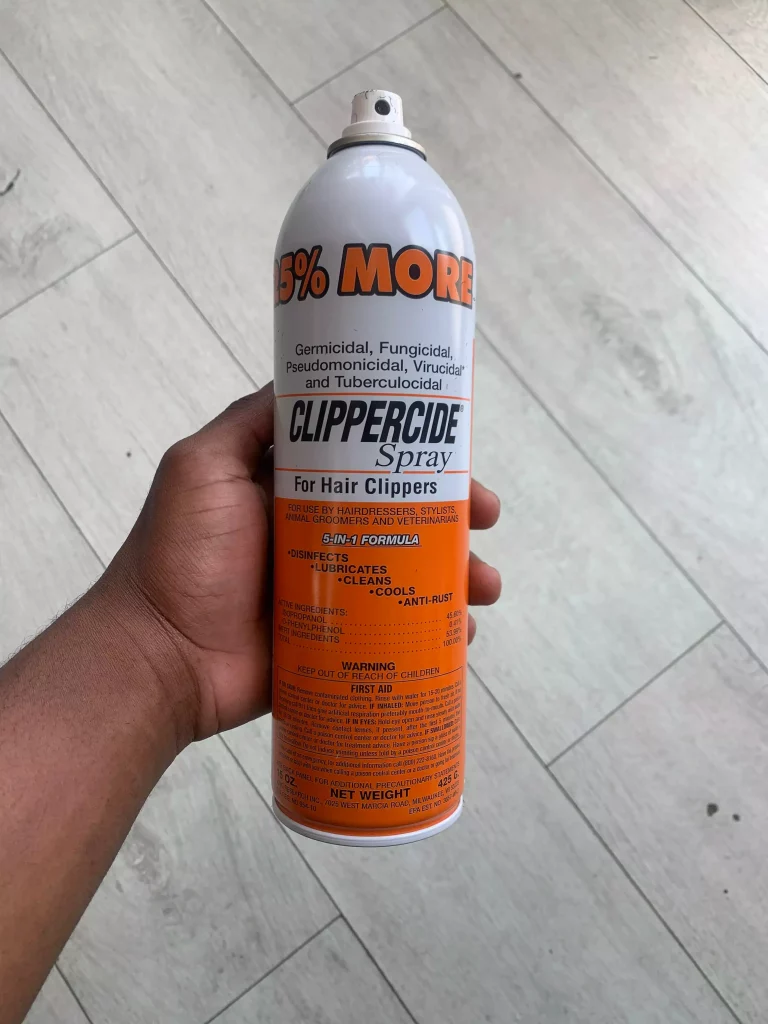 Usable on all Clipper brands
Effective sanitizer
Rust resistance
The disinfectant is made for hair clippers. The Clippercide gets the job done. Similar to Andis cool care, Clipper is a multi-benefit powerhouse. 
It's a coolant, disinfectant, cleaner, rust preventative, and lubricant. This too can become part of the maintenance tool kit. 
Clippercide Complies with OSHA and state board rules.
It's an EPA-registered bactericide, fungicide, and virucide which easily removes HIV-1 and TB.
A powerful aerosol and sanitizer, but the trade-off is a very strong smell that fills up the room quickly.
If you just want pure disinfectant aerosol-based spray, it's for you but if the scent matters, this spray might not be for you and the Andis Cool Care may be a better choice for you
It doesn't stop there. Clippercide cleans.. but in another way. 
The 1.213 pounds (1.62kg) can hold 16 ounces of orange Clippercide formula.
A sturdy spray nozzle blows hair and dust particles from your blade teeth while cooling down your blades at the same time. 
But just be careful not to drop it on its head as like with most aerosol cans the head tip is rather weak and can snap on contact with a hard surface.
After the spray, Clippercide leaves a thin film of lubricant that reduces friction and keeps blades sharp. 
Again, while the layer of oil isn't as lubricating as clipper oil, the little amount does help with blade friction but again, petroleum-based hair clipper oil would be best for this task.
But overall, Clippercide Disinfectant Spray is a fast-acting and effective solution for disinfecting hair clippers, while it does have a strong smell, it's an industry-standard in wet sterilizer so you can be certain your blades are truly clean after use.
Positive
pinpoint spray
prolongs blade life
Effective cleaner
Negatives
Average lubrication compared to other all-in-one sprays
Very strong smell
"I have used this product for years (38) in my barber shop. It's the best on the market in my opinion"

Review
Don't hesitate to deeply sanitize your clipper blades. 
While in stock, get Clippercide if you're after a reliable all-in-one disinfectant.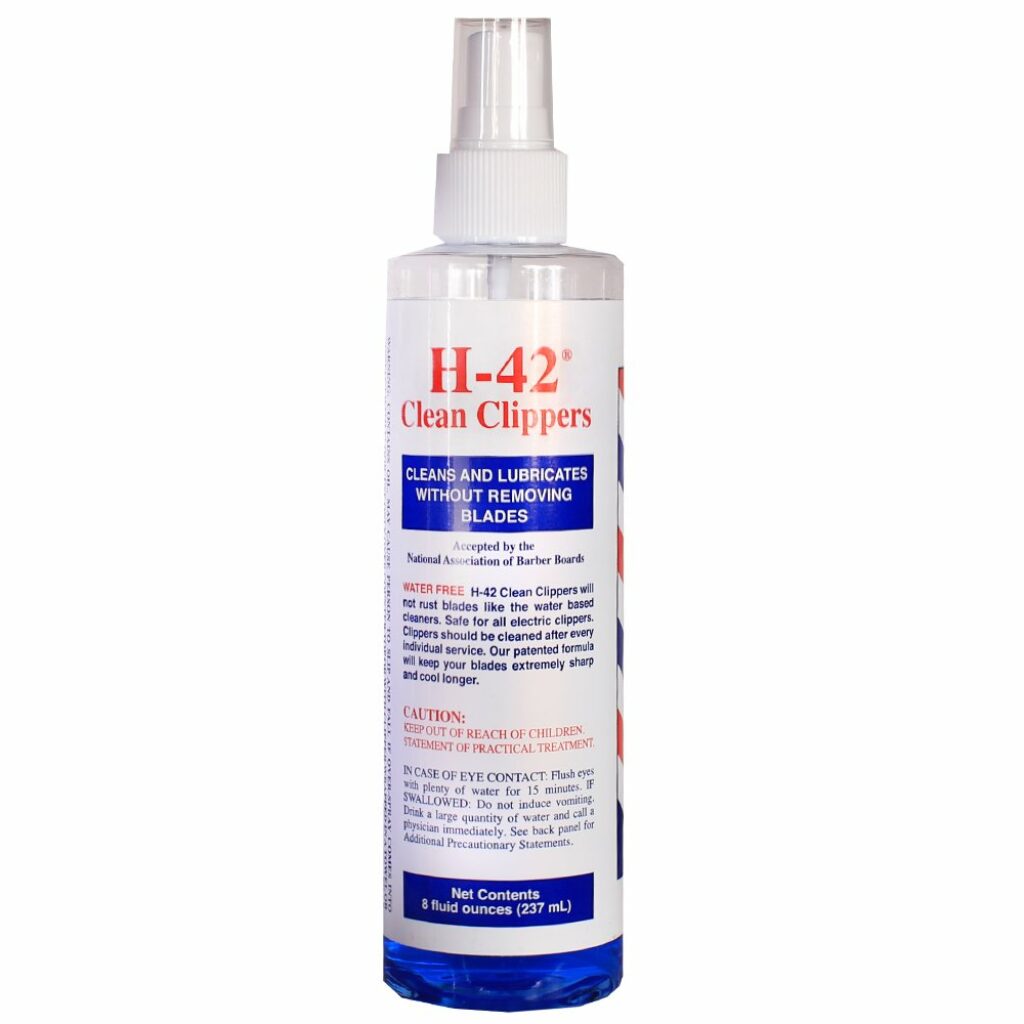 Usable on all Clipper brands
Doubles as a surface cleaner
Solution based so no aerosol spray
A barber's best friend.
When working on clients we look to only use the cleanest blades.
It's what's right for our clients, our passion, and our business. Our blades are always at work throughout the working day.
They collect dirt dust and all sorts of debris while in use.
Sometimes a hair clipper spray simply may not cut it.
That's where the H-42 Babrer disinfectant spray comes in.
This 7.17 x 2.05 x 1.97-inch bottle holds 8 ounces of blade-cleaning magic.
The h-42 formula is a blend between a clipper and a clipper disinfection solution. It can be easily sprayed onto blades but it also acts as a deep cleaner, working hard to give you serialized blades.
You don't even have to remove your clippers.
Simply hold the bottle an arm's length away, spray down your clippers just once or twice, and wipe off the excess. Yes, it's as simple as that.
Being a solution-based based disinfectant, the H-42 clipper disinfectant spray doesn't release any toxic vapor on application.
However, it is very slippery and oily so be sure not to use too much out on your blades and make sure the lid is always secure, if not it will leak out fast.
But what also makes it great is it can be used as a surface disinfectant too so it's a great choice for barbers and salon owners.
Overall, H-42 Disinfectant Spray is a hospital-grade disinfectant that effectively kills germs and bacteria on hair clippers. It doesn't release fumes and can be used on surfaces, making it an ideal choice for professional barbers and salons who care for their clients and work area.
Positive
Prevent the Growth & Transfer of Bacteria
Does Not Contain Water or Harmful Vapors
Prevents Rust
Solution based cleaner
Negatives
The spray nozzle can become stiff
Very Oily and prone to spillage
"Brought my trimmer back to life perfectly!! Followed the instructions on the bottle and my trimmers were all cleaned up and oiled in no time. Easy to use and store."

Review
Hold the bottle, test it out, spray down your blades, and feel secure as you know your blades are safe for action.
While in stock, the H-42 disinfectant spray is loved by barbers.
Add it to your toolkit and see what it does for you.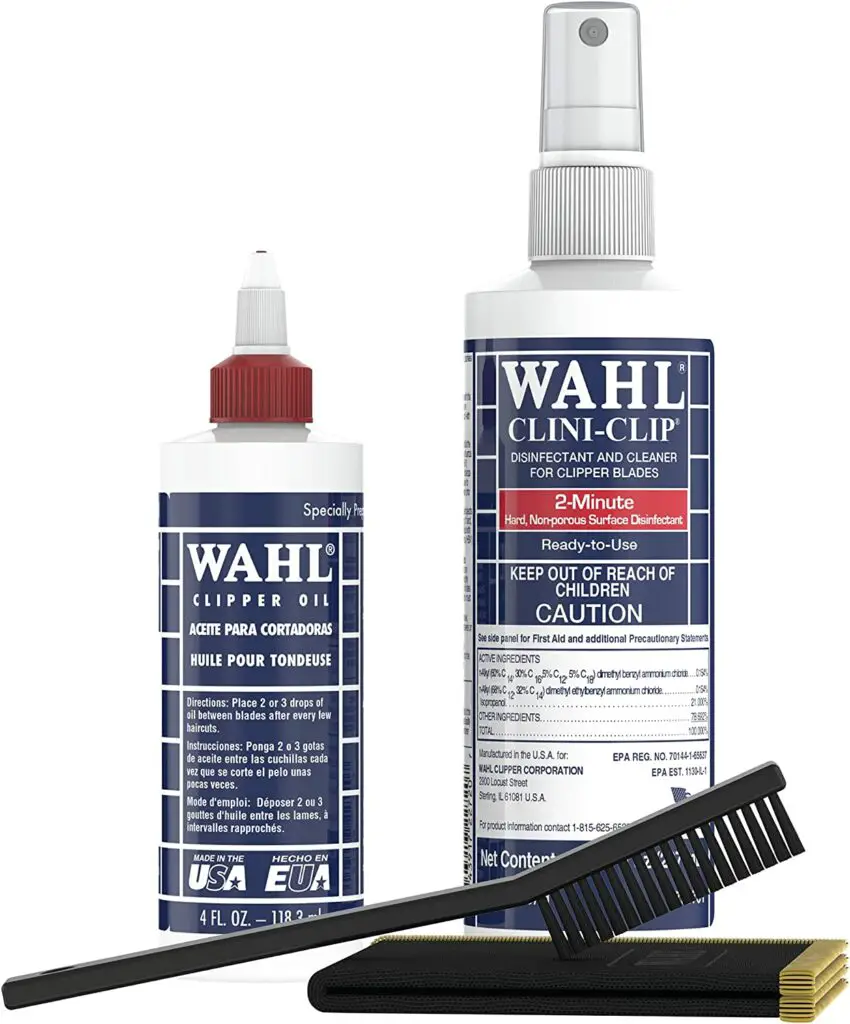 Usable on surfaces too
Effective disinfectant
Great on animal clippers
Wahl is popular. A dominant force in the grooming industry. If you own wahl hair clippers, this disinfectant is for you.
But don't feel left out if you have a different brand of hair clipper or don't work on animals, it works on all types of clippers.
Wahl's Clini-Clip is a two-minute hospital-grade non-porous surface disinfectant.
Unlike the Andis cool care which is specifically designed to disinfect hair clippers, The wahl cleaning clipper deeply disinfects surfaces too as it is solution based.
It was created to provide the best and quickest-acting disinfectant solution to kill and remove bacteria, viruses, and fungi effectively.
While this is great, at times you may be able to smell the alcohol contents if you use a lot of the spray on your blades.
But if you only use a small amount, you barely notice it.
It's certified by the EPA, and Clini-Clip can be used not only to clean all Wahl tools but also the surrounding workstation if you need to.
Wahl mini clip is fast-action disinfected and built to target all bacteria types on your clippers.  2 minutes is all you need for your blades to be fully restored. 
If you're after a rare, tested, no-nonsense disinfectant that sterilizes your blades, Wahl Clini-clip is that solution.
Positive
Fast acting cleaner
versatile dis-infectant
Good lubricant
Premium cleaning formula
Negatives
Bottle contents fall on the lighter side
Can get oily and messy if not secured
"Just started using this and love it. Kept hearing that the aerosol disinfectants are harmful to our lungs esp if using them a lot which I do, so was excited when I found this product. Doesn't leave a greasy residue either!"

Review
Check out the wahl clinic-clip disinfectant while in stock
Spray the disinfectant on your wahl clippers and test them for improved performance. Not impressed? Return within 30 days for a refund. 
Above, I have given you my best clipper disinfectants. These are the most effective and reliable sprays I have experienced. However, if you are after a spray on a budget the ones I provide below are decent alternatives. – extra

Fresh-smelling blades. When using clippers, we come across a wide range of hair.
Some long, short, curly, or straight.
However, hair is not always clean. Hair can hold dirt, bacteria, and other types of debris.
After each cut, some can attach themselves to your blades or slide into your clippers.
If left in or around your blades for long enough, they may begin to leave a rancid smell. That's not a benefit to you or your clients.
This is why Oster has produced an all-in-one clipper disinfectant spray appreciated by barbers.
The spray fights the bacteria left on your blades, leaving a pleasant scent afterward, and keeping your clippers, cool fresh, and clean.
It's a simple-to-use spray.
Just hold the 16 0z can a few inches away from your clippers and spray all around your blades.
Make sure all sides are covered.
Afterward, grab a cloth and wipe down any excess and just like that, your blades are disinfected and ready to work.
Want to get even more from the Oster disinfectant spray?
Partner the Oster disinfectant with the Oster hair clipper oil and take your clipper maintenance game to new heights.
With the cool blade formula, when applied to hot blades, the Oster spray immediately decreases the overall heat on baldes, Instantly making them cooler.
I urge you to purchase the Oster disinfectant spray if you're after cooler, fresher-smelling blades.

"This is a great product that barbers have been using for a long time to spray their equipment. I have been a barber for over 50 years in every barber in the business should have a can of this around"

Review
While it's in stock, simply order and grab a can at its current best price, and test it out to see if it's for you.
If you are not a fan, return within 30 days and receive a prompt refund.
Hair Clipper Disinfectant Buyers Guide
When looking to buy hair clipper disinfectant there are some things you should keep in mind to make sure you find the best fit for your clippers. We go through The main points next!
Consider the active ingredients
Look for disinfectant sprays that contain active ingredients that are proven to kill germs, such as quaternary ammonium compounds, hydrogen peroxide, or alcohol. These ingredients should be listed on the label of the product.
Check for EPA approval
The Environmental Protection Agency (EPA) regulates disinfectants and sanitizers that make public health claims. Look for disinfectants that have been approved by the EPA, which will be listed on the product label.
Consider the frequency of use
If you will be using the disinfectant spray frequently, it may be more cost-effective to purchase a larger container or bulk packaging. However, if you only plan to use the product occasionally or for travel, a smaller size may be more appropriate.
Check for safety
The label carefully and follow all instructions for use and disposal. Some disinfectant sprays can cause skin irritation or other adverse reactions if not used properly, such as inhaling the spray or getting it in the eyes. Additionally, some disinfectant sprays may contain harsh chemicals that could be harmful to the environment.
Look for reviews
Check online for customer reviews or ratings to see what others have experienced when using the product. This can help you determine if the disinfectant spray is effective and easy to use.
FAQ
How to use the disinfectant spray?
Hold your clippers at arm's length away. Spray across the blade edge until they are covered with solution. Turn your clippers on and then turn them sideways to let debris come out of your clippers. Give them a good shake if needed. After a minute, wipe away any excess oil.
Are there any potential side effects or risks for users or the environment?
Some disinfectant sprays can cause skin irritation or other adverse reactions if not used correctly, such as inhaling the spray or getting it in the eyes. Additionally, some disinfectant sprays may contain harsh chemicals that could be harmful to the environment. It's important to read the label carefully before use.
How effective is the spray in killing germs, bacteria, and viruses commonly found on hair clippers?
The effectiveness of a hair clipper disinfectant spray depends on the specific formulation of the product. Look for sprays that contain active ingredients that have been proven to kill germs, such as quaternary ammonium compounds (quats), hydrogen peroxide, or alcohol. It's important to follow the instructions on the label for proper use, including the recommended contact time for the product to effectively kill germs.
How To Use A Hair Clipper Disinfectant Spray
The video below best illustrates how to use my #1 recommendation: Andis cool care. But the same method can be used on the other sprays from this list.
Summary
Andis Disinfectant Spray is a fast-acting and effective solution for disinfecting hair clippers, while also lubricating and cooling the blades for optimal performance.
Limited Stock
A 5-in-1 formula that disinfects, lubricates, cleans, cools, and protects your trimmer blades plus Kills up to 99.9% of germs.
H-42 Disinfectant Spray is a hospital-grade disinfectant that effectively kills germs and bacteria on hair clippers and surfaces, making it an ideal choice for professional barbers and salons.