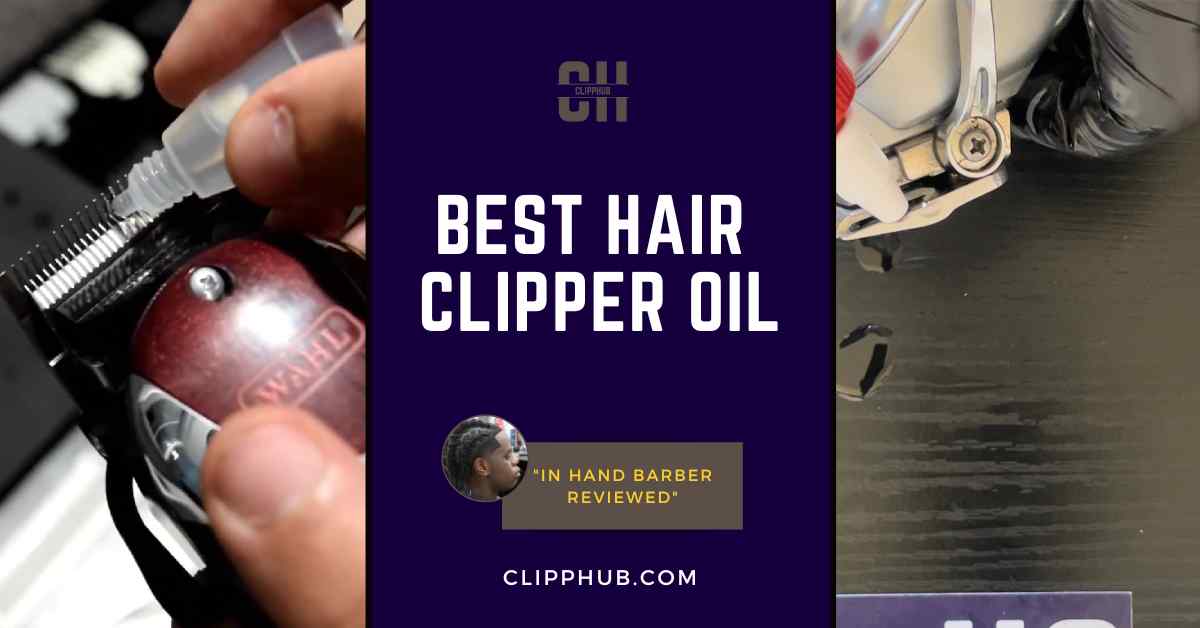 We take our hair clippers for granted.
We expect the best from them at times. Peak performance and nothing less.
But is it fair to ask for this when our blades are struggling?
It's not and in this post, we'll learn more about the best hair clipper oil to revive your blades and help them work to their best.
Below are the best, clipper oils at their current best price.
Best Hair Clipper Oil
You can't go wrong with any of the options provided, they all do the same thing with just slight variances between each but not owning a clipper oil isn't an option if you want your blades.
There's a reason all hair clipper owners have clipper oil. 
It's not for aesthetics or just another "barber tool" to own. 
Hair clipper oil is the most important substance you can use to improve your blade performance instantly!
There are many types of oil out there, some great, some ok, and some outright horrible. 
You should always look out for the best!
The best clippers oils can:
Decrease blade friction
Prevent rust 
Prolong blade life 
Owning a good clipper that works for you, can put your mind to rest. 
Seek performance with peace of mind. 
Below I'll go through the best clippers oils to aid and prevent struggling blades. 
With that said, let's get into it.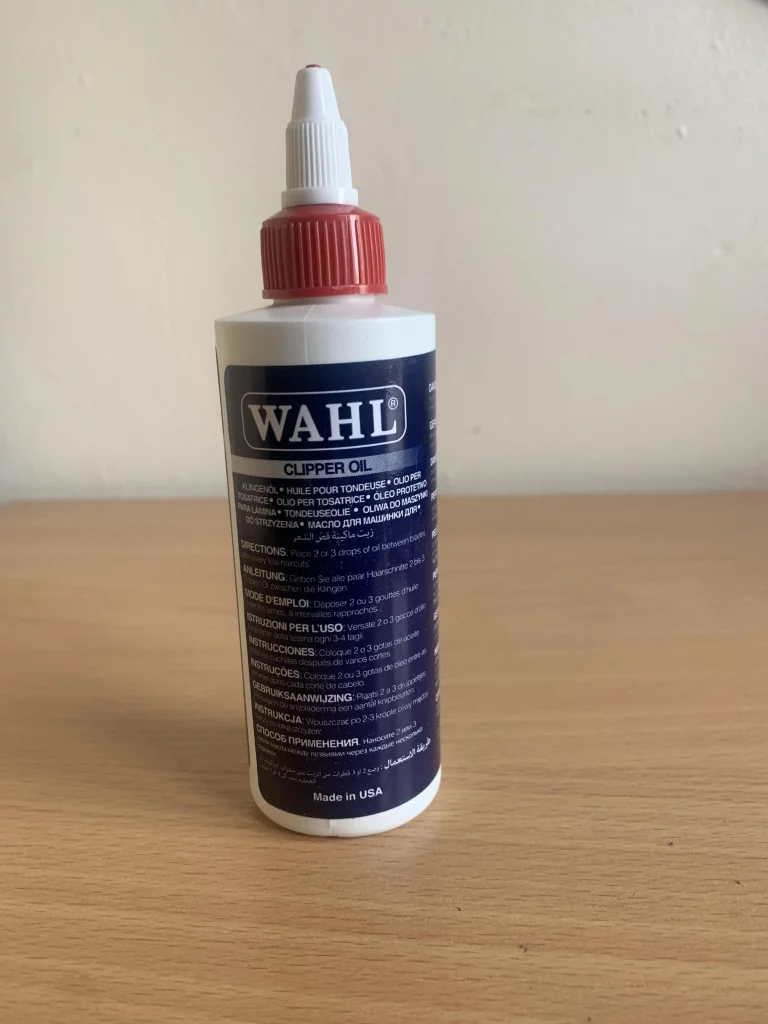 Usable on all Clipper brands
Doubles as a coolant
Rust resistance
My number 1 choice for you.
Wahl hair clipper oil can get it done. The oil comes in a light 14-ounce bottle. A slight squeeze is all you need to release the small drops onto my blades.
Wahl oil gets in between my blades and spreads evenly across your blades.
A few drops easily covered both the cutting and guard baldes.
The oil from here works tirelessly to reduce all friction between both baldes.
Dry blades grind against each other causing high tension, and overheating which leaves your blades cutting poorly.
The wahl formula leaves clipper blades smooth and ready to perform. Made up of 95% pure white mineral oil, this refined, petroleum-based lubricant will last you months and has fast-acting lubricating properties.
Along with the mineral oil base, the Wahl formula contains extra nontoxic, lubricating agents and synthetic oils making up the remaining 5% of the formula but playing their roles well.
The lubricating agents provide extra deep deep lubrication and the synthetic oils help to protect your blades.
On leaving your blades, a light layer remains stays on your blades, preventing the formation of rust.
Out of all the other oils in this review the Wahl clipper oil is the most effective with this feature, always working to keep your blades at their best.
All clipper blades deserve nurtured by the hardest working oils.
The exclusive formula is designed to replenish and protect clipper blades without leaving a mark or smell as the oil is clear and odorless.
Buts that's not the only good physical property.
A high boiling point allows the oil to tackle all temperatures without deformation, doubled with its low viscosity, the Wahl doctor gets in and out quickly dealing with all wounds in the process. 
Positive
Rust Prevention
Prolongs Blade Life
Premium Formula
Effectively reduces Dull Blades
High-Quality Lubricant
Negatives
Dropper doesn't allow for a smooth release of oil.
"I have bought and used this lub oil (third time) now on shavers and cutters etc and it does what it's recommended for, well pleased and at a very good price, so nothing to complain about, a very good product at a very good price, what more can you ask for."

review
At the time my blades needed help, this was the solution. But such a premium oil is heavily in demand. Don't hesitate on getting your bottle today.
You'll receive fast delivery on orders from the link below.
Consistently use the oil every 2-3 you use your clippers,  if you don't see a change, a gracious refund is swiftly provided when returned within 30 days.

Usable on all Clipper brands
Easy hold
Secure cap lock
The Andis oil is a very close second… Clipphub takes pride in providing the best advice on all things hair clippers. While this may not match the Wahl oil 1-1 all-round, it excels in its own right.
The Andis hair clipper oil is the definition of a hair clipper oil.
Its light 80% mineral oil formula gives sufficient lubrication to your blades. It reduces friction and prevents corrosion. However, the 8-ounce bottle can be difficult to access. 
A sturdy no drop lid means all 122ml of content stays inside the bottle but you can also struggle to get it out. Compared to its counterparts in this review I found applying the oil to my blades quite challenging. Being accurate was difficult and slight spillage was common in the testing process.
However, once past this, the oil's content can stand amongst the best. The wahl formula has the right amount of lubricating agents and synthetic oils to provide your clipper blade with solid lubrication. But there's a feature to Andis that makes it different.
Andis has a secret weapon. The Andis brand contains a range of products but more specifically I am referring to the Andis cool care line. When combined, true restoration takes place.
The deep cleansing nature of the Andis blade care partnered with the refreshing lubrication of the Andis clipper gave my blades an extra edge.  Micro hairs hidden within my clippers were promptly dealt with when I utilized this combination.
As a duo, this Andis combination is immensely reliable. It's one that has not gone unnoticed by the maintenance obsessed.
Positive
A tight seal helps to prevent spillage
good corrosion resistance
Good lubricant
Premium blade formula
Negatives
The cap can be difficult to open and is not the easiest to use.
"Works great, keeps our clippers quiet. Can be difficult to access the red nozzle to open it, but doable. Good quality and plenty of it, good size bottle, not too big or small."

review
Get your Andis clipper oil for good blade lubrication but partner it with blade care to receive the full benefits of rejuvenated blades.
If you seek longevity, this combination can take your blades the distance.
Observe as your blades are cured from heat friction and become robust once more. If you are unhappy with what you see, simply return the oil for a refund.

Get Best Price
Hits all parts of your blades
Get Baldes back to the working temperature
Usable on all Clipper brands
Long-lasting
Rust resistance
Clipper oil should be adaptable. It must fulfill its purpose no matter what. Oster hair clipper oil does just that.
The features of this oil are subtle but work well on your blades.
Applying the 4.23-ounce hair clipper oil was straightforward. The slim plastic nozzle allowed fixed precision. The 118 milliliters of content easily slid down my blades, spreading out evenly after just 3 drops. 
The oil runs fast. With only a few drops my blade teeth were coated and oil was already making its way down to the sole plate. it's got the speed, but does it have action?
Oster oil is thin. While it may not be as effective as the previous oils above, it's still good oil that is adaptable to all hair clippers.
The petroleum mineral oil passes through a multi-refinement process from its natural crude oil form. The depth of refinement is what makes Oster oil, the least viscous oil within this review.
The oil is formulated solely from mineral oil so while it may not lubricate as deep as the Wahl hair clipper oil when it comes to cheap, reliable choice, Oster can be your blade oil solution.
Positive
pinpoint dropper
prolongs blade life
Price
Negatives
Can spread too quickly especially when applied to a lot of oil is applied

"I love this oil. It is the preferred oil for my clippers and it last a long time. I'm a casual barber so I don't use it on too many people, but it does the job as I expected."

Review
Check out the Oster hair clipper oil for cheap, reliable oil. When you receive the oil, unscrew the cap, apply 3 drops to your clipper blade, and watch as it coats your blade in a matter of seconds, lubricating your blades from the start.
If you are disappointed, return for a prompt refund at any time, free of charge. Get your Oster clipper oil from the link below.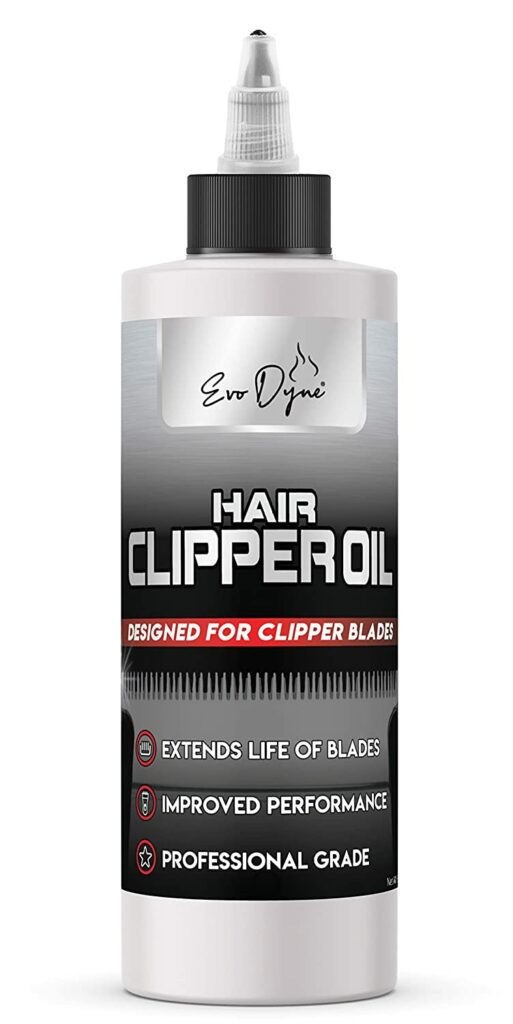 Get Best Price
Blades Stay Lubricated
The light coating stays to keep blades smooth
Take your clippers the distance.
Hair clippers are built for everyday use. Frequent cutting and trimming are their true purpose.
But just like with any machine they can wear themselves out. Blades get worn and cut horribly.
In a situation like that, your blades are in need of an oil that can bring them to life.
Evo dyne. A small American oil company focused on lubricants has produced oil that supports your clipper blades as they work.
Their highly refined mineral oil extracted formula easily spreads on application and to all sides of your blades.
Hold the generous 8-ounce bottle and place 3 drops of the oil across your guard blade (where the teeth meet) and 2 on either side of the sole plate.
The oil gets to work on sweeping away any trapped micro hairs and smoothening the surface of both blades to reduce friction and improve performance.
A truly impressive formula to give your machine lubrication for performance.
Positive
PREMIUM PROTECTION
IMPROVED PERFORMANCE
LONG LASTING LUBRICATION
RUST PREVENTING
Negatives
prone to spillage with no seal opening
"Pleased with this hair clipper oil. Great price and great quality, too."

review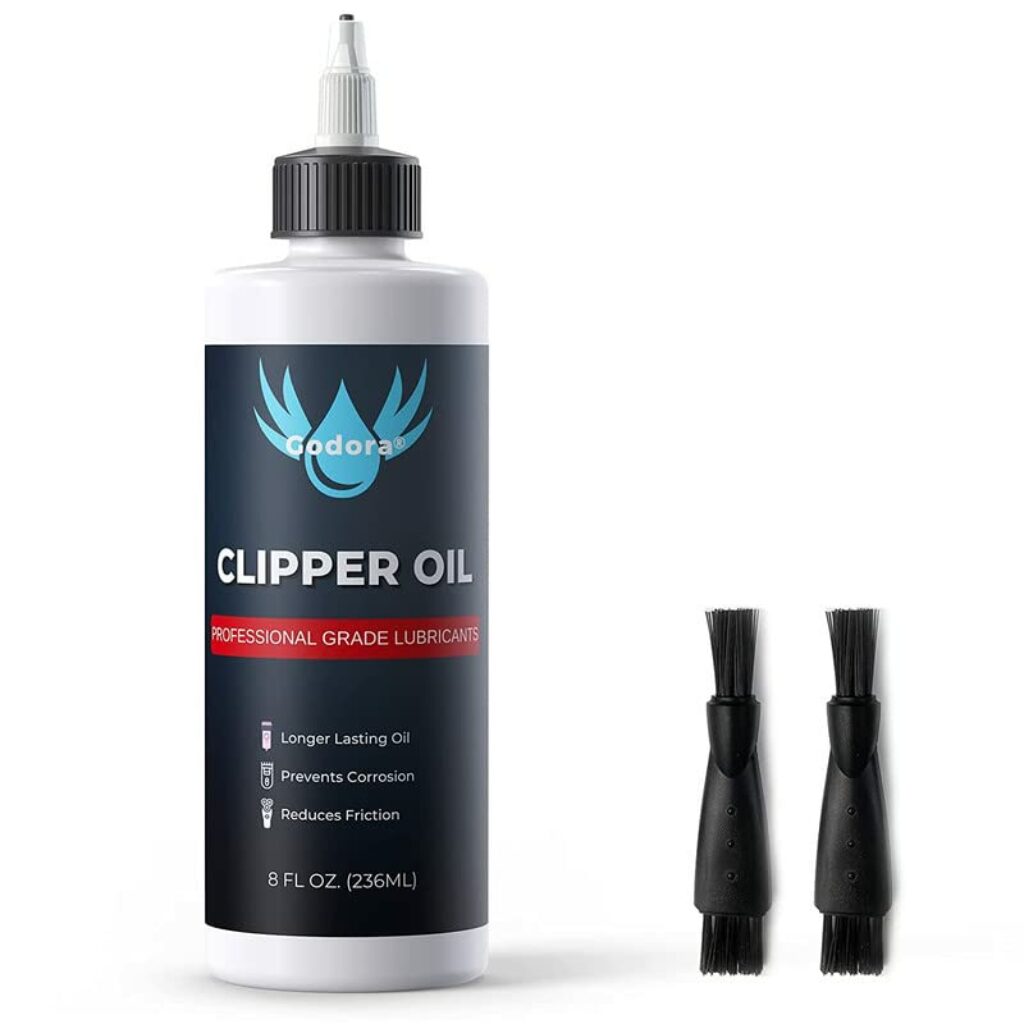 Safety assured.
Gatora matches that.
This clipper oil brand has produced a food-grade, chemical-free, hair clipper oil.
Made from high-quality white mineral oil.
The Gatorara mineral oil is for those who can make a mess In maintenance. Sometimes, as hard as try, oil just seems to fly everywhere as we apply it. Occasionally, we even miss our clipper blades themselves.
Drops fly and dribble everywhere and it mainly lands on our skin.
With Gatora hair clipper oil, don't stress on the afterward on your mistakes. Their formula keeps you safe no matter how it lands on you.
With the oil that does make it onto your clippers, you can expect high a high-performing helper produced to maximize blade longevity.
The oil slips in between the cutting and guard blade provide lubrication all around, keeping heat and friction away.
Positive
LONGER BLADE LIFE
RUST PREVENTION
SAFE & HEALTH
COOLING & NOISE-REDUCTION
"Very useful. It comes with a decent amount, edification for hair clippers, so you can use when you need & you'll know that you'll have enough for a long period of timewhich brings great piece of mind."

Review
I urge you to get your hands on the South after Gatora hair clipper oil today if you're looking so safety and performance in a bottle.
Not satisfied, easily return it for a prompt refund at no cost to you. Grab it while in stock.
FAQ
How to oil hair clippers.
To oil hair clipper blades, place 3 drops of oil across the teeth of the blades
(where the front cutting rail and top cutter meet). Place two drops on either side of the blades. 
Turn the clipper on and allow work the leaver to allow the oil to spread then wipe away any excess oil. For more details, read how to oil hair clippers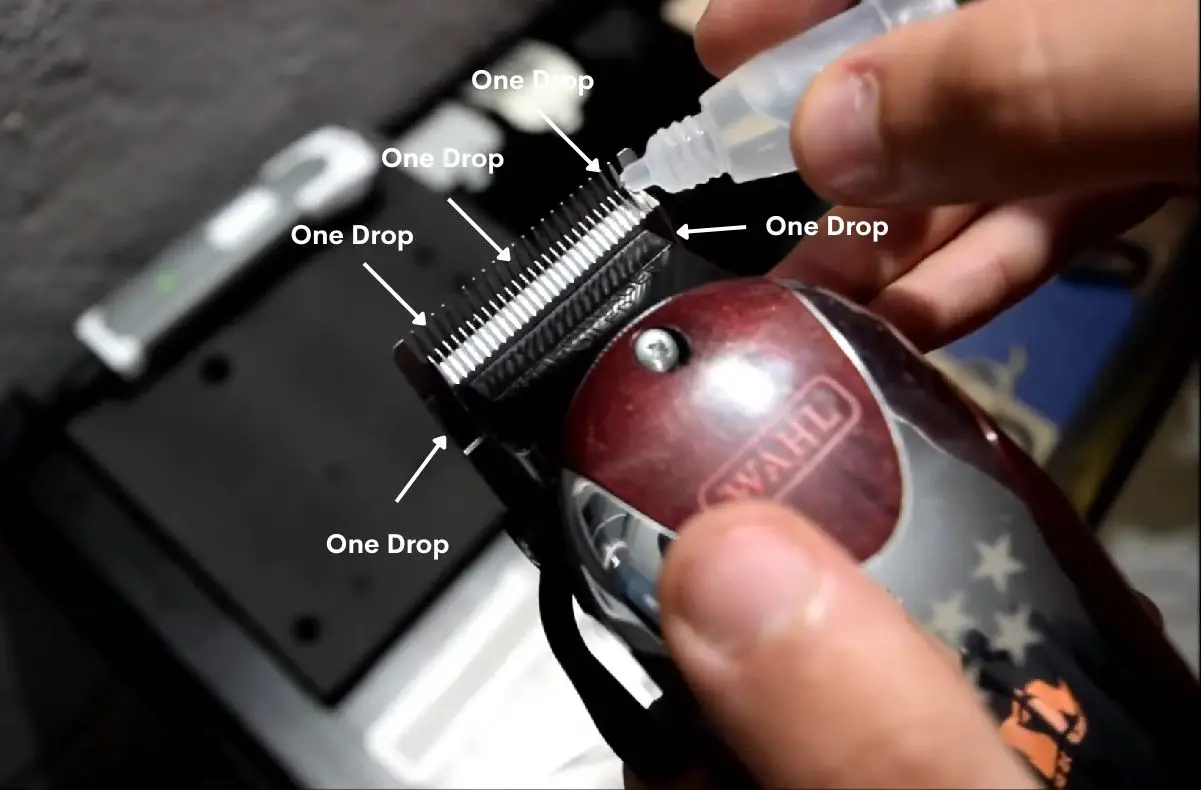 Should I oil my clippers before or after use?
Hair clippers can be oiled before and after use. However, it is to oil your hair clippers after you have cleaned and sterilized your blades. This allows the oil more surface area to lubricate your blades
How often should I oil my clippers?
You should be looking to oil your hair clippers every 2-3 uses, this will keep your blades well lubricated but not drowning in oil.
Will oil treat my already rusted blade?
Hair clipper oil does not repair rusted blades? The rust will have to clean away or the blade will have to be replaced. However consistent use of hair clipper oil will help to prevent hair clipper rust.
Is it best to have oil clippers wet or dry?
Hair clipper blades should be oiled dry if you want the maximum effect. Not only do wet hair clipper blades develop rust but they also repel the oil, meaning the oil cannot deeply lubricate the blade.

SUMMARY
Wahl Hair Clipper Oil is a premium lubricant that helps to maintain the longevity and performance of hair clippers, while also preventing rust and corrosion.
Limited Stock
ANDIS HAIR CLIPPER OIL: a high-quality lubricant that stays on blades longer and prevents rust and corrosion. Keep your clippers sharp and smooth.
Oster hair clipper oil: a fast-spreading, long-lasting, and effective oil that lubricates and protects your blades
If you have found this guide on the best clipper oil helpful, please check out other articles on this topic below: