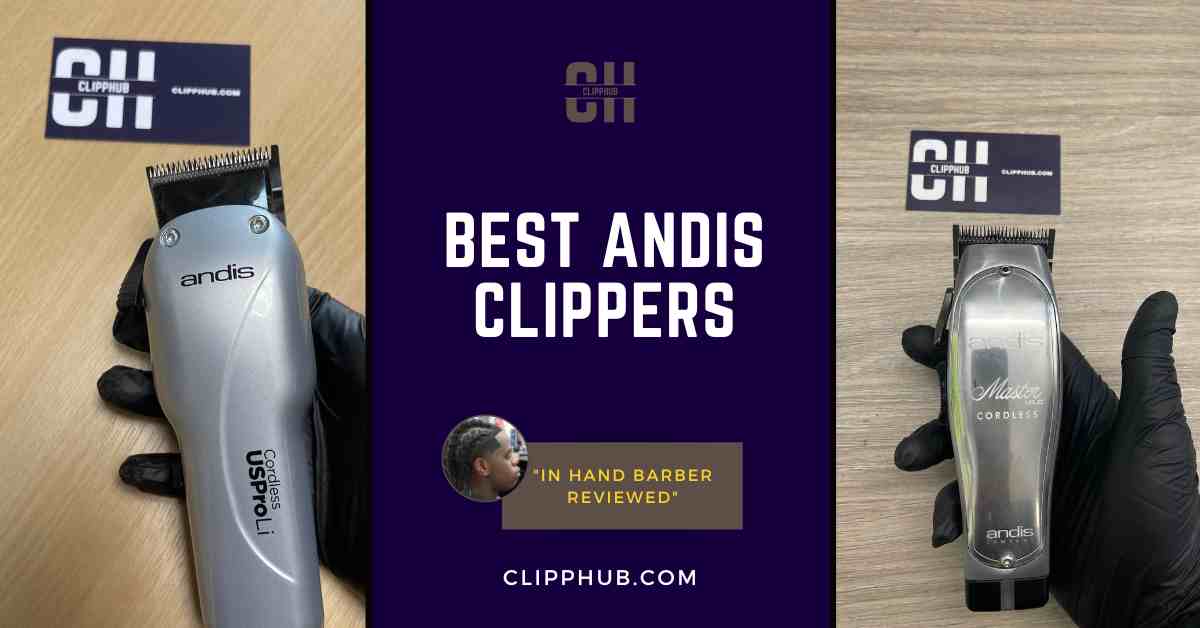 A branded clipper that can cut hair the way you want and last a lifetime when maintained correctly is important when choosing a hair clipper. 
Choose the wrong one, and you'll burn a hole through your wallet .. your clippers won't cut cleanly, they'll overheat and pull hair with every flick.
Only for them to live on only a few months after you've purchased them.
Choose rights and you'll have a clipper that works for you, allowing you to create seamless fades, fresh buzz cuts, and crisp lines ups on demand!
Just like my work below:
In this article, we'll take a look at the Best Andis Clippers and trimmers and see what they can offer you.
So with that said, here are the Best Andis Hair Clippers.
Best Andis Clippers
The Best Andis Clippers – Is Andis a Good Brand?
In a world where there are new brands of clippers popping up every few months, it gets confusing differentiation between good and bad only gets harder.
It's the reason most clipper owners get frustrated with their clippers. 
They don't cut, they pull hair, they're difficult to control, and worse of all they burn out after a few months.  
This is what happens when you purchase clippers from an unknown and unproven brand. 
Build
Not all hair clipper brands are built the same and not all clipper brands stayed at the top for many years without faltering. 
But those that do, are there for a reason and that's due to unrivalled quality backed by their loyal customer base.
One of those brands is Andis and they have produced some clippers you may be interested in. 
But there are still a specific set of factors that you must look into, to guarantee the correct clipper choice – one that cuts like a dream, easily slices through hair, giving you the exact cut you after every single time. 
What are these factors? 
Well, it depends on what you're looking for…
Some of us want a corded clipper, some want cordless and others just want the best price….
Regardless of what you're looking for, the most IMPORTANT thing is the hair clipper does the specific job YOU want. 
Here at ClippHub, we've handpicked a range of Andis clippers – along with detailed (but simple) descriptions of each one and what they can do for you. 
So let's begin.

Best Andis Cordless Clippers
My top pick for you. 
The Andis Cordless Classic Masters are overall, the best cordless hair clippers.
These clippers combine the timeless design and performance of the original Master with the freedom and flexibility of a cordless device. 
It's neat really, and that's why for me it's the best. 
Motor
This clipper has a high-speed rotary motor that runs at 7,200 strokes per minute (every time the cutting blade completes a left-to-right move).
They easily cut hair with ease have Constant Speed Technology that prevents the motor from stalling. 
So it's a high-speed unit that you can control at all times. 
Design
The clippers have a virtually unbreakable aluminium casing that is rugged but comfortable. 
It even comes in Gold colour, if you are after that premium look.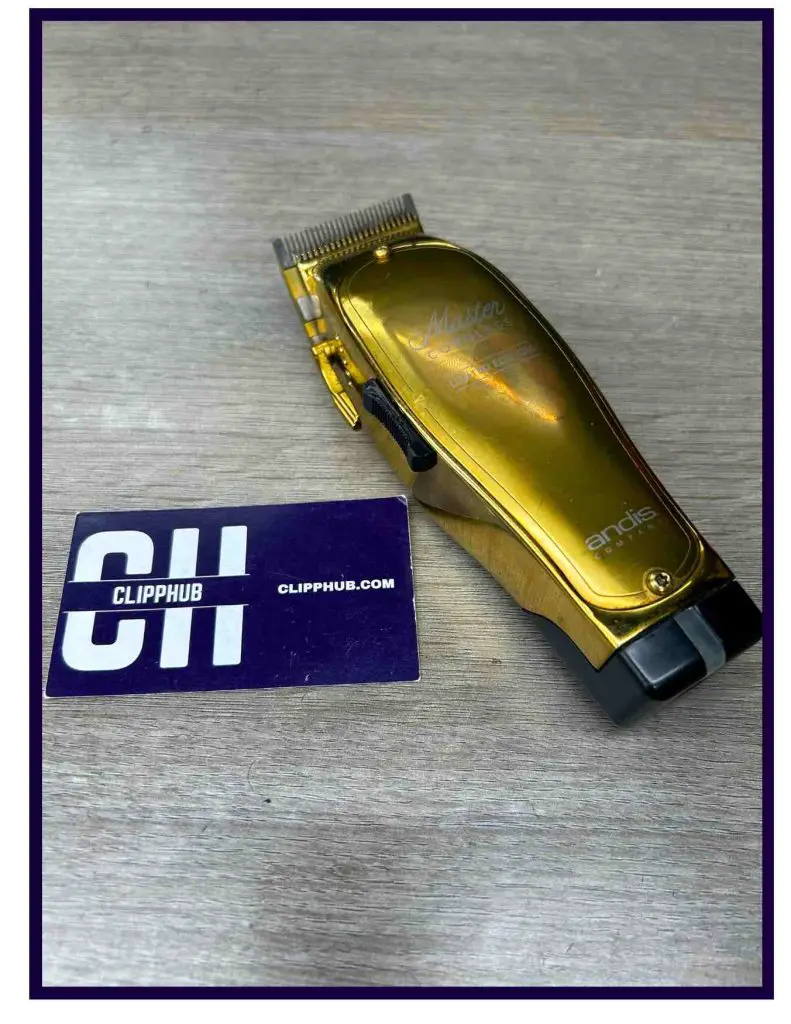 It's built like a wedge so if you don't like wedge-like clippers it may not be for you but you'll come to like the density and how well-balanced the weight is on this clipper. 
These clippers have an adjustable carbon-steel blade that can be set from #000 (0.5 mm) to open #1 (2.4 mm) with a simple flick of the clipper lever. 
It can last you a while too. 
Weight
It has a heavy-duty aluminium housing that is lightweight and comfortable to hold. The trimmer weighs only 370 grams and has an ergonomic design that fits your hand perfectly.
The housing is also resistant to corrosion and wear and tear, making it long-lasting and reliable.
Battery
The Andis Cordless Classic Masters have a long-lasting lithium-ion battery that can run for 90 minutes on a single 60-minute charge.
It comes with a charging stand, a charging adapter, a blade cleaning brush, and blade oil. The charging stand allows you to store the trimmer conveniently and safely when not in use.
Blade
The charging adapter has plug adapters for global use, so you can take the trimmer with you wherever you go.
The blade cleaning brush and blade oil help you keep the blade clean and lubricated.
So all around, a dependable and hard-working clipper.
Now the clipper does have a tendency to release to get higher in pitch after being active for a while but that is quite normal for clippers to see if it's bad for you, you'll have to just try them yourself but for me it isn't too bad.
Positive
Constant Speed Technology that prevents stalling or dragging
Cordless and Durable
Adjustable carbon-steel blade that can be set from #000 (0.5 mm) to #1 (2.4 mm) with a lever
Long-lasting 90-minute battery life
Negatives
Can be deemed 'loud' to some
No clipper bag and guards
"I have been cutting hair last 8 years. Best and most powerful clipper i ve ever had. Great for fades."

Review
If you are looking for the best Andis clipper, you've found it. 
The Andis Cordless Classic Masters is the Best Andis Clipper. 
Order one, try it out, and see if it erases lines and cuts hair with ease. 
Hold it and feel how well it fits into your hand. 
After a couple of cuts, if it is not the clipper for you, return it at no extra cost to you.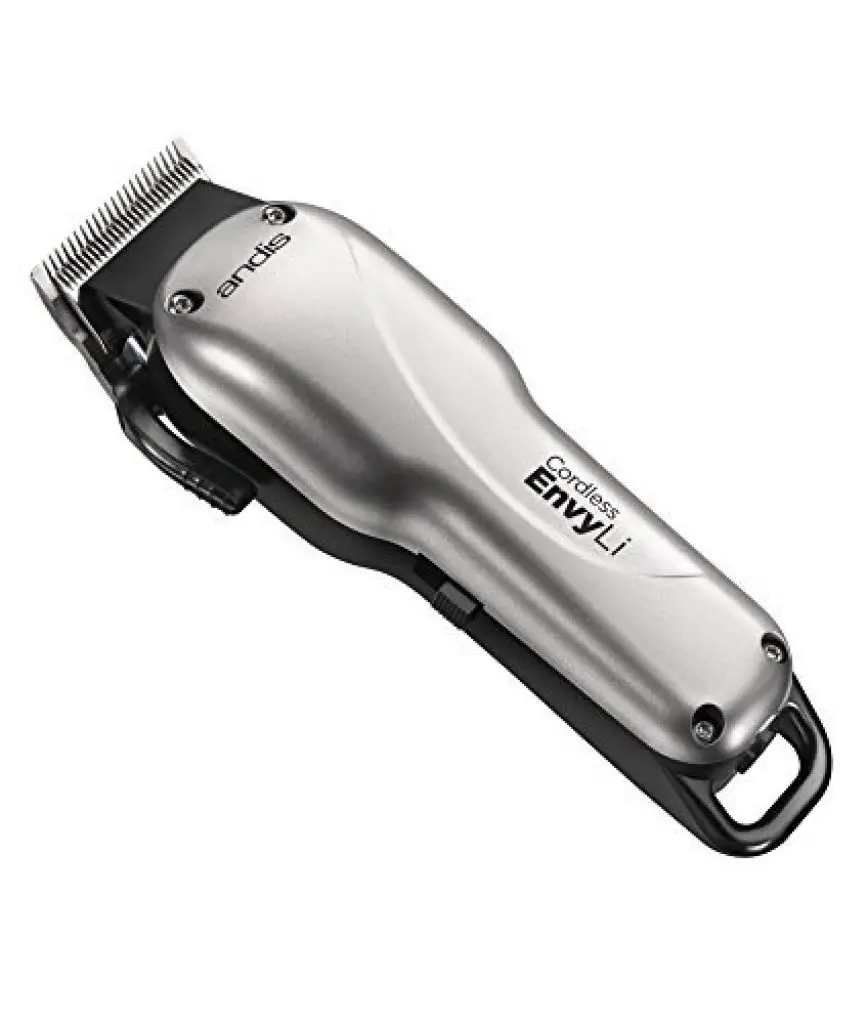 Get Best Price
Best For Beginners
Highly forgiving with great precision
Love Andis but on a budget?
Then the Andis us pros may be your match. 
The Andis US Pro High-Speed Adjustable Blade Clippers are the most budget-friendly Andis Clippers that offer great performance and durability at an affordable price. 
The clipper has a robust and durable motor that delivers 5,500 cutting strokes per minute, enabling you to shave at home or in the salon with professional-grade results.
Noise
The motor also runs quietly and smoothly, minimizing noise and vibration.
The clipper has a top blade that can be adjusted from size 000 to 1, giving you more control over the cutting length and style.
The blade is made of high-quality steel that stays sharper longer than other blades, providing smooth and consistent trimming with complete body grooming.
It has a precision-machined chrome-plated blade that can be adjusted from fine to coarse, going from size 000 to 1, and can be zero-gapped further for even closer cutting.
 The clipper has a thumb-controlled button that allows you to turn it on or off with one hand, making it easy to use while cutting hair.
Battery
It also has a lithium-ion battery that provides up to two hours of cordless run time, giving you the flexibility and convenience to trim your hair anywhere.
The trimmer also comes with a charging adapter that works on 100-240V / 50-60 Hz voltage, making it compatible with different power sources.
These clippers also look quite good on the eye.  
With the sleek hard plastic, grey casing, all built into an ergonomic mould.
They may not be as powerful or cut as well as the other clippers on this list but for the price and convenience you get with them, there's no other better Andis Product than this.
Positive
12,000 cutting strokes per minute
A rust-resistant blade that can be adjusted from size '000' (0.2 mm) to size '1' (3 mm)
Corded consistent power
6 guards provided
Negatives
Not the sharpest or as close cutting as other Andis clippers
This is a superb product and I would definitely recommend to anyone looking for a product in it category. Exceptional.

review
If you are looking for a high-performance, versatile, and easy-to-use hair and beard trimmer, the Andis 73000 Envy Li Cordless Clipper is the perfect choice for you.
It offers everything you need to achieve professional results at home or in the salon. Don't miss this opportunity to get your own Andis 73000 Envy Li Cordless Clipper at their best price today.
Best Andis Trimmer
Are you looking for a professional trimmer that can give you the perfect cut every time? If so, you need to check out the Andis GTX-EXO, the ultimate trimmer for precision detailing.
The Andis GTX-EXO is not just any trimmer, it is a masterpiece of engineering and design.
Battery
It has a lithium-ion battery that provides consistent power for over 100 minutes, so you can trim without worrying about running out of juice.
It also has constant speed technology that delivers smooth and even cuts at 7,200 spm through all hair types, whether you are trimming your hair, beard, or body.
But what makes the Andis GTX-EXO truly stand out is its blade.
The GTX-EXO features the new Andis gold Gx blade, which is retooled to cut closer than before and can be zero-gapped without modification.
Design
The gold finish adds a touch of elegance and durability to the blade, while the extreme visibility allows you to see every detail at any angle. The Andis GTX-EXO is the trimmer that will take your grooming game to the next level.
It is easy to use, comfortable to hold, and powerful to perform. Whether you are a barber or a home user, you will love the results that the Andis GTX-EXO can deliver. 
Positive
100-minute cordless runtime
Durable aluminum casing
Powerful, high-speed rotary motor with blade speeds over 7,200 SPM
Accessories included
Negatives
Bulky design may not be great for smaller hands
"These are the best fade clippers"

review
If you master the art of line-ups with a robust and powerful trimmer that has a wide and sharp blade… You know what I'm going to say. 
So grab the Andis Gtx-exo if you want the Latest razor sharp trimmer that will have your clients recommending your services all over your city. 
If these trimmers aren't for you, which I doubt, simply return them at no extra cost to you! 

Andis Barber Clippers
The Andis Fade Masters are the best fading andis clippers andis have produced. 
It said so in the name and I personally believe it too! 
These Clippers are designed to deliver the freshest tapers/fades and closest shaves possible(but don't buy them with shaving in mind in my opinion).
Blade
The Andis Fade Masters have a smooth-cutting carbon-steel blade that can be adjusted from 00000 to 000, going between 0.1 and 0.5 mm. 
Very close and that's just with the blades off what is even better is, that you can zero-gap these for even more precision but I don't even think that would be needed. 
They also have a powerful magnetic motor that runs at 14,000 strokes per minute (Amount of times the blade moves side to side)  and can cut through all hair types without stalling or dragging. 
Seamless and effortless. 
To top it off,  Andis Fade Masters has a sleek aluminium casing that is unbreakable and comfortable to hold. 
 The frame is made of durable aluminium that can withstand drops and bumps. It has a shiny chrome finish that gives it a sleek and stylish look.
The frame is also ergonomic and comfortable to hold, with a thumb-controlled side switch for easy operation.
While the clippers will get hot over multiple hours, that's pretty standard for most clippers.
So it's great if you just using them for quick personal grooming but if you're using them in a shop, use cooling spray and when it does start to heat up give them a couple of minutes to cool off.
Positive
Professional barber hair clippers for tapers and shaves
Adjustable carbon-steel blades from 00000 to 000 or 0.2mm-0.5mm
Zero-gap option for ultra-clean precision
Powerful magnetic motor with 14,000 strokes per minute
Smooth-cutting and cool-running performance
Sleek, indestructible aluminium frame with chrome finish
Negatives
Tends to get hot after multiple uses
"These are the best fade clippers"

review
If you are looking to create fades so crisp they turn heads, opt for the Andis Fade Masters. Try to create some blends push yourself, and see what you can create.
Not satisfied?
You can return them at no extra cost to you. 
Grab the Andis Fade Masters Today!

Levers aren't for everyone .. and that's fine if you like your detachable blades the Andis supra zi li clippers may be the powerful clipper for you.
The Andis Supra Zr Ii Cordless Detachable Blade Clippers offer flexibility and convenience.
Motor
The clipper has a high-speed motor that gives an excellent sharp performance with minimal noise for you and your furry clients.
The motor is also durable and long-lasting and can be adjusted to 5 different speeds between 1,800 to 3,800 spm (strokes per minute) to suit different hair types and styles.
The clipper is cordless, which means you can use it anywhere without worrying about tangled wires or power outlets.
The cordless design also gives you more flexibility and manoeuvrability to create the perfect cut for every dog.
The clipper is powered by a lithium-ion battery that is detachable for easy replacement and can be charged individually.
The battery has an operational voltage of 100-240V / 50-60 Hz and can be fully charged in 2 hours. It provides 3 hours of run time, which is enough for multiple grooming sessions.
Blades
The clipper is easy to clean thanks to its detachable blades that effectively remove debris and oil. You can simply wipe it down with a damp tissue for a fast clean or use a brush to thoroughly clean the blade.
The clipper also comes with a blade oil that helps to lubricate and protect the blade from wear and tear.
The clipper has a sleek and ergonomic design that makes it comfortable to hold and use. It measures 3.3 x 8 x 10 inches and weighs 2.8 pounds, which is not too heavy or bulky for your hand.
It also comes with a charging stand, a charging adapter, an additional blade drive, and a ceramic blade that runs cooler and stays sharper than metal blades.
Positive
Cordless and detachable blade design for convenience and versatility
Lithium-ion battery that provides up to 3 hours of run time on a 2-hour charge
A 5-speed motor that can adjust from 1,800 to 3,800 strokes per minute for different hair types and styles)
Ceramic blade that runs cooler and stays sharper than metal blades, and can be easily swapped with other blade sizes
Powerful, smooth and creative cutting performance for dog groomers
Negatives
Collecting individual blades separately can eventually become pricey.
"the best clippers I have owned and I have had many over the years but these are by far the best very sharp and easy to handle"

review
Grab a pair and test them out, not for you?
Return them at no extra cost to you. 
Get the Andis Supra Zi at their best current price today! 
Buyers Guide
Andis Clippers is one of the most popular clipper brands on the planet! 
But when it comes to choosing one of their products, it can be confusing.
So here's what you need to look out for: 
Motor type
Andis clippers have different types of motors, such as magnetic (common), rotary (common), and pivot (rare). Magnetic motors are fast and powerful, but they can easily get very noisy and hot over long periods of time.
Rotary motors are quiet and cool, but they can be heavy and are found in expensive models.
Pivot motors are balanced and versatile, but they aren't readily produced so if your favourite clipper jams and has this motor, replacing it may be a nightmare.
Depending on your needs and budget, get a motor that best matches you.
Blade type: 
Andis clippers have different types of blades, such as UltraEdge, CeramicEdge, and GTX. UltraEdge blades are made of carbon steel and have a hard chrome finish that resists rust and corrosion.
The Andis CeramicEdge blades are made of ceramic and have a smoother cutting surface that stays cooler and sharper compared to the metal stainless blades, though the blades do cut better. 
The GTX blades are wide and deep-toothed blades that can cut more hair faster and can be zero-gapped for close cutting- these blades are found on Andis trimmers. Depending on your hair type and style, choose the blade type that suits what you are after from that specific Andis Clipper. 
Corded or cordless: 
Andis clippers have both corded and cordless options. Corded clippers provide continuous power and performance, but they can limit your mobility and flexibility due to what can be a very, heavy and bulky cord.
Cordless clippers have on battery life and if you forget to charge them when you need them most it can be very frustrating other hand, provide freedom and convenience, but they have limited run-time and g. Keep that in mind when choosing a clipper. 
Accessories: 
Do you need accessories with your clippers? 
If you don't have: 
blade guards, blade oil, blade care products, charging stands, and cases then it would be best if you buy a clipper set that offers these. 
These accessories can enhance your cutting experience and massively extend the life of your clippers.
 Depending on your needs and expectations, you should choose the clipper that comes with the accessories that you want.
How to Use Andis Clippers
Conclusion
In this article, we looked at the best Andis clippers.
So be sure to grab one if you want a clipper from a reliable and well-known brand.
Andis cordless masters: delivers high-speed cutting performance, long-lasting battery life, and comfortable handling. Experience the difference today.
Andis Us Pro: a powerful, lightweight, and durable clipper that can handle any hair type plus it fits your budget.

Andis Gtx line-up clipper: a versatile, reliable, and precise tool for creating sharp and clean lines.