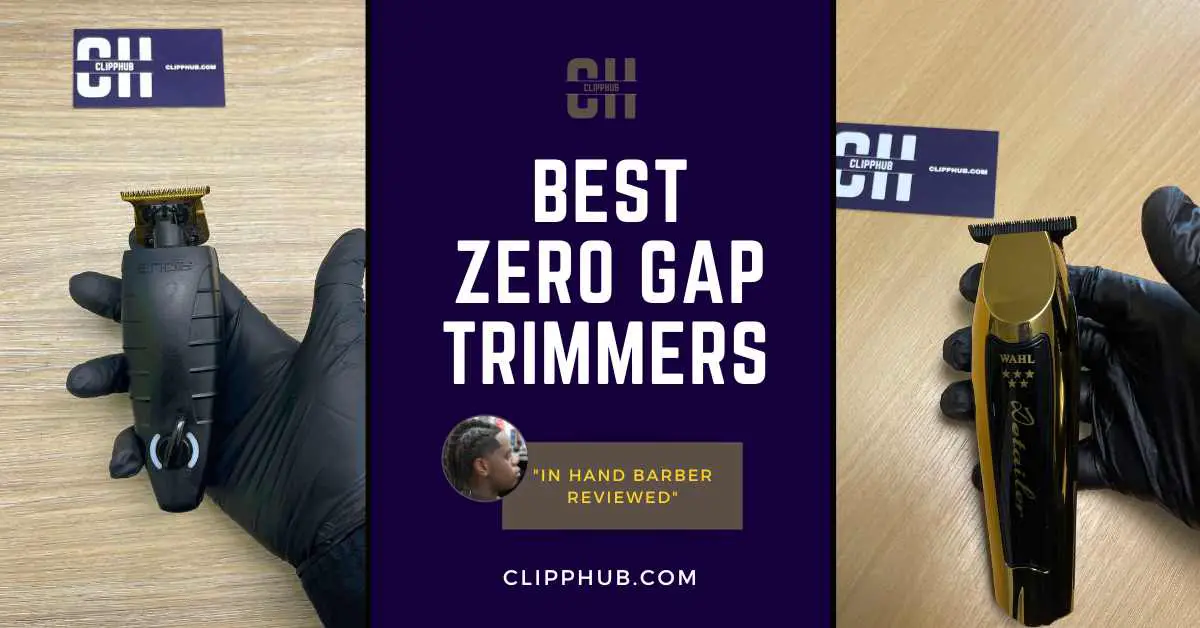 There's a reason elite barbers are able to produce sharp hairlines from the first hit of their trimmers. 
It's not luck, "major experience" or even skill.
They come equipped with professional-grade zero-gapped trimmers. 
Ones that safely cut close to the skin right out of the box! 
No need to adjust them. They come sharp and ready for action! 
Do you want an "unfair advantage" in creating laser lines like this:
Well, you'll need one of the best hand-tested zero gapped trimmers.
They're below, take a look.
Best Zero Gap Trimmers
Zero Gap Trimmer
Not sure which zero gap trimmer is best for your specific needs?
That's understandable.
Not many do.. and not many care.
Most trimmer owners put up with whatever machine they currently own and pray it gives the cut they want.
But shock.. they never do.
Infact they start to see that their battery keeps constantly dying on them when they need it most, their blades become rough and chipped and the motor begins to sound like a jet engine… On a good day. 
Sucks to be them. But…
However, there a rare few trimmer owners that know exactly what they're getting their trimers and they're always satisfied.
You see…
There's a reason some people are able to experience excellent cutting performance from their zero gapped trimmers.
It's not steady hands, it's not about skill and it's not luck. 
They use a specific set of factors that guarantee they make the correct clipper choice – one that cuts like a dream, leaving them fresh and well-groomed.
What are these factors? 
Well, it depends on what you're looking for…
Some of us want a zero gapped trimmer with a super long battery life.
Others want a zero-gapped trimmer used by only elite barbers and some just want a budget pair that will do the bare basics exceptionally well.
Regardless of what you're looking for, the most IMPORTANT thing is the trimmers you select for the job. 
Here at ClippHub, we've handpicked a range of the best zero-gapped trimmers – along with detailed (but simple) descriptions of each.
Need some more insight it each?
Read on.
The Best Zero Gap Trimmer
Babyliss. 
A well knows the brand. Differentiated with their uniquely designed and very premium products. 
The Babyliss Gold fx is on that list of products and it's simply the best liner Babyliss has produced.
It's a trimmer, which was damn near groundbreaking when released and it's been performing and producing crips lines for years.
It's been tried and tested and is a fan favorite amongst barbers you certainly may have heard or seen these .. they're that popular.
So.. what does it provide?
If you are looking for a trimmer that produces sharp lines while offering control, and sufficient power, there's no liner like the Babyliss Fx. 
This trimmer has a metal lithium outlining trimmer that comes equipped with a DLC deep-tooth blade. – Swppedmin for the gold (we'll get to this later)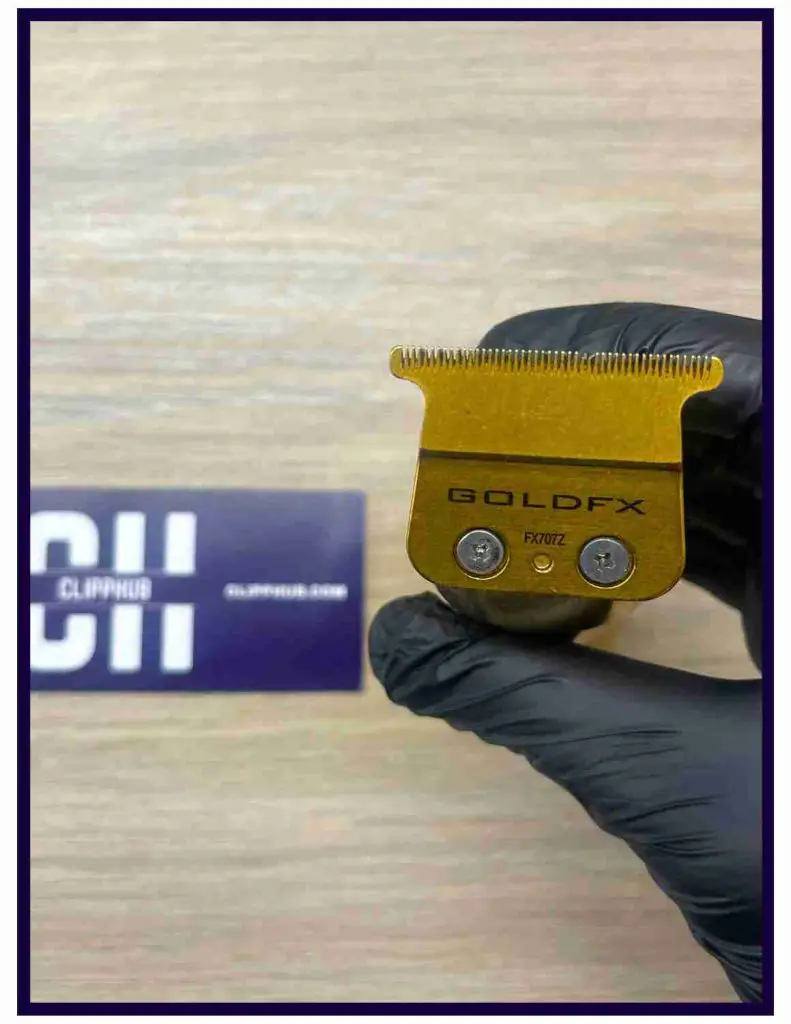 It's a blade that's really good for all hair textures but due to the finer teeth, it works best on touch-and-go work such as the hairline.
This trimmer has a high-torque Italian-designed engine brushless motor that runs at 7200 RPM which provides plenty of power, speed, and effective cutting on all hair types.
It comes in at around 70db in terms of noise level, which is the standard noise level for trimmers, so sound won't be an issue. 
 The trimmer has a lithium-ion battery that offers up to 2  hours of cordless run-time and can be recharged with a universal micro-USB cord that comes with that package.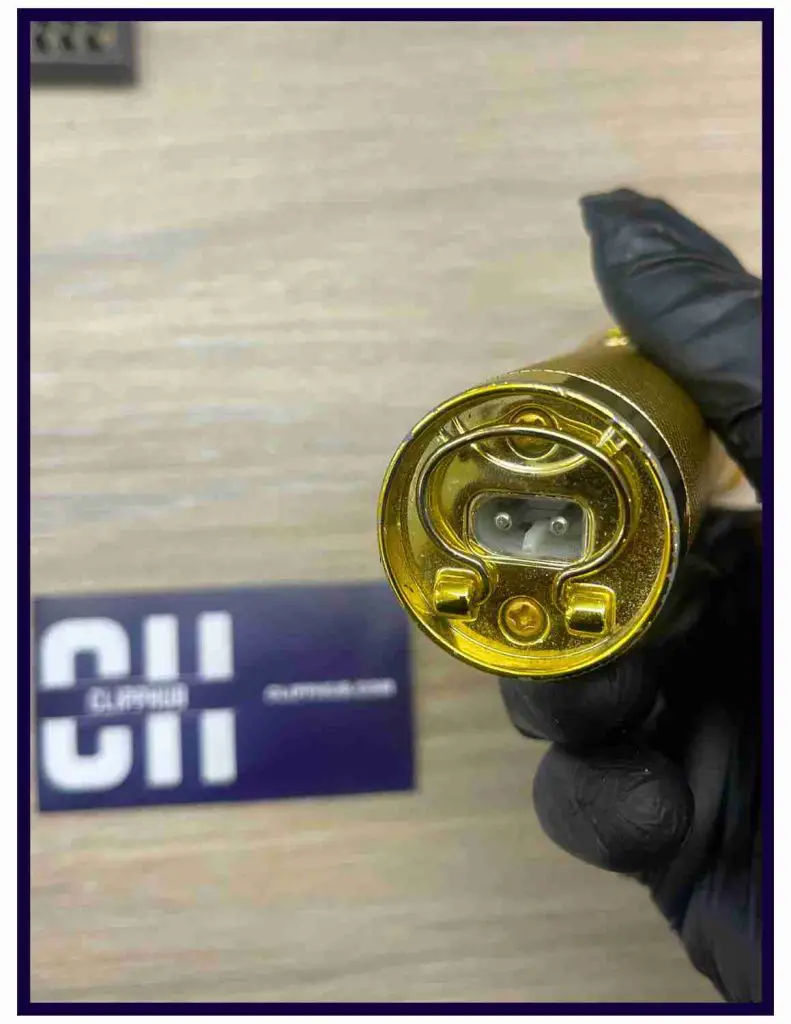 But what makes this trimmer really good is the control you'll have whilst in the hand. 
Yes, it naturally is light but also, thanks to the knuckle barbell handle, the trimer is comfortable and provides a secure grip for better control and maneuverability.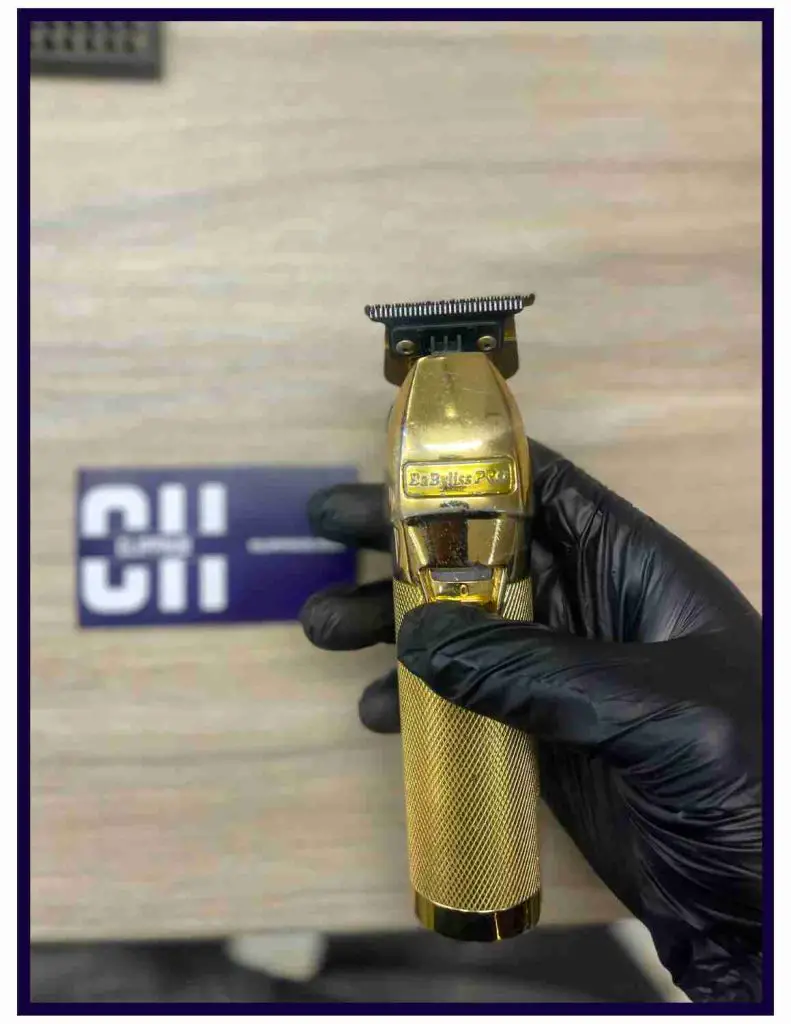 The trimmer also has a shiny all-metal housing that gives it a durable and sleek look, if you want to stand and look really professional, these trimmers will match you 1-1 for that. 
And for my barbers, it has a detent hanging hook for easy storage and access. 
These trimmers can work wonders but if you are new to Babyliss the torchlight design may be something you have to get used to. 
And while the DLC blade is a highly efficient blade, it just isn't the classic fx blade, which does a better job going through bulk and tackling all hair types – hence why you see the swap.
But still don't be put off all Babyliss by which blade is used, it's still a premium blade and will Easily cut and trim hair.
This trimmer already comes zero gapped… in fact, all Babyliss trimmers are like this but what makes Babyliss so great is the fact that they provide you tools to precisely zero gap their tools should they lose their gap. What more could you ask for from a zero-gapped trimmer?
You'll be very satisfied with this trimmer but…if you're looking for a similar model with a slightly better grip and a longer run time, check out the Babyliss Boost fx!
I just prefer the gold FX, it cuts just as well as the boost and comes slightly cheaper too, but this is how they stack up against each other.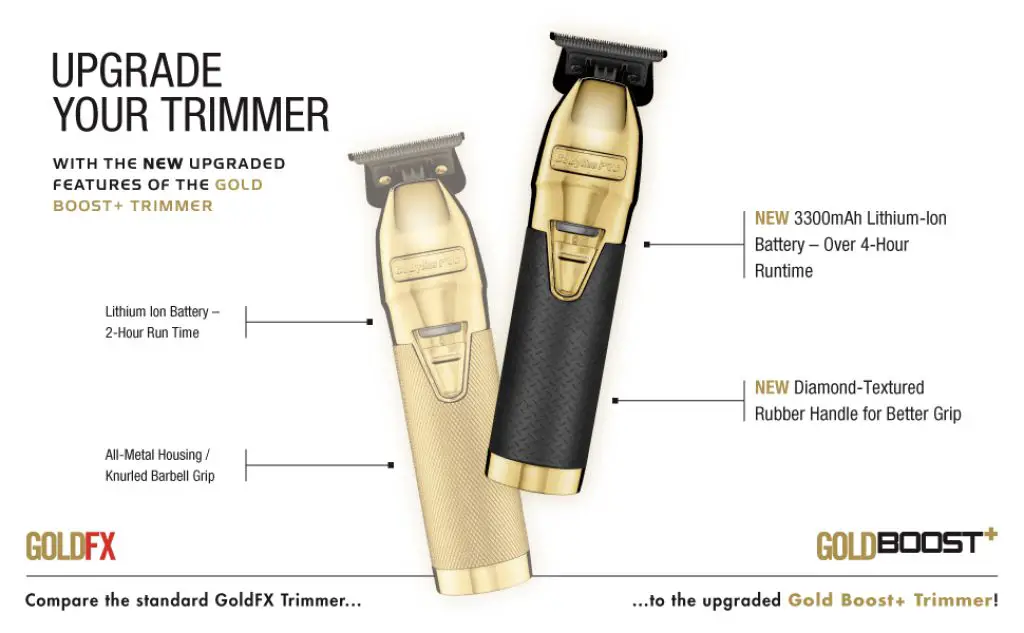 Yes, the Babyliss boost technically is the latest version of the Gold FX, but in my opinion, there's not much difference.
Yes, it does have a slightly better grip and a longer run time, but the Gold FX still cuts as well and is slightly cheaper.
If you're sticking with the Fx, you don't only have to get the gold.. it also comes in a wide range of color types.
---
---
"Great product, looks beautiful and feels solid. Best pair of clippers I've ever owned hands down."

Review
Best Zero Gap Trimmer On Durability
This is the most sturdy and long-lasting trimmer on this list. Its Andis- Gtx is the new and improved liner from the Andis Outliner family. A line of clippers known for their quality and consistency over many years.
The 2-pound, (0.9kg) cordless liner is 10.83 x 5.24 x 4.49 inches; 2 Pounds of consistent power when in use.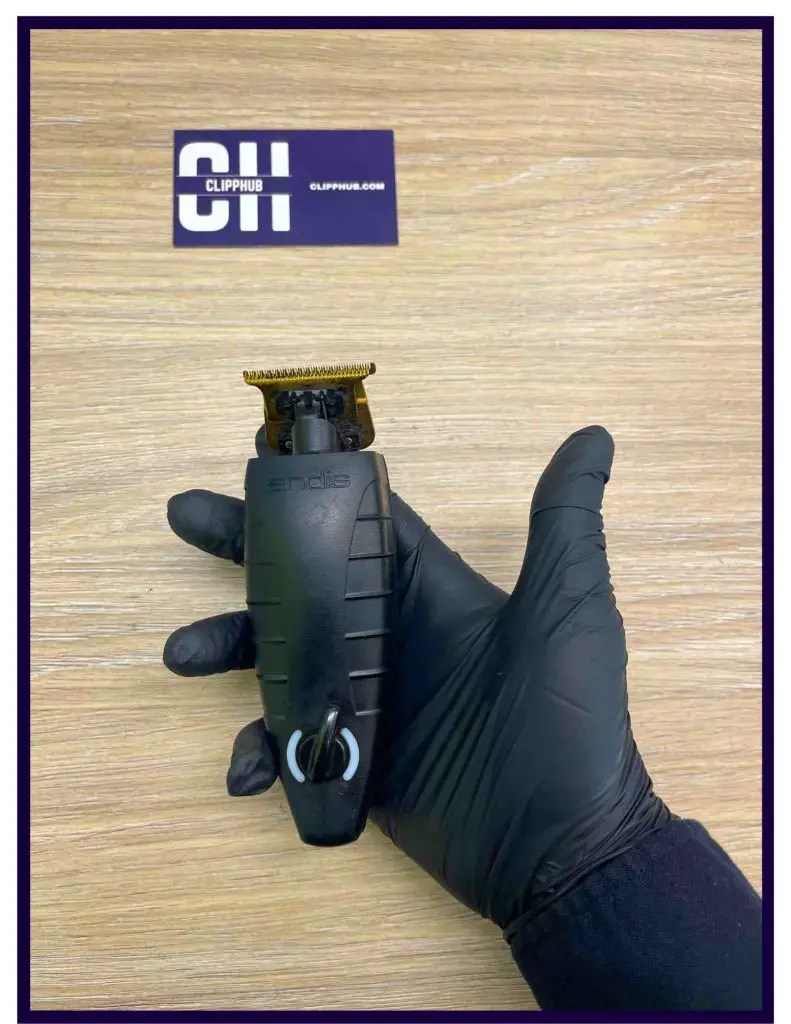 You can hear the smooth hum of these liners, the moment you turn them on.
All that comes from the new and improved rotary engine built into these liners.
It's built with a powerful, high-speed rotary motor with blade speeds over 7,200 SPM (Every time the blade moves side to side per minute).
Rotary motors are the most reliable motor but very few brands are able to push, a 7200 pm without wearing out the blades or burning out the motor itself!
Plus, with the Andis, constant Speed Technology coming from the motor, these trimmers are able to very easily cut through all hair types drag without dragging stalling, or pulling!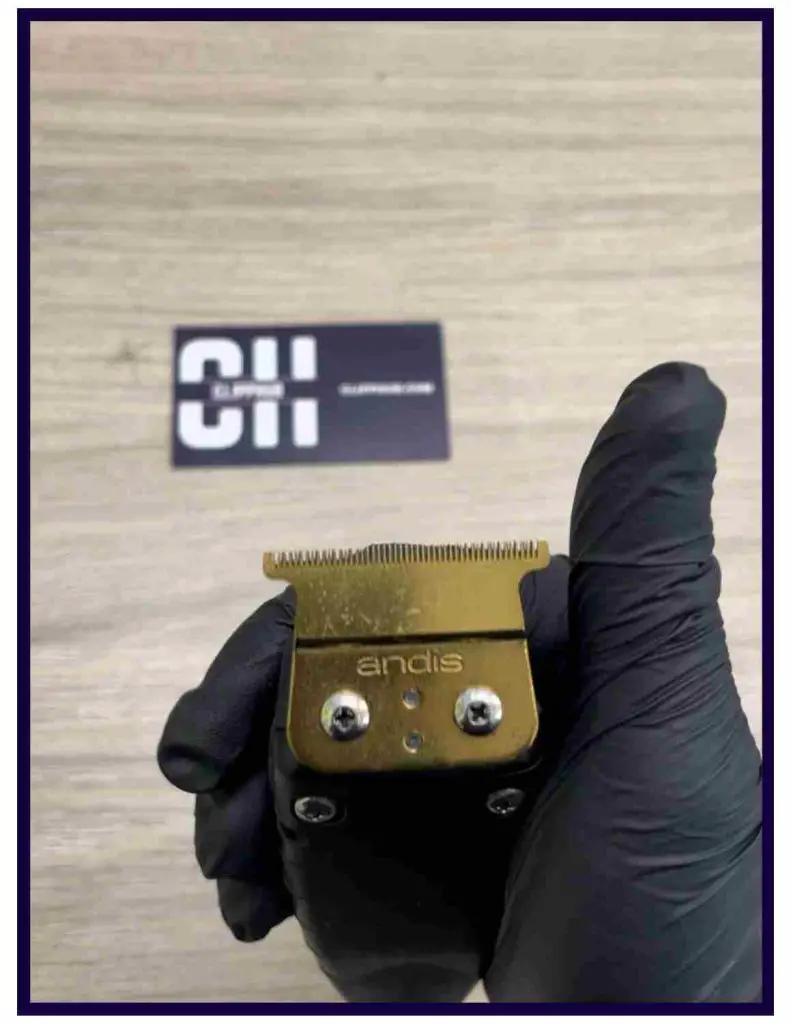 The blade itself is the new all-all and improved Gold Andis GTX-Z blade that is pre-set with a tighter gap for finer detailing and has a corrosion-resistant coating.
These blades are already cut close, but if you truly want these liners slicing through hair, you can further zero-gap them with the andis zero-gap tool( But I don't think that would be necessary).
This latest Andis trimmer is the most zero-gapped trimmer Andis has ever put out. Yes… It's more zero-gapped than all the outliners and the bespoke – so that lets you know just how clean-cutting these are!
Another minor, but important detail is that the blades on the trimmers and exposed(Don't worry, that's a good thing!).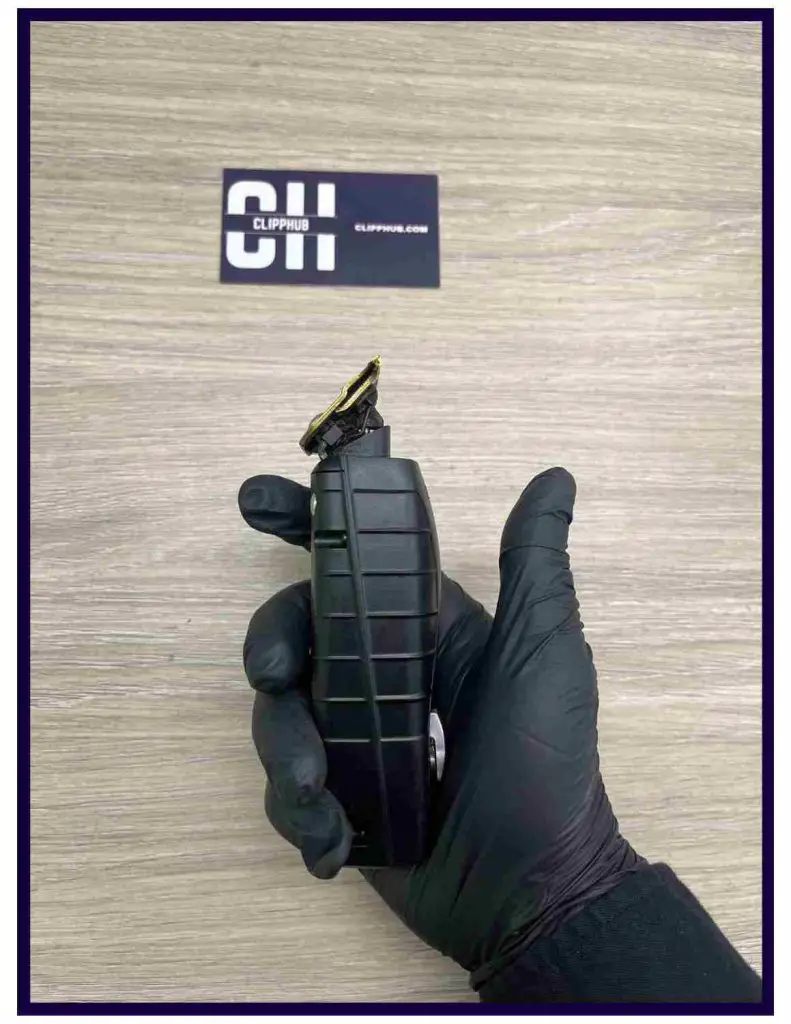 The exposed T blade allows for precision lining from all angles, no need to worry about the housing or cord getting in the want when you line up from those difficult angles.
But what I will say is you must come with a steady to hold this trimmer, due to its rounder build, and with it having some weight to it, you may also have to adapt a little (but it only takes a couple of uses to get used to it).
But the second you do, you'll own a professional grade liner able to produce crisp line-ups on demand.
Not only is it great for edge-ups on the face and neck hair details but with a steady hand, it can also double as a beard trimmer.
And obviously, you can use them to set that bald line to begin your whole fading process.
The battery could be better.
It gives 100 minutes of cordless which is plenty of run life if you purely looking to use this clipper for lineups but if you're after more then it may not be enough but you'd have to test it out to find out.
If you are looking for the best premium zero gapped trimmer, then the Andis x evo is the one for you. It has everything you need to create sharp and clean lines with confidence and comfort. It's the ultimate choice for Andis fans who want to upgrade their trimming game.
" I don't when it comes to trimming any facial hair or mustache, these trimmers will do the job. You will not need a razor to clean it up. It is zero gapped. One of the best investment I have made!"

review
Best Premium Zero Gap Trimmer
This is for the wahl lovers who want a trimmer that performs well and looks flashy!
So…If you want a natural upgrade on the famous classic detailer, one that can offers more power, more precision, and more style, then you should look at the Limited edition Wahl Cordless Detailer Li.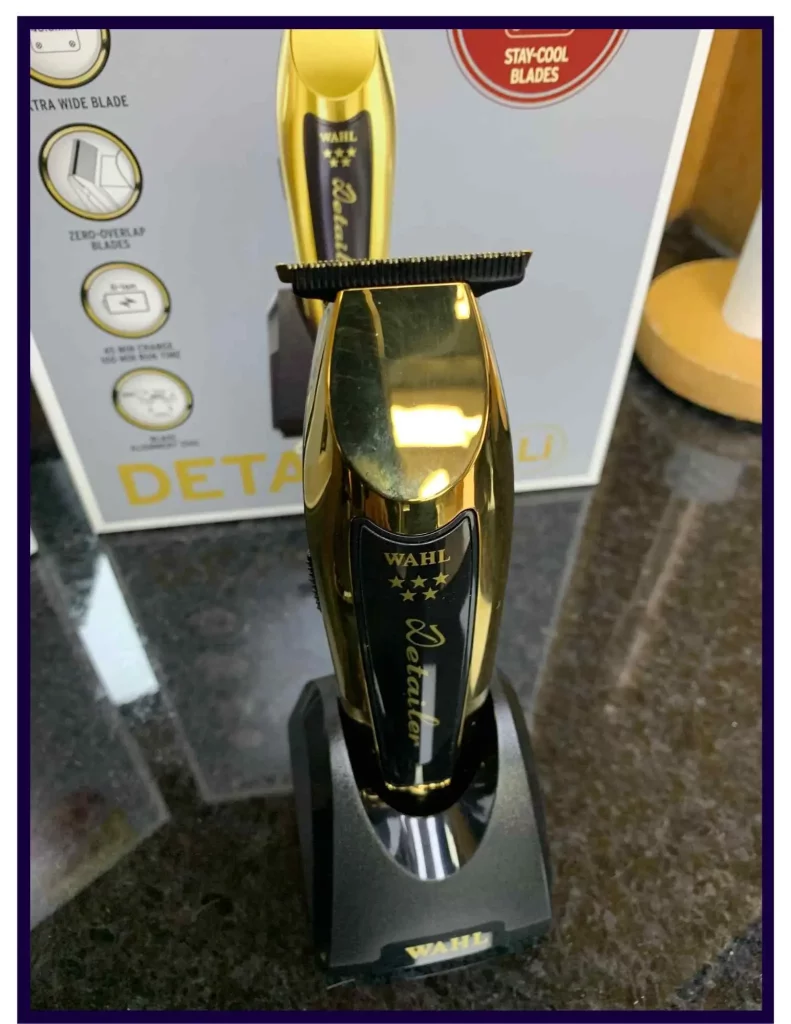 This is a trimmer that combines advanced blades with a full-sized clipper motor to give you the flawless cutting performance.
Whether you are a barber, a stylist, or a grooming enthusiast, you will love the features and benefits of this trimmer.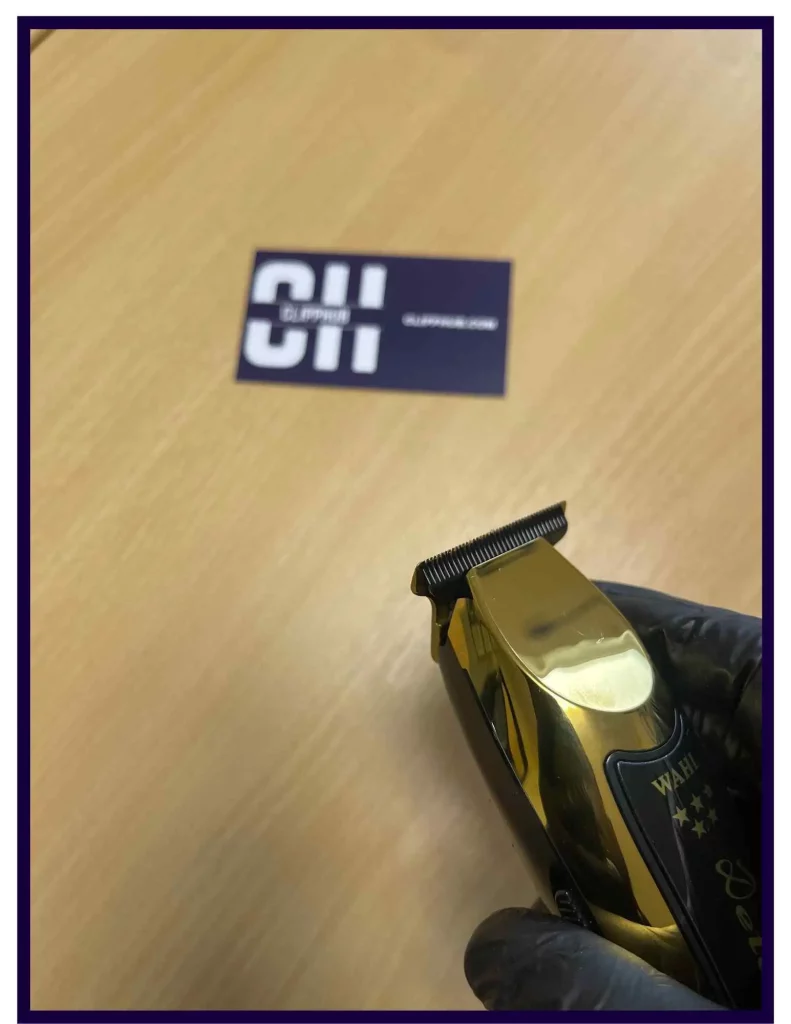 The Wahl Cordless Detailer Li has gold-worthy blades that are made of high-carbon steel with titanium and DLC coatings. These blades are not only stronger and sharper, but also run cooler and more resistant to corrosion.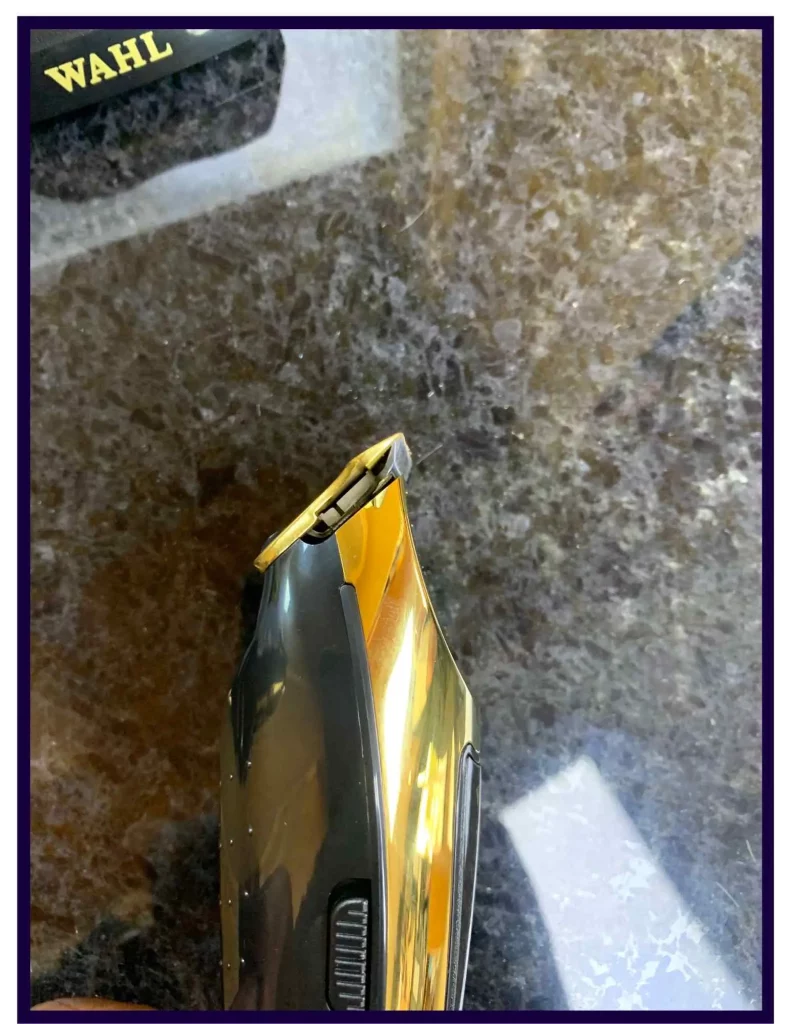 They can slice through any hair type with ease and smoothness. The blades are also extra-wide and T-shaped, which allows you to trim, detail, and outline with more accuracy and versatility.And unlike the stainless steel blades on the classic detaiiler they dont't catch skin like before.
The Wahl Cordless Detailer Li has a premium lithium-ion battery that provides up to 100 minutes of wireless run time on a full charge.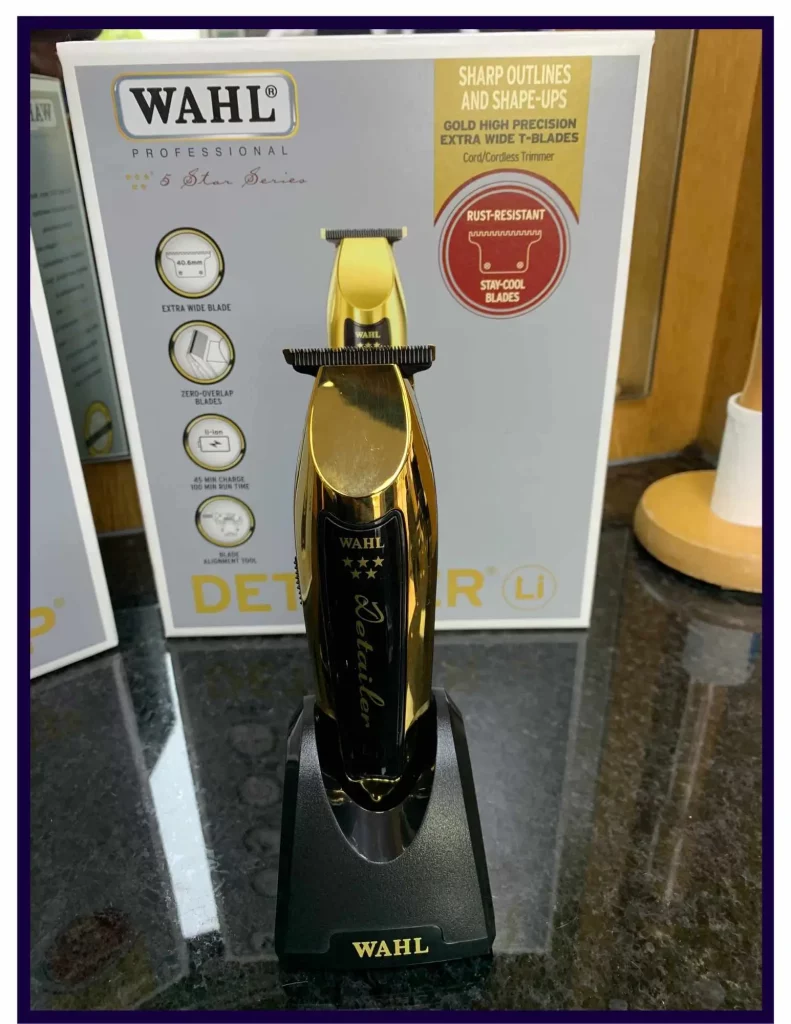 The trimmer also has a smart LED indicator that shows you the battery level and charging status and it comes with a matching gold and black charge stand that is stylish and space-saving.
Honestly this trimmer is an all round upgrade on the regular detailer and show-stopper that will wow your clients and colleagues with its performance and design. It also comes with three trimming guides, a pro-set tool, oil, cleaning brush, and other accessories.
What I would say it that the gold is quite reflective and if you all about output, it may become annoying on sunny days why light reflects of the case. But apart from that rare occasion, there's not much i can fault about these trimmer.
And… even if you don't like the gold shine, you can simply pick up the black version from below.
---
---
If you are looking for the best premium zero gapped trimmer, then the Wahl Cordless Detailer Li is the one for you. It has everything you need to create sharp and clean lines with confidence and comfort. It's the ultimate choice for wahl fans who want to upgrade their trimming game.
"I've finally found one!!! I travel often and need a shaver/trimmer that is cordless because of different voltage in countries. I can take this with me on a full charge and it will last me for two weeks. I will last longer but that's the longest I've tested it. It's cuts very close, the closest for a cordless I've found. It also comes with a zero gap adjustable in the box…. PERFECT!!!"

review
Best Zero Gap Trimmer On Power
Gamma went all out with this trimmer and that's not an exaggeration.
If you're after pure cutting power, look into these.
The GAMMA+ X-Evo Trimmer is their latest high-performance liner with a low-noise and very powerful low-vibration magnetic motor that runs at 10,000 RPM out of the box.
Yup… 10,000, you read it right.
In terms of speed/power, it's truly in a class of its own.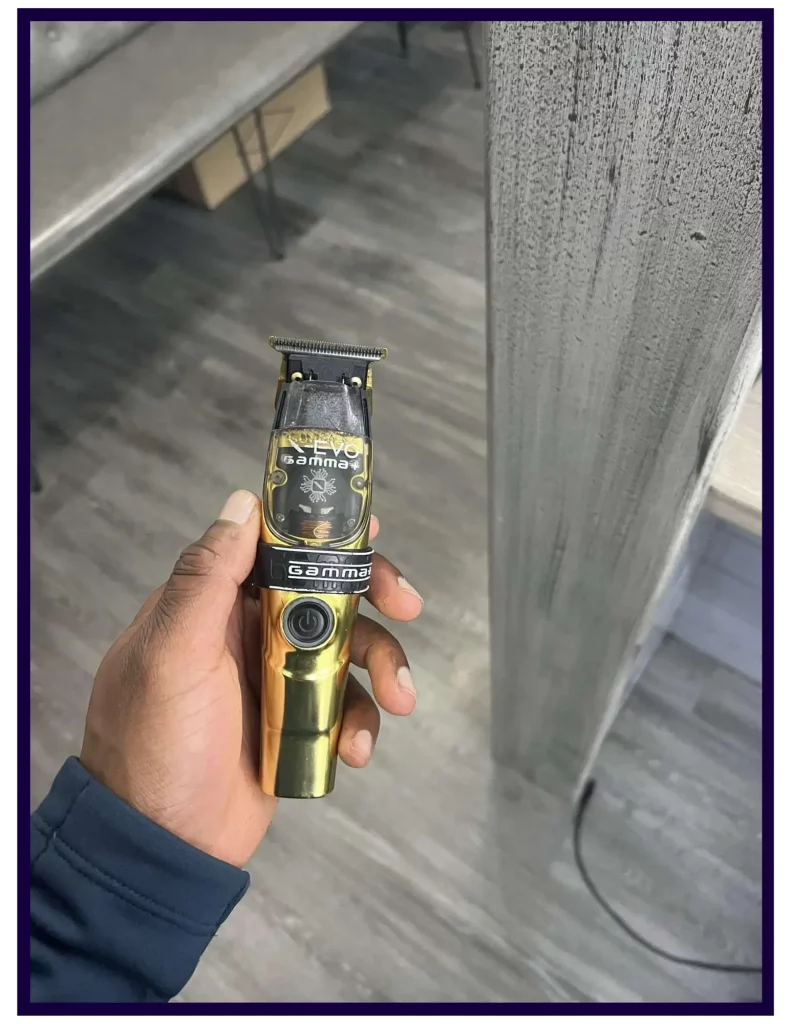 And just because the blades move fast, doesn't mean they run themselves into the ground, as gamma guarantees over 5,000 hours of motor life from the very first use of these trimmers.
I can vouch for that, I've constantly used these trimmers and they're still going strong!
With that powerful motor comes blades which do their part too!
This liner comes with a double black diamond carbon ultimate 2.0 blade and a deep tooth This type of blade has narrower teeth meaning it cuts hair right on contact, making it ideal for high precision and fine detail work.
The blades are close and sharp as they are, but if you want to take the close cutting performance up a level you can even zero them further.
(Again I don't think it's needed but the choice is still yours)
The trimmer comes in 3 skin options so you can style it how you please and with up to 2 hours of cordless runtime, you can rest assured knowing you'll be getting long-lasting performance from your trimmers.
Oh, and do you hate removing your blades to in a and aroud your motor?
Well, you won't have to worry about going through that whole tedious process as this trimmer has an easy flick-on, flick-motor lid that instantly gives access to the internals, so you can maintain your trimmers without the hassle of removing any blades.
All around, it's a high quality and great professional grade liner but I put enthesis on "professional" as due to the sheer power of these liners.
If you don't have a intricate touch or the grip to control your liners, these may not be for you as they can get quite buzzy in hand.
So if you are purely a beginner, it may be difficult to control at first but you can certainly adapt, but if you're a professional looking to take your line game to new heights with plenty of power to boot… grab these and see if you can tame them 🙂
If you are looking for the best zero gapped trimmer on power, then the Gamma x evo is the one for you. It has everything you need to create sharp and clean lines with confidence and comfort. It's the ultimate choice for Gamma fans who want to upgrade their trimming game.
"These things are some real hitters for sure. Hitting hard straight out the box!!! Great for those crispy line ups. "

review
Best Zero Gap Trimmer For Beginnners
It's basically the opposite if the X-evp and comes from a brand on the rise.
JRL itself isn't as well known as your Wahl's or Andis but it's produced a rather sweet zero-gapped trimmer that you might be interested in.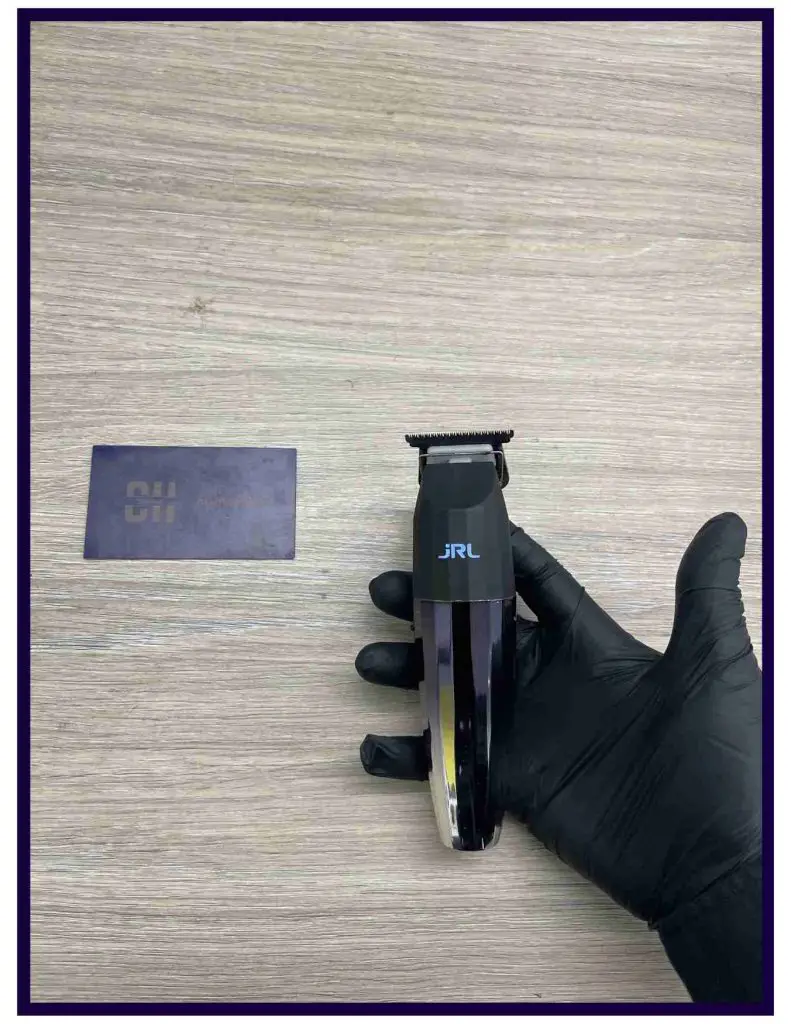 Let's start off with the blades themselves. 
These trimmers come with stainless steel blades and they are certainly corrosion proof. 
This type of blade stays sharper longer than traditional blades and can cut through any hair type with ease. 
The blades are also 360° exposed, allowing you to create precise lines and details with maximum control and speaking of lines it produces… 
This trimmer is an elite trimer when it comes to lining up. 
It's ideal for lining hair, dry shaving, or creating detailed fades and clean edges. It can also be used for trimming beards, mustaches, eyebrows, and body hair. 
That's all thanks to that zero-gapped close-cutting ability. 
And you'll also enjoy the fact that these blades stay rather cool as you use them. 
Thanks to the trimmer running slower on average and having cool blade technology, It means that as you use this clipper you won't ever experience any hot blades whatsoever. 
This means that you can trim your hair without feeling any discomfort or irritation from the heat. 
The cool blade also prevents bacteria growth and skin infections, making it more hygienic and safe to use – neat but you should be cleaning your trimmer anyway. 
Don't look past the motor either, this trimmer has a super motor that provides you with plenty of cutting power. 
What's even better is this trimmer only clocks in a low  60dB of noise, creating a peaceful and pleasant working experience overall!
In terms of battery life, you can enjoy two hours of cordless run time and you also have an LED display that shows the battery level and charging status, so you can always know when to recharge it
Allround is a great zero-gap trimmer that runs slowly so you can have better all-around control! 
"Excellent Trimmers. Use all the time for all kinds of work on beards and fades. Very powerful Trimmer…  "

review
Buyers Guide
What are the key factors to consider when buying zero-gapped trimmers? We'll explore them in this section.
Kinds of the trimmer/line-up clipper:
Corded and cordless.
Corded clippers have a steady power source but need a power socket. The cord can sometimes get in the way but as long as it's long enough you can still have consistent power and flexibility.
On the other hand, cordless clippers are more convenient but have limited battery life. Some cordless clippers let you charge them while using them.
Blade Quality:
Cutting Length: The quality of the cutting blade is vital for the accuracy of the cut. Stainless steel blades are the most common and reliably sharp hair-clipper blades in the market.
Titanium steel blades are more resilient but they are more costly and you can't sharpen them well.
Then there are ceramic blades. These are not as durable or sharp as either titanium or stainless steel blades and they can't be sharpened either, but they produce less friction and don't overheat much.
The length of the blade is also important to think about. Look for clippers with adjustable blades to achieve different cutting lengths for different hair types.
Motor Power:
The power of the motor determines how fast the cutting blades move which affects the quality of the cut. For professionals, it's crucial to have a powerful motor to reduce cutting time. However, a less powerful motor will do if you're only trimming your hair.
Accessories:
Trimmer/line-up clippers don't need accessories like regular clippers, especially if you only want to use them to finish up haircuts.
However, if you want to use your trimmers for more than that, having accessories like guards can be helpful as it means you can use them in other areas and cut hair close to the skin with control.
Brand Reputation:
Look for reputable brands that are known for making high-quality clippers.
This will ensure you get a reliable product that will last a long time.
More reputable and well-known brands have more money to invest in their product to produce a high-quality item for the market.
Less well-known brands are good, but they tend to copy the larger brand model and use cheaper materials which are not as good as the original designs.
FAQ
How to zero gap trimmer blades
If you don't have zero-gapped trimmers or you want completely zero-gap trimmer blades, then you can check out our guide below on how to zero-gap clipper blades:
Alternatively, you could also check out this video below which also walks you through the process:
Conclusion On The Best Zero Gap Trimmers
I'm this article, we covered the best zero-gapped trimmers. 
You learned how to pick a good zero gap trimmer and you know how to put it to best use.
So.. now you know the zero-gapped trimmers in the game why not grab one from below?