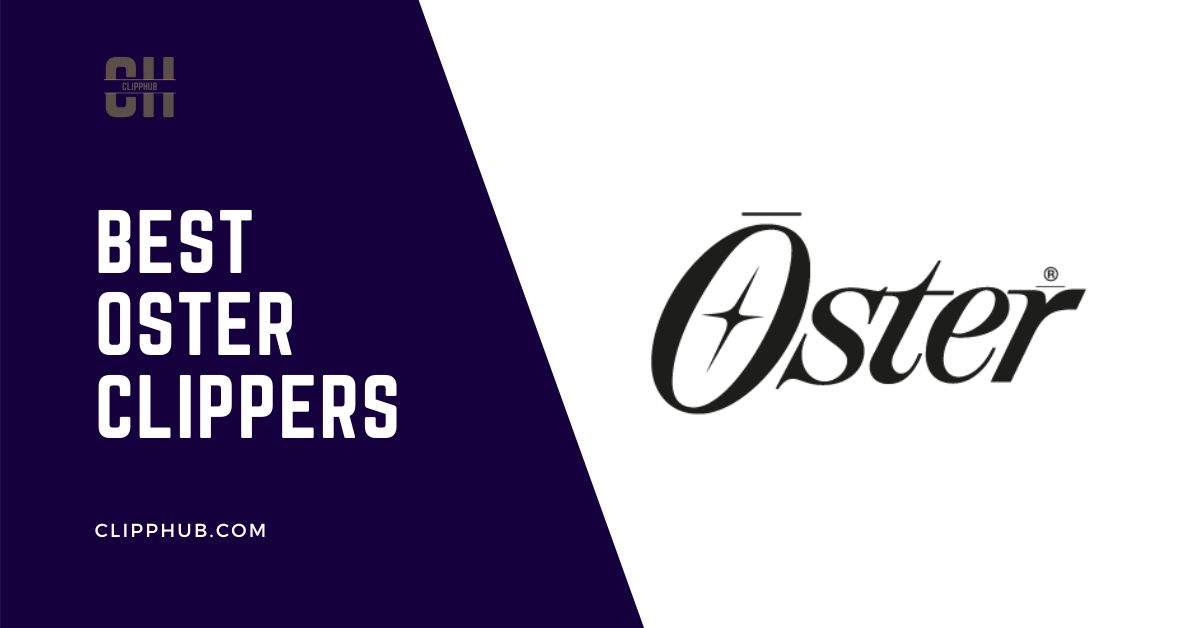 A clipper that performs when you need it most is important when picking a clipper from Oster's vast arsenal of cutting tools. 
Choosing the wrong one, and creating professional cuts becomes a difficult and time-consuming operation.
You'll be left feeling frustrated by Clippers' inability to cut just the way you want, and before long you may not pick that clipper up again.
Choose the right one, and you'll have the ability to produce crisp cuts on demand. 
But only the best Oster Clippers allow this. 
Want the best Oster can provide?
They're below. Take a look.
Best Oster Clippers
Best Oster Clippers
Looking to get the best product from one of the biggest brands in the market… But still not sure which clipper is best built to produce the cut or give you the experience you need.  
That's understandable.
Not many do.. and not many care. 
Some clipper owners grab the first Oster product they see and put up with their performance because it's Oster… All their products are great, right? 
You see… 
Amongst all the clippers Oster produces..only a few can be deemed elite. Whether it's their cutting experience, what they provide, or just how they function. 
They stand alone. And they unlock your true cutting ability. 
There's a reason the best barbers are able to create the best-looking cuts using this brand… 
It's not steady crazy amounts of experience, luck, or skill. 
They simply use the best clipper a brand has to provide. 
They use a specific set of factors that guarantee they have the clipper that best suits them – one that cuts like a dream, leaving a feeling of sharp and smooth cut every single time. 
What are these factors? 
Well, it depends on what you're looking for…
Some of us want a lever-blessed, cordless clipper that creates seamless blends. 
Others want a powerhouse corded clipper that cuts through everything, slicing through the hair like butter. And some just want a detachable blade clipper that we can keep for years. 
Regardless of what you're looking for, the most IMPORTANT thing is the hair clipper you select for the job. 
Here at ClippHub, we've handpicked a range of Oster clippers – along with detailed (but simple) descriptions of each.
These clippers are the best Oster currently provides and each has its own unique properties.  
Need more info on these? Take a look below.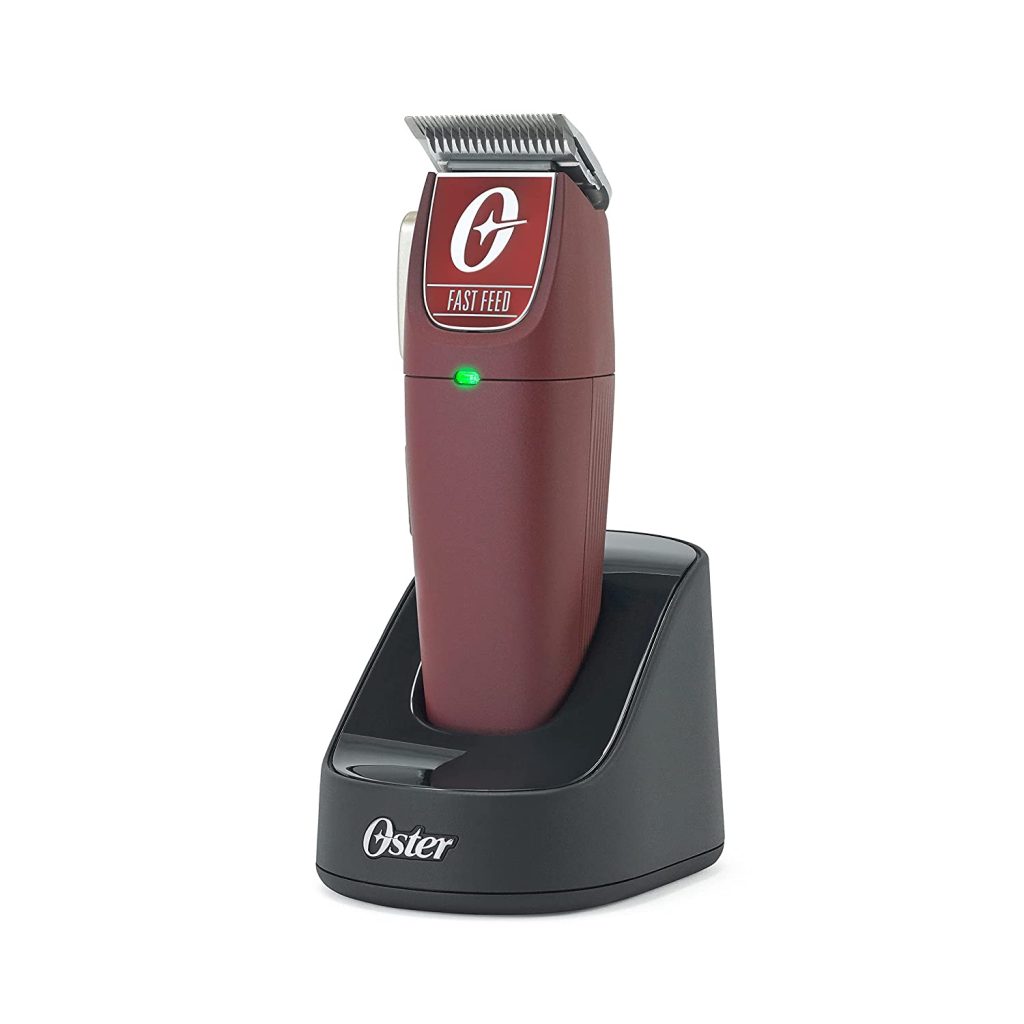 Get Best Price
Professional grade Clippers
High precision, flexibility, and durability
Best Oster Clippers For Fades
We loved the Corded Oster fast feed for its continuity in creating seamless blends. Well..  the cordless fast feeds are just that and more… 
The Oster Professional Cordless Fast Feed Clippers feature the same performance you know and love from the iconic Oster Fast Feed with a long-lasting lithium-ion battery for cordless use. 
The ergonomic design is perfect for professionals who need to use it all day. It keeps the Oster exclusive build that fits your hand and offers easy maneuverability. 
But did you know you can also use this clipper cordless if you wish?
You can use it with the 8-foot cord while plugged in, or go cordless (If you like a corded clipper, then the choice is yours).
If you do go cordless you'll still get a good amount of juice. 
The long-lasting lithium-ion battery provides extra-long battery life, with over 90 minutes of run time. 
In honesty, that's not great if you are a barber and looking to solely use these clippers all day long but if they're just an add-on to your collection or you're using them for home use it's more than enough, and remember you still have the cord. 
The clipper comes with a durable, stainless steel blade that adjusts from  #000(0.5mm) to #1 (2mm), and a powerful Quiet pivot motor, which has vector motor properties.
So unlike the previous Oster model, the motor inside this clipper picks up and adapts to what is being cit. 
Adaptive speed control automatically adjusts to maintain power for an even cut when cutting dense hair.
Oster clippers are designed to last longer and cut easily through even the thickest of hair. 
The only thing lacking with these clippers would be the guards which are a little flimsy but if you use the Andis double magnetic guards instead, you can overcome this problem. 
Positive
Cordless, ergonomic design for all-day use with or without the 8-foot cord
Durable, stainless steel blade cuts through even the thickest hair and adjusts from #000 to #1
Long-lasting lithium-ion battery with 120 minutes of run time on a 100-minute charge
Powerful Whisper Quiet pivot motor makes these clippers ideal for cutting and fading all hair types, including thick, thin, tangled, wet, or dry
Adaptive speed control automatically adjusts to maintain power when cutting through dense hair
Includes a charging stand, blade oil, and an adjustable blade
Negatives
Poor set of clipper guards provided
"I love Oster products . I have been cutting hair for over 10 years and these are by far my favorite wireless clippers I've come across. And the delivery was fast ! 10/10 would highly recommend"

Review
This is the cordless maneuverability Oster fans have been crying out for, for a while. 
It's ideal for cutting and fading all hair types and does a good job at cleaning bulk too, it comes with a  charging stand, blade oil, and a black adjustable blade.
Grab the clipper, hold it, turn it on, and listen to the motor rev into action. 
Give it a spin and see what types of cuts you can create, if it's not quite right, simply return it at no cost to you. 
While they're currently at their best price, get the cordless Oster Fast Feeds Today!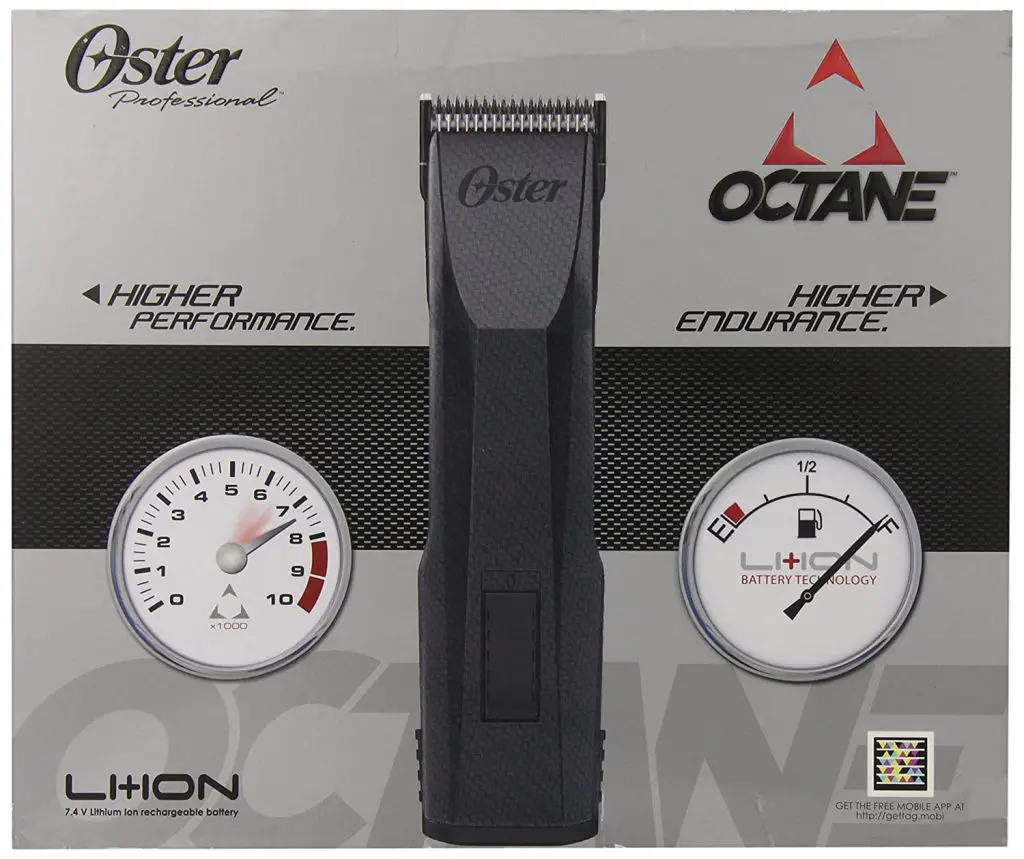 The Oster Professional 76550-00 Octane Cordless Clipper is a high-quality clipper that is designed for professional use(the power the clipper provides is best in the hands of a seasoned vet). 
It is a cordless clipper that is powered by a lithium-ion battery that provides up to two hours of continuous use on a single charge.
The clipper features a powerful rotary motor that delivers up to 9,000 strokes per minute, making it one of the fastest-moving clippers on the market and a great clipper clearing bulk with ease. 
The octane sets itself apart by being the first detachable blade Oster clipper to not drop in power throughout its cordless runtime. 
So you getting 9900 spm without a drop while these clippers are on… And they're cordless. Outstanding. 
This clipper comes with a detachable blade system and is adaptable with blades from the Oster 67 and Titans. 
But the Oster Package itself comes with the #000 and #1 blade. The rest of the blades are sold separately. 
Changing the blades on this clipper just got easier, it's simply push out and pop in, making blade swapping far less stressful.
The clipper is designed with an ergonomic design that makes it comfortable to hold and use for extended periods of time. It also features a lightweight design that makes it easy to maneuver and control.
The ultra-durable break-resistant housing is finished with a clear coat to protect against drops. smudges and fingerprints and the battery indicator light changes from red to green when fully charged. 
An all-around very modern and very well-built clipper.
Positive
Lithium-ion battery technology that provides up to two hours of continuous use on a single charge.
A powerful motor that delivers up to 9,000 strokes per minute.e
A detachable blade system that allows you to quickly and easily change blades.
Compatibility with all Oster A5 detachable blades.e
An ergonomic design that makes it comfortable to hold and use for extended periods of time
A lightweight design that makes it easy to maneuver and control.
Negatives
Limited Set of detachable blades provided
"Hands down, Oster makes the best hair clipper and blades. The blades are very sharp and cuts the hair very easily. You will never have an issue with cutting the hair or the hair jamming the hair clipper or blades. The battery life is extremely good. I would buy this clipper over and over. I would highly recommend this hair clipper to anyone that wants a durable, and long lasting hair clipper instead of a cheap one found in stores that will only last a couple of months."

Review
The Octane is an excellent choice for professional barbers and stylists who want a powerful detachable clipper on their work station. 
It's built to cut like a workhorse with cordless maneuverability and due to it having detachable blades, you also cut with precision every single time you use them… 
What more could you want from a detachable blade clipper? 
So while it's currently at its best price grab the Oster Octane today.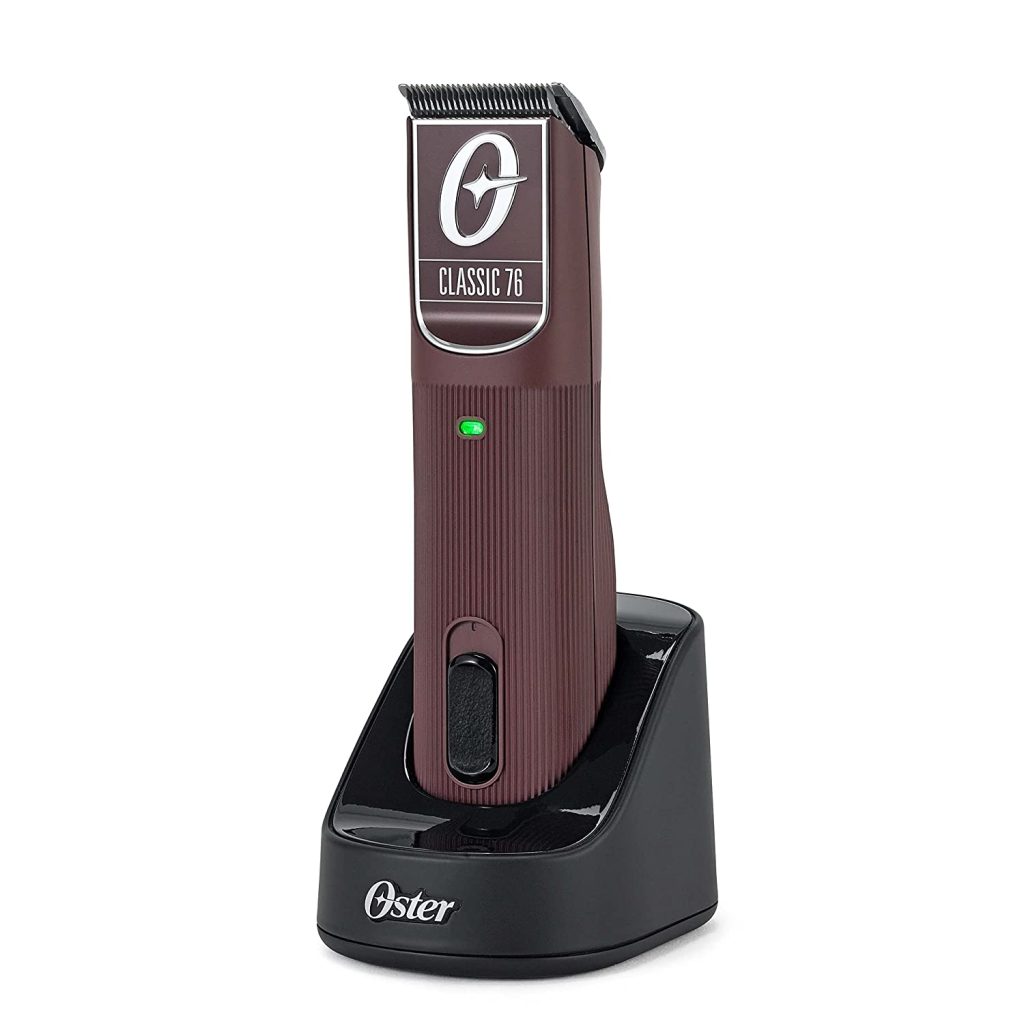 A classic deatachable blade clipper, now with cordless capabilities. 
With the Oster 76 you can cut through or fade bulk hair quickly, evenly, and without having to make multiple passes with the Oster Professional Cordless Classic 76 Hair Clipper.
Built with a powerful brushless motor with a worm gear blade drive system that converts speed into power to cut through all hair types with ease including thick, thin, tangled, wet, or dry hair (no limits with this clipper). 
It's not as powerful as the octane but that's what makes this a great hair clipper for beginners. 
This clipper features a long-lasting lithium-ion battery with 120 minutes of run time, for use with or without the 8-foot cord.
 It's improved ergonomic shape and high-quality, durable design is ideal for busy barbers who need reliable, quality tools that can stand the test of time. 
With a detachable, stainless steel blade and adaptive speed control, the Cordless Classic 76 hair clipper is designed to give barbers a tool that can be used all day. 
While you may have to get used to the shape especially if you are new to this range of Oster clippers, you'll come to love these timeless classics once you the hang of them.
Positive
Cordless design with detachable blades for all-day use, with and without the 8-foot cord
High-quality, durable construction
Powerful, brushless motor with a worm gear blade drive system converts speed into power to cut through bulk hair and fade all hair types
Long-lasting lithium-ion battery for 120-minute run time
Precision ground stainless steel blades are designed to stand the test of time and cut easily through even the thickest hair
Negatives
Awkward shape to begin with
"This is the best of the best and as good as wired and better"

Review
If you're after a detachable blade clipper that you can easily control to help you create seamless fades, grab the 76 and them a spin. 
After a few tests, if you find it's quite it for you, simply return and no cost. 
So cut the cord and power through with the Oster Pro Classic 76 Hair Clipper!
Get while at its best current price. 

You simply can't get more heavy-duty than this. 
The Oster Titan heavy-duty clipper is a professional tool that is built to last.
This copper provides exceptional power, performance, and durability making this clipper a necessary tool for every professional. 
Designed for continuous professional use, the OSTER TITAN is built to outlast the competition – I mean.. Just look at it! 
 Its High-performance Pro-power universal motor delivers all the power you need, yet stays quiet and cool while running (as long as you don't have it on for hours on end). 
A detachable blade feature allows you to change the blades quickly and easily as you clip. This Clipper comes with Sizes 000, 1, and 00000 blades and has 10 optional blades available for many different types of cutting. 
Comfortable to handle, easy to operate On/Off switch with a 2-speed control.
You may have to get used to the weight and you may not be as maneuverable at first to begin with but once you get the hang of this clipper, in terms of power there's nothing like it in corded form.
Positive
A powerful, double-speed universal motor for heavy-duty use.
Ultra-durable, break-resistant housing.
Two black color-coated clip-on/off detachable blades in sizes 00000, 000 and 1
Size 000 Blade leaves hair ~1/50″ (0.5 mm) and is great for clipper over comb, very close fades, tops of flattops.
Slow speed for fine hair provides a more precise cut with one pass.
A detachable blade feature allows you to change the blades quickly and easily as you clip.
Negatives
Prone to overheating after hours of use so oiling and maintenance are important
Heavy and maneuverability are limited
"Amazing clipper! Cuts like a hot knife through butter."

Review
If you simply after on an Oster clipper to cut hair all the way down to a 00000 all while having the power to easily slice through all hair types get the Oster Titan today. 
If you are an animal groomer they'll cut the fur to all levels but if you're after a balding clipper they can also be a great match too! 
Get your hands on raw power and shear-cutting might while it's at its best price.
Buyers Guide
If you're looking to purchase the best Oster hair clipper, there are several factors you should consider to ensure you make the right choice. Here's a comprehensive buyer's guide to help you in your decision-making process:
Clipper Type: Oster offers a variety of hair clippers, including professional-grade models and those designed for home use. Determine your specific needs and whether you require a heavy-duty clipper for professional use or a more lightweight option for personal grooming.
Motor Power: Look for a clipper with a powerful motor, as it will provide smoother and faster cutting performance. Oster clippers typically feature a range of motor types, such as pivot or rotary motors, with varying power levels. Consider your hair type and cutting requirements to select the appropriate motor power.
Blade Quality: Oster is renowned for its high-quality blades. Are you going after a lever-based clipper or a detable blade clipper? Deciding on this first will help to tell you the type of clipper you'd be getting. Ensure the clipper you choose comes with sharp, durable blades that are easy to detach and clean. Oster offers various blade sizes, so consider the length and style of haircuts you intend to achieve.
Corded or Cordless: Decide whether you prefer a corded or cordless clipper. Cordless clippers provide greater flexibility and convenience, allowing you to move around without restrictions. However, they require battery charging, so ensure the battery life is sufficient for your needs. Corded clippers provide continuous power but limit your mobility.
Accessories: Check what accessories come with the Oster clipper. Some models may include comb attachments, blade guards, cleaning brushes, lubricating oil, or storage cases. Assess the accessories based on your requirements and convenience.
Ergonomics and Comfort: Consider the clipper's design and ergonomics. Look for a model with a comfortable grip that fits well in your hand, as this will enhance your control and reduce fatigue during prolonged use. Also, check for features such as anti-slip handles or ergonomic shapes.
Oster Cordless Fast feed review 
FAQ
What sets Oster clippers apart from other brands?
Oster clippers are renowned for their powerful motors, durable construction, and precision cutting blades, making them a preferred choice for professionals and individuals seeking exceptional grooming results.
Can Oster clippers be used for both personal and professional grooming?
Absolutely! Oster clippers are designed to meet the needs of both professional barbers and individuals at home. They offer versatility, performance, and reliability for various grooming tasks.
How should I maintain and clean my Oster clippers?
To maintain your Oster clippers, regularly clean the blades, remove hair residue, and apply lubricant as instructed. This ensures optimal performance and prolongs the clippers' lifespan.
Conclusion
In this article, we went over the latest and best OSTER hair clipper, these clippers are top of the line and exactly what you need to take overall hair cutting to new levels. 
If this is your favorite clipper brand be sure to pick up one of their best products from below. 

The Oster Cordless Fast Feed is an adjustable blade hair clipper that features automatic adaptive speed control. It's fitted with a blade coated in Black Diamox which resists corrosion for long-lasting sharpness

Oster Octane

Best detachable blade clipper
The Oster Octane is a cordless hair clipper that uses a Lithium ION rechargeable battery for longer cutting time between charges. It has a high-powered rotary motor and a break-resistant shell. 

The Oster Cordless Classic 76 Clipper is a heavy-duty detachable blade clipper that cuts with the same performance as the Heritage Classic 76, now without the cord.