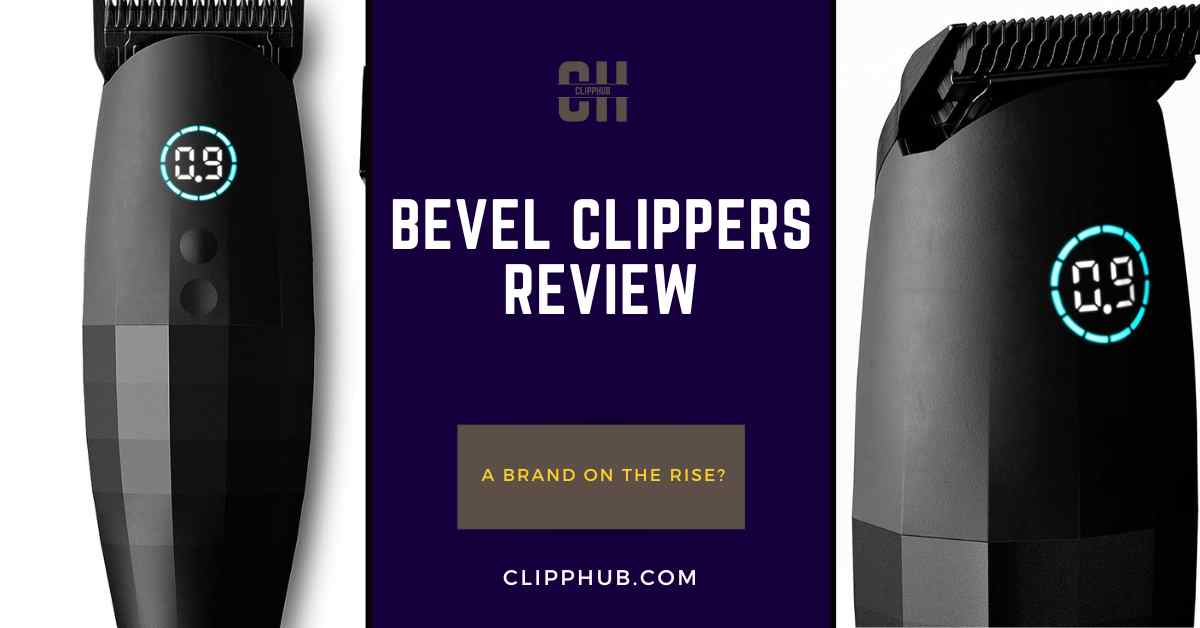 If you've been wondering whether you should buy the Bevel Clippers or not, this is the perfect place for you to be.
It has gained massive popularity in recent years and today, we're going to explore the reasons why this may be the case.
This we'll be a bevel clippers review, we'll go over the key features of this clippers, what makes it great and what you should be aware of.
So with that said, let's get started…
Bevel Clippers Review
Before we get into it's best to know about the compaany and what they aim for with their products.
What Are the Bevel Clippers?
Bevel is a company that specializes in creating grooming products that are specially designed for people of color. 
Their clippers are generally high-quality and provide smooth cuts. However today, I'll specifically be reviewing their Bevel clippers.
So, here's an overview on the product.
---
---
Bevel Clippers Review
Let's start by talking about one of its standout features – its adjustable blade.
 It makes it very easy to control how precise you are when cutting hair as it can be moved from 1mm to 4mm. 
All you have to do is take the blade off and adjust it with your thumb inside to get the desired blade sharpness you want. 
No screwdriver is required to do this, which makes it stand out among other trimmers as most will require at least some kind of tool to adjust the blade. 
The blade is made from high-quality stainless steel too, which of course ensures it'll stay sharp and durable over time.
Its build is one of its strongest features. It's a modern design that is soft to the touch with 360° non-slip handling giving you superior control. 
It has clearly been designed with ergonomics in mind as its weight is evenly distributed to ensure your hands are comfortable even when using for hours at a time. 
Not to mention that it is a cordless clipper which makes it incredibly portable and easier to maneuver.
Overall, The Bevel Clippers are an impressive choice for anyone looking for professional-quality clippers that can be used in or out of the home. They're a solid investment and sure to last many years.
Features of Bevel Clippers
Now that we've looked at the Bevel Clippers in a nutshell, in this section, we will discuss its various features…
Design and Build
Made with high-quality materials featuring a custom-faceted body, it's to no surprise how nice these clippers feel in the hands.
It also runs cooler than most clippers so that you're able to cut comfortably at your own pace. It also features an LED light that lights up when charging it.
The build is one of its strong suits for sure.
Performance
These clippers deliver when it comes to power. Whilst sometimes extra force needs to be applied when using them, they do provide a sharp cut. 
With the adjustable blades too, being able to adjust the sharpness of your cuts helps to maintain the clippers better.
Ease of Use
Bevel Clippers are easy to use, even for beginners. 
The clippers are lightweight and the fact that it's cordless makes them far more convenient to use.
Just make sure you have a plug socket near you, however, so you can charge it when needed. 
Battery Life
The Bevel Clippers have a very long battery life, which makes them ideal for use in busy barbershops or at home. 
The battery boasts up to 8 hours on a single charge, which is more than enough time to complete several haircuts. 
The clippers also come with a charging dock, which makes it much easier to keep them charged and ready to use.
Accessories
Bevel Clippers offers a wide range of handy accessories to enhance your grooming experience.
These include blade attachments for versatile styling, a convenient cleaning brush to maintain cleanliness, and a charging dock for hassle-free power management.
In conclusion, Bevel Clippers stand out as a top-tier choice for those seeking professional-grade hair clippers.
They promote user-friendliness, durability, and the ability to deliver a precise and smooth haircut. With their extended battery life and diverse accessory selection, they prove to be a valuable investment for both barbers and home users alike.
Benefits of Using Bevel Clippers
Let's now look at some of the upsides of using Bevel Clippers:
1. Ideal for Sensitive Skin
Bevel Clippers are crafted with a focus on the unique needs of Black skin. They're expertly engineered to tackle razor bumps and irritation, making them the perfect pick for individuals with sensitive skin.
These clippers harness the power of patented Bevel Blade technology, which cuts hair at a sharper angle, effectively minimizing the chances of ingrown hairs and skin discomfort.
2. Precise Trimming
The Bevel Clipper is equipped with a T-Blade that can be adjusted for a closer or wider cut, depending on the user's preference. It delivers consistent cuts with no issues.
3. Comfortable Grip
As previously mentioned, the Bevel Clippers has an ergonomic design that makes it easy to use for extended periods of time.
It's still easy to grip even if your hands are wet. You can be sure you'll barely experience discomfort when using these clippers.
4. Versatile
With such a powerful motor and because of its higher price point, it's not shocking this clipper can be used to cut beards, mustaches, and of course all hair types.
The Bevel Pro Trimmer and Clipper Combo is an all-in-one device that makes it a convenient tool for users who prefer to do their grooming at home.
5. Durable
Made of very sturdy materials, the Bevel Clippers are sure to last for a long time. Even when used on a day-to-day basis, it can withstand wear and tear easily.
Not to mention its excellent battery life makes it very reliable and able to last for years and years on end.
In summary, if you're in the market for a top-notch, dependable, and adaptable trimming tool, Bevel Clippers should be on your radar.
These clippers are tailored to offer a seamless and comfortable trimming experience, making them particularly suitable for those with sensitive skin.
Thanks to their robust construction, Bevel Clippers are an essential addition to the grooming arsenal of anyone aiming for a polished and well-groomed appearance.
Comparison with Other Brands
Bevel vs Wahl
When it comes to hair clippers, Wahl is one of the most well-known brands in the market. Both Bevel and Wahl offer high-quality clippers, but there are some differences between the two.
The Bevel clippers have the advantage of a great design that is great to hold. This may make it a better option for professional barbers looking to use clippers for extended periods of time.
Additionally, Bevel clippers are designed to be quieter than Wahl clippers, which can be a significant factor for people who are sensitive to noise.
On the other hand, Wahl clippers are known for their versatility and durability. They can handle a wide range of hair types as well and can last for years with proper maintenance.
Wahl clippers are also more affordable than Bevel clippers, which is better for people on a budget.
Bevel vs Andis
Andis is another popular brand that offers great hair clippers. Bevel and Andis clippers both have their advantages and disadvantages, depending on your needs.
One of the biggest advantages of Bevel clippers is their precision. As mentioned before, they provide clean, sharp lines and are ideal for people who want a more polished look.
Additionally, Bevel clippers are designed to be gentle on the skin, which can be a significant factor for people with sensitive skin.
On the other hand, Andis clippers are known for their power and speed. They can handle thick, coarse hair with ease and are ideal for people who want a quick, efficient haircut.
Andis clippers are also more affordable than Bevel clippers, which can be a significant factor for people who are on a budget.
Bevel vs Philips
Philips is a renowned brand recognized for its extensive lineup of grooming products, of course including hair clippers.
One of the standout features of Bevel clippers is their design. They boast a sleek and contemporary aesthetic that's not only visually appealing but also user-friendly.
They also prioritize skin sensitivity, as we've mentioned multiple times.
On the flip side, Philips clippers are celebrated for their versatility and convenience. They include a wide array of grooming blades, beard trimmers, and even blades for body grooming, offering an all-in-one solution.
Additionally, Philips clippers are generally more budget-friendly compared to Bevel.
User Reviews
Bevel Clippers have received many positive reviews from users. Here is a summary of what people said about the Bevel Clippers:
Battery life: These clippers have been praised a lot for their battery life. People have found the clippers last for a long time on a single charge.
Ease of use: People have noted that the clippers are lightweight and comfortable to hold, which makes them easy to maneuver around both the head and face.

Versatility: The Bevel clippers have also been praised for their versatility. Be sure that these clippers can cut through anything you wish to cut with little to no issues.

Precision: Reviews have also noted that the Bevel clippers are precise. "They'll cut clean lines every time," one reviewer said.

Durability: Lastly, it's worth noting that Bevel clippers have earned a lot of praise for their durability. People have consistently mentioned that these clippers are solidly constructed and can handle regular usage without experiencing malfunctions.

In a nutshell, Bevel clippers have garnered a reputation among people as a dependable and efficient tool for hair and beard grooming.
Whilst some have complained about how loud these clippers can get, this is overshadowed by the numerous advantages that Bevel clippers bring to the table in my opinion.
Price and Value
The Bevel clippers are a premium product, and as such, they come with a higher price tag than some other clippers on the market. However, many other users believe that the price is justified by the quality.
The Bevel Cordless Professional Grade Hair and Beard Trimmer has a current retail price of $199.95. This may seem overpriced for some but with a higher price point, these clippers boast extra benefits that make it worth it.
If you're looking for professional-standard technology, excellent battery life, and easily adjustable trimmers, this would be a good investment for you.
Furthermore, there's the Bevel Pro Trimmer and Clipper Combo, a two-in-one device that offers both trimming and clipping capabilities in a single package.
At first glance, the retail price of $329.95 might seem a bit steep, but it's essential to understand that this combo is specifically crafted to deliver users a professional-grade grooming experience right in the comfort of their own homes.
In the grand scheme of things, Bevel clippers might come with a higher price tag compared to some other choices available in the market.
However, numerous customers firmly believe that the quality and performance of these products more than justify the investment.
Final Verdict – Bevel Clippers Review
This has been a Bevel Clippers Review.
The Bevel Pro Trimmer stands out as an excellent choice for those seeking a top-notch clipper and trimmer bundled into one package.
Its sleek design, robust motor, and extended battery life position it as a strong contender in the market.
One of its notable features is its versatility; it effortlessly handles both haircuts and beard trims, making it an appealing option for anyone keen on DIY grooming.
Its precision blades also make it a solid choice in professional settings.
The Bevel Pro comes with several user-friendly features, including a cordless design and intuitive controls. Its impressive battery life means you can count on multiple uses before it requires a recharge.
All in all, the Bevel Clipper proves to be a smart investment for those seeking a dependable clipper and trimmer.
Its top-notch build, powerful motor, and satisfying design make it a top pick, whether you're handling your grooming at home or in a professional setting.
If you found this Bevel Clippers Review helpful, please check out other articles below.