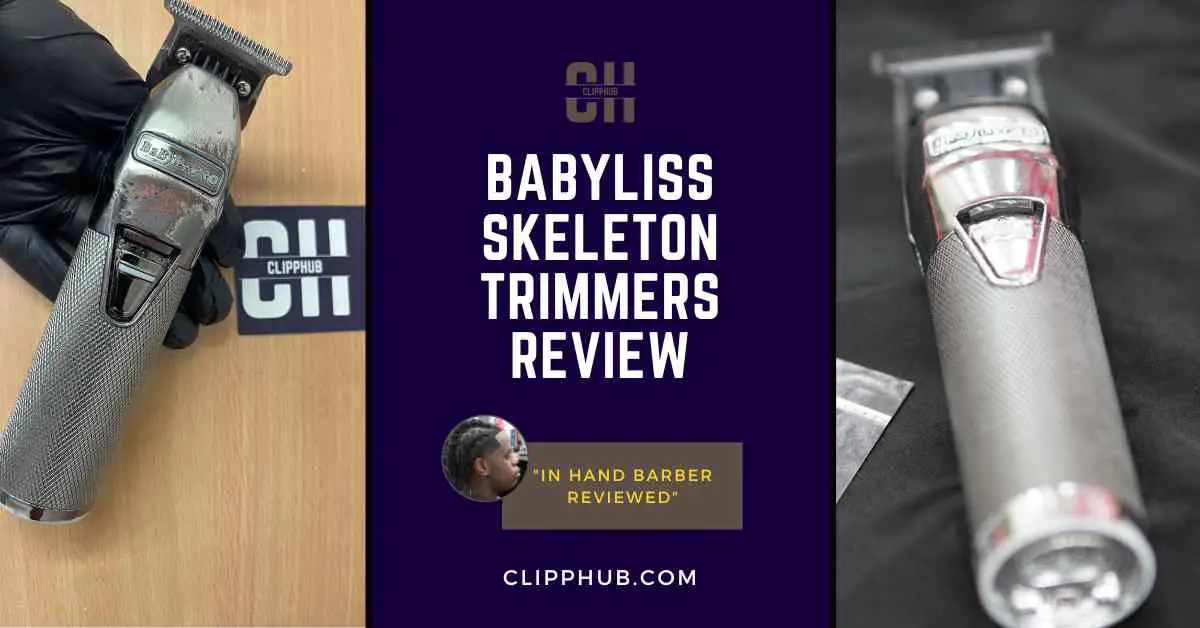 So you're looking for an original Babyliss Skeleton review? 
Well, you are in the right place for answers. 
Today I'm going to review the BaByliss Skeleton Trimmer. A trimmer that allowed me to create lines like this:
We'll assess the trimmer as a whole and come to an overall conclusion. 
So with that said, let's get into it.
Babyliss Pro Skeleton Trimmer Review
Today, I'll be reviewing the Babybliss Pro Skeleton Trimmers which is definitely one of the most popular trimmers on the market to date. 
Firstly, I'd like to say how impressed I was with this. It has precisely engineered Japanese steel T- blades and a high-torque brushless motor. 
Now, that's a lot of talk but how do these translate into real-life usage?
It performs amazingly. There were many other colors I could have gotten it in from silver, gold, black, and rose gold, however, I went for silver.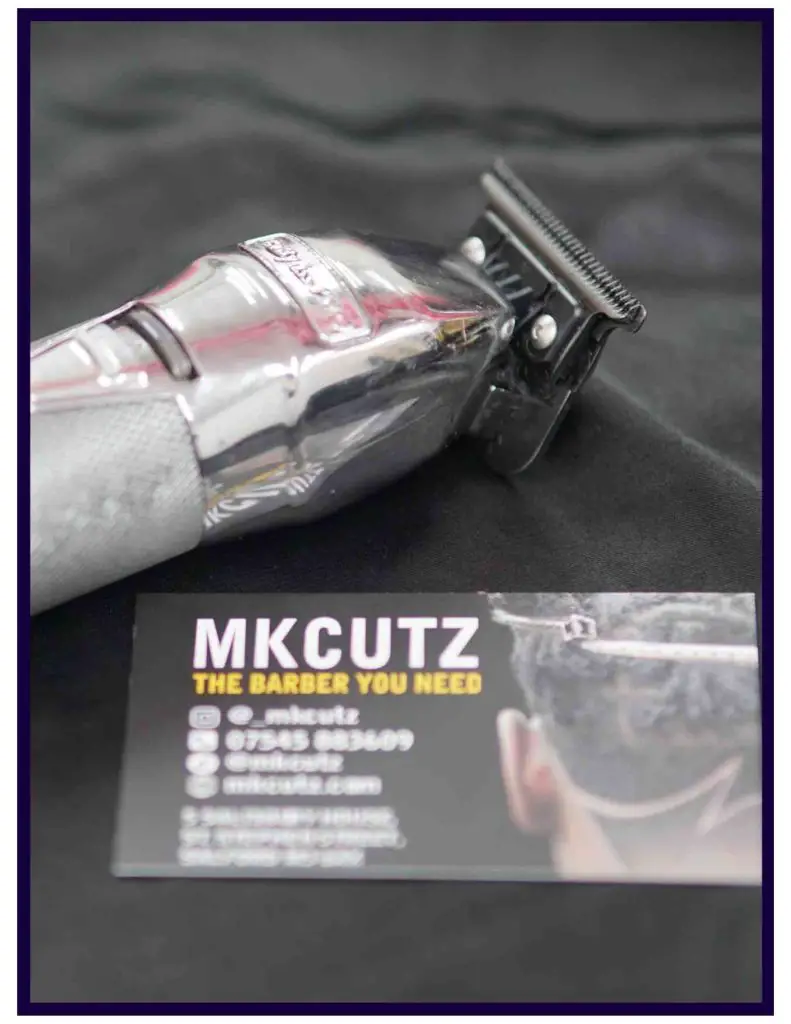 ---
---
It has a fully metal build which makes it very nice and comfortable to hold.
As mentioned previously, it uses a brushless motor which is incredibly powerful and efficient at cutting even the thickest hair types.
It can be adjusted without even being taken out, all you have to do is use the small screwdriver included with it to adjust the blade to your liking.
This makes it so much easier to use, especially for beginners as it can be adjusted by merely twisting the screws on the blade.
I don't know whether you're a professional or someone who just cuts hair at home but either way, I think you should definitely consider buying this trimmer. 
In this review, I'm going to dive deeper into this amazing trimmer's features, performance, and overall value. Now let's get into an overall review
BaByliss Fx Trimmer
---
Babyliss Pro Skeleton Trimmer Review
This trimmer is so highly praised it's crazy. I initially heard people mentioning how sharp and precise it is which drew me to buy and review them. And wow were they right…
I saw so many reviews that said stuff like "These are the best trimmers I've ever used" and how they would "highly recommend" these trimmers for barbers. 
However, this kind of review made me a bit skeptical because I barely saw any criticism about it. This made me want to buy it even more to test it out for myself. 
I was shocked at how easily this trimmer could create clean lines and sharp edges with little to no pressure being applied. 
That's why I would highly recommend beginners to buy this if they can afford it because it just makes cutting hair so much less of a hassle, especially if you're not a skilled professional.
I saw one person comment on how the trimmer "doesn't heat up like other trimmers," so I wanted to test that out for myself…
I left it on for around 2 hours straight and by the end of it, barely felt any heat when I touched it. 
This is such a great perk for professional barbers who will be cutting hair for hours at a time and don't look forward to their hands being sweaty by the end of it.
However, the reviews on Amazon that I saw weren't all sunshine and rainbows. I saw some people moaning about the battery life of the trimmers. 
People would say things like "the battery doesn't last very long" and that it "dies quickly." 
This could be a major issue for some but for me, I wasn't too fussed about the battery life because I always had a plug socket close to me and most people do so… not really a big deal in my opinion. 
Overall, I can definitely back what most of the positive reviews on the Babyliss Pro skeleton trimmer said. 
Its precise blade is great and it feels extremely good to use in the hands. 
The battery life could be better but I think for the most part, as long as you have a plug socket near you, it's not that big of an issue.
Product Overview
Myself and many others are extremely pleased with this trimmer but let's delve into why this may be the case:
Design and Build
One of the biggest benefits of this trimmer is the design and build in my personal opinion.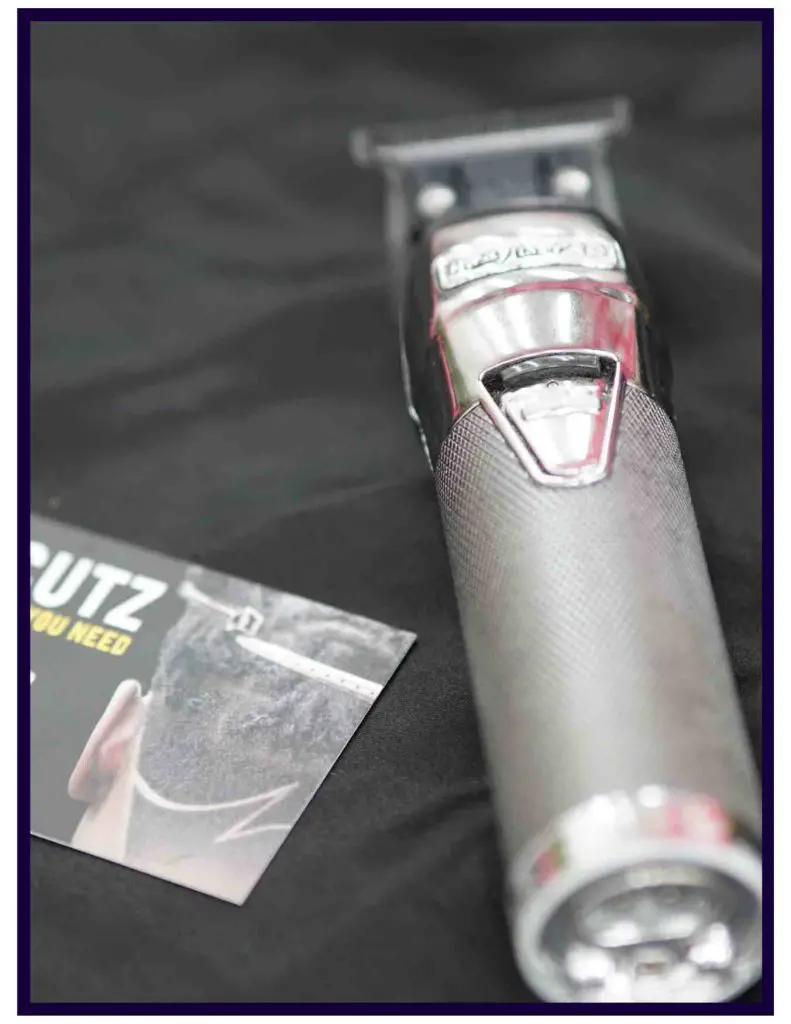 It's sleek and modern but also very durable because of its all-metal design. 
However that doesn't mean it's not sturdy, it's in fact the opposite. It has a knurled barbell grip which makes it very secure to hold even when the trimmer is wet.
Key Features
The Babyliss Pro Skeleton Trimmer has a lot of key features that make it stand out from the other trimmers on the market. Some of these include:
High-torque brushless motor
All-metal housing
Precision-engineered Japanese steel blades
360-degree exposed T-blade
Adjustable and zero-gapped blade
Deep-tooth blade design
The trimmer also has a lithium-ion battery which I've found runs for about 2 hours on a single charge.
It also has a very underrated feature – this quick charge feature which lets you do a 3-minute charge for a single trim. 
This is very helpful when you want to do a quick cut and don't have a spare hour to charge it all the way.
Overall, the Babyliss Pro Skeleton Trimmer is packed with lots of cool features which make it worth the price in my opinion. 
It's a high-quality trimmer that is perfect for professionals to use. Its sleek design, durable construction, and exceptional performance make it an A1 option to buy.
Performance Evaluation
Cutting Efficiency
The Babyliss Pro skeleton trimmer is designed to provide a clean, close cut.
It has a powerful motor that allows for a smooth and effortless trimming experience which ensures that you can achieve a precise cut every time. 
The trimmer also makes it easy to trim around tight corners and hard-to-reach areas.
Battery Life
The battery life is pretty decent overall in my opinion. It performs better than quite a few other trimmers out there however for some it may not be the best in the world. 
The quick charge feature helps a lot with this and it also has an LED light that flashes whenever the battery is low so at least it lets you know when it's ready to be charged.
Ease of Use
Now let's summarise how easy this trimmer is to use. 
First of all, the fact that it's pretty lightweight  helps a lot with its 'ease of use.' 
My hands didn't get tired holding it, even after hours of use which means it would be perfect for professional barbers out there who may have to hold it for hours on end. 
As previously mentioned, the T-blade is one of the most powerful I've ever seen on a trimmer. 
It makes cutting hair such a breeze. Better yet it has excellent cutting efficiency because of its powerful motor.
Overall, I would say the Babybliss Pro skeleton trimmer is definitely one of the easiest trimmers to use, so much so that I would strongly suggest beginners and stay-at-home barbers to invest in one because you don't need to apply much force to cut hair. 
This trimmer is also a strong choice for professional barbers who want to make their job easier because that T-blade makes it so easy to trim around tight corners with basically no problems at all.
Golf fx Trimmer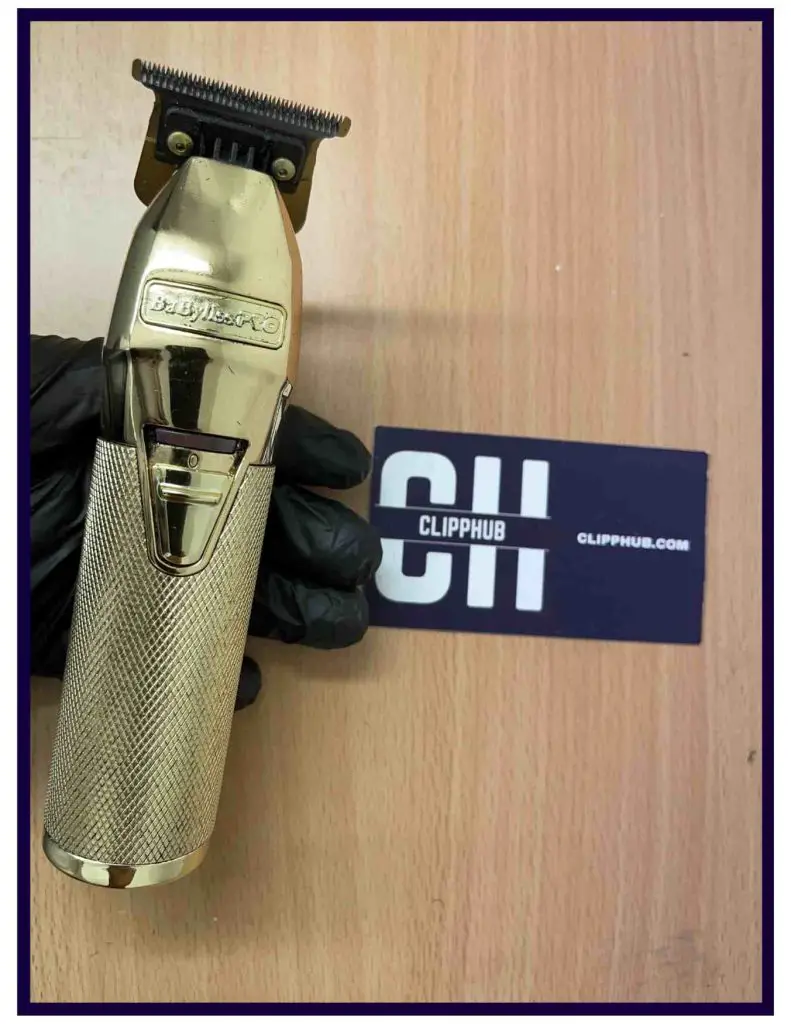 I've had the please of having both the Babyliss skeleton and Babliss gold fx.
As stated in my review on the best babyliss trimmers. I see the gold fx trimmer as the best overall pro trimmer as in it's well balanced.
However, the skeleton is more competively priced and makes a great introduction into the Babyliss barberolgy line.
I do think both a quality and both can work for you depending on your budget.
Conclusion
In this article we went through a simple Babyliss Pro Skeleton Trimmer Review
In conclusion, I'm very impressed with the Babyliss Pro Skeleton Trimmer. 
It has definitely lived up to the hype as it's certainly a top-of-the-line trimmer. With a high-torque brushless engine, it's second to none when it comes to cutting every hair type and density imaginable. 
The adjustable T-blade is one of its most robust features which genuinely makes it stand out from other trimmers and clippers. 
It's durable, comfortable, and an excellent option for all barbers and personal users out there. With a decent battery life too, there's really not much to complain about. I would certainly say you try them out.
FAQ
Is the Babyliss Pro Skeleton Trimmer suitable for all hair types?
Yes, the Babyliss Pro Skeleton Trimmer is versatile and works well with various hair types, from fine to coarse.
How long does the battery last on the Babyliss Pro Skeleton Trimmer?
The trimmer boasts an impressive battery life, offering up to 2 hours of cordless grooming on a single charge.
Is maintenance difficult for this trimmer?
No, maintenance is straightforward. Regularly clean the blades and lubricate them for optimal performance. It's easy to keep in top shape.