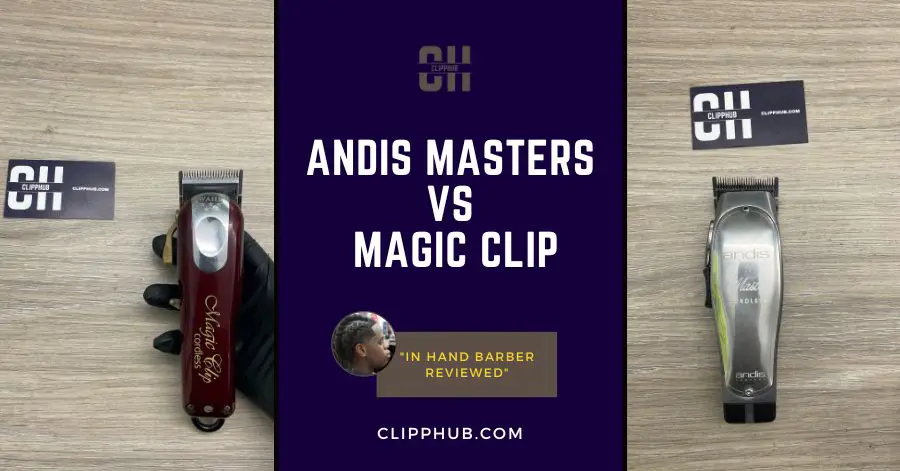 Wahl and Andis – Two powerhouse brands in the Clipper space. 
But how do their best-selling cordless clippers compare against one another?  
In this article, we'll go over the Wahl Magic clip vs the Andis Masters.
We'll look at their strengths, weaknesses and what makes the two clippers different. 
We'll even touch on the newer gold magic clip and see how this clipper compares against the original magic clip and which one is better if you were to opt for a magic clip.
With that said, let's get into it. 
Wahl Magic Clip vs Andis Master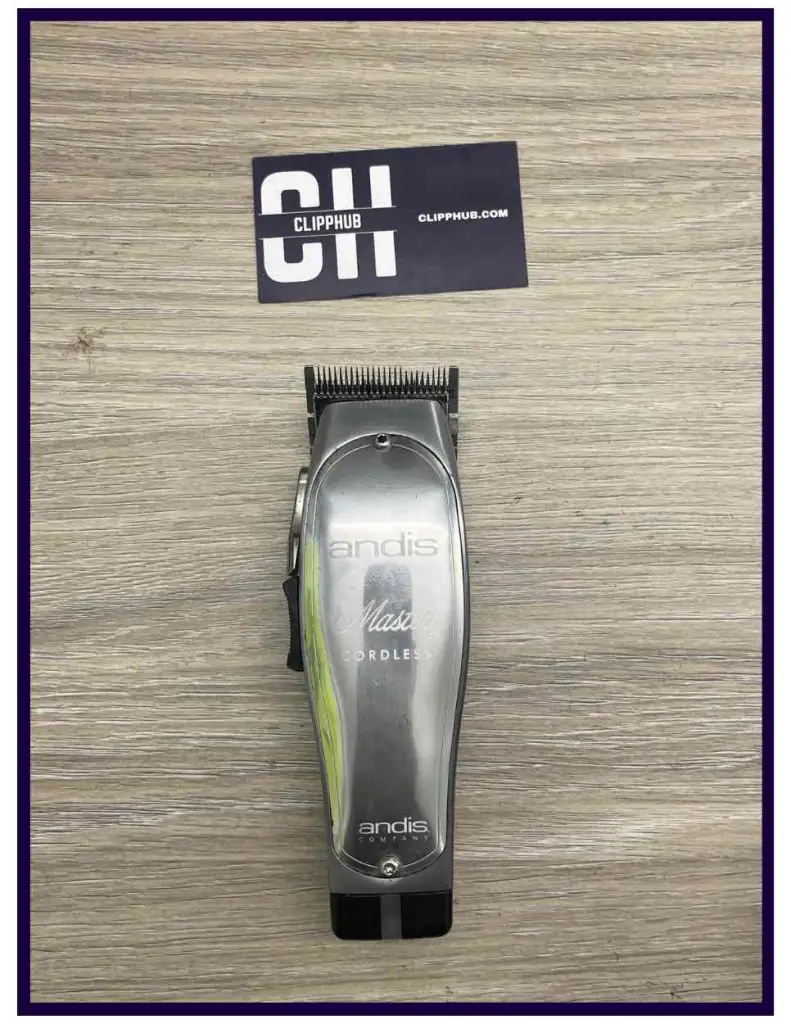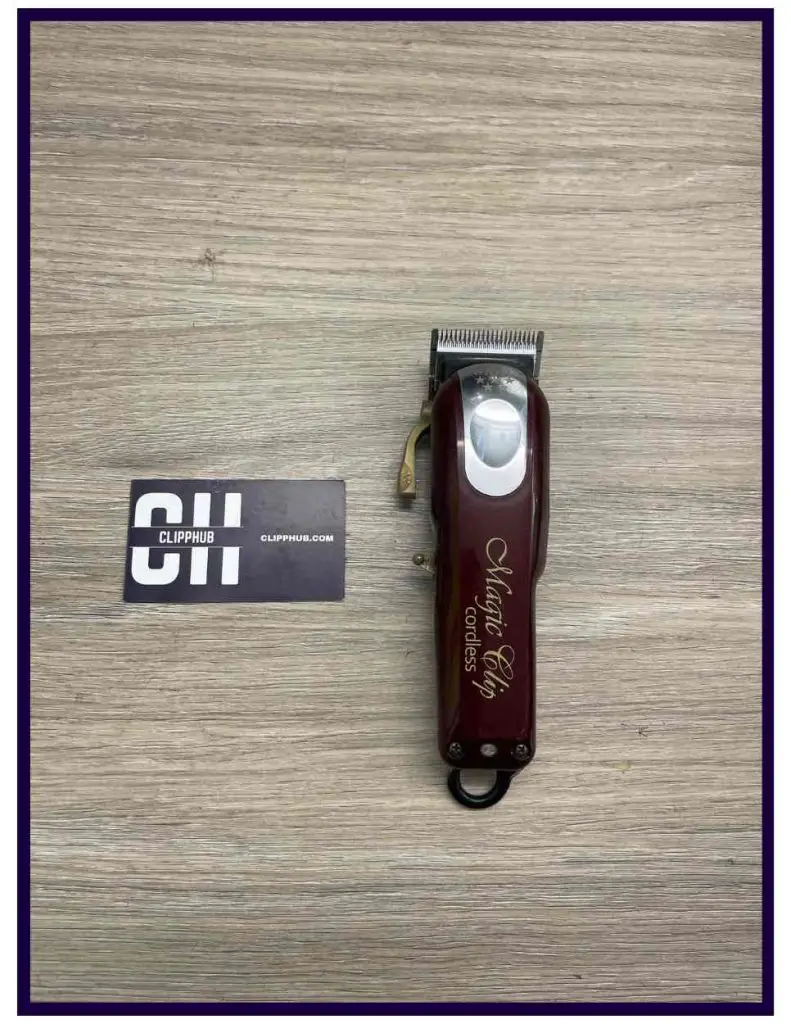 In this article, we'll go over the cordless version of both clippers but… don't forget these clippers have a corded version if that's what you're interested in. 
Both versions of Clippers are great and there isn't that much difference. 
But if I was to swap between both constantly, it would get confusing so overall, we'll focus on the cordless versions for the main comparison as these tend to be a favorite clipper build anyway.  
If you want the corded version of these clippers, you'd be getting more consistent power as you don't have to worry about your battery dying on you. 
These are the overall positives and negatives of the corded clipper. 
Wahl Magic Clip vs Andis Master
Corded Hair Clippers Benefits 
Can be used for long periods without stopping
No need to recharge or replace batteries
Can have multiple speed and length settings
​​NEGATIVES
The cord can get in the way during use
More difficult to use in areas without electricity
Blade replacement is needed when blades become dull​​
Need to be plugged in, which can limit mobility
The Wahl magic clip has a V9000 motor which is the strongest electromagnetic motor offered by Wahl but in Europe, this drops to the  V5000 motor which is less powerful and efficient – so be aware of where you're buying from. 
On the other hand, the corded Andis Master has an electromagnetic motor at 14,000 SPM. 
The two motors have different types and specifications. The Wahl V9000 is an electromagnetic motor that runs at 6,000 SPM (strokes per minute). 
The Andis 14,000 SPM is also an electromagnetic motor and it simply runs at 14,000 SPM.
The Wahl V9000 motor has more torque and can cut through thicker hair with ease, but it also runs louder and vibrates more. 
The Andis 14,000 SPM motor has less torque but can cut faster and smoother, but it also heats up more and requires more maintenance – so also keep that in mind. 
Both have an 8-foot connected charging cable. The corded masters come in at 556g  while the magic clip weighs around 890 g.
The added weight comes from the motor within the clippers. The cordless versions come lighter. 
However, motors in a corded clipper are more durable and tend to last longer than the ones found in cordless clippers. 
Overall, when it comes to the corded versions of these clippers you get consistent power and don't have to worry about charging. 
But, I wouldn't recommend these to beginners or someone new to getting clippers. 
A more powerful clipper is harder to control. On top of this, the weight can be a burden to hands that don't have the strength to hold a clipper for multiple hours if you planning to use them with clients. 
If you can handle the corded beasts then go for it, they'll serve you well.
With corded clippers, more attention is needed on maintenance as blades tend to overheat more due to friction.
It's a lot for a beginner, but if you are more experienced and don't mind the drawbacks, you can get them.
In the rest of this article, we'll go through the more intricate parts of a clipper, such as the blade and build. 
You can apply these metrics to the corded clipper as they are both the same.
Here is the corded version of these clippers that's the type of clippers you prefer.
---
---
The cordless versions are towards the bottom of this article.
But the rest of this comparison will be more in line with the cordless versions do these clippers. 
Andis Masters vs magic clip cordless
Now we'll go over to bother the slightly more technical side of both clippers. 
Here's a quick rundown: 
Wahl Cordless
Physical metrics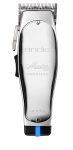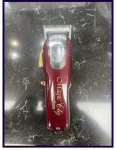 Stainless tooth cutting blade/Fade blade + taper blade 


Stainless Steel Fade blade / Stagertooth blade + crunch blade  


Comparison
Producing 6100 RPM which is a fairly powerful motor, it will cut well and create fades but it isn't great at clearing bulk and just isn't as powerful as the cordless masters. 
However…The magic clip contains that special patented stagger tooth with crunch blade technology.
The unique, staggered tooth blends hair and creates texture while cutting as each hair receives a different cutting stoke from the jagged blades.
Both the original magic clip and the gold magic clip have this cutting but the original is made from stainless steel while the ones on the gold magic clip are made from titanium which runs a lot cooler and lasts longer.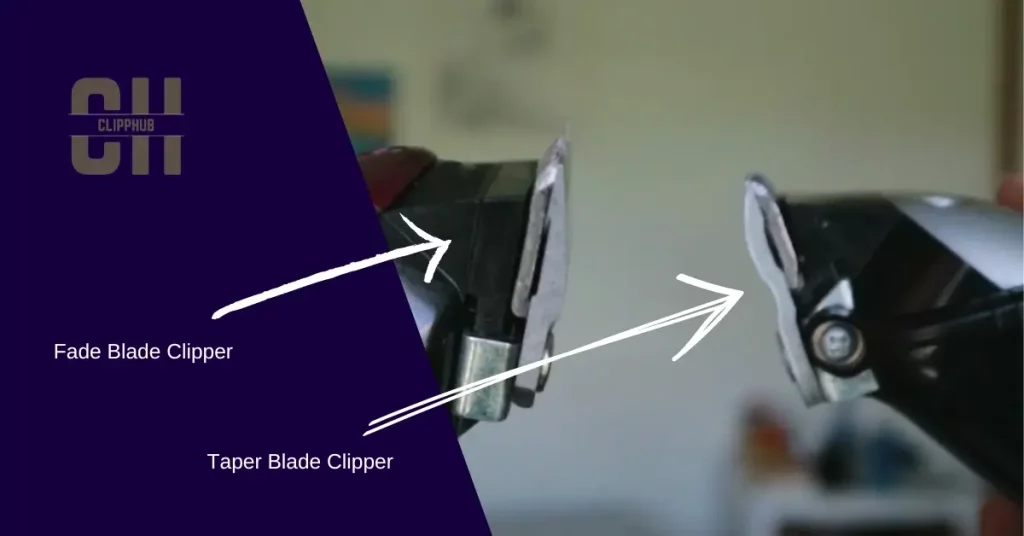 On top of the stagger tooth blade, the magic clip also comes with a thin fade blade that allows you to cut closer than the Andis master's blade- though the Andis Master does have a fade blade of its own. 
That's why this clipper has a tighter cutting range from a 0.3mm cutting length when your lever is closed and a 2.4-3mm cutting length when the lever is open.
When you put a fade blade, stagger tooth blade, and a slower running motor. you get one of the best if not the best clippers for fading at a fair price too.
This is especially the case if you're dealing with shorter or curly hair that varies in length. 
But.. you can use a Tomb 45 echo battery that adds 45% battery on the existing battery of the clipper, so now you get about 150-minute runtime out of your clippers.
---
---
The magic clip comes fairly light, at a weight of 255 grams, they won't be a burden in the hands because they are so light, they are very easy to manoeuvre with.
Overall the Magic clip when it comes to its physical metrics is a clipper that is best fit for beginners to intermediate clipper owners. 
The clipper is light and not too powerful to the point where it buzzes out of the hands and the fade blade + stagger tooth blade combination allows for precision fading and cutting, though getting used to that elite cutting combination and getting it to work for you can take some time. 
ANDIS
The Andis Master is a heavy-duty clipper that runs a whopping 7,200 rpm, which is the same cutting frequency as Wahl's most powerful cordless clipper the 5-star cordless seniors.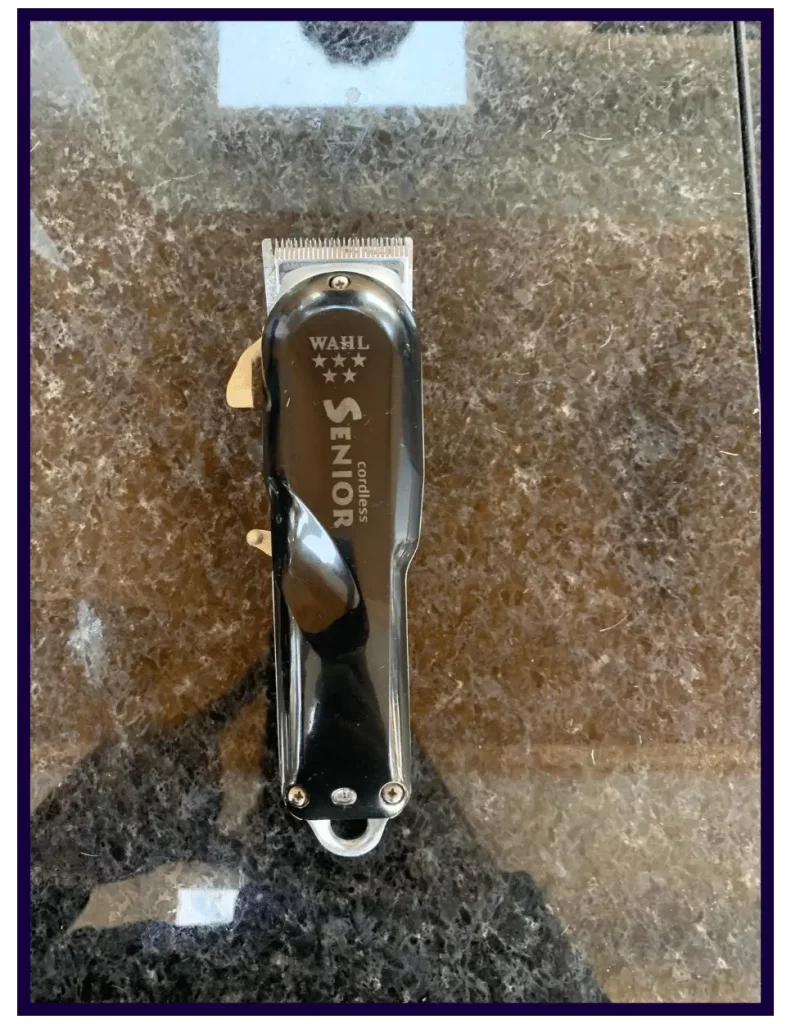 With this type of power, this clipper it's a cordless clipper that easily clears through bulk hair on all hair types. 
But, because of this power, it can be difficult to control and can certainly buzz out of your hand especially if you do not have the experience or skill to control it. 
The Andis Master's blade gives you a cutting range of 0.5-2.4mm which is a good range for cutting a wide range of hair types.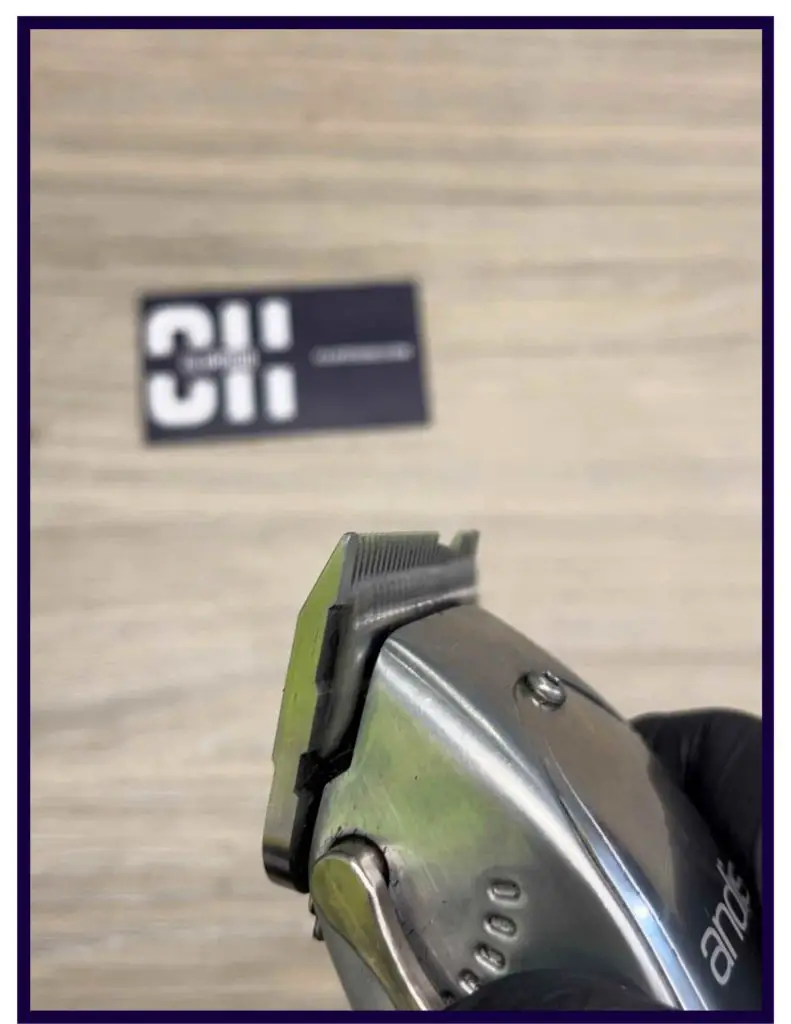 But if you want to get an even closer cut, you can use the fade blade that comes with this clipper which allows you to cut even closer and give you a range of 0.2 mm – 2.1mm. 
And, unlike the floating lever found on the magic clip, the Masters has a click lever that allows you to rest the lever at the level you want and not worry about knocking it out of place, or it moving by itself randomly. 
With the package that comes with the masters, you are not limited by your cutting ability and have the flexibility to work at all hair levels – Though constantly swapping between bot blades can get annoying so just choose one to go with your clippers. 
The blades themselves aren't anything special, they are just standard stainless steel blades that cut well and have rust-resistant properties but there's no special technology, unlike the stagger tooth blade on the magic clip. 
The Master is ideal for anyone who wants a reliable and long-lasting clipper that can handle any hair challenge. 
It can perform any cut, from fades to bulk cuts, with precision and speed, but from its physical metrics, it's best in the hands of someone with experience, especially if you going to use it for detailed work. 
It can be difficult to control at first and you must know your blades to get the hang of swapping between them in order to get the cut you want. 
But if you can work with this clipper, then you get a premium cordless Andis clipper that can cut through anything when needed.
Wahl Magic Clip Vs Andis Masters
Physically metrics are great but how does it feel what will your experience look like? We go over this next. 
In-hand experience: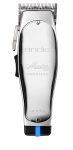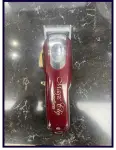 Bulky/ wide
Easy, nice to hold
Tends to heat up fast 
Generally stays Cool
 No guards are included in the package 

From ½ guard to 8 guard

Comparison
The Magic Clip has a vibrant and stylish design that stands out from the crowd. 
It has a red, durable plastic body which while durable can fade over time and it doesn't do too well with drops, so be careful while handling this clipper 
It has that classic clipper built that feels great in hand and provides a thumb rest which when in use allows for better control and precision.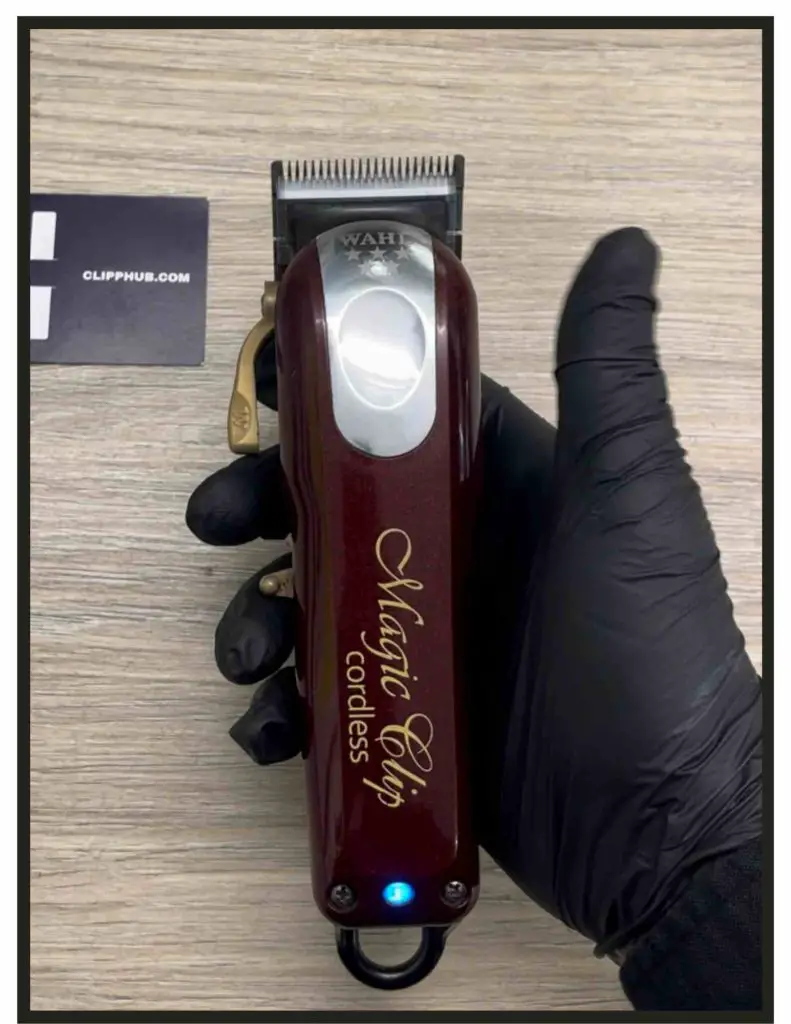 The ergonomic design ensures comfort during extended use, and the kit includes everything you need for a professional-looking cut.
 It also has an LED indicator that shows the battery level, it runs very quietly and stays cool. 
That's because as we mentioned earlier, it's not a powerhouse clipper so you won't get the clipper buzzing loud and the blades don't rub against each other too much. 
The clipper package comes with guards(regular plastic), clipper oil, a blade guard, a brush, and even a comb, so you get plenty of accessories to begin cutting through hair. 
The Magic Clip is ideal for anyone who wants cordless convenience and versatile performance.
 It can handle any hair type and style, from fades to tapers to afros. It is also easy to use and maintain.
Andis Masters
The Masters have an elegant clipper guild, though the clipper is slightly bulky/wide, doesn't take away from the clipper, but just be aware, especially if you like to have complete control of your clippers. 
If you have small hands this may be a bit tricky for you. 
It has a chrome-coloured body made of extra tough aluminium, so it is a highly durable clipper – though do avoid dropping it.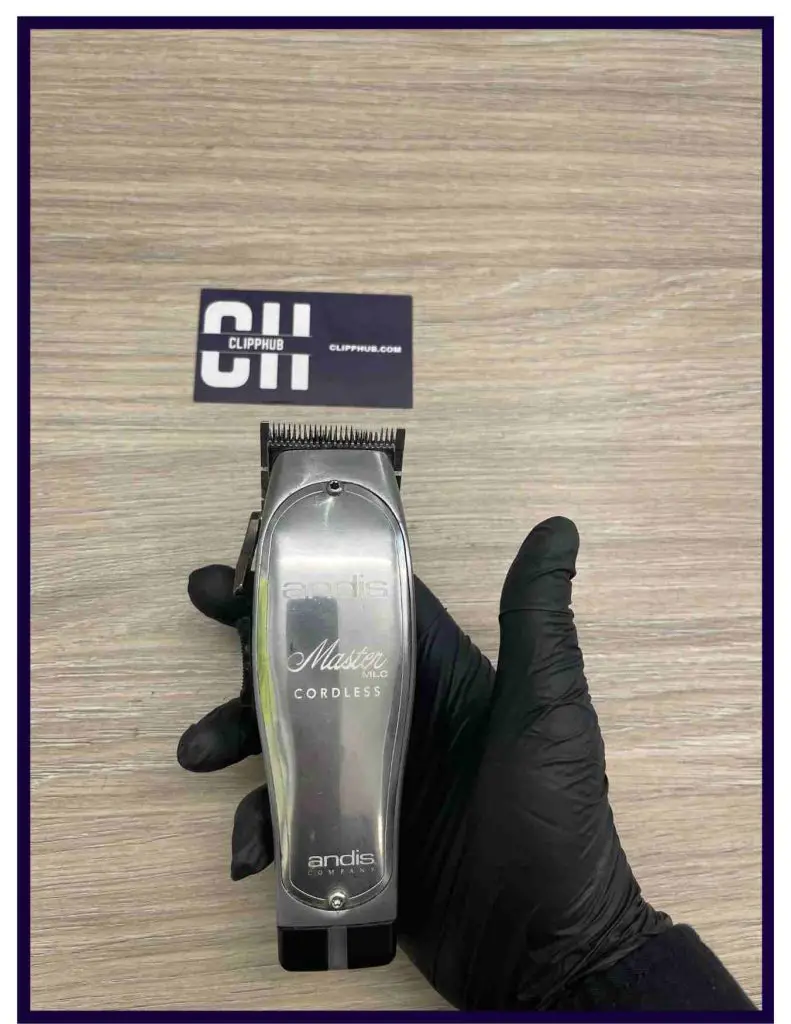 While the specs can have drawbacks, in terms of noise level and heat, the masters will leave you wanting more. 
Remember that powerful motor we mentioned earlier, well because of that, this clipper tends to heat quite quickly while in use, and in the process, it does run quite loud. 
It is manageable with clipper maintenance such as oiling and cleaning but it's a trade-off for that raw master power. 
The clipper package doesn't come with guards but it does come with a charging stand and some oil.
You can pick up the Andis double magnetic guards from below which are high-quality guards that will give you the flexibility to try a wide range of hairstyles.  
---
November 28, 2023 1:50 am
---
Conclusion
As you can see, both the Wahl Magic Clip Vs Andis Master are excellent professional clippers that can deliver amazing results. 
However, they do have some differences that might make you prefer one over the other.
Here are some factors to consider when choosing between them:
Corded vs Cordless: The Magic Clip gives you the freedom to move around without worrying about cords or outlets, while the Master gives you the consistency of power without worrying about batteries or charging.
Blade Type: The Magic Clip has a staggered teeth blade that creates smoother fades and blends, while the Master has an all-purpose blade that can tackle any hair type and length.
Lever Flexibility: The Magic Clip has a more rigid lever that stays in place once you set it, while the Master has a more flexible lever that allows you to fine-tune your cut.
Guide Combs: The Magic Clip comes with eight guide combs that give you more options for different lengths and styles, while the Master comes with no guide combs included.
Noise/Heat: The Magic Clip runs quieter but heats up slower, while the Master runs louder but can heat up rapidly. 
Design/Aesthetics: The Magic Clip has a more modern and colourful design that attracts attention, while the Master has a more classic and sleek design though it is a bit bulky
Either way, you can't go wrong with these two clippers. They are both top-notch machines that can give you the best barber experience at home. 
Grab the clipper of your choosing from below:
POSITIVES
Very forgiving clipper

Staggertooth/ Crunch Blade

great ergonomics

Full clipper package with guards
NEGATIVES
Not great at clearing bulk
POSITIVES
Power bulk clearing motor

Close precision blades for detailed work

Long run time
NEGATIVES
Heavy

Loud and can overheat
FAQ
Which clipper is more suitable for fades?
Both are excellent for fades, but the Wahl Magic Clip's adjustable blade and powerful motor make it a popular choice among barbers for precise and seamless fading.
Which clipper is quieter, the Wahl Magic Clip or the Andis Master?
The Wahl Magic Clip is generally considered quieter than the Andis Master, offering a smoother and more comfortable experience for both the barber and the client.
Are the blades of these clippers interchangeable?
No, the blades of Wahl Magic Clip and Andis Master are not interchangeable, as each brand has its unique blade system designed for its respective clipper models.
If you found this article on the Wahl Magic Clip Vs Andis Master helpful, check out the other articles on this topic below.