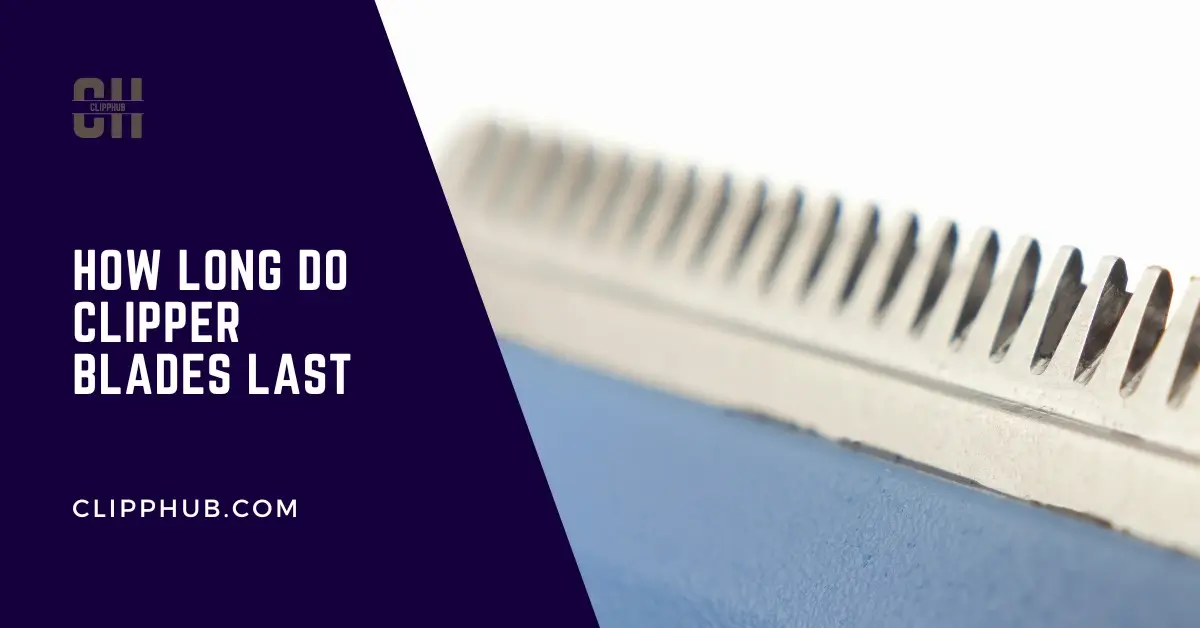 Have you ever wondered how long your clipper blades last before they need to be replaced?
You may have heard different opinions and theories, but the truth is that the lifespan of clipper blades can vary depending on several factors.
In this article, we will delve into the world of clipper blades and answer the question of how long they can last.
You may be surprised to learn about the factors that can affect their longevity and the steps you can take to extend their lifespan. So, buckle up and get ready to explore the fascinating world of clipper blades.
How long do clipper blades last
How long your clipper blades last will depend on the type of blades that is currently on your clippers. 
There are three types of cutting blades
Titanium
Stainless steel
Ceramic
Titanium blades are known for their durability and hardness. They are very resistant to corrosion, and wear and tear, and can last longer than stainless steel blades. 
On average, titanium blades will last the longest. They can last years without needing to be replaced but you should still watch how they perform. They can be blunt over time. 
Stainless steel blades are the industry norm and most hair clipper blades are made from stainless steel. 
When constantly used, stainless steel blades can blunt fast so you may need to sharpen or change these types of blades every 6-12 months for the best cutting performance. 
Lastly, ceramic blades have the least longevity out of all the blades on this list. These types of blades will not last as long as your stainless blades if you use them multiple times a day. 
keep an eye on them as they may need replacing every 6 months.
That is a general overview of how long each blade should last. 
But this all depends on how much you use them. The more frequently your blades are used, the more they are worn down. 
Later on in this post, we will talk about what signs you should look for before deciding to change your blades. 
how often should you change clipper blades?
If our a barber or a salon doing hair, average around 10-20 cuts per day, look to change your clipper blades every you can look to change your clipper blades every 6-12 months.
However you should only do this if it's necessary, sometimes your clipper blades may last way past this timeframe and they won't need replacing. (But we'll talk about this a little later on)
Replacing your blades frequently does two things if you're in a professional field
Makes haircutting easier 
Provides a better experience for your clients/ customers
But don't stress if you look after your blades (especially the titanium/stainless steel type), they can last and perform far longer than this time frame.
But how is that done?
I explain below.
How To Prevent Blunt Hair Clippers
Make these steps a habit.
You should be brushing your clipper blades of hair after every cut.
Tip
Before you even look to cut the hair, you should take out any knots to make hair-cutting far simpler for your blades and reduce hair-to-blade friction.
After every cut, you should spray down your blades with a cooling spray, this is done for two reasons:
To sanitize your blade
To cool your blades if they become hot
Below are some of the best hair clipper disinfectant sprays at their best price.
Andis Disinfectant Spray is a fast-acting and effective solution for disinfecting hair clippers, while also lubricating and cooling the blades for optimal performance.
Limited Stock
A 5-in-1 formula that disinfects, lubricates, cleans, cools, and protects your trimmer blades plus Kills up to 99.9% of germs.
H-42 Disinfectant Spray is a hospital-grade disinfectant that effectively kills germs and bacteria on hair clippers and surfaces, making it an ideal choice for professional barbers and salons.
Afterward, you should wipe away any excess oil spray and look to oil your clipper blades
Hair clipper oil reduces the friction between your blades which decreases heat and improves performance.
Overall it helps your clippers to last longer.
Here are the best oils for this task:
---
---
Doing these steps consistently will help to maximize your blade's longevity.
It goes without saying but I will say it anyway…
Neglecting your hair clippers will lead to them becoming blunt over time. After every cut,  leaving hair, dirt, and oil on the clippers will wear out the blade.
Don't be surprised if you're in soon in need of new hair clippers if you are prone to abandoning them.
Not doing the steps above with the tools suggested, will not only decrease your blade performance, but it leaves your blades open to the ultimate blade killer.
Rust.
Rust is the primary cause of dull hair clippers.
Rust will ultimately spell the end for your clipper's blades.
Keeping rust from your clippers is simple.
Clean and oil your blades
Store them in a dry location
Just doing this, keeps your blades with you for longer.
In the worst case where rust does develop this guide helps you to remove rust from your blades.
Replacing clipper blades
Before you think of replacing your blades, you must make sure they actually need replacing or sharpening.
There's one major sign for this.
Hair pulling is a sign of blunt Hair clippers.
When using your hair clippers have you noticed them pulling as you cut? If so, this is likely due to your hair clippers being dull.
Clipper pulls hair because the hair clipper blades lack the sharpness to easily cut through hair.
 It is a clear indication that the top cutter has become dull and is in need of sharpening.
There are two routes you can take when you notice your clipper blades drop in performance:
Replace your blades 
You could sharpen them
When deciding which route to take, you should keep in mind what type of blades you have.
Titanium
If your titanium blades are dull/pull hair, your best bet would be to just get them replaced.
Sharpening your titanium blades would be difficult and it wouldn't have much effect.
While titanium blades are the most expensive type of blades, you'd be saving yourself time with the investment.
But if you don't want to buy new blades, you can look for your local blade sharpener and see if they provide titanium blade sharpening.
Ceramic
If you own ceramic blades, you should get them replaced.
Sharpening them is pointless as you wouldn't be sharpening the blades, you'd just be wearing them down.
Investing in new blades would be your best move.
Stainless steel blades
If you own stainless steel blades, then you can do both options.
If you rather get the best working blades, I'd suggest you invest in a new pair.
However, if your clipper model has expensive blades, you can look for a local blade sharpening service or you can do it yourself, we go over this next.
Hair Clipper blade sharpening
You should sharpen your hair clipper when it begins to pull hair or not cut as finely as it used to. 
Hair clipper sharpening can be simply done using sandpaper. I will provide an outline of how to sharpen your hair clippers with sandpaper
Step 1.
Remove your hair clipper blades
Step 2.
Place your hair clippers flat on a table. Place the sandpaper on the top cutter. Now push back and forth on the blade and apply the necessary force to ensure sharpening. Do this 10 times on each blade.
Step 3.
Attach the hair clipper blade back onto your hair clipper
For a more in-depth into hair clipper sharpening, you can find all the information you need on the blade sharpening page.
After sharpening and oiling your clipper blades, if you still notice poor hair clipper performance, you will most likely have to get your blades replaced.  
Conclusion
In this article, we asked the question, how long do clipper blades last?
Clipper blades vary in longevity depending on their type.
Titanium blades last the longest, while stainless steel and ceramic blades follow behind.
Your blades should give you good cutting performance for 6 months minimum (if you use them frequently)
After this point, look for hair pulling as a sign to get them sharpened or replaced.
How often should I replace my clipper blades?
It depends on usage and maintenance, but generally, clipper blades should you should check wether your clipper blades are dull or damaged every 6 months

How do I know when it's time to replace my clipper blades?
signs that it's time to replace your clipper blades include dullness, uneven cutting, pulling or snagging hair, and rust or corrosion on the blades. If you notice these, either look to fix or replace your blades.
How can I prolong the lifespan of my clipper blades?
Proper maintenance can help prolong the lifespan of clipper blades. This includes regular cleaning and oiling, avoiding dropping or damaging the clippers
how long do trimmer blades last
The lifespan of trimmer blades depends on how often they are used and how well they are taken care of. The blades can last for 64 to 128 haircuts, but this can vary depending on the blade material and hair texture you're cutting. As good practice, the blade of your hair clipper should be replaced every 4 to 8 months.
how long do dog clipper blades last
The lifespan of dog clipper blades depends on how heavy use the blades are needed through the different seasons in the year. A rule of thumb is that if you are cleaning and oiling your blades frequently, then a dog blade will last between 10 -12 weeks based on clipping 5 dogs per day. However, this part of your clipper should be replaced every 3-4 months for a busy dog groomer.
how often to replace clipper blades
The lifespan of clipper blades depends on how often you use them and how well you take care of them. Normally if the coat is clean, a set of blades should manage up to about five clips, but generally speaking two to three is average. As good practice, the blade of your hair clipper should be replaced every 4 to 8 months.