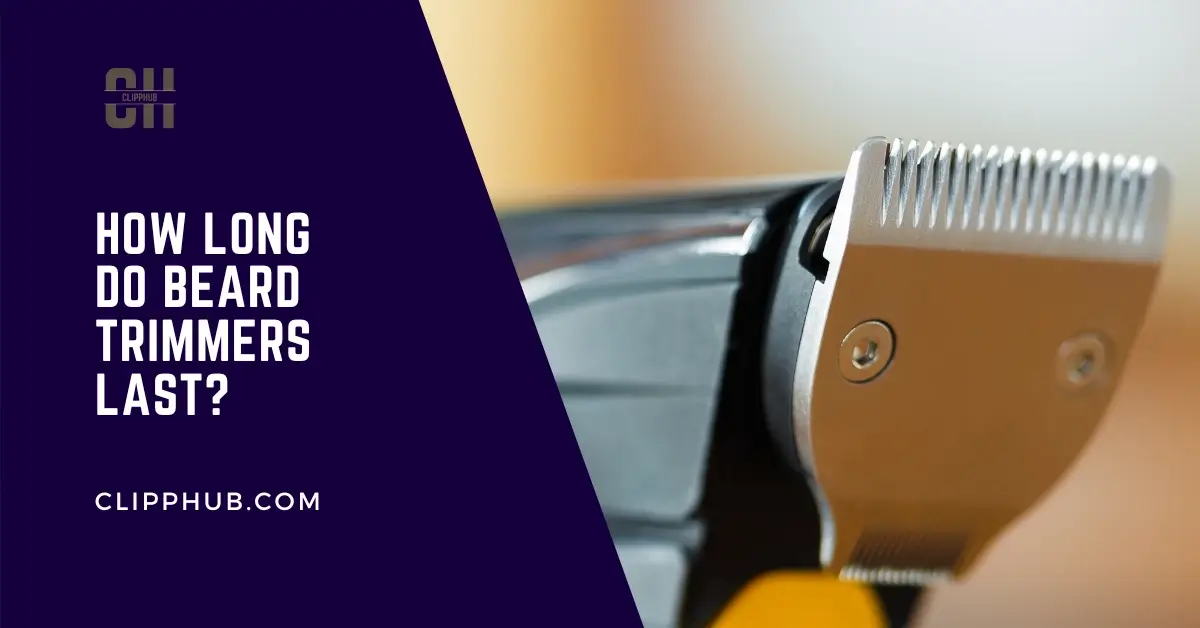 How long do beard trimmers last?
It's a question that hit trimmer owners when their trusted tool starts playing up or has been in service for a very long time. 
If that's you, then you are in the right place for answers. 
In this article, we'll go through the expected time they should last, what to look out for if you want to keep them for longer, and a full process of taking care of your trimmers. 
With that said, let's get into it. 
How long do beard trimmers last
A quality Bead trimmer can last up to a decade a more. 

High-quality beard trimmers are built to constantly hair day in a day out without fail. 

Yes, they will eventually start wearing out due to natural fatigue, but you can always replace the blade/battery and they'll work well again (I'll go through some of the best beard trimmers) at the end of this guide.

But if you just maintain your trimmers well, you can stretch out their lifespan. 
But if you're looking to keep your trimmers for a long time, what do you need to watch out for if you wish to preserve them? 
We'll go through this next. 
Factors that affect the lifespan of beard trimmers
These are the main factors that affect the longevity of trimmers : 
Quality
Frequency of use
Maintenance
Storage
Type of hair being cut
The quality of your clipper in the first place cannot be ignored. 
If you start with the right foundation you can expect your clipper to last a long time. 
So when choosing a beard trimmer, pick one that comes from a reputable brand, that take care of quality.
And if worse comes to worst, you'll have the support to at the very least amend any problems or even better, get a replacement as one of their guarantees. 
Frequency 
Again, if you use your blades every single day over a long period, eventually, they will tire out.
Now that doesn't mean limiting trimmer use. No, use them as you want, they are built for that. 
It just means that compared to someone who uses their trimmer once or twice a week, you can't expect the same longevity. 
Keeping frequency in mind is all good but it doesn't matter if you neglect the next step.
Also what matters is the type of hair being cut. 
If your trimmers are regularly going through thick heaps of hair on regular bases it put a strain on your clippers too. 
Maintenance
No doesn't matter what type of trimmer you have. 
If you fail to maintain them, you may as well throw them in the bin (you will eventually anyway). 
Everyone you switch your clippers on to cut hair, you baldes are constantly grinding Anglian each other, collecting and gradually becoming blunter.
If you don't fix or do things that reduce the effect or natural events, your blades will come to a top or just become really bad. 
It really doesn't take that long too. 
It takes a few seconds to oil and the small amount can help your clippers go the distance. 
We'll go through some simple maintenance tiles you can quickly apply at home to help your go trimmers go the distance.
Storage
After you've maintained your trimmer, all that work would be pointless if you put them in an environment filled with moisture. 
Doing this only leaves your blades open to rust. 
You must leave your trimmers in a dry area far away from moisture. 
A bag built into stair blades may be useful if you can't think of a location in your home. 
Our canticle on the best trimmer bags may be of use. 
Corded vs cordless 
There's a debate around corded bs cordless trimmers. 
On average, a corded trimmer will last longer than a cordless one.
The battery doesn't have to go through the draining and recharging process that cordless trimmers have to go through. 
But it's only a slight increase in lifespan on average and I would still advocate for coddles trimmers due to the mobility. 
I'll even recommend them at the em or this article. 
Maintenance tips for Extending the lifespan of your beard trimmer
Now for maintenance. There are two main parts to simple trimmer maintenance. 
The first is cleaning and oiling then you have to sharpen your blades to become blunt and you can get a replacement. 
First cleaning, more specifically sterilizing.
You want to disinfect your trimmer first. 
To do this you'll need a disinfectant spray like the andis cool care. 
It will cool your blades and kill some bacteria too. 
Here are some of the best disinfectant sprays for this task: 
Andis Cool Care Disinfectant Spray is a powerful and effective solution for keeping hair clippers clean and hygienic, while also extending the lifespan of your clippers.
Limited Stock
Clippercide Disinfectant Spray is a fast-acting and effective solution for disinfecting hair clippers, while also lubricating and cooling the blades for optimal performance.
H-42 Disinfectant Spray is a hospital-grade disinfectant that effectively kills germs and bacteria on hair clippers, making it an ideal choice for professional barbers and salons.
Removing hair 
Then you want to remove as much hair as possible from your trimmers. 
This method gets as much hair from your trimmers as possible without removing the baldes. 
For this, you'll need andis blade care. 
Do this if your blades are long enough to be dipped in, if not don't worry about this step too much. 
---
November 26, 2023 4:18 pm
---
Step 1: spray down
Follow the previous steps above and use the Andis cool care to clean and sterilize your hair clippers quickly.
Step 2:
Once you've sprayed down your blades with the Andis Cool care, you can start using the blade care. 
Partially fill the lid of the Andis blade care tub with the blade care formula (enough to cover both blades as I  previously told you at the start of this article.)
Step 3:
Now just as we did with the rubbing alcohol, place your blades in the blade care solution and turn your hair clippers on.
Allow your clippers to run in the solution for 10-20 seconds and watch the micro hairs leave your clipper's teeth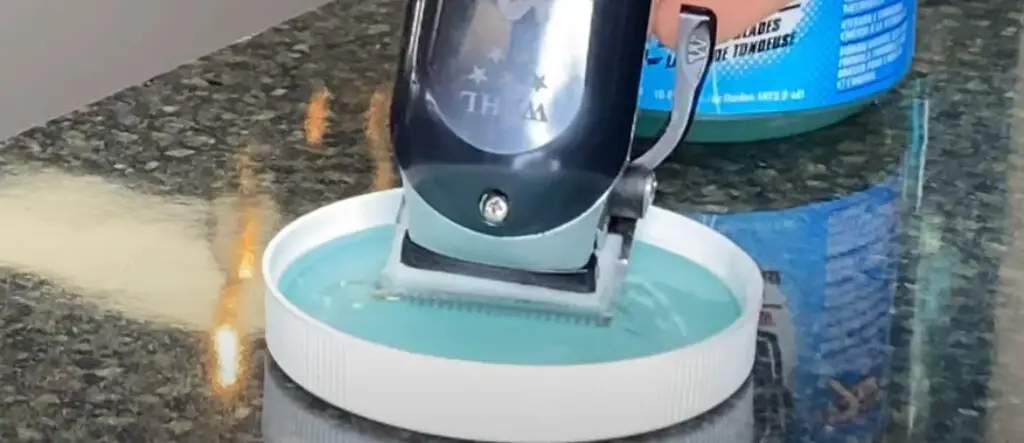 Step 4:
After you are satisfied with how clean your blades are, take out your clippers and wipe away any excess blade care solution.
Now take the blade care solution and place it in a container and dispose of it.
Oiling baldes
Now, when you are done with cleaning you want to apply actual oil between your blades to help reduce friction as they work against each other.
Here are some of the benefits of oiling your trimmer blades. 
Performance Enhancement 
Increased life expectancy 
Prevention of rust 
Maintain clipper temperature 
Reduce noise
These are is we're you want to oil your trimmers.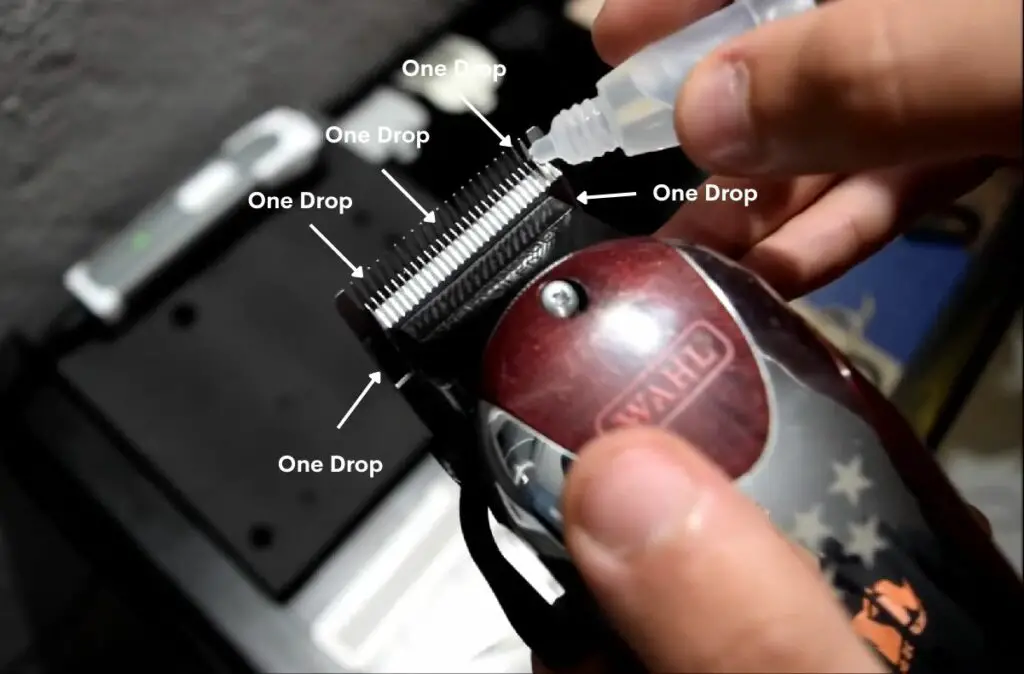 You can read more in our guide on how to oil beard trimmers. 
You want to oil your trimmers every 2-3 then remove your blades and completely clean them off every month. 
That's how you can keep your blades lubricated and clean. 
Thais is basic maintence. 
Now if it gets to the point where your trimmer starts to get dull or pull hair. 
You may need to look into sharpening them. 
I go through this process on my guide on how to sharpen beard trimmers 
Now, what are your trimmers far gone, what do you do now? 
I'll give you some recommendations you should try if you're looking for a new trimmer.
How often should you replace the beard trimmer? 
You should replace when your trimmer when it's right or when you feel they aren't hitting its best performance and now more maintenance can fix that. 
But still, you'll want a high-quality trimmer. 
A quality beard trimmer is built to last as well as perform. 
It's easy to maintain, you can swap or remove the blades when you need to and lastly but optional, it has interchangeable heads that give you lots of flexibility.
If you want a trimmer that offers all of these and has a vacuum for less mess when cutting hair, check out these trimmers with the best vacuum trimmers.
The Remington Vacuum Beard and Stubble Trimmer have an integrated vacuum system so you can maintain your look without worrying about the mess in the sink or the bathroom.
This Philips Norelco Beard trimmer Series 7200 is designed for a cleaner trimming experience. It gives you a perfectly even trim with less mess, so you can feel confident every day.
..
The Remington Vacuum 18-piece Haircut Kit provides all the tools you need to maintain your signature look and contain the mess every step of the way.
If you like freedom, and multiple heads and want to use your trimmer around water, these water-resistant trimmers can provide that and are built to last.
Enjoy best-in-class styling with our most advanced trimmer, the Philips Norelco Multigroom 7000. An all-in-one trimmer for ultimate precision with DualCut blades that delivers maximum precision for head-to-toe styling. 
The Wahl Aqua blade stubble and beard trimmer is the only trimmer you need with its ability to trim, shave, edge, clip, and detail. 
Maximum precision, amazingly simple. The Beard Trimmer gives you exact length, precise contours, and an even trim.
Conclusion 
In this article, we asked the question, how long do beard trimmers last?  
The truth is they can last up to a decade or more. 
But it does depend on the build, how you maintain them, and how frequently you use them. 
If you found this article helpful, check out other articles on this topic. 
FAQ
What is the average lifespan of a beard trimmer?
With proper maintenance, a beard trimmer can last up to 5 years. However, this can vary depending on usage frequency and brand.
How do I know when it's time to replace my beard trimmer?
Signs of wear and tear, such as a dull blade or weak motor, are indications that it's time to replace your trimmer.
How can I extend the life of my beard trimmer?
Regularly clean and oil the blades, store them in a safe place, and avoid dropping or mishandling the trimmer.