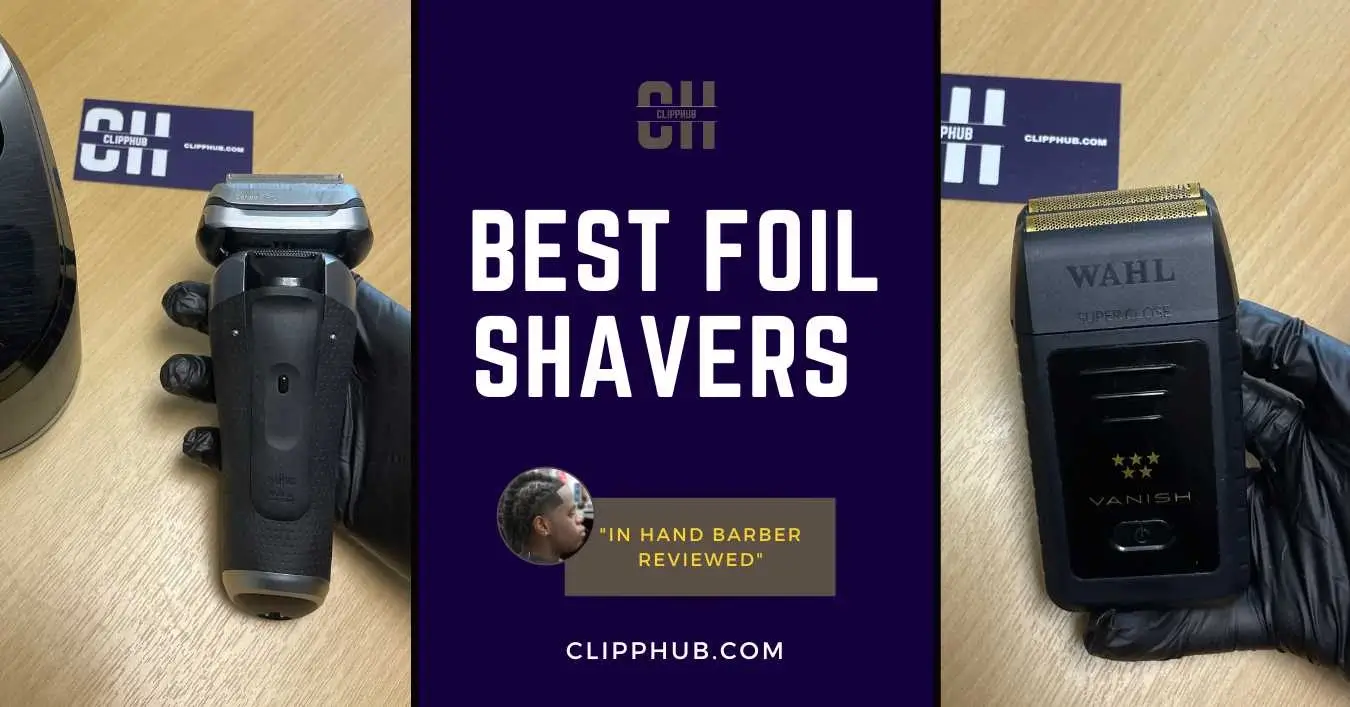 A shaver that can trim right down to the follicle is essential when balding.
Choose the wrong one and shaving heads becomes difficult and time-consuming.
You'll leave your client feeling harassed by an itchy bald line, and a shaven head with tiny hairs all cut to slightly different lengths.
Using the right head shaver can make all the difference in achieving a smooth and even shave.
Choose right, and you'll have the smooth balded neckline, that sets the foundation for that smooth fade or unique designs such as below:
In this article, we'll look at the best foil shavers for barbers/professional grade electric razors.
I actively use these shavers. They are the latest and have been tried and tested.
It's not just a list of all the shavers out there on the market.
You can't go wrong with any of these, just grab the one that gives you what you are after.
So with that said, let's get a quick look at the best professional shavers as of date:
Best Foil Shaver for Barbers
The Right Shaver
There's a reason some barbers are able to produce the cleanest shave with minimal effort.
It's not steady hands, skill or luck.
They use certain factors to pick the right electric foil razor. It gives a perfect neck line or scalp every time.
What are these factors? 
Well, it depends on what type of shaver you're looking for…
Some of us want a powerful motor that cuts close to balds right down to the skin which make our skin fades stand out more….
Others want a shaver that will last them the entire working day, and the rest could just want a shaver that feels great in hand, allowing better control.
Regardless of what you're looking for, the most IMPORTANT thing is the electric razor you select for the job. 
At ClippHub, we've handpicked a range of shavers and provided clear descriptions for each.
These shavers cut hair safely down to the skin and are easy to maintain.
Let's begin.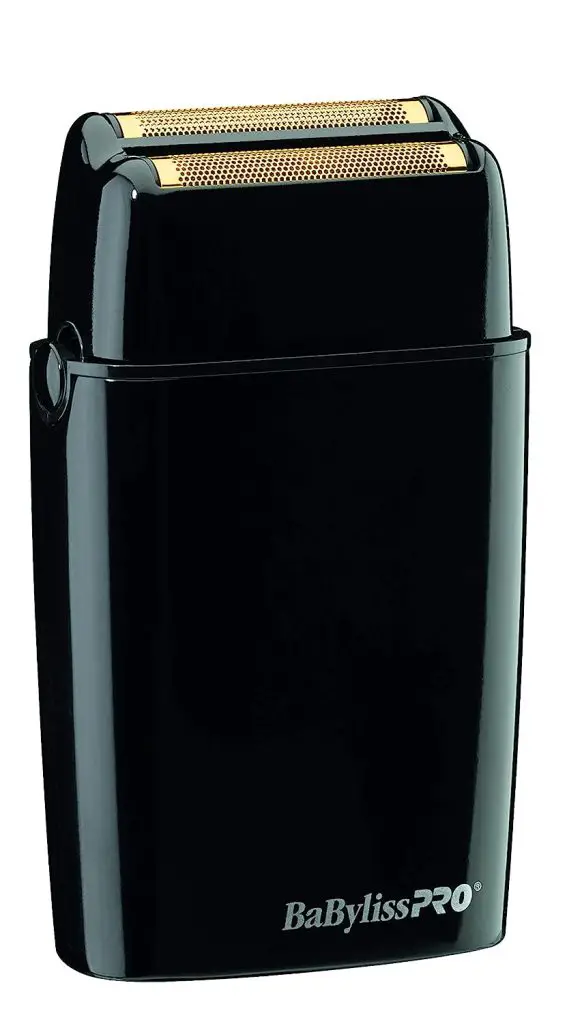 Best Electric Shaver For Barbers
This is my #1 pick. it's part of the premium and very professional Babyliss Pro line (one that features hair clippers trimmers and shaver). And from that line, this is the best shaver Babyliss has put to the market.
Let's start off with foils themselves.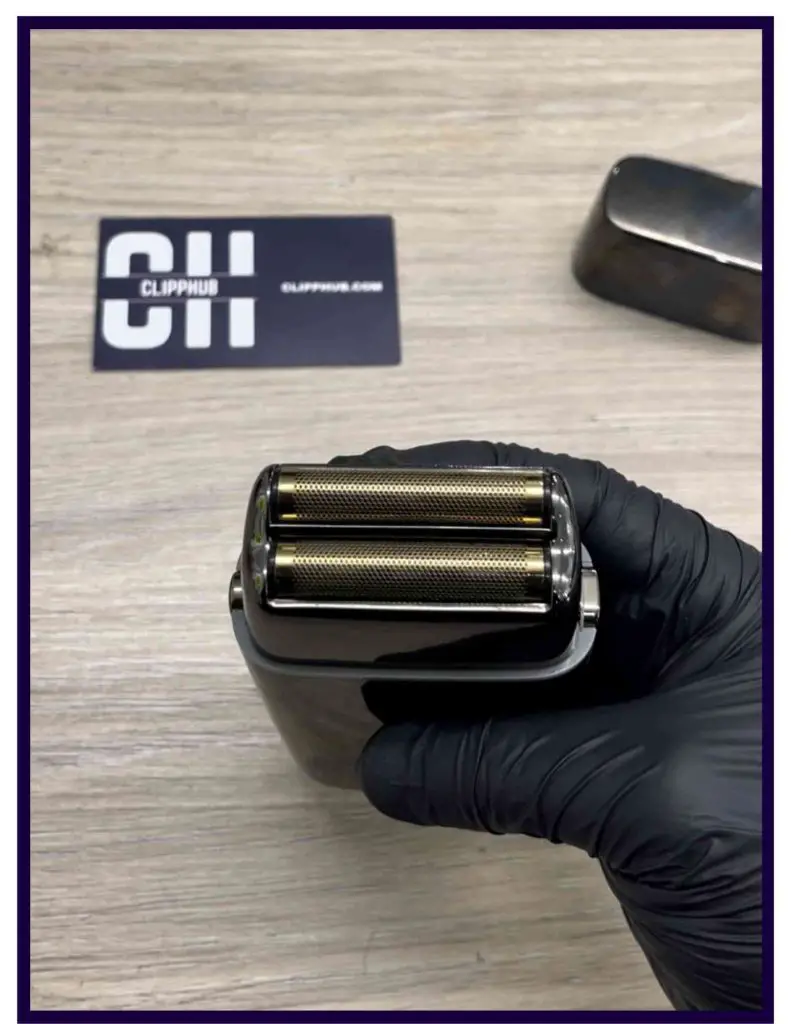 The BaBylissPRO BLACKFX shaver features a hypoallergenic gold foils/offset double foil system for comfortable shaves.
 The foils are slightly offset, which means they are not aligned exactly on top of each other, but a bit apart.
This helps the shaver to catch more hairs and cut them closer to the skin.
Most professional grade, electric razors have an offset double foil shaver system but the one on this Babyliss rotary shaver is extra clean and very keeps things quite tidy as hair doesn't get clogged between both foils.
The gold hypoallergenic foil are also quite nice as they glide quite smoothly on the skin well and won't cause an allergic reaction once on any skin type.
The foils are also gentle on the skin and have greatly reduced the likelihood of irritation on facial hair /head hair.
All round, you get a close shaving for your client's neck, and obviously, it does a great job at taking out those bald lines (my clien'ts even rate this shaver quite well- had a few compliments).
Now onto battery and charging.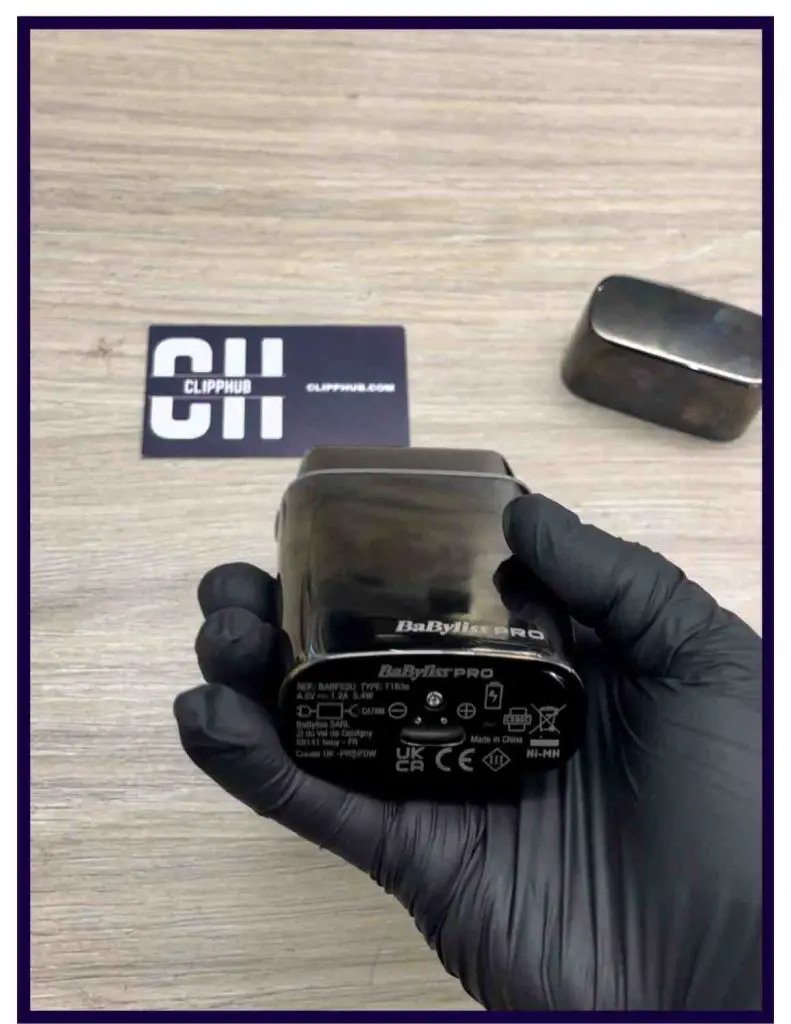 It has universal voltage so it has flexible worldwide charging and boasts a rather impressive 3-hour runtime, yes.. 3 HOURS! 
What's even better is it can be used cordless or corded, not sure if that's allowed but when i was in a pinch I did and they seem to work fine.
It's lightweight and the polished finish of this shaver feels great on the hand it just looks great all around.
Overall, this shaver is great but the only negative would be the grip can get a little slippery if your palms start to sweat.
It doesn't affect the shaver's cutting ability but if you have sweaty hands, you could find this shaver slipping around in your hand… Hence why I would suggest slapping some grips on this thing: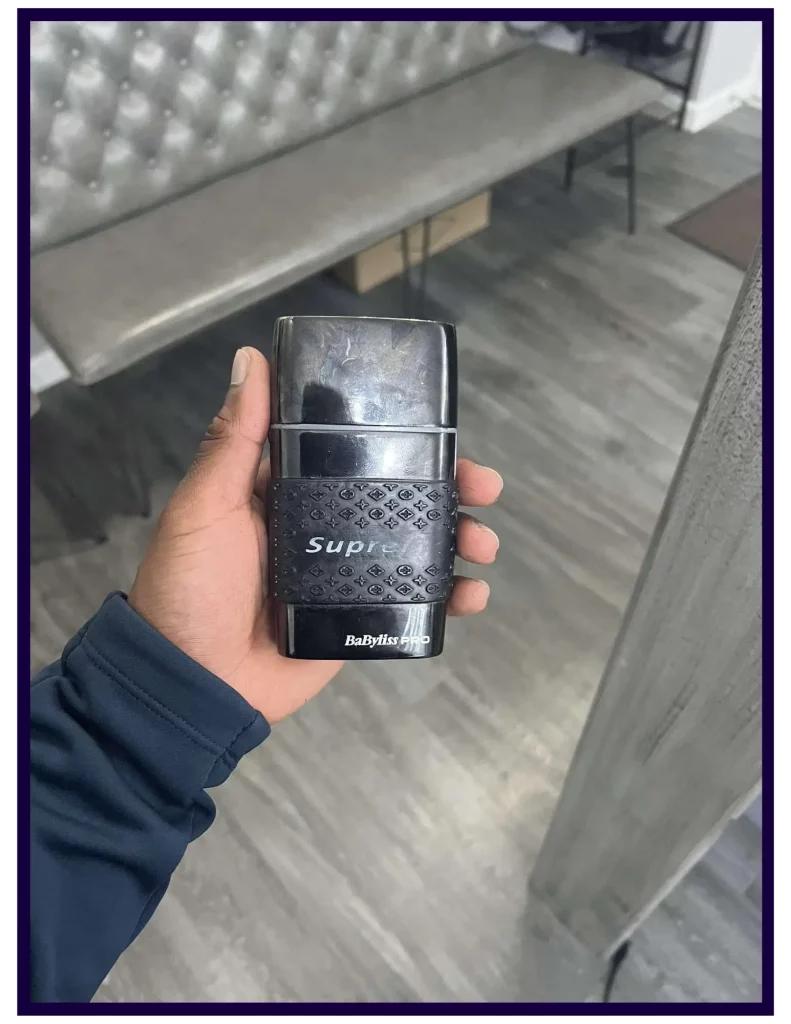 ---
---
And after that, there's nearly nothing to fault with this shaver... And that's why I put it #1
Overall, the BaBylissPRO Barberology GOLDFX Shaver is a solid choice for professional barbers in need of a professional grade shaver that will last and ceratinly perform when asked.
Positive
Effortlessly shaves hair close to the skin
Battery-powered and cordless for easy maneuverability
 Part of the Babyliss Pro range
 3-hour battery life
Powerful rotary motor
Negatives
Not the best grip for sweaty palms
"The Babyliss foil shaver is definitely one of the best shavers I have used; easy to clean and gives one hell of a close shave."

review
Get this extremely high- quality foil shaver today, turn it on, and test it, Just watch as it glides and easily cuts hair to that bald level, If you like a variance in your shavers, Babyliss offers this model in different colorways to suit your style. – It's probably why it's sp popular among barbers.
---
November 28, 2023 10:49 am
---
If you're looking for the best overall shaver, grab these. While it's currently at its best price, grab the Babyliss Pro fx today.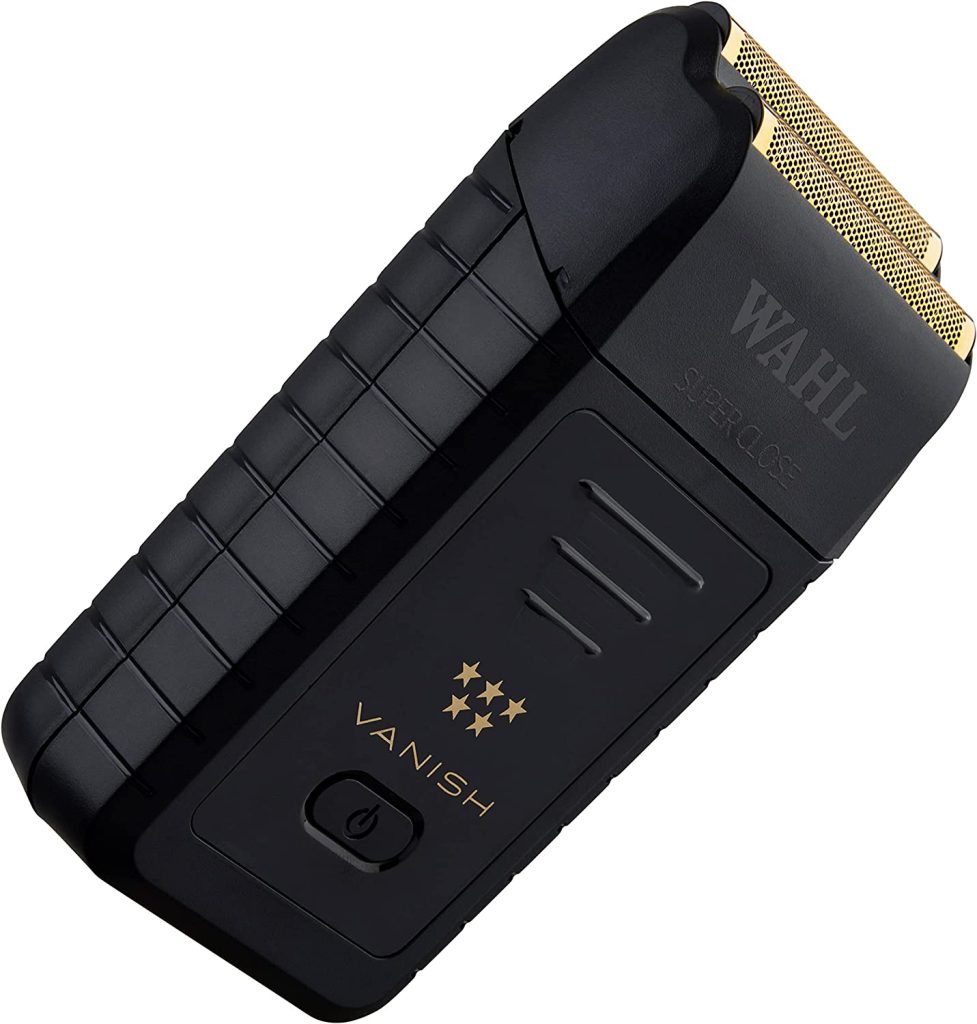 Wahl, a well-known brand in this space, and they've come out with a shaver that's the best on this list of comfort and pushes some others on power.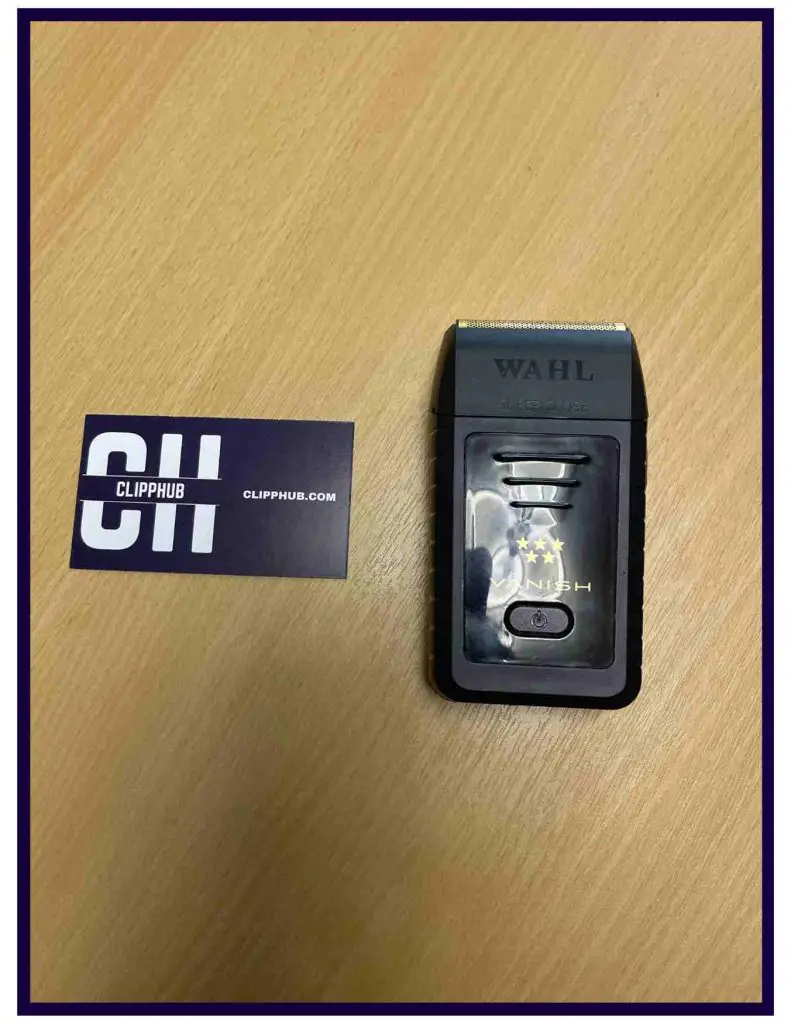 It features texturized finger grips on the back and sides of the shaver, allowing for better control and finer detailing. In terms of feel, whilst in the hand, it's in a league of its own. 
The shaver is also lightweight and thanks to that mock body, the weight is well balanced, making it easy to maneuver and handle.
But while it excels in this aspect, it still has many other excellent features to offer. 
It sports a very strong motor, that easily clears through longer hair but thing is .. that makes them a little loud compared to the shavers on this list.
In busy shop you wont't be able to hear it as much but when all is quiet, you can really hear these things in action. But what that does also mean is that is has the power to sweep through hair like it's nobody's business.
The power is on is slighly more than the Babyliss Fx and almost rivals the Series 9. If noise is big for you or you clients then maybe pass these for the other options but if not, then all is good.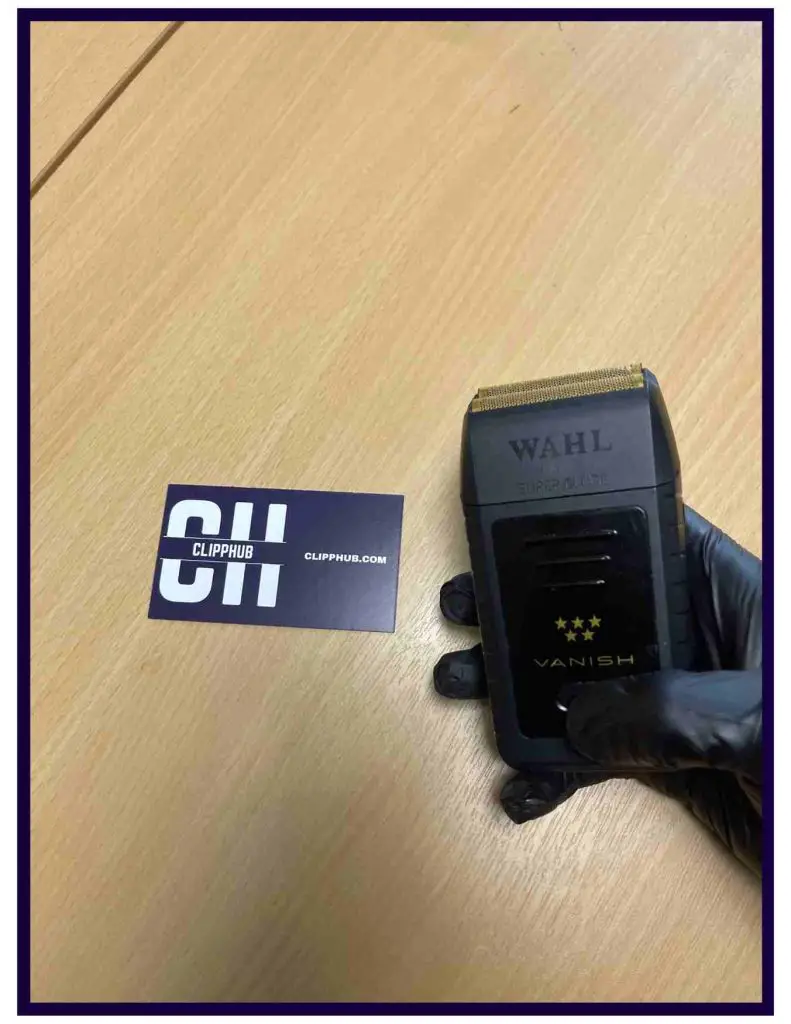 The micro-thin, gold foils themselves allow for a razor-close shave without irritation or bumps, and with a 100+ minute run time on a single charge, it's a great shaver to get you through the day. 
It also has a new independent pop-out foil bar, which 1, makes it easier to pop out and clean, and 2, when the foils do wear out all you have to do is replace the foils themselves, not the entire head, which is quite neat. 
And with the innovative suspension system, the cutting bars move independently and counter the skin better, which once again, feels great as you move the shaver but also, gives this shaver that edge in catching all hairs and providing a clean shave.
There's not much to say wrong with this shaver, while it a little loud and the battery could have more juice, all round it's a solid shaver and will easily shave all hair types with little difficulty. 
Positive
Great texturized body for grip
Independent pop-out foils
 Micro-thin gold blades cut to 0.05mm
 Ergonomic design
"I bought this shaver because my previous one, also a Wahl, finally gave out after many years of service. I was surprised at how quiet it is. I also get very close shaves and it does not pull the hairs. I recommend this product and its seller."

review
If you particularly like your tools having and presence in your hand or feeling great in hand, these are your shavers. 
Grab them, roll them around in your hand, place them on skin and test the suspicion. 
Press against hair and see how the foils hug and match your client's head shape and most of all, look how close it smoothing, and really clears out that bald line. 
If you come to find this shaver isn't for you after some testing, simply return it at no cost to you. 
While in stock and currently at its best price, grab Wahl vanish today.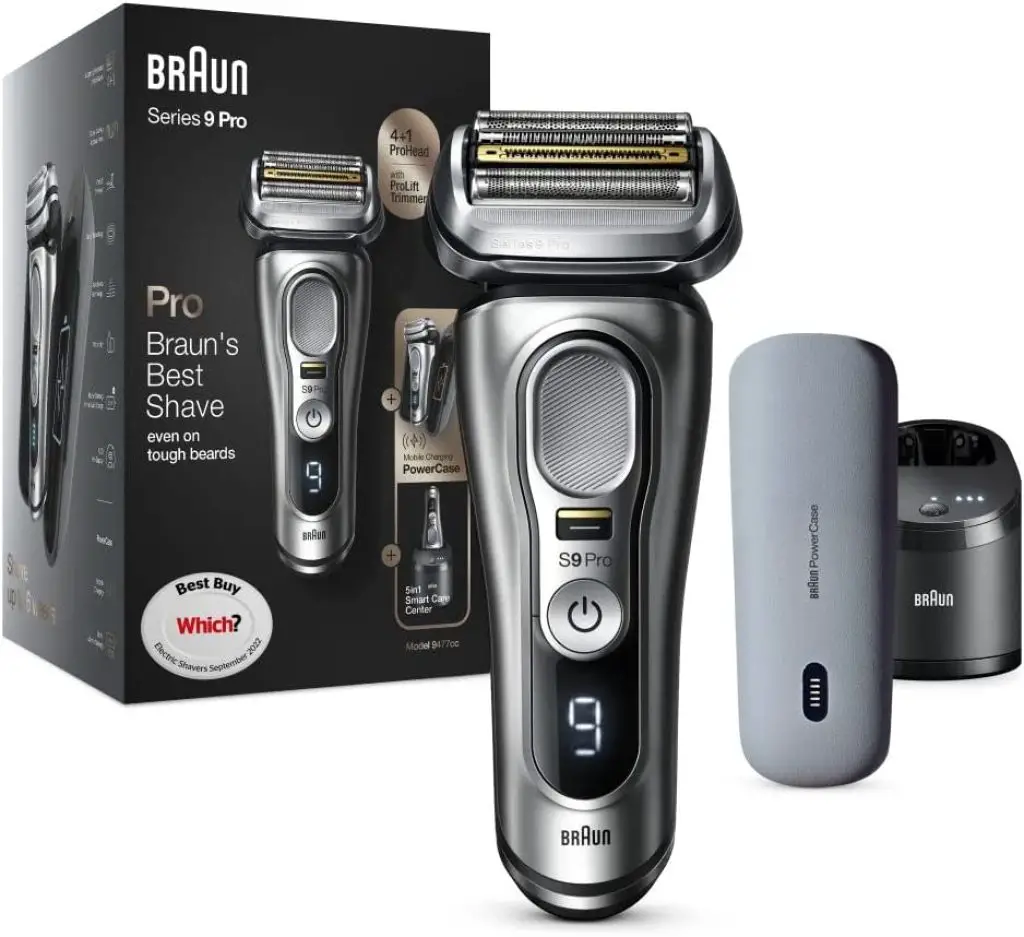 Get Best Price
Classic Shaver Build
close cutting, fast, and comfortable
It's not a "classic barber" as it doesn't have that typical block body build. To most, this is your typical "beard" shaver but why limit it to just a beard. Simply put, if you have these in your shop, hair doesn't stand a chance.
And.. that's the very reason why it's made it on the list. 
If you like that classic, long, home shaver build, then this one is for you. 
The Series 9 Pro is the world's most efficient electric shaver (tested vs. leading premium tier products), Braun has had a reputation for years in creating the highest quality shavers, and The Series 9 with the improved pro head ProHead is the lastest to claim that statement.
This is the latest model of the series 9. It's more efficient& gentle: This shaver has innovative ProLift tech and Braun's unique Sonic Technology which helps to shave up to 10% faster (vs. previous Braun Series 9), and is far gentler on the skin (It's on par if if not better then the Babyliss Fx in terms of smooth cutting performance.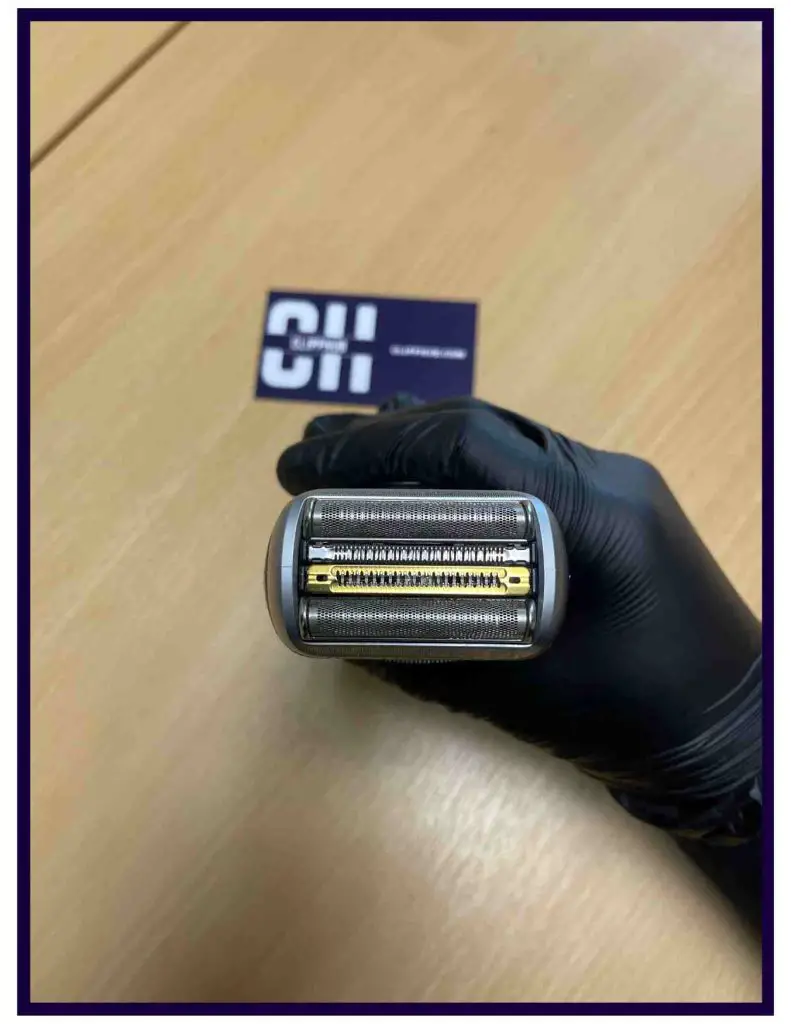 The shaver itself, provides 40,000 cutting actions a minute, This speed on top of the hair uplift technology means this shaver easily grabs any strand of hair and easily slices through it with no hair pulling. 
It's waterproof, durable and light and due to the strong casing, and with 5 synchronized shaving elements that collectively cut hair down to 0.03m (you can't see that far with naked eye, just know it cuts very close).
Place this shaver on the neck, and you literally won't see anything that's left behind. 
It also comes with two premium accessories: a 6in1 SmartCare Center that cleans, lubricates and dries your shaver automatically, keeping it like new every day; and a mobile charging PowerCase that can power your shaver for up to 90 minutes without recharging.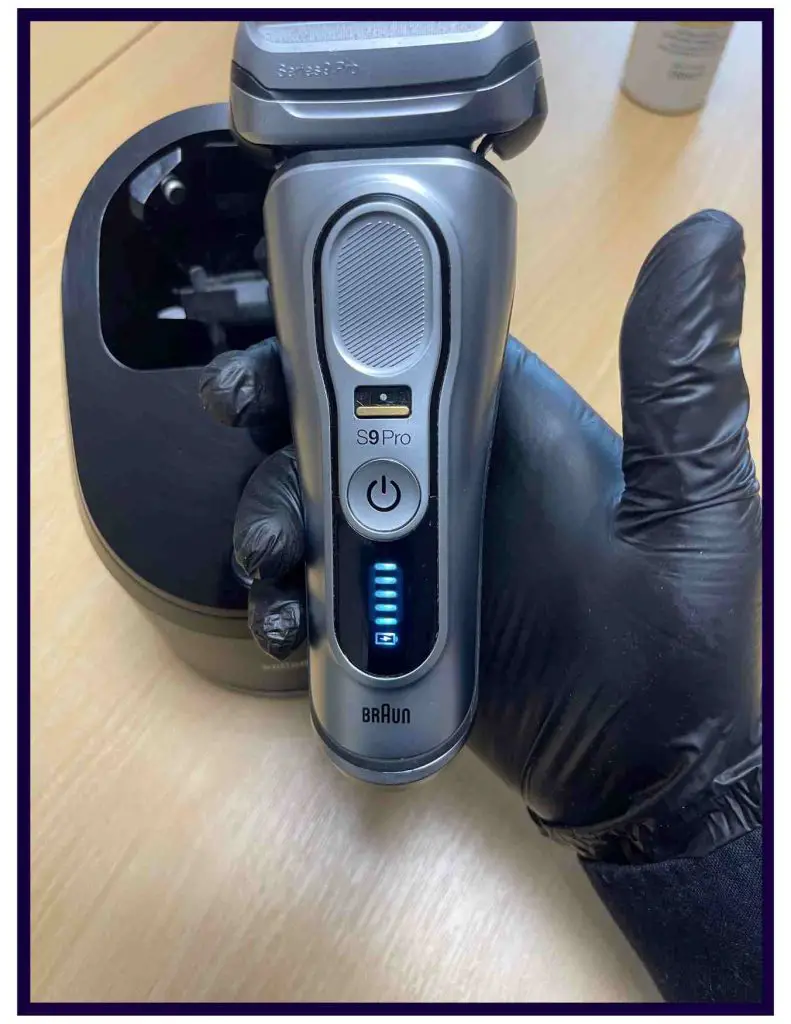 The series 9 PRO+ also offers you up to five years of warranty which is a nice touch as these this don't come cheap.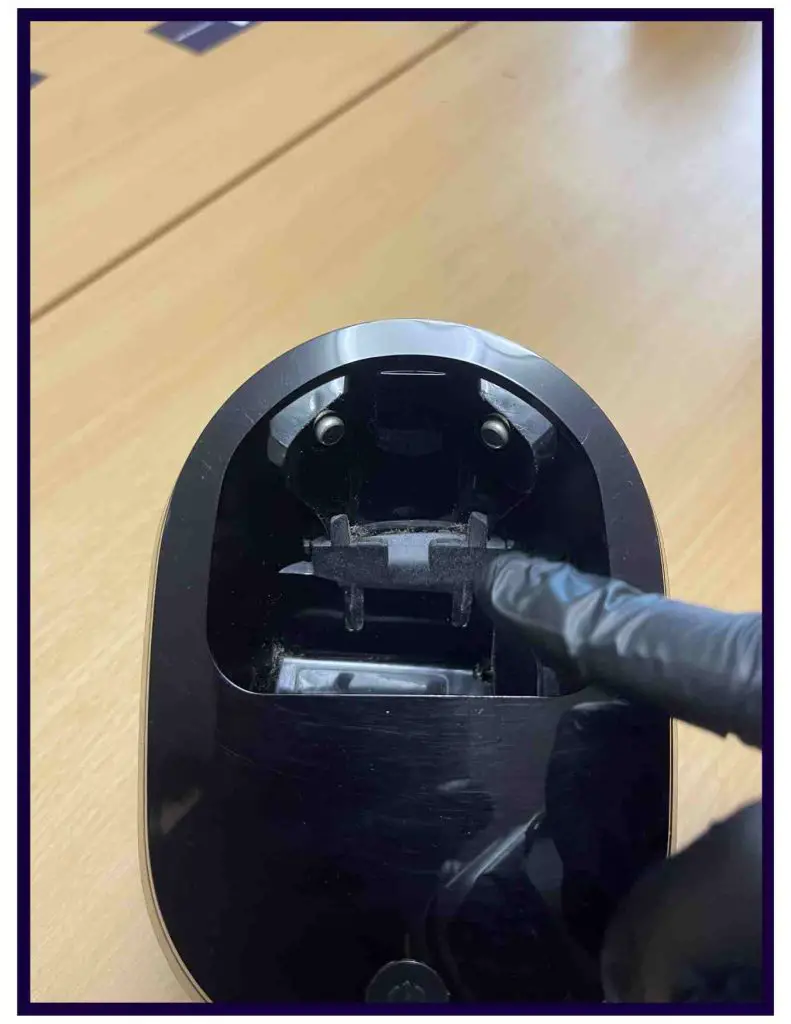 It is a great close-cutting shaver, the starting battery life on this could be better(if you're going to be constantly using it).

But in fairness, when you use it, put it back in the dock and use again, you barely notice the "dying battery" anyway so it's a nothing point to be honest.

And apart from that, there's nothing to fault, it's a truly premium shaver that best shave and pays for itself back in quality.
Positive
Sonic technology with 40,000 cross-cutting actions per minute
Grippy rubber sleeve
 Digital display that shows the remaining battery life and other indicators
 SmartCare charging base and cartridge cleaning dock
Synchronized blade shaving
"Excellent shave, as good if not better than wet shave. No tugging or unpleasantness even on sever days growth, just ploughs through it painlessly. Highly recommend. On the cons, didn't like having to buy the charging case, what is the point ! Also don't use the cleaning product, just run it under a very hot tap, does the job."

review
If you Braun's best shaver to date, then the series 9 should be at the top of your list. 
Grab them and give them a go (You could even use them at home if you wish), if they aren't for you, simply return them at no cost to you).
While it's currently at its best price, grab the series 9 today.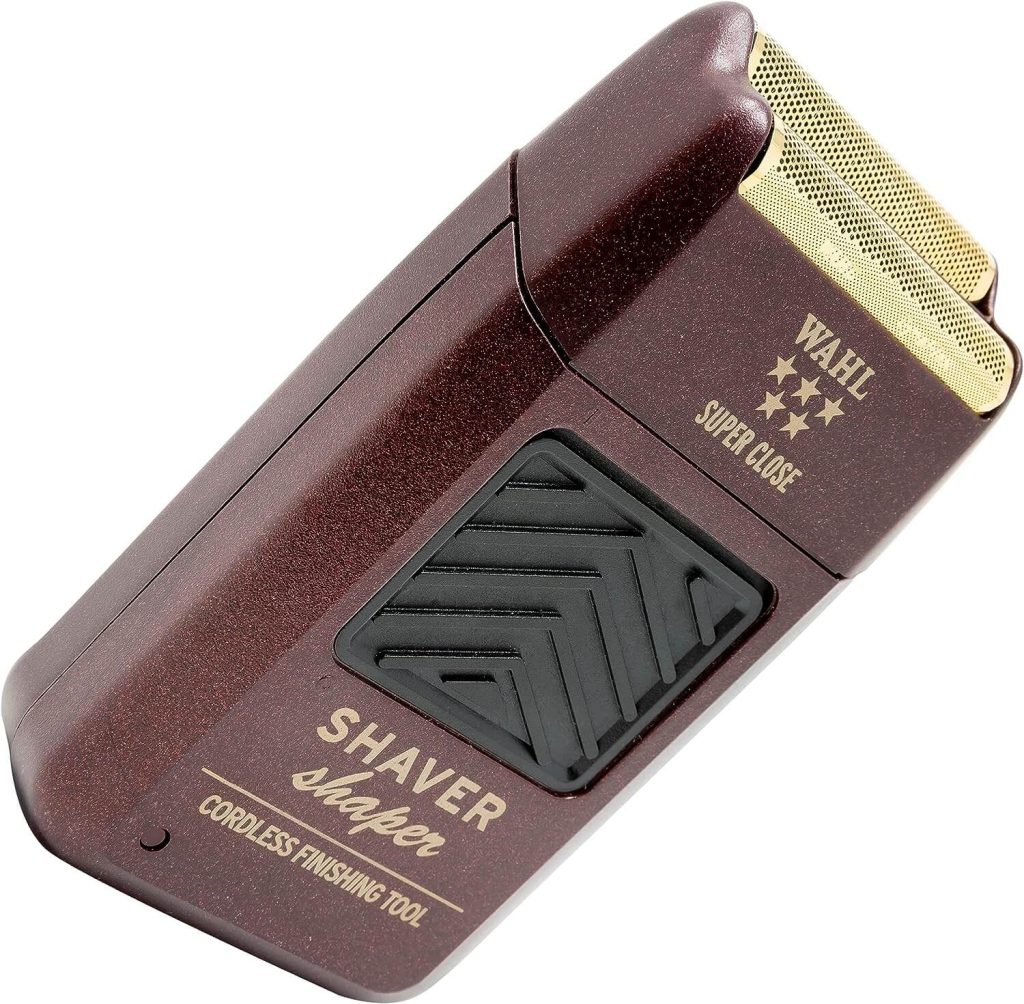 Get Best Price
A reliable tried and Tested Shaver
A Groundbreaking Shaver When it first hit the market
This older beast seems to have been forgotten about but I still believe this is among the best They are similar to the Andis TS-1 17235 foil shaver. Both the wahl and Andis pro foil shaver are cheap and do the job when you need them.
Yes, these is another wahl shaver on this list but this shaver is still better that more "modern" shavers and they can push the vanish too, let's see how they compare.. 
The Wahl Finale and the Wahl Vanish are both professional shavers that are designed to deliver a close, smooth, and bump-free shave. 
However, there are some differences between them that you might want to consider before buying one. Here are some of the main differences:
The Wahl Vanish is the newer and improved version of the Wahl finale. It has a more ergonomic design, a longer battery life, and a more durable foil head.
The Wahl Vanish has a runtime of up to 120 minutes per charge, while the Wahl finale has a runtime of up to 90 minutes per charge. This means that you can use the Wahl vanish for longer without worrying about running out of power.
The Wahl Vanish has a titanium foil head that is more resistant to wear and tear than the gold foil head of the Wahl Finale. The titanium foil head also provides a smoother glide over the skin and reduces irritation.
The Wahl Vanish has a rotary motor that delivers more power and speed than the linear motor of the Wahl Finale. The rotary motor also makes less noise and vibration, which can enhance your comfort and experience.
Both the Wahl Finale and the Wahl Vanish are excellent shavers that can give you a professional finish for your haircuts so how does the finale stand by itself?
Let's take a deeper look.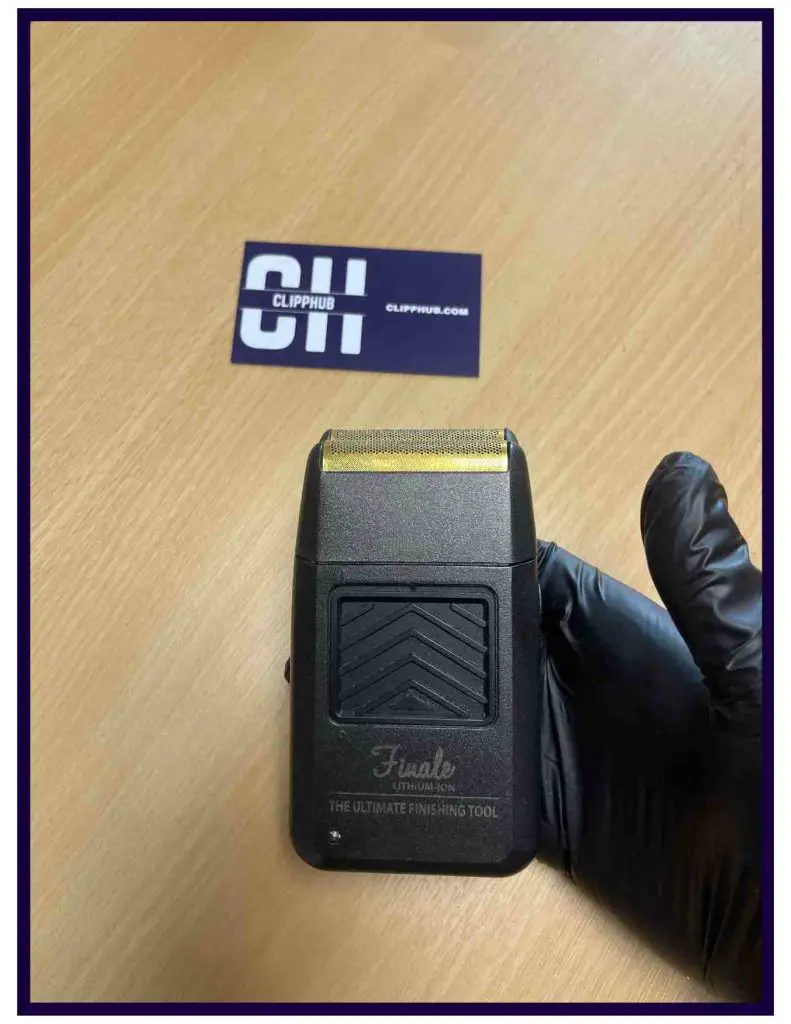 This shaver is designed to deliver the performance that experts demand, whether you want to trim your beard, shave your head, or clean up your neck line. It is versatile enough for a variety of cuts on the face, neck, and head and provides a bump-free, ultra-close shave.
One of the best features of this shaver is its cordless and functional design. It has a lithium battery that keeps the rotary motor running for up to 90 minutes per charge, so you don't have to worry about running out of power or getting tangled in cords. It also has a gold foil that leaves the most sensitive skin without any razor bumps, ingrown hairs, or skin irritation.
The gold foil is hypoallergenic and ultra-fine, enabling a super close cut of 0.1mm. The foil and cutter bar are also easy to replace and clean.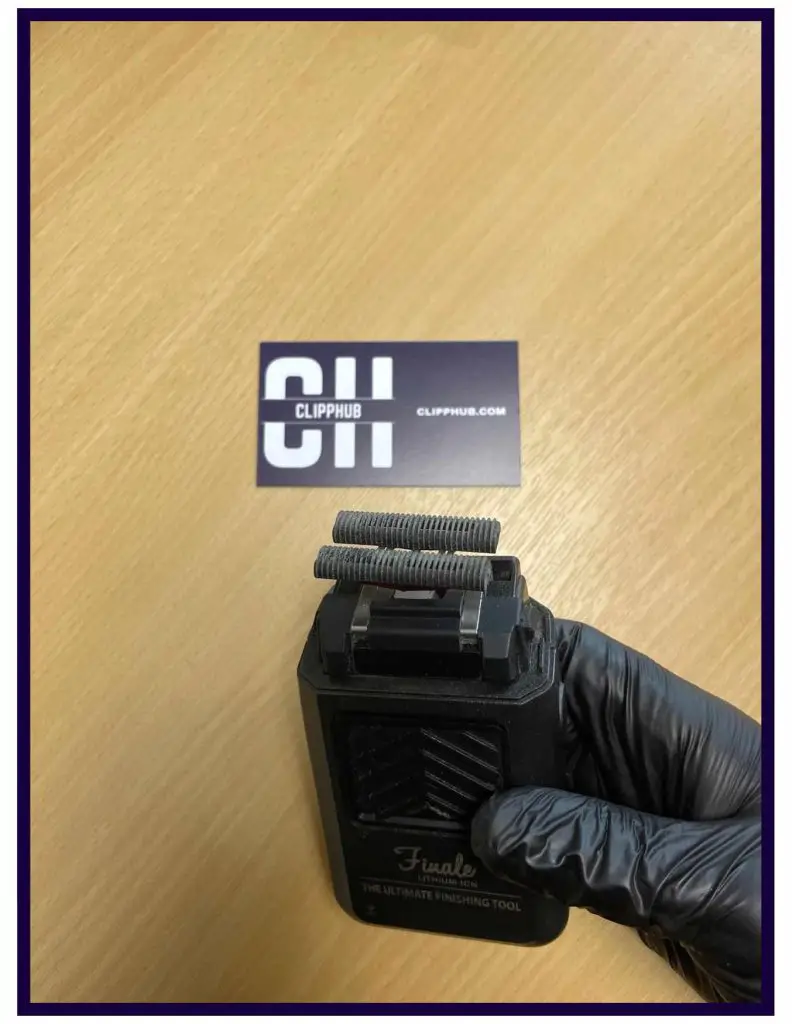 The Wahl Professionals 5-Star Finale Shaver comes with all the accessories you need for use. The package includes the shaver, a foil guard, a wall plug charger, an automatic recharge stand, a pre-shave brush, a cleaning brush, and operating instructions. 
To put it simply, if you want a more advanced, durable, and powerful shaver, you might want to go for the Wahl vanish. 
But if you want a more affordable, and proven shaver, that works best on fine hair you might want to stick with the Wahl finale. 
The choice is yours, you won't be disappointed in either.
Positive
The linear motor delivers 6,000 cutting strokes a minute
Hypoallergenic, long-lasting gold foils 
 Cordless capability with 60-minute runtime
 The shaver, Foil Guard, Charger, Cleaning Brush, and User Manual are all included in the packaging 
Negatives
Shorter battery life
Heavier need for maintenance to keep its performance
"My barber recommended this to me and I love it"

review
If you're after a shaver that not only smoothly balds down to the skin but also comes at a great price, then get your hands on wahl finale 
You'll have that classic shaver build, the slim maneuverable body as well, and the smooth cutting foils. 
Order it, use it to shave, and see if it can match your talent. 
Not quite what you hoped for?  
Return them at no cost to you. Grab the Wahl finale today.
Buying Guide
When searching for the best foil shaver for barbers, there are a few essential aspects we should consider to ensure we select a high-quality product.
First, let's focus on the performance and efficiency of the shaver. We must look for a product with sharp, durable blades that can provide smooth, close shaves without irritating the skin. Additionally, a powerful motor will ensure fast shaving, which is crucial in a professional setting.
Next, consider the build quality and design of the foil shaver. A well-built shaver should be sturdy, with an ergonomic design allowing for easy handling and maneuverability. This will enable us to comfortably shave our clients while reducing the risk of accidents or discomfort. It also affects the ease of use.
Battery life and charging options are also essential to consider, especially for barbers who work long hours. A shaver with a long-lasting battery and quick charging features will ensure that we don't have to worry about the device dying in the middle of a haircut. Additionally, the option to use the shaver while it's charging can be beneficial for those particularly busy days.
In conclusion, choosing the best foil shaver for barbers is about finding a balance between performance, build quality, battery life, and versatility. By paying attention to these aspects, we can ensure that we invest in a reliable, high-quality tool that will make our clients happy and help our business prosper.
FAQ
What features should I look for in the best foil shaver for barbers?
Look for a powerful motor, close-cutting foils, ergonomic design, cordless operation, easy maintenance, and compatibility with different hair types.
Can a foil shaver provide a close shave without causing irritation?
Yes, the best foil shavers for barbers are designed to provide a close shave while minimizing irritation, thanks to their precision blades and advanced shaving technologies.
How often should I replace the foils and blades of a foil shaver?
Look to replace the foils and blades of a foil shaver every 6-12 months, or sooner if you notice a decline in shaving performance or increased skin irritation.
How To Use A Foil Shaver
Conclusion
In this list, we went over the best foil shavers for barbers. You can't go wrong with any of the options provided; they cut close to the skin with little hair pulling, and each offers its own unique qualities. Grab a shaver today.
Key Takeaways:
The right foil shaver is essential for achieving a smooth and even shave.
The Babyliss Fx shaver is the top recommendation for professional-grade foil shavers in 2023.
It offers a powerful rotary motor, 3-hour runtime, and double hypoallergenic foils for a close shave without hair pulling.
"If you're after a professional and sleek foil shaver to tackle your neck, face, or hairline, get the Babyliss Fx!"
The BaBylissPRO FX03 is a professional-grade shaver that is cordless and has a lithium-ion battery. It has a powerful motor and a gold titanium hypoallergenic foil for a close shave. It also has an ergonomic design and comes with a charging stand.