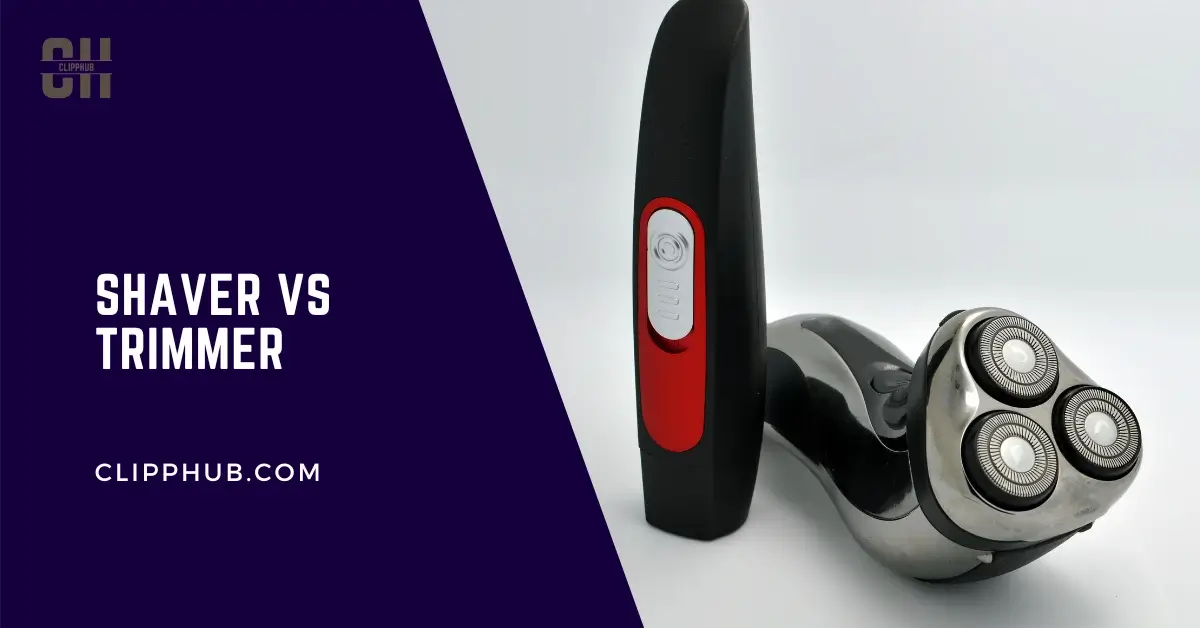 When it comes to personal grooming, deciding whether to use a shaver vs. a trimmer can be confusing.
Both are popular tools for removing unwanted hair, but they serve different purposes and offer different benefits.
Understanding the differences between shavers and trimmers can help you make the best choice for your personal grooming needs. 
This article will compare shavers and trimmers, highlighting their pros and cons, and help you decide which one is right for you.
Trimmer vs Shaver
Quick answer: 
Trimmers and shavers are personal grooming tools, but they serve different purposes. 

Trimmers are designed to cut longer hair and create clear and precise lines, while shavers are meant for cutting short hair close to the skin. 

This is the quick overall answer, but what are the types of shavers? 
And how do you involve trimmers shavers or razors in your grooming routine? 
All of that is detailed in the rest of this post.
Difference between trimmer and shaver
When it comes to electric razors, think about taking your hair off completely. 
Right down to the skin, that's what electric razors are built for. A close-to-the-skin shave to show off your skin.
Electric Razors 
An electric trimmer would be the next upgrade to hand razors (we will talk more about this later). 
Some electric shavers can be used in the shower and are pretty waterproof and durable. 
Most electric shavers will certainly last far longer than your regular manual shavers and that's for good reason. 
You don't have to replace the blades as often Below are my top choices for the best shavers in the market at their best price.
---
---
Get them while still in stock. 
If you currently have razors, you should know what their best for and how best to use them. 
But Like hand razors, they can dull over time. 
The average time of this happening is around 12-18, if your shaver lasts longer than that, then they're doing quite well. 
If your shavers start pulling before that, then your shaver isn't particularly great to be quite honest. 
But not to worry it can be fixed. 
While you can't sharpen the blades, you can get them replaced. 
Just check if the main manufacturer has the parts for your specific, more than likely you can find a replacement on Amazon if you are now keen on getting an entirely new shaver. 
It's a simple process, you just pop out the cartridge (blade area) and stick in that new blade.
Trimmers  
Trimmers are for trimming hair simple as that.   
They didn't go the skin and are primarily used for detailing, styling, and lining up. 
For a beard: 
They can be very useful for keeping it simply neat and tidy
You can go lower while still keeping your hair to get a "five o'clock shadow" where you just have some stubble.
Opt for a trimmer if you want to cut your beard but leave some hair to begin. 
Below is the best vacuum beard trimmer to give you a detailed shave while reducing mess. 
Pros
Cons
New item
New item
New item
1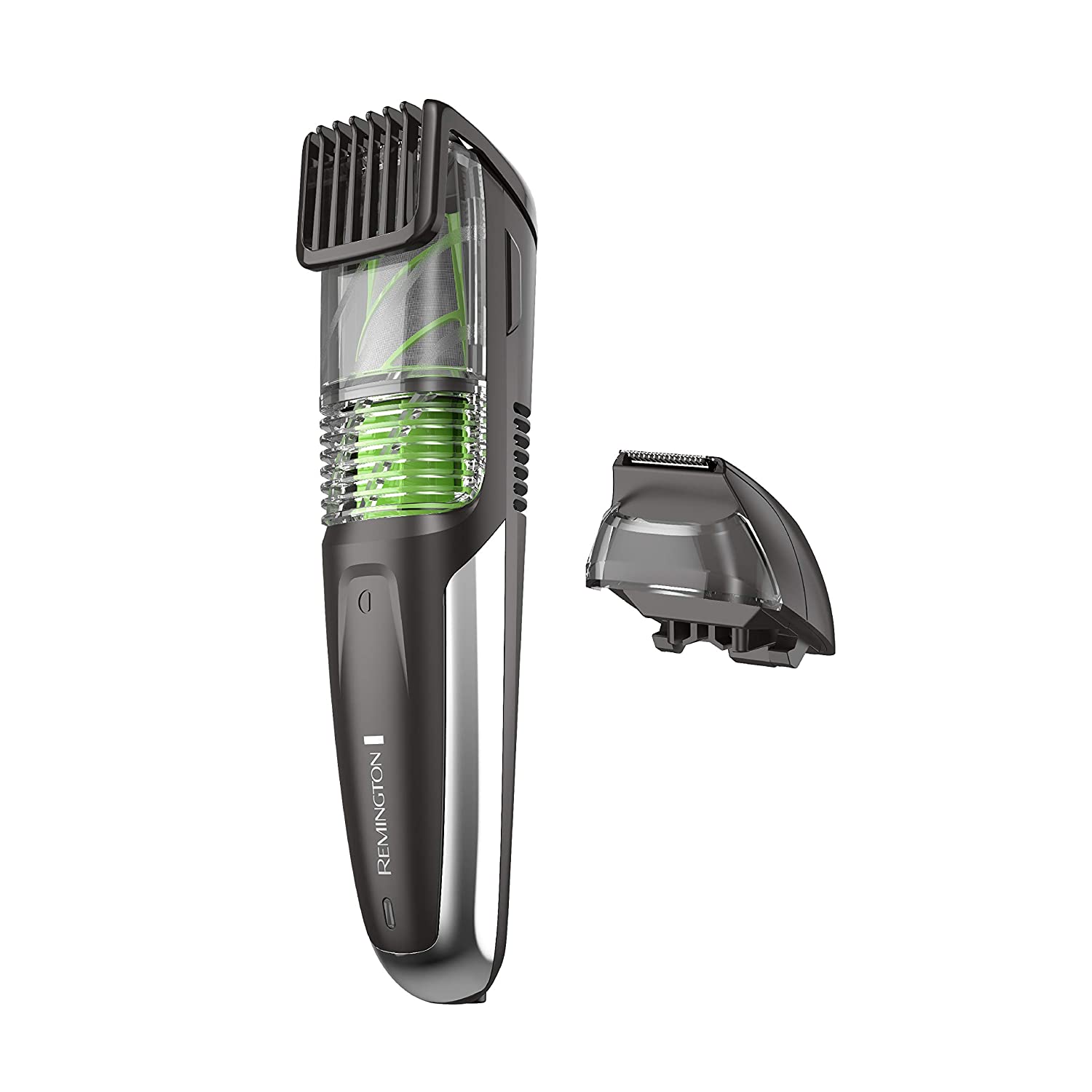 Remington Vacuum Beard Trimmer
Best overall
Get Best Price
2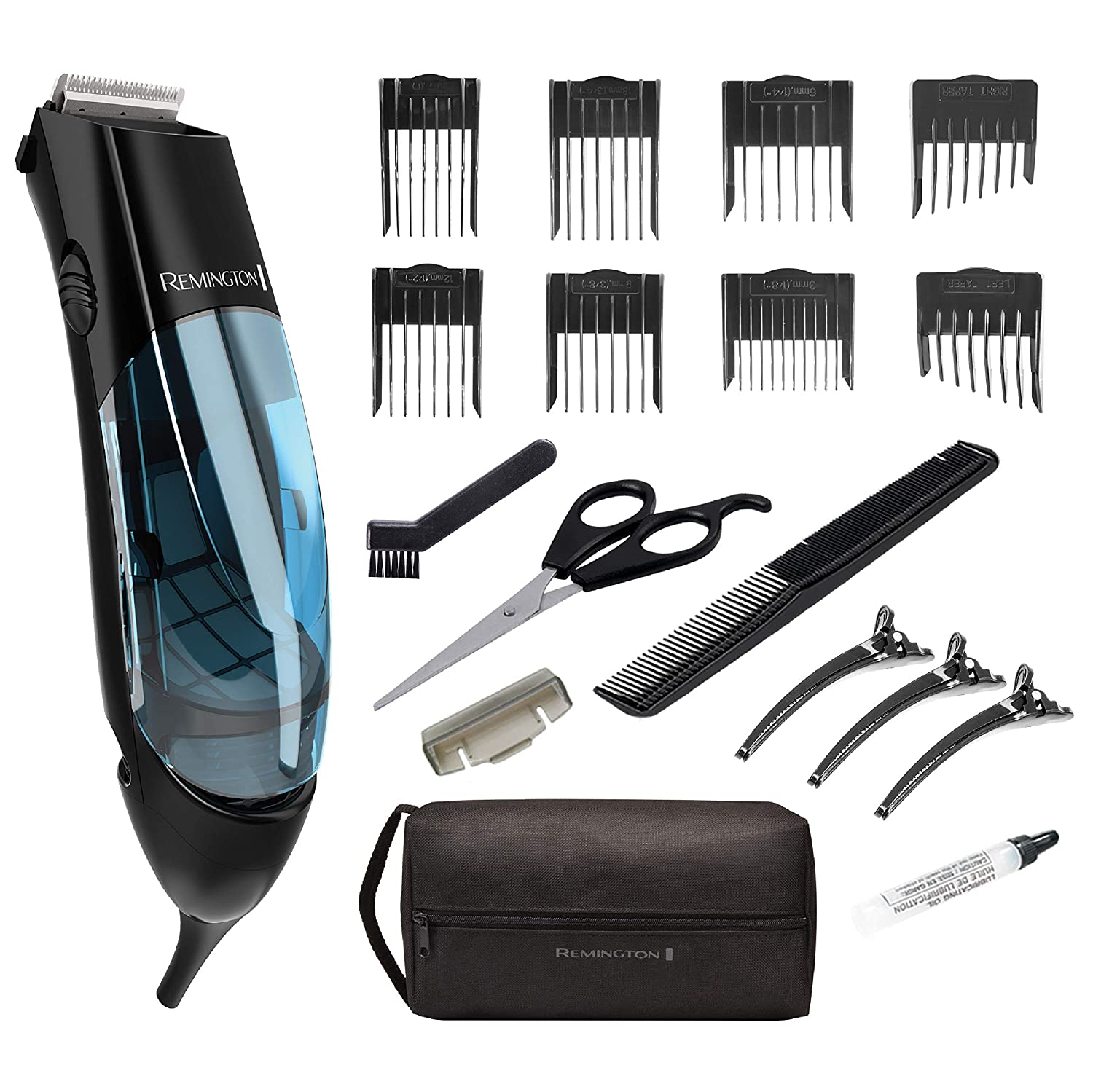 Remington HKVAC2000A Trimmer 
Most space
Get Best Price
3
Vacutrim Deluxe Vacuum Trimmer
professional
Get Best Price
Read more in my best vacuum beard trimmer article.
Alternatively, if you're after a smaller trimmer that would be best for travel yet will offer multiple attachments and flexibility, take a look at some of the best trimmers for travel below.
Enjoy best-in-class styling with our most advanced trimmer, the Philips Norelco Multigroom 7000. An all-in-one trimmer for ultimate precision with DualCut blades that delivers maximum precision for head-to-toe styling. 
The Wahl Aqua blade stubble and beard trimmer is the only trimmer you need with its ability to trim, shave, edge, clip, and detail. 
The compact pocket pro trimmer fits ideally in the hand and can be used for touch-ups on beards, stubble, facial hair, necklines, and sideburns to maintain your style between cuts.

You can read more in our best article on the best travel trimmers.
Best use case
 You can use a  trimmer for your beard to keep it really short but use a razor on your neck and jawline to remove all hair. 
You may own a couple of different trimmers depending on his needs.
Now, don't get your trimmer and hair clipper confused. 
Clippers are larger and deal with more mass hair like head hair 
You can actually use your clippers ok your beard, but you do lose some control and detailing when this is done.
Own both to have complete control of your grooming. 
I own a larger one (clipper) with guards of various lengths to cut my hair. 
Then I have a fine trimmer to do areas like my beard and other body parts, then a razor to cut hair to the skin.
But a clipper with multiple guards (lengths) is a very good investment.   
They're good for in-between haircut maintenance (keeping the sideburns trimmed for instance).
A good home brand is Wahl, Andis Babyliss are good clipper brand if you are interested in adding one to your arsenal.
Rotary shaver vs trimmer
The two main electric shaver types are the foil ones and the rotary ones. The main difference between them is how they are built and additionally, how they cut hair 
We start here with rotary razors. 
Rotary Razors have a central headpiece with three small circular heads (sometimes it's just 3 heads),  with small circular metal pieces with small blades running in circles beneath them. 
The circular heads have tiny 'holes' that let the hair pass through and set them up to be cut by the blades underneath.
Rotary shavers give a good shave and from my experience, it is the skin far less than a foil shaver would. (We get to that next) 
They're best if you have an even grain pattern, they're easier to clean and they're good for neck hair too.
To get the best from your rotary shaver, it's best you use small circular motions against the grain with slight pressure.
 If there are any hairs after you can do a second pass with more pressure and get an even closer shave. 
Compare to trimmers, once again they'll cut more hair than trimmers.
Foil shaver vs trimmer
Now the other variant. 
Use small up and down motions when using a foil shaver and move against the grain with some pressure 
Like with rotary razors, you can use more pressure for the hairs that might give you trouble in a second pass.
Foil gives a close shave with no bit of hair pulling but irritates at times skin (my experience) 
The possible downside with foul shavers is, if you have a long beard, you may have a hard time using them, and afterward cleaning them might be tricky. 
Use a rotary shaver to cut to the skin, but if you want to keep some hair, use a trimmer. 
Trim first down to the hair length you want them once again go in with a shaver for a closer cut 
Trimmer vs Razor
now onto timmer vs razor
Razors and trimmers are the polar opposite in terms of how much hair they cut. 
With trimmers, you can choose to barely take off any hair but with a razor, don't put it on your body unless you want to off all hair to the skin. 
The bests type of razor would be a safety razor. 
A safety razor is a shaving implement with a protective device positioned between the edge of the blade and the skin. 
These protective devices' main purpose is to reduce the skill level needed for injury-free shaving, so if you're a beginner, they are a great option. 
Safety razors are very good and can give a closer shave than some foil/rotary shavers.
Gillette produces some great safety razors for close shaving.  
The main negative with shavers is the constant replacement blades you have to keep getting and you can quickly churn through a lot of them in a small amount of time. 
That's why shavers are a more popular choice for close cutting. 
But you could just get both too. 
Shavers, damage the fibers of your hair as much as a shaver 
You could shave with a regular shaver, then go get any missing hairs with a razor. 
You can never go wrong with a shaver but if you are new to shaving get a safety razor and test some out.
Regular razors are for making your skin smooth and shaving the hair down to the surface.
best results
For best results take a shower, let the hot water soften your hair, then shave with some shaving cream.
If you don't have time for a shower then wash your face well with some warm water this can do the job too. 
After shaving, dry your face and put on some face lotion that doesn't leave your face dry. 
Below are some of the best post-shave balms for post-hair shave application. 
---
---
Make sure you change your razors often enough.  
It's the same rule as knives, dull ones are actually more dangerous to use.   
You'll know when your razor is dull when it doesn't feel as good to shave with it, drags a bit but is like with your other blade tools. 
Conclusion 
In this article, we went over the difference between a shaver and vs trimmer.
Trimmers and shavers are both personal grooming tools, but they serve different purposes. 
Trimmers are designed to cut longer hair and create clear and precise lines, while shavers are meant for cutting short hair close to the skin. 
If you have found this article helpful please check out other articles on this topic such as beard trimmers vs hair clippers, how to oil beard trimmers or razor vs clippers
FAQ
Which is better for a close shave, a trimmer or a razor?
A razor is typically better for a closer shave than a trimmer, especially if you are looking for a completely smooth, hair-free finish.
Can I use a trimmer instead of a razor for my daily shaving routine?
Yes, you can use a trimmer instead of a razor for daily shaving, but keep in mind that the trimmer will not provide as close a shave as a razor but that can be a good thing depending on what your after
Is it better to use a trimmer or a razor for grooming body hair?
It depends on your personal preference and the area you are grooming. Trimmers are good for body hair in hard-to-reach areas, while razors can work on all areas