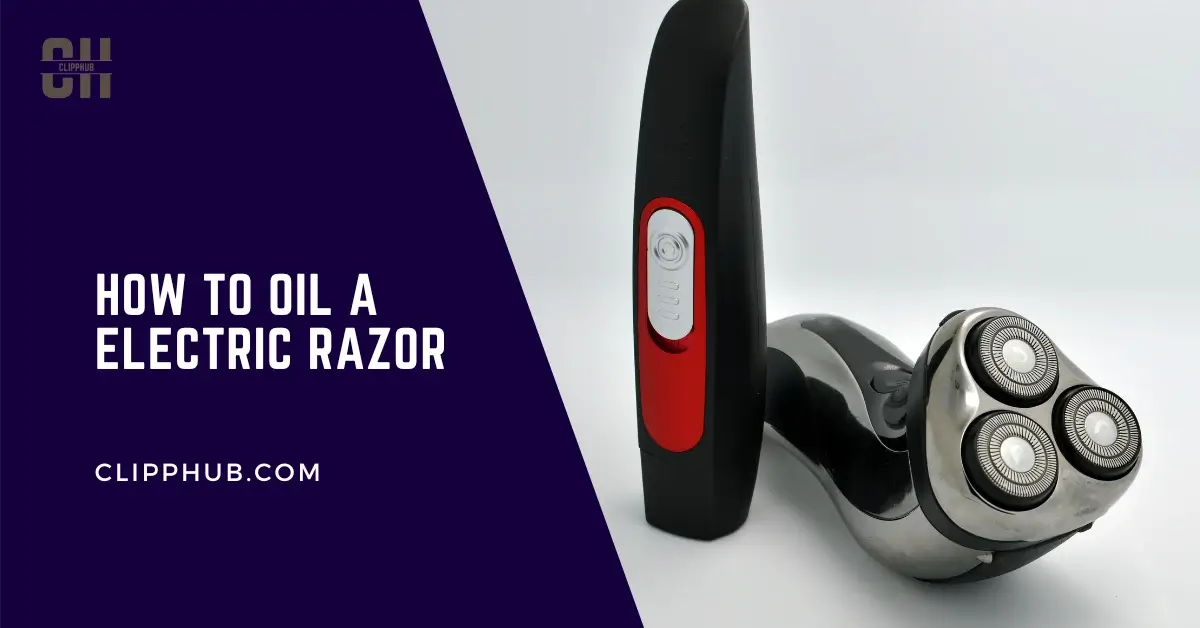 Knowing how to oil your electric razor can extend its life and you can get better performance. 
In this article, we'll go over how to oil your electric shaver, what oil you should use, and how often it should be done. 
With that said, let's get into it. 
How to oil electric razor 
There are two types of electric shavers, foil, and rotary shavers. 
Here is a quick guide on how to oil both: 
Foil Shaver
Step 1:
Hold your foil shavers in hand. 
Step 2: 
Turn your foil shavers on 
Step 3: 
Apply oil on each blade, and let the shaver run for 10 seconds. 
Step 4:
Remove the cap on your foil shaver and oil the blades underneath. 
Step 5: 
Put the top blades back on your shaver and Wipe away any excess oil. 
Next up is the rotary shaver 
---
Rotary shaver 
Step 1: 
Turn on your rotary shaver. 
Step 2: 
Apply 2 drops of oil on each head of your rotary shavers 
Step 3: 
Turn on your foil shavers and let them run for 20 seconds 
Step 4: 
Turn off your rotary shavers and wipe away any excess oil 
Just like that, your shaver should now be oiled. 
This is a quick walkthrough on how you do it, but if you want a more I depth process, we go through that the within this article. 
But what type of oil should you use to oil your electric razor? 
We go through this next.
What Oil Can I Use On My Shaver?
Now, your shavers should've come with a small tub of oil. 
But if you've lost it or thrown the packaging away, that's ok you can find a replacement quickly.
The oil you need to be using on your clippers is a lightweight petroleum-based mineral oil.
Mineral oil is a refined petroleum-based hydrocarbon.
Mineral oil is a combination of paraffin, naphthenes, and aromatic oils being highly refined makes minerals a great cutting and grinding fluid.

It's a thin liquid that can be easily spread around while holding its shape. 

Being thin also means mineral oil will not clog up within your electric shaver after use. 

It also has great tolerance to heat. 

The tolerance to heat allows the oil to get in between your shaver blades without losing shape.

Razor blades create friction when grinding against each other as they cut your hair, mineral oil has lubricating and heat-resistant properties able to get in between the blades and grease them thoroughly.
The best oil for an electric shaver
So if you're looking for an oil to put on your shaver look to keep it mineral oil based. 
Here are my recommendations for clipper oils to use on your shaver. 
Pros
Cons
New item
New item
New item
1

Wahl Hair clipper Oil
Best overall
Get Best Price
2

Andis Hair Clipper Oil
close runner up
Get Best Price
3

Oster Hair Clipper oil
3rd best option
Get Best Price
Baby oil electric shaver
Sometimes, your electric shavers need oil straight away. 
I understand.
So, you can use a quick short-term alternative if it's available. 
That would be baby oil. 
Baby oil is a mineral-based lubricant. 90% of baby os baby oil is made of highly refined mineral oil and the remaining 10% is fragrances.
The mineral oil in baby oil is highly refined making it non-comedogenic (it doesn't clog up), such properties make baby oil a decent short-term substitute as you look to get a proper shaver oil.
Baby oil spreads well and has a high tolerance to heat making it great for shavers
Why do you oil electric razors
Do we why you should oil your razors?
Oil in your shaver is very important to maintain its performance and increase your razor's longevity. 
Here are some other benefits: 
Smoother operation
 Applying a small amount of oil to your blade can help reduce friction and make the device run more smoothly allowing for a much better shaving experience.
Reduced noise
If your shaver isn't well-oiled, you'll know. 
Unlubricated and dry blades will rub against each other and get hot fast, this creates a loud noise. 
Oiling your blades reduced this friction and therefore reduces the noise that comes with it.
Preventing rust and corrosion:
Lack of oil leaves your shaver open to rust. 
This is especially the case if your like to run your shaver under some water before putting them away.
Applying oil can help protect the shaver's metal parts from rust and corrosion. 
Before putting your shaver away, apply some oil.
How to Oil Electric Razor
This is a slightly more in-depth walk-through on oil in your shaver.
Foil 
Step 1 
Turn it on and let them run. 
Having your shaver on allows the oil to spread as you add it, it always works the oil deep into the metal for maximum lubrication. 
Step 2 
Apply 1-2 drops on each blade of your foil shaver. 
Put one drop on either side of the blade, this allows the oil to cover all areas of your shaver without wasting your oil. 
Step 3:
Remove the cap and remove and add oil to the blades underneath. 
If your shaver allows the top foil shaver to be taken off, take it off to oil the cutting blades underneath.
These blades need to be lubricated as they are the actual cutting blade. 
While the blade is running ally 2 drops to each blade and let them run. 
Step 4: 
Now .. and this is important : 
Turn off your shavers. 
You need to do this first before doing the next step, touching any blade while your shavers are running could leave you cut. 
Step 5:
Run your finger across the blade and check that a light layer of oil has been spread across your shaver blade. 
Do this for the base underneath and the foil cap blades which you had taken off. 
Once every blade is oiled you're all good to go.
However, if there's too much oil, wipe away any excess, you don't want it gumming up. 
If you applied 2-3 drops per blade, you should be fine.  
The video below shows the process best.
Rotary shaver
Rotary shavers are a little less complicated. 
You can follow the steps above toward the start of this article to apply oil to them. 
However, if you want to deep clean and oil your clippers, the video below gives you full proof process of how to do so.
How often should you oil your electric shaver?
I'm the packing of your shavers, you may have been told to oil your shavers after every use. 
You can do that, but if use your shaver every day, in my opinion, that's overkill and a huge waste of resources. 
If you frequently use your shaver, oil them every 2-3 uses. – aim tip box 
If you rarely use your shaver then oil then you can oil them every use and certainly oil them before you store them away. 
Conclusion 
In this article, we went over how to oil an electric shaver. 
You should keep your clippers running
Apply a lightweight mineral oil 
Make sure the oil is spread across your blades 
Wipe say any excess
It's that simple.
If you've found this article helpful, check out other articles on this topic such as shavers vs Trimmers or can you take hair clippers on a plane? and how to do a hot towel treatment at home.