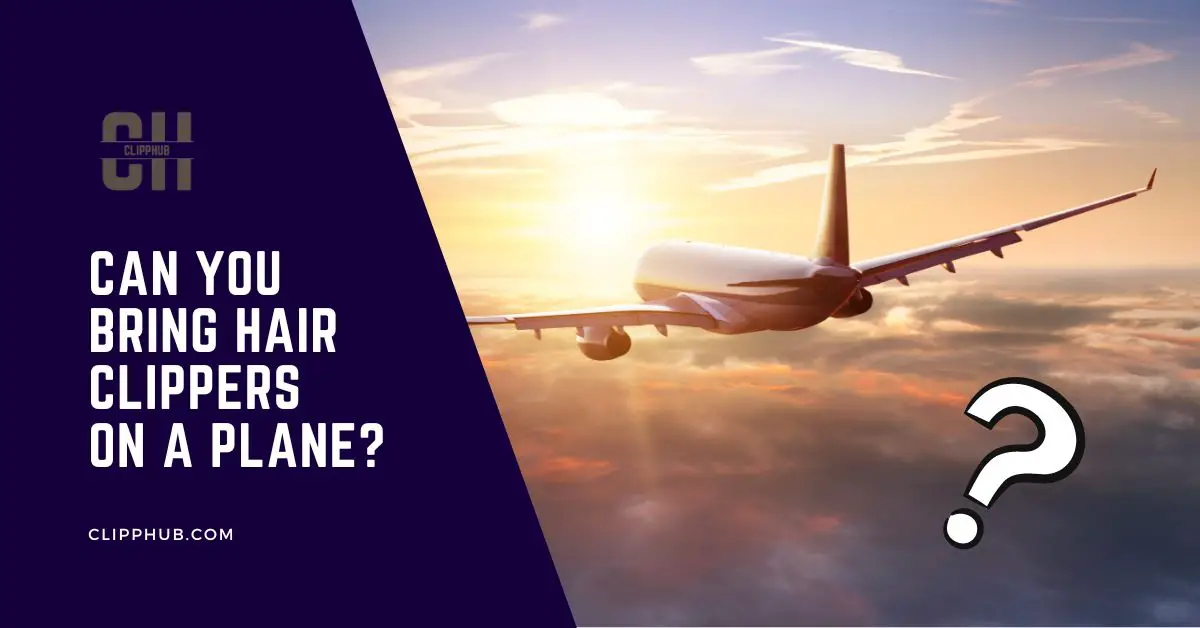 Can you take hair clippers on a plane?
It's a simple question… but the answer can also determine just how long you'll spend at check-in.
In this article, we will answer this question (and I will provide you with some more information that might come in handy)
So, take a look at the table of contents, and let's begin.
Can you take hair clippers on a plane? 
Yes, it's perfectly fine for you to take
hair clippers
on a plane. This applies to most traditional
hair clippers
. Although a hair clipper does contain blades, they are retracted and don't pose a direct threat to anyone once exposed.
However, although the website does say you can bring your clippers on the plane, ultimately the final decision comes down to checkpoint security. 
Can I Take Hair Clippers in Checked Luggage
Note
As much as you can, make sure your blades are clean and look presentable. Your clippers shouldn't have any out-of-place blades or dangerously loose parts and all screws should be tightened on your tool.
Any sharp objects in checked bags should be sheathed or securely wrapped to prevent injury to baggage handlers and inspectors. 
So as long as you have normal-looking and working clippers, you should be fine to board the plane. 
Another tool you may bring along with you such as hair clipper oils you don't have to worry about, these too are safe to bring on a plane. 
Note
Try to keep the amount of oil you bring on a plane to less than 4 oz or around 100ml.
Generally, all other forms of hair clippers are allowed to bring on a plane, once again, just make sure there's nothing abnormal about them. 
So this can be: 
Trimmers
Balding clippers
Liner
These are all good to be brought on a plane, if you want extra information you can check the TSA website. 
If you taking clippers abroad, you may be in need of a trimmer to tackle finer hairs on the body and to touch up your beard.
In this case light, multi-functional trimmer that provides precise trimming may be beneficial to you.
If that's the case, check out our best travel trimmers below.
Enjoy best-in-class styling with our most advanced trimmer, the Philips Norelco Multigroom 7000. An all-in-one trimmer for ultimate precision with DualCut blades that delivers maximum precision for head-to-toe styling. 
The Wahl Aqua blade stubble and beard trimmer is the only trimmer you need with its ability to trim, shave, edge, clip, and detail. 
The compact pocket pro trimmer fits ideally in the hand and can be used for touch-ups on beards, stubble, facial hair, necklines, and sideburns to maintain your style between cuts.

You can read more in our article on the best travel trimmers.
Can you bring hair clippers on a plane?
Here is the list of things that are normally a part of a shaving/shower kit that is allowed and
Allowed: 
In a kit, these contents below are allowed, just be sure the container that holds them is less than 4oz / 100ml. 
Shaving Lube/Cream
Shampoo
Conditioner
Shower gel
Generally, you should be able to take these on a plane but if a specific product has highly flammable contents, it can be restricted. Try to bring branded items as they are more trusted.
Nail clippers 
Nail clippers are allowed to take on a plane. 
Once again, as it is a sharp object, be sure there aren't any sharp parts that stick out and can be a hazard. 
Scissors 
Scissors have always been a touchy point on hair clippers over the past years. 
Previously, just like nail clippers, you weren't allowed to bring this on a plane but that has now changed. 
however recently, it seems the TSA has become more relaxed. 

You are able to bring scissors on a plane, however, it has to be less than 4 inches from the pivot point. 
So before you hop on a plane, grab a measure and make sure they are writhing this range. 
Hair dryer 
Yes, hair dryers to are permitted on a plane. 
Make sure they are safely put away and the cord is wrapped up tight so it doesn't become a hazard. 
Another item that can be in a grooming kit are shavers/razors.
But can these be allowed on a plane too? 
I talk about this next. 
can you bring a hair razor on a plane?
When it comes to shaving razors: these are the options: 
Disposable Razor 
Electric shavers 
Razor type blades 
Safety razors with blades
Each one is different and there are certain rules which apply to one but not the others. 
Disposable razors
This is a disposable razor.
They come in two types. The kind that is entirely disposable (as in you use it once or a few times then you get rid) 
Then you also have the kind where you replace them with cartridges. 
These are the ones where you can change them out as you like but keep the base. 
Both are allowed in carry-on luggage and checked bags. 
Electric shavers 
Electric shavers are allowed on planes. 
Both are in the checked bags and then carry in the bag. 
Once again the final decision does come down to the officer at hand but as long as the shaver is safely put away and there's nothing abnormal about it. 
It's more than fine for you to bring it on a plane. 
Are hair razors allowed on planes? 
Naked/removable razor blades are not allowed in carry-on bags but are allowed in checked bags.
Of all the items on this list, this is the item that can easily be confiscated as it's a directly open blade. 
Because these razor blades are so easy to take out, safety razors are not permitted in your carry-on luggage with the blade. The blades must be stored in your checked luggage
For your best chance of getting through, show that they have a purpose and aren't just with you for the sake of it. 
---
---
Conclusion 
In this article, we asked the question, can you take hair clippers on a plane? 
The simple answer is yes. 
You can take hair clippers on a plane both in checked and carry-on luggage.
Just make sure you have normal working hair clippers and are safely put away.
Also, make sure no abnormal blades stick out as workers can still confiscate it. 
FAQ
Can you bring a nose hair trimmer on a plane?
Yes, just like hair clippers, nose trimmers are allowed on planes, just make sure they are safely put away and don't pose an obvious hazard.

Can you take a trimmer on a plane?
Yes, trimmers are allowed on planes. Both in carry-on and checked bags. Make sure your clippers are safely put away as they can still be confiscated if they are an obvious hazard.

can you take a lithium-ion trimmer on the plane?
Yes, lithium-ion trimmers are allowed on planes, just like regular hair clippers. This is both in carry-on and checked luggage. However, the final decision lies with TSA officers.