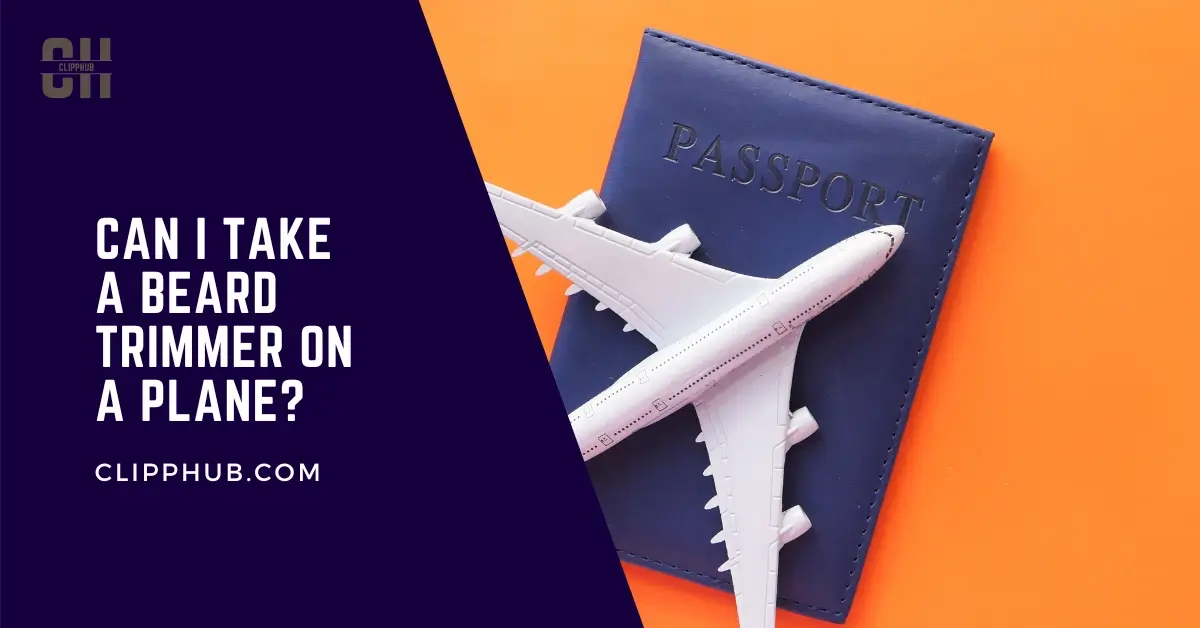 Can you take a beard trimmer for me on a plane? 
It's a simple answer but they are some facts yous should know. 
In this article, we will go over all these facts you need to know to keep your trimmers with you, for those out-of-city cuts.
Let's get into it. 
Beard Trimmer On Plane
When it comes to beard trimmers and hair clippers, yes you can take them on a plane. This can both be in carry-on luggage and checked luggage.
When it comes to disposable razors and cartridges, they are good to go in a carry-on bag. That also applies to electric shavers and trimmers.

source
So, if you want to put your beard trimmer in your carry on go ahead and do so, just make sure they're turned and securely put away. 
Not all trimmers are made equal.
Ideally, when traveling, you want a light trimmer that still works great and offers multiple functions.
If you're looking for such a trimmer, check out our top picks below for easy, multi-functional grooming on the go.
Enjoy best-in-class styling with our most advanced trimmer, the Philips Norelco Multigroom 7000. An all-in-one trimmer for ultimate precision with DualCut blades that delivers maximum precision for head-to-toe styling. 
The Wahl Aqua blade stubble and beard trimmer is the only trimmer you need with its ability to trim, shave, edge, clip, and detail. 
The compact pocket pro trimmer fits ideally in the hand and can be used for touch-ups on beards, stubble, facial hair, necklines, and sideburns to maintain your style between cuts.

You can read more in our article on the best travel trimmers.
Can You Take A Beard Trimmer In Checked Luggage?
Yes, you can pack a beard trimmer in your checked luggage/carry-on bag when traveling by plane. 
Beard trimmers are allowed as long as your beard trimmer is safely put away and doesn't have any exposed blades. 
Remember
However, while they are allowed, ultimately it is important to note that the final decision always comes down to the TSA officer inspecting your belongings.
It's a good idea to check the TSA website for the most up-to-date information. 
You can also speak to their social media team especially on Twitter if you want answers to specific types of answers. 
TSA Beard Trimmer Rules 
In general, the TSA prioritizes passenger safety. 
So weapons and flammable liquids are the two top things they want to avoid in planes and checked luggage. They do so by scanning everything before you board.
Beard trimmers as a whole are safe, and I go into further detail on how to store them below. 
However, you must always keep in mind, even though trimmers are permitted, the final choice is left to inspectors so it's never really guaranteed. 
With that said, now I will go over tips and tricks you could implement to make sure there are no issues with you getting your trimmers on board. 
(But I do think it shouldn't be a problem) 
Can You Pack A Rechargeable Beard Trimmer In Checked Luggage?
Yes, it certainly shouldn't be a problem. 
I've flown with electric shavers with no problems but know that it's never a guarantee as the inspector could have a different opinion. 
tip
If you're worried about the blades, just put them in the check-in luggage, if you are bringing one. (They're more accepted if they aren't in the carry-on aircraft cabin.)
Since most of them have lithium-ion batteries it's better to place them in your carry-on luggage too. 
Lithium-ion batteries are flammable so you are unlikely to be allowed to take them with you in your carry-on bag. 
Your best bet is to keep your trimmer and batteries in your check-in bag.
This is your safest bet with beard trimmers and reduces the chances of your being stopped taken always. 
Tip
Take out the battery completely, you don't want it vibrating randomly and going off in front of inspection officers. 
Conclusion 
In this article, we asked the question, can you take a beard trimmer in carry-on luggage? 
The simple answer is yes. 
But the most secure place you can pack your bear trimmer for it to be allowed on the flight would be your check-in bag. 
Packing it there is more accepted especially when your trimmers contain, detachable blades or batteries. 
FAQ
can you take a beard trimmer in hand luggage ryanair
Yes, you can bring a beard trimmer in your Ryanair hand luggage, however, is your trimmer contains over 160 wat lithium-ion batteries, it may not be allowed in hand luggage, but will in check-in.
can you take a beard trimmer in hand luggage easyjet
Yes, you can take a beard trimmer in hand luggage on the easy jet, just be sure to make sure you only have two lithium-ion batteries in your clipper and that your clipper is safe and has no excess blades.