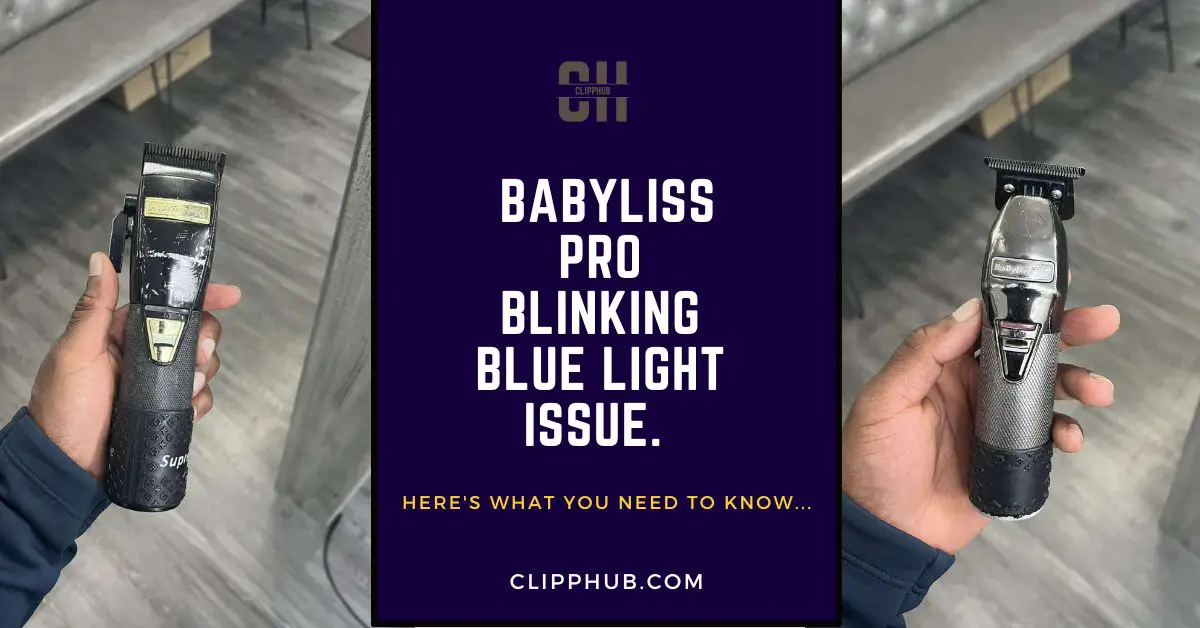 Are your Babyliss clippers currently flashing random lights that you simply don't understand?
If that's the case, then you're in the right place for answers. 
In this article, we'll look at the Babyliss Pro Blinking Blue Light and other color meanings… 
You'll learn the secret charging timeframe Babyliss has kept from the public, And you'll get insight on the right steps to take should you need to trouble-shot your clippers. 
With that said, let's get into it. 
Babyliss Pro Blinking Blue Light
The are three types of lights that can come up on your Babyliss Pro clippers. 
We'll look into each and their meanings but, before we look to troubleshoot you clippers, make sure you are past your warranty date. 
If you are on your warranty date, attempting to fix could void you of a free replacement/ refund or service. 
First, always contact Babyliss vis email or call and explain your problem also see if you're also eligible for a return.
But if you want to give it a go yourself, the guide is below. 
But first, what do the lights on Babyliss products even mean?
Let's start here.
What is the blinking light?
If you own a Babyliss Pro clipper, trimmer, or shaver, you may have noticed that sometimes the device has a blinking light on it.
This light can be red, blue, or green, depending on the model and the battery status. The light is usually located near the power button or on the charging base.
The blinking light is an indicator of the battery level and the charging status of your device.
It tells you how much power is left in the battery and whether the device is charging or not. Here's a quick guide to what each color and pattern means:
Red blinking light
This means that the battery is low and needs to be charged soon. You may have only 10 to 15 minutes of run time left. Plug in your device as soon as possible to avoid running out of power.
Blue blinking light
This is often the most important light. 
This means that the battery is charging and has not reached full capacity yet. The light will blink faster as the battery gets closer to being fully charged. When the battery is full, the light will stop blinking and stay on.
LED charge indicator light 
LED BLUE Blinking – Charging 
LED BLUE – Fully Charged 
LED BLUE Flashing – 10 minutes
This video explains visually:
Green blinking light
This means that the battery is fully charged and ready to use. 
You can unplug your device and enjoy up to 2 hours of cordless use (depending on the model). The light will turn off after a few minutes to save power.
Find out more in the Babyliss Fx Manual. 
Is it a sign of a serious problem?
The blinking light is usually not a sign of a serious problem, but rather a useful feature that helps you monitor your clipper's battery status. However, if you notice any unusual behavior or performance issues with your clipper, such as:
The light does not turn on or off at all
The light flashes in different colors or patterns than usual
The clipper makes strange noises or smells
The clipper gets too hot or sparks
Babyliss Pro flashing red light
If your clippers are flashing red as shown in this thread, as we said earlier, it's a battery-low indicator sign. 
But it can also be for two reasons….
Overheated or overcharged battery
With this problem, it could be that your trimmers are simply under/overcharged. 
Babyliss does state on the manual of their pro trimmers:
"Preserving the batteries: In order to maintain the optimum capacity of the rechargeable batteries, the trimmer should be recharged for 3 hours approximately every 6 months. "

Source
It may be exaggerated but it should keep as a warning to show their batteries have a capacity, this applies to both the Babyliss trimmer and clipper. 
At the same time, they do also state:
"If the charging light starts to flash rapidly (more than 4 flashes per second) then the appliance is faulty. If this happens then please stop charging and remove the adapter from the mains and contact an authorized Service Center."

Source
This is stated for the pro trimmer in their manual but the sentiment will apply for other Babyliss products. 
Look to have your Babyliss Pros plugged in a certain amount of time on the first charge in order to get the battery up to the maximum efficiency and is your clippers do blink rapidly with whatever light, then it's faulty and you can look to claim from Babyliss especially if you've charged your tool as they advised. 
The light does not blink at all
This may mean that your device is completely out of power or that there is a problem with the charger or the power outlet. 
Try plugging in your device to a different outlet or using a different charger. 
Check if the power cord or AC adapter is damaged or loose. Try using a different power outlet or a different power cord or AC adapter if you have one.
 Check if the battery contacts on the clipper or the charger are clean and free of dust, dirt, or rust. 
Use a soft cloth or cotton swab to gently wipe them clean. If they are severely corroded, you might need to replace the battery or the charger.
Replace the battery isn't too difficult either:
You can do this by opening the battery compartment and gently prying out the old battery with a flat-headed screwdriver or a similar tool.
Then, insert the new battery into the compartment, making sure it is oriented correctly and seated securely. 
You can pick up a replacement babyliss Battery here.
And this video guides you through how you can replace the battery on any Pro-fx clipper:
You can also do the same if you have a trimmer:
Replace the battery compartment cover and plug in the clippers to test them and see if that gets them going again.  
The light blinks with a different color than expected
This may mean that your device has a software glitch or that there is a problem with the charger or the power outlet. 
Try resetting your device by holding down the power button for 10 seconds until it turns off and then turning it back on.
If any of these solutions don't fit the blinking lights problem that you have found, then, contact Babyliss Pro customer service for assistance as it may be a deeper underlying technical problem. 
Conclusion 
In this article, we went through Babyliss Pro Blinking Blue Light.
You should now understand all the different lights that come on on Babyliss products, their meaning, and how you can troubleshoot. 
If you found this article helpful, check out other articles on this topic below.