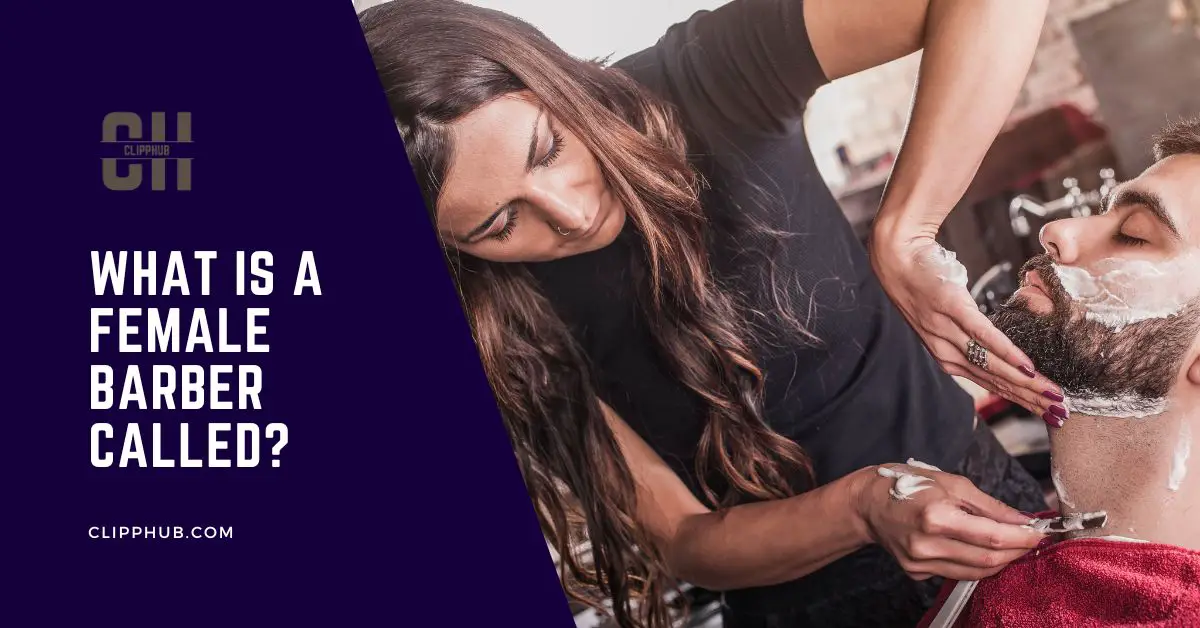 So you want to know What Is a Female Barber Called? Well, you've come to the right place for answers. 
In this article, we'll answer that question (and I'll provide you with more facts I think are important to know). 
So with that said, take a look at the table of contents and let's begin.
What Is a Female Barber Called
A female barber can simply be called a barber. The term 'Barber' is unisex and can be applied to any gender. 

Terms such as Barberess, barbette, or feminized versions of the barber are unlikely to be recognized, though still can be used.
What Is a Female Hair Cutter Called?
You don't have to complicate the term. 
You can always just call her a barber. 
One of the barbers, hairdressers, and stylists would more than likely be accepted by them. 
The word 'barber' has grown to have a male connotation similar to how 'hairdresser' leans toward females.
This may be because most women still attend cosmetology school, where they learn to cut women's hair, primarily using scissors. 
Whereas men who look to be hair professionals work more with clippers as on average their future client demographic (men) have shorter hair to the skin than longer female hair. 
It's a different cutting technique and different tools.
From the data below, you can begin to see why.
There are over 12,880 barbers currently employed in the United States.
25.1% of all barbers are women, while 74.9% are men.

demographics
It's no surprise that you may be confused about what to call your barber. 
But presently more women a becoming more skilled and barbers and barber shops are expanding to include salons and branching out from just regular haircutting.
Cosmetologists or female hair professionals will start working more in barber shops.
More and more women are being trained as barbers, all the time. 
There is an ever-increasing number of female barbers who perform precision men's cuts as well as male barbers. 
This is especially the case for franchised or chain shops. 
Barber vs Hairdresser
A Barber and a hairdresser are both hair specialists. 
However, their skill set varies slightly which has aided in the term barber being perceived as a masculine term. 
The difference between a barber and a hairstylist/ hairdresser is largely due to focus and training. 
Barbers become highly skilled at shorter lengths and tough hair.
A hair stylist or hairdresser typically specializes in cutting, styling, and coloring women's hair.
Some barbershops offer grooming services such as shaves and beard trims, while hair salons often offer additional services like facials, waxing, and makeup.
As I mentioned, in modern times, the line between the two professions has become increasingly blurred. 
Many barbers and hair stylists offer a wide range of services for both men and women. 
Conclusion  
In this article, we asked the question: What Is a Female Barber Called? 
The simplest is just a barber as the term is unisex. 
The terms hairdresser and salon can be used too but knowing the subtle difference between both will help to send you in the right direction for what you want for your hair. 
If you found this article helpful, please check out other posts on this topic below, such can you take hair clippers on a plane?
FAQ
Are female barbers common in the industry?
Female barbers are becoming increasingly common in the industry, as more women are pursuing careers in barbering and more clients are seeking out diverse representation.
Is there any difference between a female barber and a male barber?
There is no inherent difference between a female barber and a male barber, as both are trained to cut hair regardless of gender. The only difference is the gender of the barber themselves.